Garcia, Astros survive Arozarena's latest fireworks
Astros No. 13 prospect posts two zeros in start; slugger ties record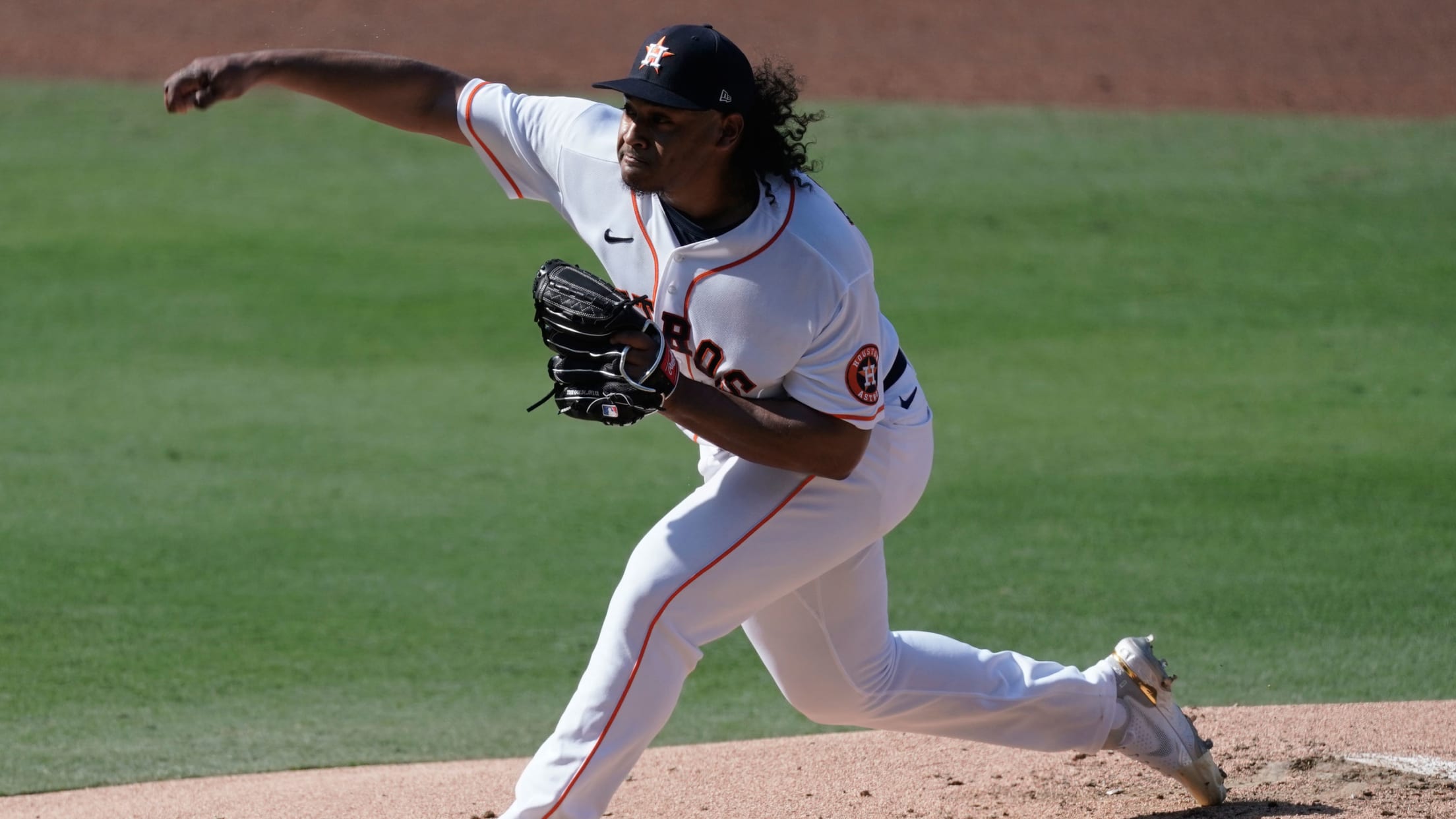 The Astros turned to Luis Garcia in his sixth big league appearance to start the must-win ALCS Game 5. (Ashley Landis/AP)
Luis Garcia gave the Astros exactly what they needed from him in a win-or-go-home scenario Thursday. Houston's No. 13 prospect worked around two walks and a hit batsman while fanning one in two scoreless frames as the Astros survived the latest power display by Tampa Bay's No. 19 prospect Randy
Luis Garcia gave the Astros exactly what they needed from him in a win-or-go-home scenario Thursday.
Houston's No. 13 prospect worked around two walks and a hit batsman while fanning one in two scoreless frames as the Astros survived the latest power display by Tampa Bay's No. 19 prospect Randy Arozarena in a 4-3 walk-off win to stay alive in the American League Championship Series.
In his first taste of playoff action in The Show, No. 13 #Astros prospect Luis Garcia started things off with a perfect inning.

⚾️⚾️⚾️pic.twitter.com/UAqgJm9OD2

— Minor League Baseball (@MiLB) October 15, 2020
Garcia only found out Wednesday night that he would be making his first playoff start in The Show. He worked a perfect first inning, inducing flyouts from Brandon Lowe and Arozarena while striking out Austin Meadows on three straight pitches.
"No, I wasn't nervous," he said after the game. "I just tried to make good pitches out there. Everyone always talks about how there's a lack of experience, but for me, it's just being focused on doing the job."
A groundout by Yandy Diaz started the second before the 23-year-old righty walked Ji-Man Choi on six pitches. Garcia got Manuel Margot to fly out, and after hitting Joey Wendle and walking Willy Adames, the Venezuela native escaped the jam on a long flyout by Mike Zunino.
"Things got a little bit complicated during that second inning … but thank God I was just able to stay focused on the job at hand and I was able to get out it," Garcia said.
His start was somewhat overshadowed by a record-tying blast by Arozarena. With the Astros leading in the top of the fifth, 3-1, the 25-year-old outfielder struck a 96-mph fastball from Enoli Paredes over the wall in right-center field to add to his growing legend.
The homer tied Arozarena with Evan Longoria for most home runs by a rookie in postseason history. Longoria accomplished this feat in 2008 while also with Tampa Bay as the then-Devil Rays reached their first World Series. With his 20th hit, Arozarena tied Atlanta's Chipper Jones (1995) for the third-most postseason hits by a rookie. He is within reach of the record set by the Yankees' Derek Jeter, who finished with 22 in the 1996 playoffs. The Astros' Yuli Gurriel amassed 21 hits for Houston during its 2017 run to the World Series title.
Randy Arozarena -- yep, the #Rays No. 19 prospect -- matches Evan Longoria for the most postseason homers by a rookie with his sixth of the playoffs.

🦾🦾🦾🦾🦾🦾https://t.co/1xrs6MKCw6

— Minor League Baseball (@MiLB) October 15, 2020
Arozarena showcased he isn't just valuable at the plate. After the Astros' Jose Altuve hit a liner to left field in the bottom of the sixth, the outfielder fired a strike to second baseman Brandon Lowe as Altuve tried to stretch it into a double for the second out of the inning.
After the game, Arozarena remained optimistic about Houston's chances.
"We still feel good, we're still really happy," he said. "We knew it was going to be a tough series and we're playing against another really good team, and they're trying to win just like us. It just didn't happen today."
The right-handed slugger is hitting .381 with three doubles, a triple, three walks and eight RBIs for the Rays this postseason. Arozarena was acquired in a deal from St. Louis during the offseason that included Matthew Liberatore, the Cardinals' third-ranked prospect.
Tampa Bay's No. 28 prospect Josh Fleming allowed two runs on three hits, a walk and a strikeout in three innings of relief.
In other action:
Braves 10, Dodgers 2
Top Atlanta prospect Christian Pache hit a RBI single to center and scored during the Braves' six-run sixth inning to help break open Game 4 of the National League Championship Series. He went 1-for-5 on the night. Box score