Dodgers' Alvarez takes another step forward
Righty fans seven in four frames in longest outing for Quakes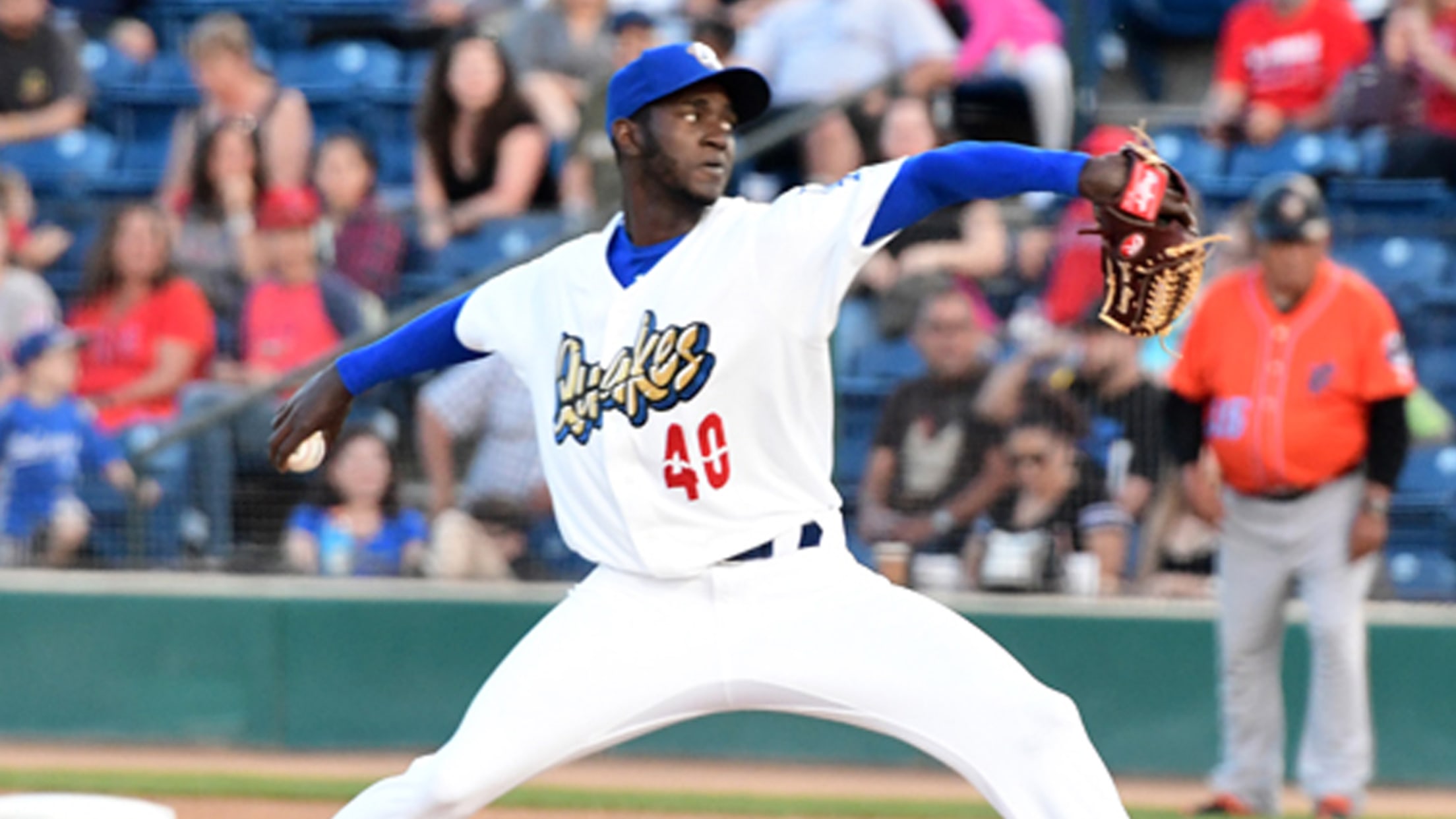 Yadier Alvarez made 14 combined starts between Rookie ball and full-season Class A in 2016. (Steve Saenz/Rancho Cucamonga Quakes)
There is a lot of growth expected ahead for Yadier Álvarez on his road through the Dodgers system, but nights like Thursday's are the ones successful players look back upon as benchmarks.The Dodgers' No. 2 prospect struck out a season-high seven and allowed just two hits over four shutout innings
There is a lot of growth expected ahead for Yadier Álvarez on his road through the Dodgers system, but nights like Thursday's are the ones successful players look back upon as benchmarks.
The Dodgers' No. 2 prospect struck out a season-high seven and allowed just two hits over four shutout innings as Class A Rancho Cucamonga fell to visiting San Jose, 5-2.
"He was just able to create some angle with the stuff that he has," Quakes pitching coach Kip Wells said. "In his previous outings, the times that he's had more contact than today, the velocity's still there. But for him to be able to make a concerted effort to create a little bit of angle, I think that in and of itself at this level creates a pretty big challenge for hitters. When it's 94-98 (miles per hour) or whatever it was, it's hard. When the balls are changing plane top to bottom and they're that hard, they're hard to hit."
Box score
Alvarez's dominance showed early as the 21-year-old retired the first six batters he faced, three via strikeouts. San Jose's Jonah Arenado singled to left field to lead off the third inning, and Alvarez issued his only walk to Daniel Carbonell with two outs before stranding the pair. The right-hander also left Gio Brusa at first after Brusa's one-out single in the fourth.
"I think it just allows him to build a better checklist of things that he's able to incorporate under pressure," Wells said of the third-inning jam. "Until you're in some pressure situations and you have the opportunity to overthrow and fail or go soft and get hit or elevate pitches and run into hard contact, I think some of these situations, by trial and error, you realize the value of certain things. I think he does nothing but build a positive reinforcement for what he did in that situation that, long term, will hopefully get him out of another situation like it."
Alvarez finished his third and longest start of the young season with a strikeout of Matt Winn to end the fourth. The Matanzas, Cuba native threw 41 of his 57 pitches for strikes and generated three outs on the ground vs. one fly ball. Alvarez took a step forward with his power fastball -- which grades as a 75 on MLB Pipeline's 20-to-80 scouting scale -- but also showed a good mix of his still-developing secondary pitches.
"It's still early. I think he has an understanding of making the ball turn over," Wells said. "He has a curveball and a slider technically, but I think he's still in the midst of trying to create some disparity between the two of them. They're both fairly tight and fairly firm, it just kind of speaks to the rawness of where he's at as a young pitcher. I think he's still adding and subtracting on his breaking balls based on what the situation calls for. All that being said, there's still more in there, and there's a changeup eventually that will develop into a weapon. At this point, he's scratching the surface."
Baseball's No. 44 overall prospect was roughed up for seven runs on nine hits over 2 1/3 innings in a loss at Lancaster in his season debut on April 17. Five days later, he surrendered two runs on four hits over 3 2/3 frames against Inland Empire. Thursday night was his latest incremental step forward. The righty continued to flash good command. On the season, Alvarez has struck out 12 batters while walking just four.
"Avoiding walking people is really not something that he's aware of," Wells said. "I think there's other cultures and other upbringings from a baseball standpoint that there's time pitchers will be aware of walk totals or being behind in a count or be aware of trying to make pitches instead of just competing. I think in his case, he does a good job of pitching to contact and immediately getting into a leverage situation in the count."
The Quakes led, 2-0, going into the seventh when the Giants broke out for four runs highlighted by Arenado's two-run double.
Tyler Maun is a contributor to MiLB.com. Follow him on Twitter @TylerMaun.