Alvarez almost untouchable for five frames
Dodgers No. 2 prospect hurls longest outing of year for Quakes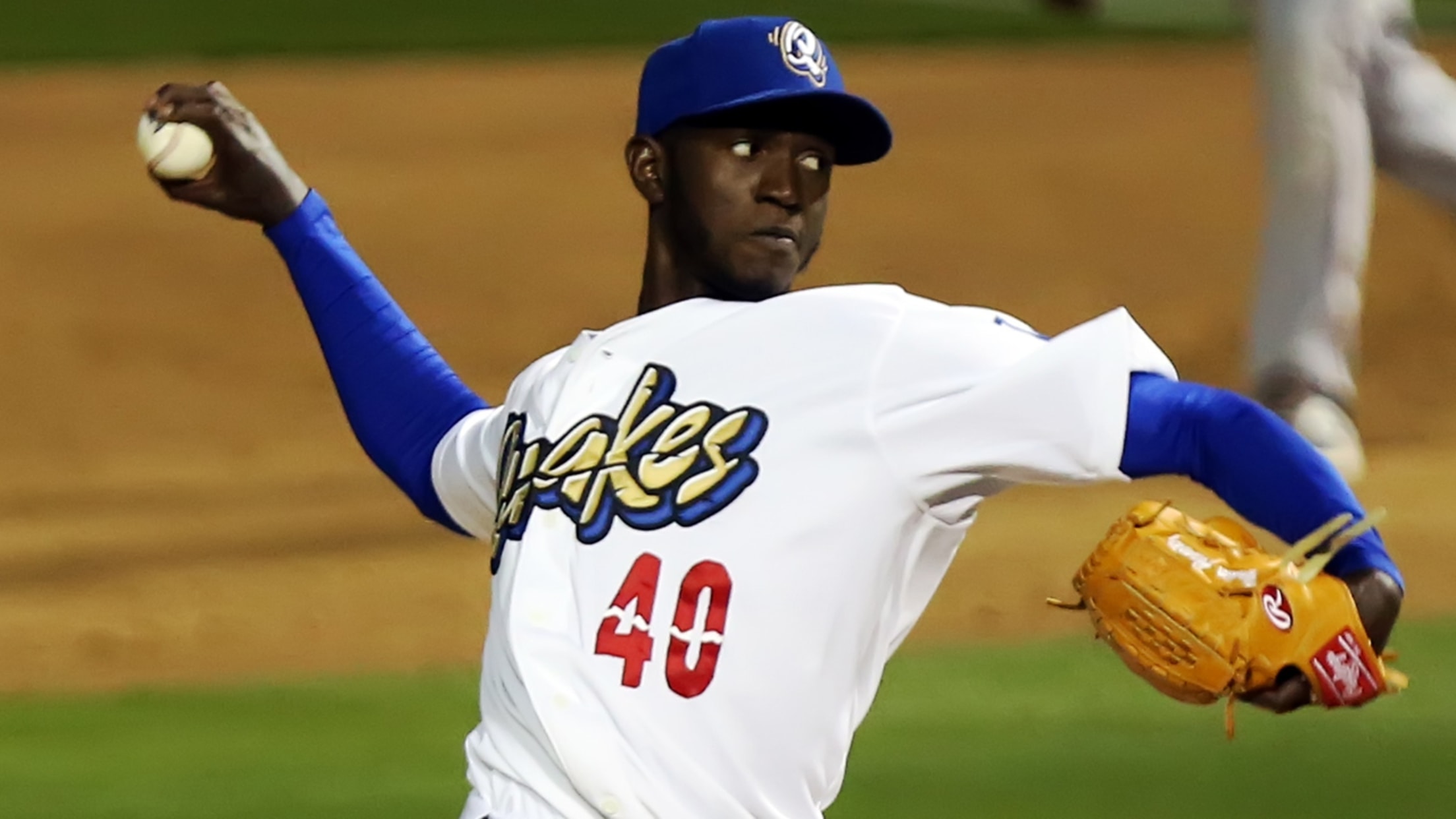 Yadier Alvarez had not pitched past the fourth inning in his first six outings of the 2017 season. (Donn Parris/MiLB.com)
Nearly two weeks ago, Yadier Álvarez entered in relief of rehabbing Major Leaguer Rich Hill, and his manager praised the rhythm he found toward the end of his outing. Alvarez continued on that track in his longest appearance of the year Monday.The Dodgers No. 2 prospect completed five innings for
Nearly two weeks ago, Yadier Álvarez entered in relief of rehabbing Major Leaguer Rich Hill, and his manager praised the rhythm he found toward the end of his outing. Alvarez continued on that track in his longest appearance of the year Monday.
The Dodgers No. 2 prospect completed five innings for the first time this year, allowing just one hit and a walk while striking out five as the Class A Advanced Rancho Cucamonga Quakes fell to the visiting Visalia Rawhide, 2-0.
"He's been trying to clean up a little bit of his direction going to home plate, making sure that he was staying behind the fastball a little bit more," Quakes manager Drew Saylor said. "I know that's something that he and [Rancho Cucamonga pitching coach Kip Wells] have been working on. The thing that was really exciting was just the pace. Sometimes when things aren't going your way, players sometimes tend to take a little bit more time on the mound. What he did tonight was work at a pretty efficient pace, making the hitters a little more uncomfortable than what they already are facing his electric stuff."
Gameday box score
Alvarez faced baserunners in three of his five innings, but stranded all of them. Visalia's Matt McPhearson reached on a leadoff throwing error by second baseman Drew Jackson, Los Angeles' No. 18 prospect, in the first frame but was left at third. Daniel Lockhart singled with one out in the third but didn't advance, and Marty Herum was marooned at first after a one-out walk in the fourth. Alvarez retired the final five batters he faced.
"He's able to go after them with that upper-90s fastball with that late rise and life to it," said Saylor of Alvarez's 75-grade fastball via MLB Pipeline. "That's really one of the things that helps out pitchers. Hitters are swinging and missing at some pitches, and then you throw in a breaking ball for a strike and it's, 'Oh geez, which one do I hit? Which one is coming next?' I think that's one of the things that's really helped him out to start the season."
Baseball's No. 42 overall prospect matched a season-high 74 pitches, setting a new 2017 best with 46 strikes.
"He and (catcher) Will Smith did a good job," Saylor said. "They had a really good gameplan of what they wanted to do against the opposition. Doing that prep work before really enhances that trust. When you step in and see that guy squatting down behind home plate and throwing down fingers, being able to go, 'Yeah, I know where he's at, we talked about this.' That innate confidence you have when you have those types of relationships [is big]."
Across from Alvarez, Visalia's Jose Almonte matched him inning for inning and lasted longer into the night. The right-hander struck out a career-high 10 batters while allowing three hits and a walk over seven innings.
"Seeing that other guy matching you pitch to pitch, being able to go out there and say, 'No, I'm going to sit here and keep doing my thing and have him react to me,' I think that's one of those things that really helps in those pitchers' duels," Saylor said. "Which one's going to blink first? Which one is going to veer off when you're playing chicken? I think that's definitely one of the things that played into the tempo and rhythm with Yadi."
Still fine-tuning his mechanics, Alvarez hit another benchmark with his longest start of 2017. Saylor noted Alvarez's challenge will be to do it again and again.
"Being able to repeat the intensity, the energy, the pace, finding that confidence more within the process vs. what the results are [is key]," he said. "The results are going to take care of themselves if we do a great job of our process."
Visalia broke a scoreless deadlock in the eighth on a two-run infield single by Jason Morozowski.
Tyler Maun is a contributor to MiLB.com. Follow him on Twitter @TylerMaun.