King of the Moment
After struggling in his Triple-A debut in 2021, Nolan Kingham is back and thriving in multiple roles with Gwinnett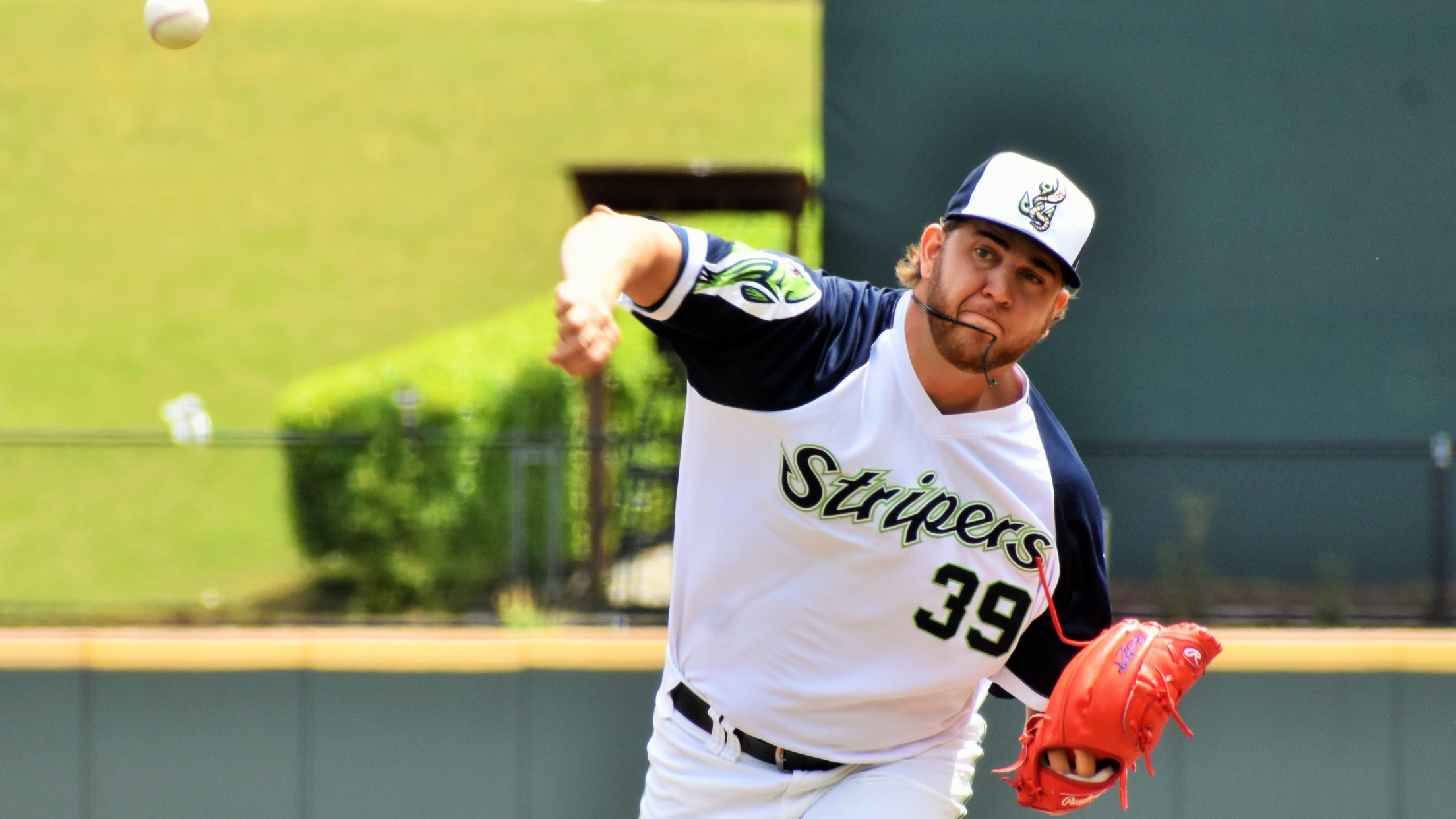 (Josh Conner/Gwinnett Stripers)
The last 12 months of pitcher Nolan Kingham's career have been a roller-coaster. In June 2021, the right-hander cruised through the Double-A South, going 3-0 with a microscopic 0.83 ERA over five starts with the Mississippi Braves. Over his final 27.0 innings with the M-Braves he allowed no runs. Kingham's
The last 12 months of pitcher Nolan Kingham's career have been a roller-coaster.
In June 2021, the right-hander cruised through the Double-A South, going 3-0 with a microscopic 0.83 ERA over five starts with the Mississippi Braves. Over his final 27.0 innings with the M-Braves he allowed no runs. Kingham's opponents simply had no chance.
The baseball world took notice. Kingham was named Double-A South June Pitcher of the Month by MiLB.com, pushed his way on to the Atlanta Braves' Top 30 Prospects list produced by MLB Pipeline, and earned a promotion to Triple-A Gwinnett on June 29.
But it did not last.
Kingham's Stripers debut against the Durham Bulls yielded no celebrations as he was tagged for six runs over 3.1 innings in a loss. The next week, he made his first two starts at Coolray Field, but was handed two more losses by the Nashville Sounds. He continued to scuffle through July and early August, and was 0-5 with a 10.13 ERA in his first seven Triple-A games. The Braves decided to send him back to Mississippi on August 17.
"Coming up here in Triple-A, there were a few adjustments I had to make. I wasn't quite figuring it out. But it is what it is," Kingham said.
"In Mississippi, [Kingham] had velocity," said Stripers' pitching coach Mike Maroth. "When he came here, I don't know if it was just later in the year, but his stuff wasn't quite the same. When you have that big of a drop off in stuff, it affects your performance. He grinded with what he had, but it dropped off to like 90, top-ping out at 92 – a significant drop in his stuff."
Kingham made one more start upon his return to Mississippi – a seven-inning gem against Montgomery for the win on August 20 – before hitting the injured list. When he returned to the mound on September 14, it was in a much different role. He came out of the bullpen late in a two-run game against Chattanooga, working a scoreless eighth and ninth for his first save since 2018.
That's right – Nolan Kingham, closer.
It was Kingham's first relief appearance since his professional debut in 2018, when he made nine non-starts for the Rookie-level Danville Braves and locked down one save.
He pitched the ninth in Chattanooga again three days later and retired the side in order, recording his second save. The M-Braves had officially punched their ticket to the Double-A South Championship Series, and Kingham was locked in as the team's new closer.
In the best-of-five series vs. Montgomery, he saved all three of Mississippi's wins over the Biscuits. He pitched a scoreless ninth in an 8-5 win in Game 2 to even the series at 1-1, struck out the lone batter he faced to snuff out a five-run rally in an 11-9 victory in Game 3, and stranded the tying run on second base to secure the Double-A South championship with a 2-1 triumph in the decisive Game 5.
"It was a great year all around in Double-A," King-ham said.
In Mississippi, he picked up on the unique skills needed to succeed as a starter and closer.
"It's night and day, a completely different animal. With starting, you have to play chess a little bit. When you're closing, you have to let it all out, go pedal to the metal from the first pitch. I think the main thing is trying to have that happy medium on starting and closing."
Kingham strode into spring training this season looking more like his Mississippi self.
"This year, he came into spring training and his stuff was back to where it was previously, in the mid-90s," Maroth said. "The better arm speed, the velocity, it's there. Now we can see what his stuff can do."
After spring training, Kingham returned to Gwinnett, this time as a reliever. With his renewed velocity, he immediately made an impact, tossing 9.1 scoreless innings and striking out eight over his first five appearances. Opponents hit just .103 against him over the span. On May 22, Kingham and his 2.01 ERA slid into a spot starter role. It was the logical next step from the bullpen considering his history as a starter and four-pitch arsenal.
Kingham throws a four-seam fastball, two-seam fastball, slider, and changeup, commanding all four pitches for strikes. He's always had a knack for living in the strike zone, but this season, he has focused on attacking hitters one pitch at a time. This helps him induce contact early in counts, keeping his pitch count low and giving the Stripers as many outs as possible before handing the ball off to the bullpen.
"He's always been a guy that attacks the zone, he did it even when his stuff wasn't good. But now with the stuff being where it is, attacking the zone he's getting really good results and doing a really good job for us. He's been really reliable for us," Maroth said.
Kingham's velocity is revamping his game in a variety of ways. He's continuing to throw strikes – 68.8% of his pitches this season have been strikes, the third-highest rate in the International League. Now he can attack the zone with fastballs with reduced risk of opponents jumping on the pitch. Last season, Triple-A opponents slashed an incredible .365/.431/.675 over 147 plate appearances. As of June 29 this season, opponents are slashing just .197/.239/.347 in 155 plate appearances.
This stark contrast is helped by the amount of line drives Kingham has allowed. Line drives are the most dangerous batted balls, frequently falling for hits and finding gaps in the outfield. Last season, he allowed line drives on 23.1% of balls put in play. This year it's down to 15.3% of balls in play, the fifth-best rate in the International League.
Increased confidence in his stuff also means Kingham is walking less hitters. In 2021, he walked 9.5% of hitters he faced in Gwinnett. This season it's down to a microscopic 3.2% of hitters, which ranks fourth out of 76 International League pitchers with at least 40 innings. Kingham wouldn't be at the cusp of the big leagues without the help of his dad, Don, and older brother Nick.
Nick Kingham is five years older than Nolan and enjoyed a 43-game stint with the Toronto Blue Jays and Pittsburgh Pirates from 2018-19. "Growing up, I didn't really have idols. I had my brother and my dad," Nolan said. "My brother was my idol. Five years older, he was always bigger than me, taller than me, stronger than me, always. I looked up to him and tried to learn by his mistakes, pick his brain about pitching, life, pro baseball, and becoming a man. I'm so fortunate, because not a lot of people have that. Having him this whole way has been awesome."
Nick and Nolan grew up in the baseball hotbed of Las Vegas, a locale that has produced the likes of National League MVPs Bryce Harper and Kris Bryant, and MLB talents Tommy Pham and Joey Gallo.
"Las Vegas is a small town. Everyone knows everyone and everyone is really good at baseball out there," Kingham said. After graduating from Desert Oasis High School, Kingham went on to the University of Texas and made 57 appearances over three years with the Longhorns, including a start in the College World Series his junior year. Also on that 2018 team was current Stripers starter Bryce Elder, who was a freshman at the time.
"Shortly after I left, Bryce ended up becoming a really good pitcher, and [the Braves] ended up drafting him, so now we're teammates and we're roommates," Kingham said. "I think it's really cool to have a friend along on the journey with you and being able to hang out with your friends around your job."
There are players from that Texas team all over professional baseball. In this year's spring training, Kingham faced one hitter, who he retired on one pitch. That hitter was the Boston Red Sox' David Hamilton, a teammate of Kingham and Elder at Texas. "I keep up with those guys, especially David. He went to Texas with me and was one of my brothers. Being able to hang out with him, being on the same baseball team as him, and playing against him is insane. It's everything we've all worked for, talked about, and dreamed about. To share it with everyone, it's become a reality and it's fun."
Kingham is seizing his second chance in Gwinnett, and regardless of his role on the team, continues to attack hitters and focus on every pitch.