Doskow gets the call after 30 years in Minors
Sacramento's play-by-play voice since 2000 heading to Oakland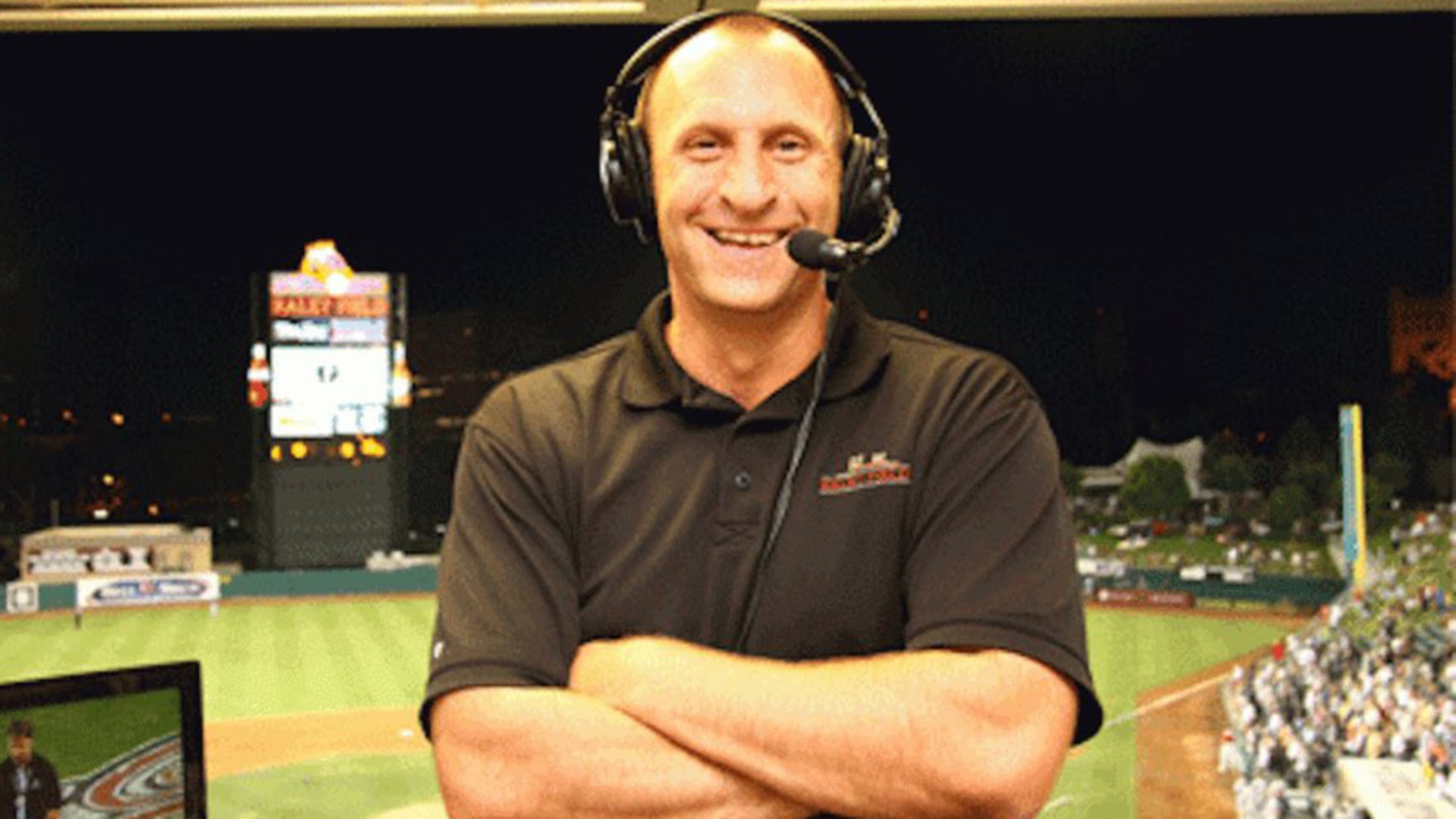 Johnny Doskow was the play-by-play announcer for the Sacramento River Cats since 2000. (Sacramento River Cats)
After calling Minor League games for the past 30 years, Johnny Doskow got his call to The Show on Jan. 27. The voice of the Triple-A Sacramento River Cats since 2000 will join the Oakland A's broadcast team for the upcoming season. "It's been kind of crazy, but really cool
After calling Minor League games for the past 30 years, Johnny Doskow got his call to The Show on Jan. 27. The voice of the Triple-A Sacramento River Cats since 2000 will join the Oakland A's broadcast team for the upcoming season.
"It's been kind of crazy, but really cool and just blown away with the love I've had from so many people," he recently told MiLB.com's The Show Before The Show podcast. "I always dreamed of this -- I wish it could be like a player where they call me into the office and play some kind of joke on me like, just kidding you're getting called up … but it wasn't that way. (Coordinating producer of broadcasting for the Oakland Athletics) D'Aulaire [Louwerse] reached out to me several months ago and said we might have something for you, no promises.
"So it wasn't the traditional where you hear about the job, send out your stuff, and then you just wait. Mostly, getting ready for the rejection email or rejection letter. So I had an idea it was coming, but also I had to work for the A's too, so it was over the course of several months that it kind of happened. So it wasn't sudden, but still when I got the actual offer, it was emotional."
Heading to the Bigs! Johnny Doskow is synonymous with River Cats baseball and we can't help but think of him when referencing the Vin Scully quote: "As long as you live, keep smiling because it brightens everybody's day." Congratulations and well deserved! We are so proud of you! pic.twitter.com/SXGelCs0uS

— Sacramento River Cats (@RiverCats) January 27, 2023
Doskow started his career in the Midwest League calling games for the Class A Cedar Rapids Kernels in 1993. At that time, there was very little investment in Minor League Baseball, and as Doskow recalled, "I remember in 1993 we had to vote on whether to get a fax machine or a mascot, and we chose the mascot, Mr. Shucks."
After three seasons and calling a Midwest League title in '94, Doskow began a three-year stint broadcasting for the High Desert Mavericks in 1996. In 1998, he joined the Fresno Grizzlies before finding a home in Sacramento for 22 years, a journey he did not anticipate at the onset.
"I said, I'm gonna do my three years here (in Cedar Rapids), and then go straight to the big leagues in 1996," Doskow said. "What could go wrong, right? I'm gonna get there."
And while he may have taken the scenic route, he did indeed get there. Doskow will be behind the mic for pregame, play-by-play and postgame coverage for more than 65 A's games during the regular season and Spring Training. In addition to that, he will also be a regular contributor to the A's daily live sports talk show, "A's Cast Live." And although some of these responsibilities will be new for the 56-year-old, he is embracing the challenges.
Hey, @JDoskow! Green and gold looks good on you!

We've added longtime Sacramento River Cats broadcaster Johnny Doskow to our broadcast team! 🎙️ pic.twitter.com/CfHMCOi5ej

— Oakland A's (@Athletics) January 27, 2023
"The prep is so critical as it was in the Minor Leagues," he said. "You know, I always prepped hard and obviously I'm going to do the same thing here. I think I'll probably do a little more research in the Major Leagues now, obviously you're in the big leagues, but I think, look, I'm new to this, this is new for me, so I'm gonna learn.
"I'm used to doing 150 games a year where I'm the guy to just do the play-by-play. So I'm excited about the variety of things that I'm going to do now. I've never done talk before, so that 'A's Cast' thing is going to be new for me. So I'm excited about that kind of challenge, and challenge myself to learn more about the game."
And when he gets his chance to do play-by-play for the A's, it's not something he's going to take for granted.
"I've done over 4,000 Minor League games so I'll be really hungry because I won't be doing as much play-by-play, so when I do get a chance to do some play-by-play, I'll be hungry to do it," Doskow said. "So the innings that I do, I'm gonna be really excited to get my hands on those innings. Looking forward to it."
Still, it's not what he's looking forward to the most. What he's looking forward to most is March 30.
"The thing about Opening Day is that every team is optimistic. Especially with a young team like this, and I'll tell you what, I look at the prospects in this organization and it is exciting," he said. "The players they brought over in these big trades, they built this system up, and the thing about the A's, when they go on these turns they go straight up quickly. This organization is so good at rebuilding. … So, I think that's the exciting part with the Tyler Soderstroms, the Zack Gelofs, the Max Muncys, the future is bright for this organization."
And although Doskow already made his debut in The Show in 2012 when he filled in on the A's broadcast for 34 games, and then made another big league appearance in the Giants radio booth last September, becoming a mainstay in the Major Leagues is a dream come true for the 56-year-old who reflects on his 30-year journey with no regrets.
"I thought the road was going to be a little smoother, but you never really work a day in your life when you're broadcasting, even Minor League Baseball," he said. "The nights are shorter, early wakeups, especially in the Coast League, but I wouldn't have changed anything. I wouldn't change one thing about it."
Rob Terranova is a contributor to MiLB.com. Follow him on Twitter @RobTnova24.