Chiefs' Dahlberg dominates to clinch series
Cards lefty posts eight zeros to punch Midwest Finals ticket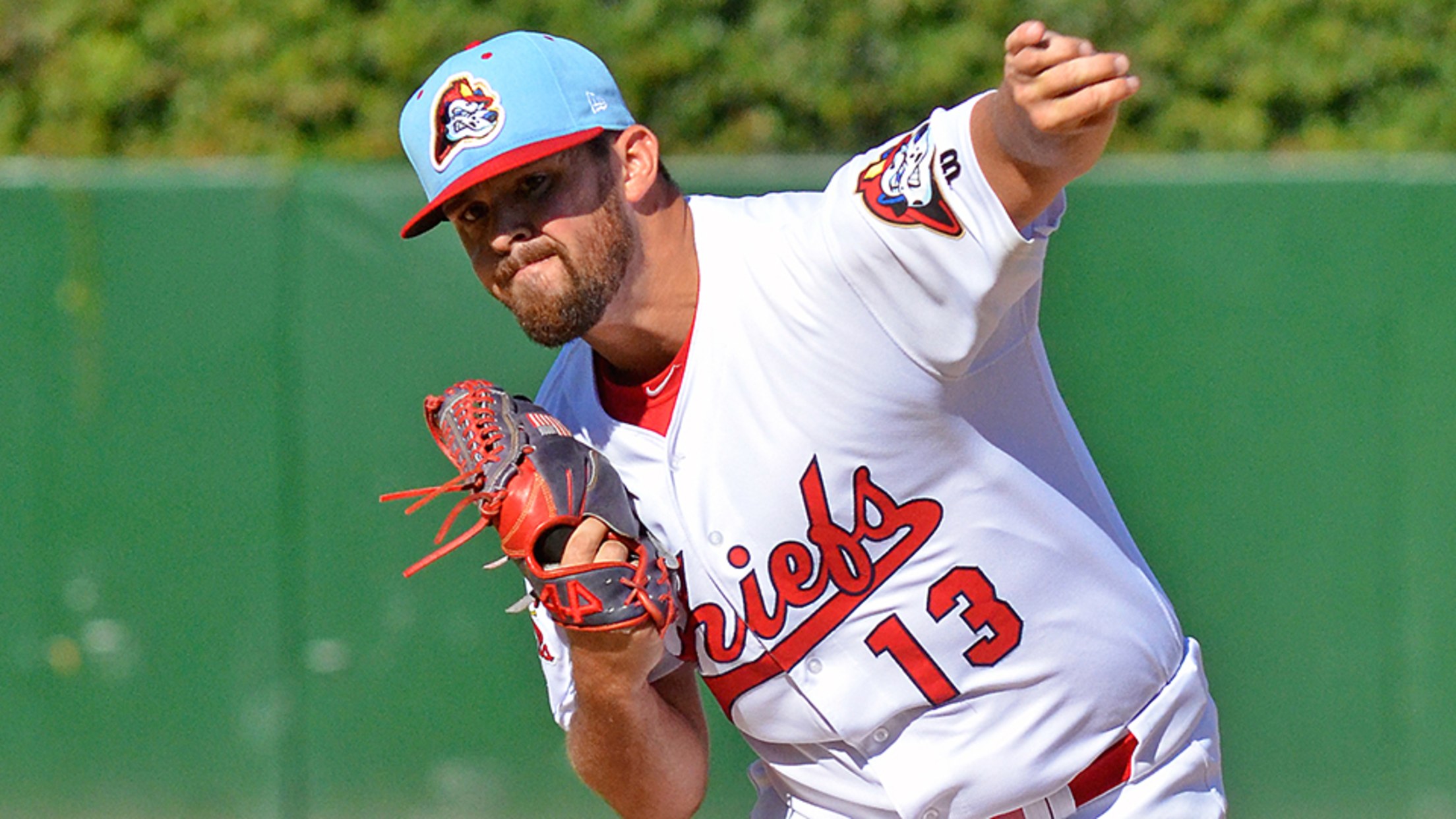 Jake Dahlberg was 5-5 with a 2.50 ERA at two levels in the Cardinals system this season. (Paul R. Gierhart/MiLB.com)
Jake Dahlberg had three scoreless starts at two levels this season. He picked the perfect time for a fourth.The left-hander allowed four hits and a walk over eight innings Sunday as Class A Peoria clinched a spot in the Midwest League Finals for the first time since 2002 with a
Jake Dahlberg had three scoreless starts at two levels this season. He picked the perfect time for a fourth.
The left-hander allowed four hits and a walk over eight innings Sunday as Class A Peoria clinched a spot in the Midwest League Finals for the first time since 2002 with a 5-0 win over Cedar Rapids at Dozer Park. He struck out a career-high nine.
Not overpowering, Dalhberg relies mostly on his changeup, which was working Sunday, Chiefs manager Chris Swauger said.
"The biggest key is he has a legitimate weapon in his changeup and he knows it and he throws it often," Swauger said. "It makes all of his other stuff play up unbelievably well. It's kind of been his M.O. since he's gotten here. He's had a lot of success since he's been with our club. It's a pitch he can miss bats with, he can gets out with, it makes all of his other stuff that much better. There's not really a secret to it, that's what he does."
The University of Illinois-Chicago product threw 100 pitches, 73 for strikes, to weave his way through the Kernels' lineup, which includes sixth-ranked Twins prospect Trevor Larnach, No. 12 Akil Baddoo, No. 17 Gabriel Maciel and No. 25 Jacob Pearson.
Gameday box score
Dahlberg had runners on in each of the first four innings, including Trey Cabbage's leadoff triple in the third frame. But the lefty got Baddoo to ground out to second baseman Nick Dunn, who nailed Cabbage at the plate. Michael Helman flied out to right and Larnach grounded out to end the inning.
"It appeared to me that he was able to execute his pitches just a little bit better," Swauger said, explaining how Dalhberg got better as the game went on. "While he was throwing strikes the first three innings, his stuff was not the best. I think as he got deeper into the game, he got a better feel for his changeup and for all of his other stuff, and he was able to execute. That's very typical of good starting pitchers. They might be a little shaky trying to feel their other stuff out early, but once they settle in, they do a really good job of mixing and finding a rhythm. And that's why I think the results were what they were."
Peoria erupted in the bottom of the third against Twins No. 9 prospect Blayne Enlow (0-1). Nick Plummer walked, Justin Toerner singled and St. Louis' No. 16 prospectLuken Baker was hit by a pitch to load the bases. Then Zach Kirtley , who had two hits in Saturday's win, lined a single to right field to bring in two runs. Nick Dunn, Saturday's hero, followed with an RBI hit, and the Chiefs added two more runs on second-ranked Nolan Gorman's grounder and a wild pitch.
• Complete postseason coverage »
Dahlberg (1-0) finished with a flourish, striking out four of the final six hitters he faced before turning the game over to C.J. Saylor. The righty gave up two singles, but Patrick Dayton struck out Pearson and Michael Davis to set off the Chiefs' celebration.
Swauger said he did think about having Dalhberg finish the game.
"Obviously, that's a discussion when a guy's put up those kind of numbers and he's was close to his pitch count, but he wasn't at it," the skipper said. "But he came in kind of under the weather today, and he started to show a little bit of fatigue. He was still very effective, but it's one of those things where, I don't think there's a wrong decision, but where we were at the game and with him, we just decided to go with our other guys and they were able to get it done."
Starting Wednesday at 7:30 p.m. ET, the Chiefs will host the winner of the West Michigan-Bowling Green in the Championship Series.
Swauger led Rookie-level Johnson City to an Appalachian League title his second year there. He said the key is to play the same way as the regular season.
"There's definitely the same feeling on every team that I've ever been a part of that's won a championship," he said. "It's business as usual, making the game exactly what it is, just another game. The guys that can make it the feeling of just another regular-season game, just go out and execute what they're good at ... they typically seem to have the most success. In general, the most important thing is that guys just do what they do best and stick to their strengths. The players that are able to do that have the most success."

In other MWL playoff action:
Bowling Green 3, West Michigan 1
Rays No. 7 prospect
Ronaldo Hernandez
hit a two-run single in the first and
Paul Campbell
made it hold up with seven strong innings as the Hot Rods completed a sweep of the other semifinal series.
Carl Chester
added an RBI single for Bowling Green, which will face Peoria in the Finals, starting Wednesday at Dozer Park.
Christopher Proctor
drove in West Michigan's run with a seventh-inning single.
Gameday box score
Vince Lara-Cinisomo is a contributor to MiLB.com. Follow him on Twitter @vincelara.