Express' Tucker joins elite 30/30 club
Top Astros prospect is fifth to achieve feat in PCL history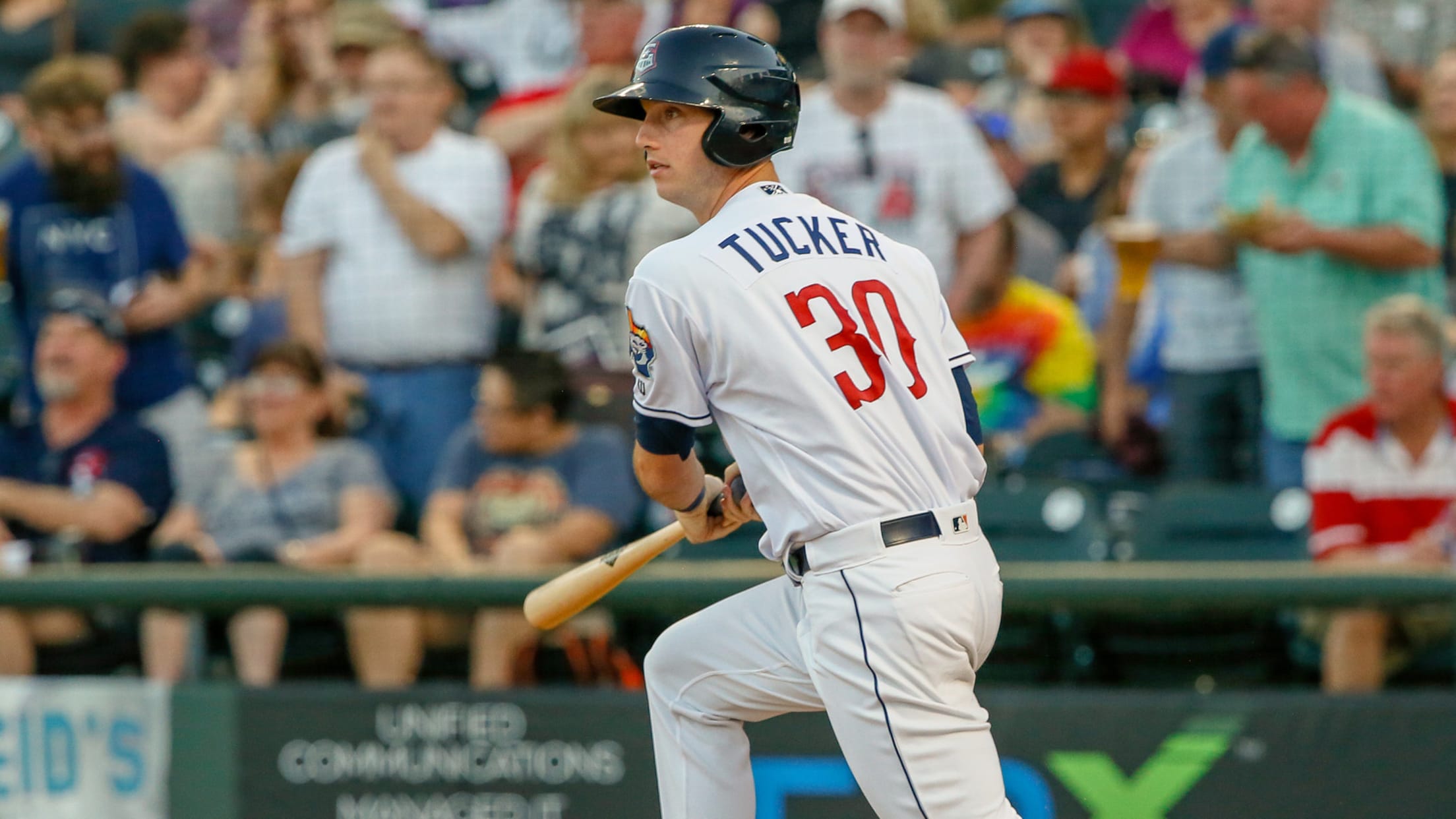 Kyle Tucker leads the Pacific Coast League with 30 stolen bases and ranks fourth with 30 homers. (Andy Nietupski)
Kyle Tucker had just joined exclusive company on Saturday night and his coaches and teammates were hoping to see him celebrate with a little flair."We had been messing with him," Triple-A Round Rock manager Mickey Storey said. "We told him, 'Hey, when you get that 30th stolen base, you have
Kyle Tucker had just joined exclusive company on Saturday night and his coaches and teammates were hoping to see him celebrate with a little flair.
"We had been messing with him," Triple-A Round Rock manager Mickey Storey said. "We told him, 'Hey, when you get that 30th stolen base, you have to take the base out of the ground and lift it up, like Rickey Henderson.'"
Tucker, who his manager described as humble, gave an inkling of doing it before merely flashing a smirk toward the dugout.
"He actually pretended like he was going to do it," Storey said. "I don't think anyone else knew what he was doing except us because we were in on the joke. He's very confident and quiet ... but deep down, I knew it was something he could accomplish quite easily."
What he accomplished is rare. MLB.com's No. 13 overall prospect became the fifth player in the 116-year history of the Pacific Coast League to hit 30 homers and steal 30 bases in the same season as the Express beat New Orleans, 7-1, in the first game of a doubleheader at Dell Diamond.
Gameday box score
After drawing a walk with one out in the sixth inning, Tucker took off and beat the throw from Baby Cakes catcher Tyler Heineman for his 30th steal. He became the first member of the PCL's 30/30 club since Dodgers outfielder Joc Pederson had 33 homers and 30 thefts for Albuquerque in 2014.
Storey, who coached the 22-year-old two years ago at Class A Advanced Buies Creek, saw the potential for this milestone and stayed in the prospect's ear.
"He realized he had a good opportunity a couple of weeks ago," the manager said, "and I kept reiterating to him, 'Hey, get there. I know a lot of people haven't done this. You can do it. You just have to keep going.'"
Tucker's career high in steals is 32, so the question of reaching that stat was never out of the question.
"Early on in the year, I said to him, 'If you are having a Kyle Tucker-esque year, then let's try to push this to a 30/30 or 40/40-type season,'" Storey said. "Obviously, Tucker is a special talent, he's a special player. It's been one of those years where the home runs are something where he went through streaks. It's kind of ironic, because he's had some slumps this year also, but the stolen bases have been the constant. When he gets on base, he is aggressive and takes every opportunity to run. That's how you get to 30/30."
The top Astros prospect notched his 30th dinger with a two-homer night on Aug. 7 against El Paso, smashing a two-run shot in the first for his 29th and adding another two-run blast in the sixth.
Along with Pederson, Tucker joins Frank Demaree (1934), Lefty O'Doul (1927) and Tony Lazzeri (1925) as members of the PCL's 30/30 club.
The fifth overall pick in the 2015 Draft, Tucker leads the league in stolen bases, ranks fourth with 32 homers and seventh with 94 RBIs. In 120 games, the left-handed hitter is batting .268 with three triples, 26 doubles and 87 runs scored.
Astros No. 15 propsect Garrett Stubbs contributed three RBIs for the Express, Nick Tanielu clubbed a two-run homer and Chas McCormick hit a solo shot.
Tanielu got in on the fun with Tucker following the game, posting a video of what we assume is the 30/30 man talking about his feat while having a Snapchat filter with a full beard and glasses as part of his decor. Storey wasn't surprised to hear about the antics.
"I'm guessing it is [Tucker] because it usually is," he said. "A couple of guys in our clubhouse, during postgame interviews, it has become somewhat of a tradition for the player of the game. They mess around with those filters."
Astros No. 22 prospect Rogelio Armenteros (6-6) went the distance, allowing one earned run on six hits and a walk while striking out six. It was his second career complete game.
Luis Robert, MLB.com's fifth overall prospect, joined Tucker as a 30/30 member on Saturday. In the second game of a doubleheader for Triple-A Charlotte, the top White Sox prospectsmacked a solo shot for his 30th home run across three levels this season to go with 36 steals. It marks the first time that two players accomplished the feat in the same season since 1981, when Brad Komminsk (Class A Advanced Durham) and Willie Royster (Double-A Charlotte) both got to 30 homers and 30 stolen bases.
Brian Stultz is a contributor to MiLB.com. Follow him on Twitter @brianjstultz.