Rolen credits Minors for work ethic, character
New Hall of Famer spent four seasons in the Phillies system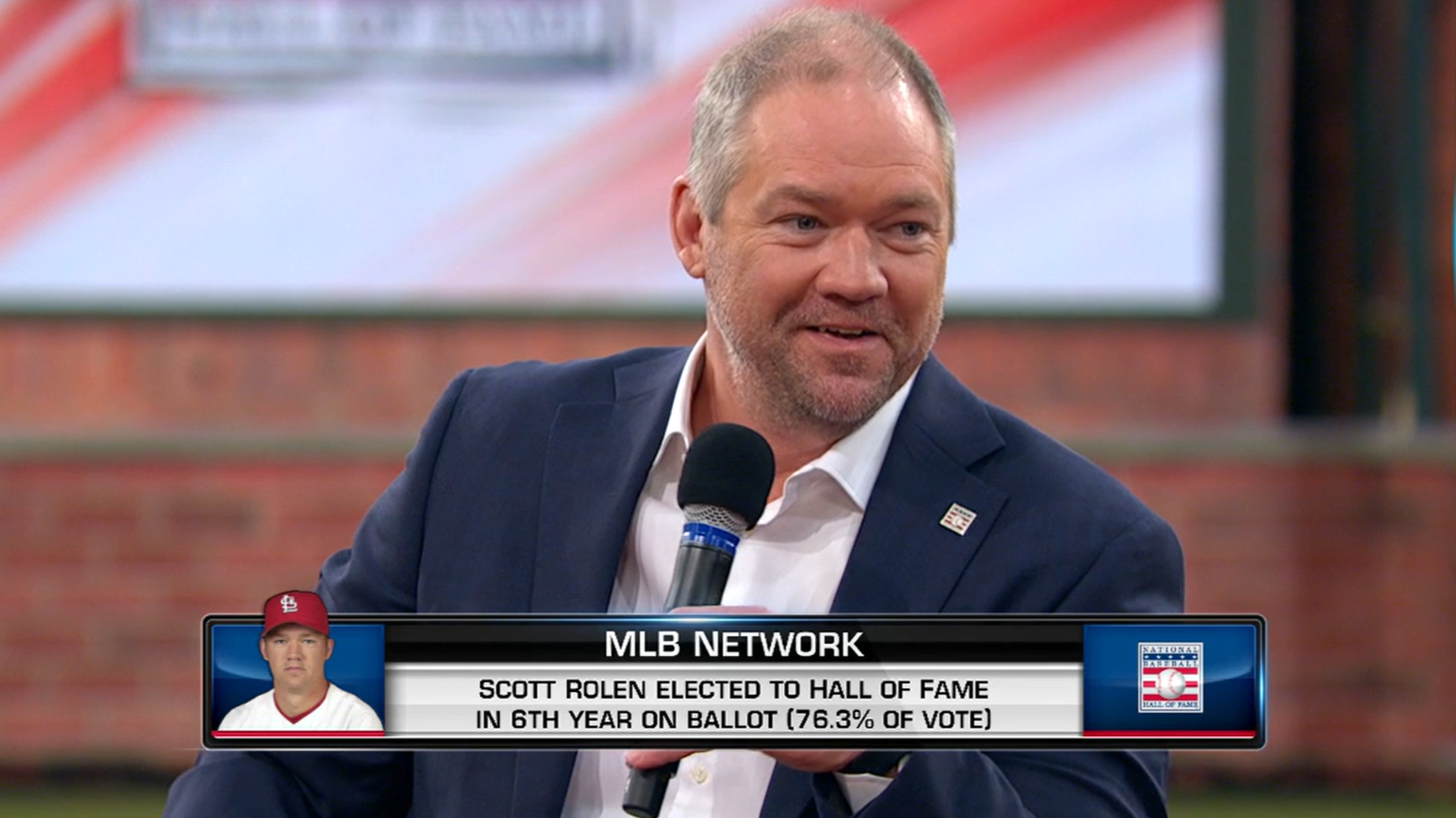 Scott Rolen donned an E5 hat while addressing the media Tuesday evening, a reminder that the fundamentals he learned in the game of baseball set the stage for important work off the field, even as he was being honored for his play on it. The eight-time Gold Glove-winning third baseman
Scott Rolen donned an E5 hat while addressing the media Tuesday evening, a reminder that the fundamentals he learned in the game of baseball set the stage for important work off the field, even as he was being honored for his play on it.
The eight-time Gold Glove-winning third baseman was elected to the National Baseball Hall of Fame by the Baseball Writers' Association of America. In 1999, he created the E5 Foundation -- a non-profit organization designed to help children facing hardship and their families. The E5 lid was more than just a proverbial tip of the cap as he talked about entering the hallowed halls in Cooperstown, New York.
"You don't think about this," Rolen told reporters. "You think about trying to do the best you can and play for your team and play the best you can. I never thought that the Hall of Fame was going to be the answer."
One of the best to ever play. Congrats to former Red Baron Scott Rolen! https://t.co/DTOWgrxZvm

— SWB RailRiders (@swbrailriders) January 24, 2023
The 47-year-old was selected by the Phillies in the second round of the 1993 Draft (No. 46 overall) out of Jasper High in Indiana. He began his professional career with Rookie-level Martinsville soon thereafter. In 25 Appalachian League games, Rolen quickly established himself as an elite prospect -- batting .313/.429/.375 -- and set the framework for his fast rise through Philadelphia's system.
"Minor League systems are always trying to do different things to develop their players, and at the time that I was in the Minor League system in Philadelphia, it was kind of a hands-off approach," Rolen recalled. "And, actually, a little survival of the fittest.
"They taught me how to play the game."
Rolen continued to impress as he made his full-season debut the following year in the South Atlantic League with Spartanburg. Then 19 years old and one of the youngest at the Class A level at the time, Rolen continued to prove he belonged by posting a .294/.363/.462 slash line with 14 home runs, five triples, 34 doubles, 83 runs scored and 72 RBIs over 138 games.
"We went out there and we played and [the organization] challenged you. There was an emphasis on baserunning and being aggressive and not worrying about making mistakes," Rolen said. "So, you know, I made plenty of mistakes and plenty of errors, but was never penalized for it, and I think that was a really good thing for me coming up."
Congratulations to former R-Phil Scott Rolen on his induction into the @baseballhall ! pic.twitter.com/WwjiZMzW9Z

— Reading Fightin Phils (@ReadingFightins) January 24, 2023
Rolen opened the 1995 season with Class A Advanced Clearwater and continued to showcase his consistency with a .290 average, 45 runs and 39 RBIs in 66 games, earning a promotion to Double-A Reading in the final month of the regular season. In 20 contests to conclude his third year as a pro, Rolen posted a .289/.353/.447 slash line with three dingers, a trio of doubles, 16 runs scored and 15 RBIs, while continuing to shine at the hot corner with a .934 fielding percentage.
"I really took a lot of pride in what I did defensively," Rolen said. "I learned young in the Phillies organization how important defense and baserunning was. They used to say that baserunning is your character, that's who you are. That is the character of who you are as a human being on the field, and I took a lot of pride in that.
"[Phillies coach] John Vukovich changed everything for me defensively. I was just a Minor League kid and we'd go out there and he taught me how to work. He made me work hard. I didn't have a choice but to work hard and he worked as hard as I did. It was nonstop. He taught me defensive fundamentals that I just didn't know about: widen stance, feet are down, glove in a certain spot ... the learning curve was so fast because he was right there with me."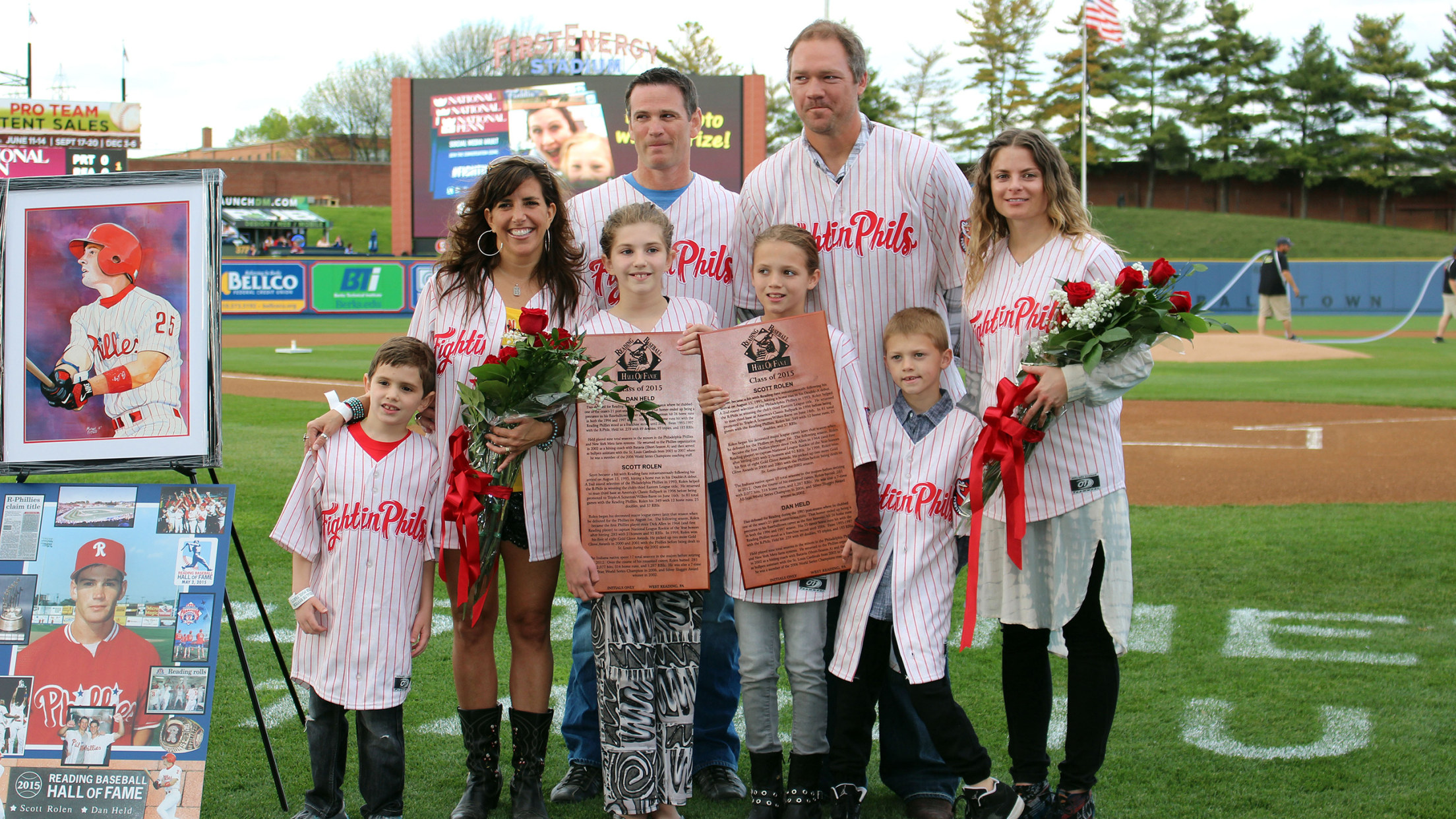 Rolen returned to Reading to open the 1996 season and dominated through the first two months of the year, hitting .361/.445/.591 with 34 walks and eight stolen bases. His hustle out of the box accounted for two triples and 22 doubles. He was promoted to Triple-A and appeared in 45 games with the Scranton/Wilkes-Barre Red Barons. He posted a .952 fielding percentage at third base for them before getting called up to The Show.
Rolen made his Major League debut with Philadelphia on Aug. 1, 1997 and appeared in both ends of a twinbill against the Cardinals at Veterans Stadium. He collected one hit and worked a walk that day. The following season, Rolen won the 1997 National League Rookie of the Year award.
"I went through the Minor League system with the Phillies and they taught me how to play and who I was as a player," Rolen said," and how I was going to work no matter where I went."
Rolen went on to play for the Phillies, Cardinals, Blue Jays and Reds over a 17-season Major League career. The seven-time All-Star won the Silver Slugger award in 2002 and a World Series ring with the Cardinals in 2006. He finished his career batting .281 with 316 home runs, 1,287 RBIs, 1,211 runs, 517 doubles, 43 triples and while amassing 2,077 hits and an .855 OPS.
Fittingly, the third baseman cleared the writers' 75 percent vote plateau by five votes (76.3 percent). He'll join Fred McGriff (elected by the Contemporary Baseball Era Players Committee in December) to form the Hall of Fame's Class of 2023. Induction ceremonies will take place July 23 in Cooperstown.
Rob Terranova is a contributor to MiLB.com. Follow him on Twitter @RobTnova24.