Five in the Fifth Drops Magic Number to Four
Bullpen Shuts Door for Poppen's Win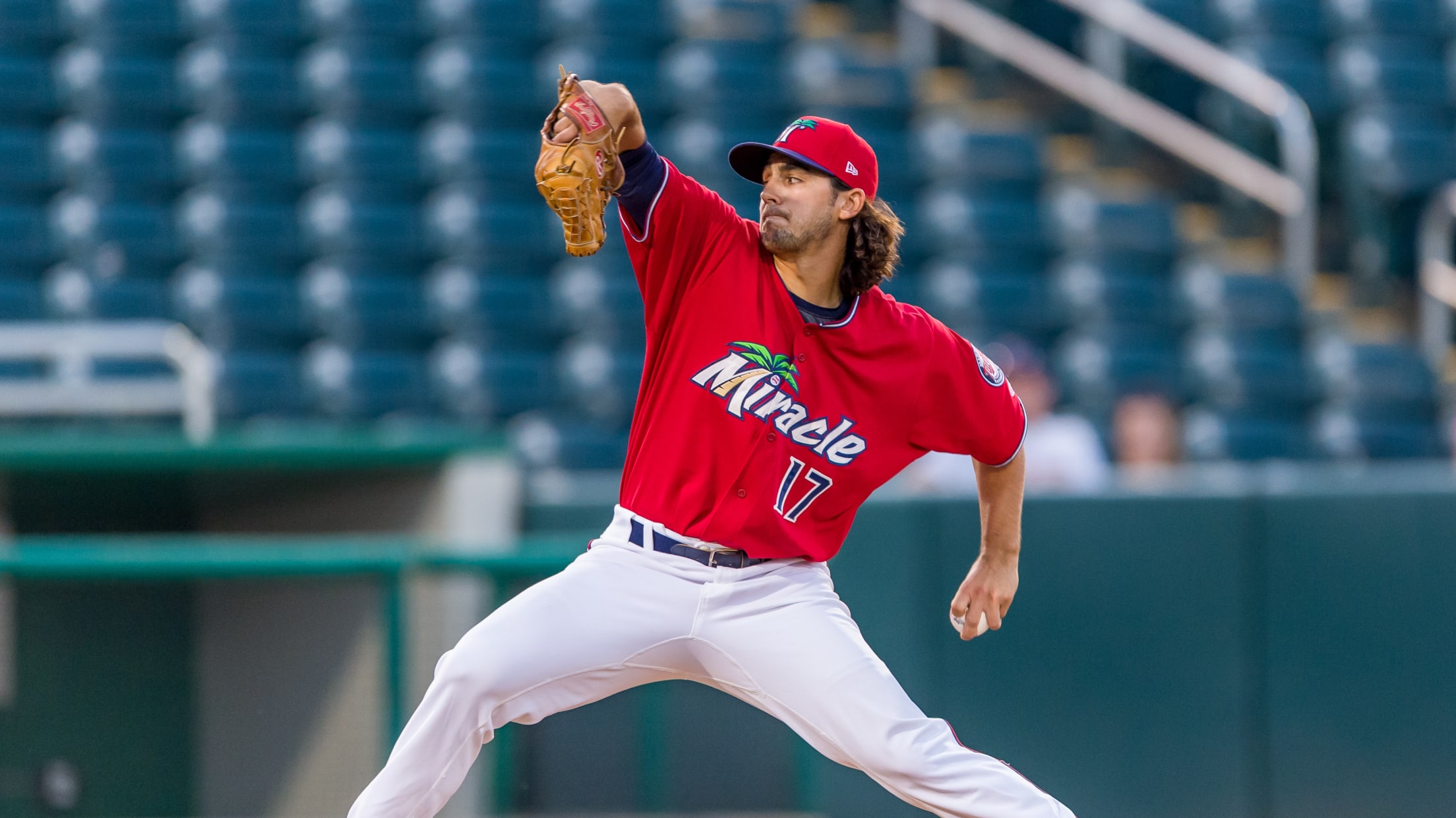 (Linwood Ferguson)
ST. LUCIE, Fla. (August 29, 2017) - The Fort Myers Miracle (40-22) scored all five of their runs in the fifth inning en route to a 5-3 win over the St. Lucie Mets (27-38) on Tuesday night. With their win and Charlotte's loss, the magic number to clinch the division stands
ST. LUCIE, Fla. (August 29, 2017) - The Fort Myers Miracle (40-22) scored all five of their runs in the fifth inning en route to a 5-3 win over the St. Lucie Mets (27-38) on Tuesday night. With their win and Charlotte's loss, the magic number to clinch the division stands at four.
RHP Sean Poppen (W, 3-2) picked up his first win since beating St. Lucie back on July 16. The righty tossed five innings, allowing six hits white tying a season-high with five strikeouts.
The Mets plated the game's first two runs with tallies in the third and fourth. A one-out Jacob Zanon triple was plated by a Jose Garcia RBI-single. In the fourth, Enmanuel Zabala brought home Nick Sergakis with a sacrifice fly.
Down 2-0, Fort Myers sent nine men to the plate in the fifth and took a 5-2 lead in the process. After two singles by Jaylin Davis and Kevin Garcia to start the frame, Nelson Molina put a bunt down to be fielded by the starter RHP Harol Gonzalez (L, 0-1). He tried to get the lead runner at third as the third baseman Sergakis lost the throw, allowing Davis to come home to score. With runners at second and third, Sean Miller's sac fly scored Garcia to tie the game at two.
With two outs, Brent Rooker scalded a 3-0 pitch to shortstop where JC Rodriguez booted the ball. Molina came home, and Fort Myers took a 3-2 lead. After a pitching change, Mitchell Kranson doubled to deep centerfield to score Rooker followed quickly by a Zander Wiel RBI-single to put up a fast five-spot.
Poppen allowed one more run in the fifth, but the bullpen took over in the sixth. LHP Michael Theofanopoulos (H, 3) allowed the first two batters to reach but struck out three straight to keep St. Lucie at bay. LHP Sam Clay (H, 2) tossed a 1-2-3 seventh and stranded runners at second and third with a strikeout of Rodriguez to end the eighth. RHP Tom Hackimer (Sv, 6) cruised through a clean ninth to give the Miracle the win.
The two sides duel in a rubber match on Wednesday with RHP Clark Beeker facing LHP Kevin Canelon at 6:30 PM ET.
To stay up to date on upcoming promotional nights, follow the Miracle online at Miraclebaseball.com or through social media; Twitter: @MiracleBaseball, Instagram: fortmyersmiracle, Facebook: Fort Myers Miracle, Snapchat: ftmyersmiracle. To purchase tickets, visit MiracleBaseball.com/tickets. For further information or questions regarding the 2017 25th Anniversary Season, call the Miracle offices at (239) 768-4210.