Bigelow's bat propels dominant career in Minors
Outfielder ruled Southern Association despite defensive struggles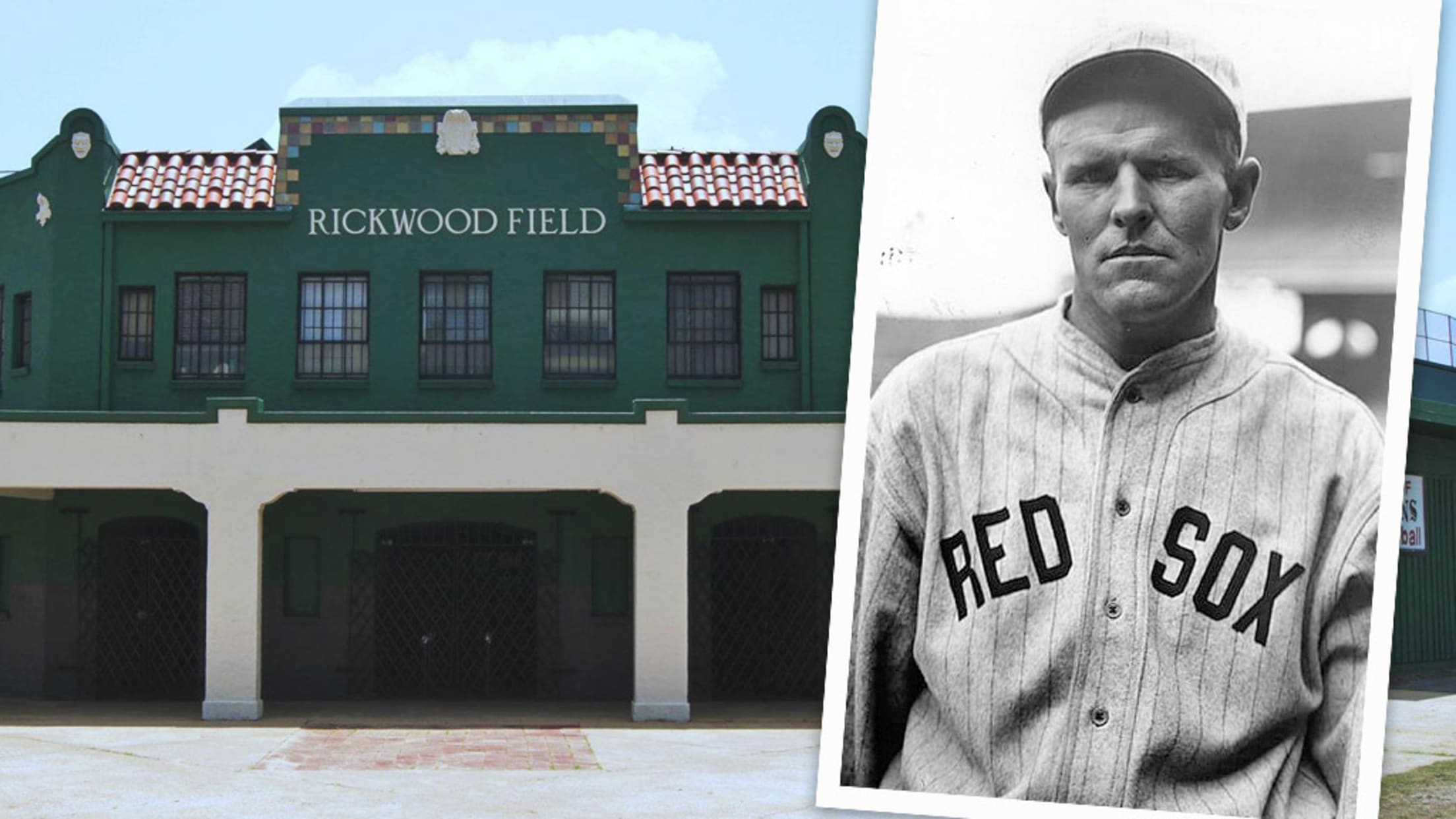 Elliot Bigelow earned long-awaited big league attention after two seasons playing at Rickwood Field.
A host of players have piled up astonishing accomplishments over long professional careers on the diamond without making a lasting impression on the game's most celebrated stage. This series, Monsters of the Minors, provides introductions to Minor League legends sometimes overlooked by fans of baseball history. Today, the route Elliot
A host of players have piled up astonishing accomplishments over long professional careers on the diamond without making a lasting impression on the game's most celebrated stage. This series, Monsters of the Minors, provides introductions to Minor League legends sometimes overlooked by fans of baseball history.
Today, the route Elliot Bigelow took through professional baseball is almost unimaginable. The hard-hitting outfielder of the 1920s racked up 1,970 hits over 12 seasons in the Minor Leagues but was given just one shot at the Majors, playing a mere 100 games for the Red Sox in 1929.
Although his defensive deficiencies were part of what kept him from becoming a regular in the bigs, his success with the bat made him a Hall of Famer in the league where he debuted and earned him a special spot in Minor League lore. Author Allen Barra put Bigelow's role in history in perspective in his 2010 book, "Rickwood Field: A Century in America's Oldest Ballpark."
"The late 1920s are regarded by many sports historians as the golden age of American sports, the era of the big hitters," he wrote, "and at no time did they hit bigger than the second half of the decade -- Babe Ruth and Lou Gehrig in baseball, Red Grange in football, Jack Dempsey in boxing, Bill Tilden in tennis, Bobby Jones in golf -- and, in Minor League [Baseball], Elliot Bigelow."
A left-handed hurler as a teenager in Florida, Bigelow featured a fastball-curve combo that made him one of the most formidable amateur pitchers in the area.
"His talent as a pitcher may have inadvertently kept him from becoming a star in the big leagues," says his biography entry on the Bigelow Society website, a family history project. "On a drizzling rainy day, he pitched a long game and sustained an arm ailment from which he would never recover."
Indeed, he would not. The injury quickly ended his time as a pitcher and its effects hampered his throwing arm through the rest of his career. Nevertheless, his hitting talents kept his professional aspirations afloat and lined him up for a contract once he turned 18. It wasn't until after World War I ended, though, that he finally got to turn pro, suiting up with the St. Petersburg Saints of the Florida State League in 1920 at the age of 22.
In his first season in the FSL, he hit .287 to go with 10 homers, a number far more impressive then than now. The league changed from Class D to Class C for 1921, and Bigelow met the challenge by boosting his average to .315 and clubbing five big flies and 16 triples. The next year, he was even better, batting .343 with 52 extra-base knocks. When he hit .312 with five homers over the first 57 games of 1923, he was sold to the Macon Peaches of the South Atlantic League. Despite jumping to Class B ball, he hit .367 and went deep twice in 17 games at the new level.
With the start of the 1924 season came a return to St. Petersburg. The Saints were certainly grateful for that, as Bigelow busted out a league-leading .388 average to go with 12 homers and a league-best 85 runs scored. Over five seasons in the FSL, he put together a .331 batting average and totaled 36 homers, 59 triples and 116 doubles. Those numbers established Bigelow's reputation as a perennial slugger. Known to many as "Gilly," the left-handed outfielder had earned a far more striking moniker: "The Babe Ruth of the Florida Circuit." That turned heads around the country, and by 1925 he had interest from a number of big league clubs, including the Phillies and Pirates.
Pittsburgh reportedly was closest to bringing on Bigelow, but at some point during the negotiation process, he reinjured his throwing arm and scared away every team interested in him. It was well-known that even healthy, he struggled to get the ball in from the outfield. So instead of playing in the Majors, Bigelow signed with the Chattanooga Lookouts of the Class A Southern Association for a reported $1,000 bonus.
The jump from Class C to Class A ball was no trouble for Bigelow. In his first season with Chattanooga, he hit .349 and socked 14 homers, 27 triples and 24 doubles. Those statistics are all the more noteworthy considering the environment in which they were produced; at the time, the Lookouts played in Andrews Field, a relic of the dead ball era that was home to a mighty spacious outfield.
His second season at the old ballpark was just as dominant as he hit a gaudy .370 and logged 12 triples in addition to an astonishing 45 doubles. His homer total dipped to nine, but one of them did more to demonstrate his power than any season's total. In a game in New Orleans, Bigelow rocketed a towering moonshot over the center field fence at Heinemann Park. At the time, it was declared the longest homer ever hit in professional ball.
With two highly productive seasons for the Lookouts in the books ahead of the 1927 season, Bigelow was sold to the rival Birmingham Barons. He quickly made it a worthy investment, hitting .361 in his first campaign with them. As with Chattanooga's park, Birmingham's Rickwood Field home featured cavernous dimensions, but Bigelow drilled what the press described as an "amazing total" of 19 homers.
Amazing though he might have been in '27, he was nothing short of unbelievable out of the gate the following year, leading the first-place Barons with an average that got as high as .496 on May 11, per the Anniston Star. It hovered north of .400 for much of the year, but he was sidelined for about a month due to an illness. By season's end, he was batting .395 with eight homers, 13 triples and 28 doubles to lead Birmingham to the pennant.
With his name having emerged multiple times in the past as a potential big league addition, Bigelow finally seemed to be on the brink of getting his chance that year.
"Three big league scouts, and perhaps more, have been fiddling with their pens for the services of Elliot Bigelow … and he is 30 years old, a seasoned Minor Leaguer, said to have a rather brittle physique, but he has been hitting more than .440 this entire season," Bob Matherne of the Newspaper Enterprise Association wrote on July 29, 1928.
"Perhaps this slugging sensation of the Southern Association won't get a chance at his age … but it looks as if some big league club would buy him from the Birmingham club. There's a fancy price attached to him because he is a great favorite with the fans and his ringing base hits win many games for his team, but it wouldn't be surprising to see some Major League [team] waive their usual rule about seasoned Minor Leaguers and grab him off on a long chance. And if they do ... some big league club is likely to have a real hitting find on its roster next season."
Sure enough, the Washington Senators snatched him up at the end of the season for a reported $10,000. Right away, though, there were questions surrounding whether or not he was good enough, even if he was "one of the best hitters the Southern League ever produced" as the Associated Press wrote.
"Bibelow [sic] is too slow and [too] weak a fly catcher to be regarded as big league outfield timber, but he can sock the ball," wrote John B. Keller of the Washington Evening Star on Sept. 24, 1928.
That skepticism lingered in the Senators front office. Before Bigelow ever got the chance to play for first-year manager Walter Johnson, his name was surfacing in trade discussions. And when Washington had the chance to acquire future All-Star and American League batting champ Buddy Myer, it parted with five players -- including the one the AP called a "demon Minor League hitter."
Sent to Boston in the Myer deal, Bigelow still faced concerns about his injury-plagued arm. However, unlike the competitive Senators, the Red Sox had finished in last place in the American League four seasons in a row and six of nine years that decade. In Beantown, Bigelow had a chance to carve out some real playing time.
"Bill Carrigan, manager of the Red Sox, will have to find room for … Elliot Bigelow ... who clouted Minor League pitching with abandon," the AP reported on Dec. 17, 1928.
By the time spring rolled around, it was the same old story.
"Elliot Bigelow, who can hit, has only to demonstrate an ability to throw to get an outfield assignment," wrote the AP's Brian Bell on March 15, 1929.
He did earn an assignment but not a regular one. He made 240 appearances at the plate over 100 games with the Red Sox, serving as a pinch-hitter and occasional starter. He batted .284 -- the fifth-best mark on the team -- and logged a .357 on-base percentage. Despite the solid showing, the Boston brass let Bigelow go. A couple months after the season ended, so did his time in the Majors. While his run was brief, it served as the ultimate payoff for the near-decade's worth of work he logged in the Minors. And although he never saw the bigs again, his career was far from over.
He began the 1930 season back in Chattanooga and didn't miss a beat offensively, posting a .331 average while swatting four homers, eight triples and 17 doubles across 66 games. That performance put him in line for another step up, but not to the Majors. This time, he was sold at the start of July to the Mission Reds of the Pacific Coast League, one of three Double-A circuits (the highest classification behind Major League at the time).
Bigelow hit .298 with one homer over 34 PCL games, but his defensive shortcomings again had him destined to return to the Class A level. In another homecoming with the Lookouts for his penultimate season in 1931, he had one of the best statistical years of his entire career. The 33-year-old batted .371 and went deep 15 times over 150 games while leading the league with 48 doubles.
He was still in the Southern Association for his final season, although wearing the uniform of the Knoxville Smokies. His average fell to .327, but he belted 13 homers while tripling 12 times and doubling 37. That performance in the books, Bigelow hung up his spikes and returned home to Florida.
Over 12 Minor League seasons across five levels, he hit .349, uncorked 121 homers and logged 158 triples to go with 358 doubles. He spent the best years of his career with Birmingham, and was appropriately inducted into the Barons Hall of Fame during the Rickwood Classic in 2011. He was also enshrined in the Florida State League in 2012, a nod to his five spectacular seasons spent in the Sunshine State.
Jordan Wolf is a contributor to MiLB.com. Follow him on Twitter: @byjordanwolf.