Duzenack's Go-Ahead Blast Caps Amarillo's Late Surge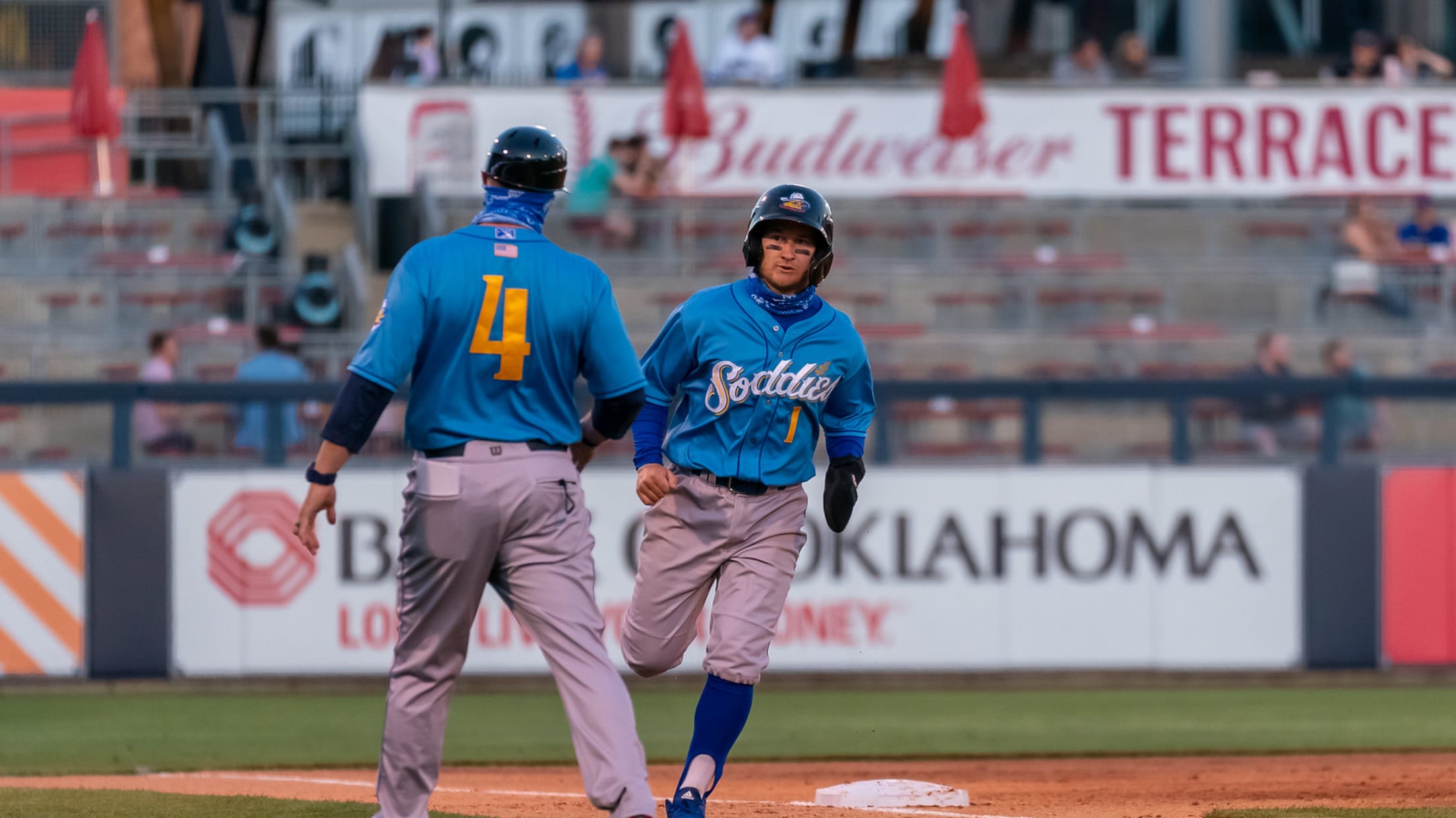 Camden Duzenack hit a go-ahead two-run homer to cap Amarillo's four-run rally in the eighth. (Tim Campbell)
TULSA, Okla. – The Sod Poodles trailed 4-1 heading into the top of the eighth inning on Sunday afternoon at ONEOK Field, but then rallied with a four-run frame to grab a 5-4 win against the Tulsa Drillers. Amarillo won the series, taking four of six games against Tulsa to
TULSA, Okla. – The Sod Poodles trailed 4-1 heading into the top of the eighth inning on Sunday afternoon at ONEOK Field, but then rallied with a four-run frame to grab a 5-4 win against the Tulsa Drillers. Amarillo won the series, taking four of six games against Tulsa to start the 2021 season.
Gerardo Perdomo began the eighth with a gift of a base hit against Tulsa reliever Justin Hagenman, reaching on an infield pop up that fell in as Tulsa third baseman Kody Hoese battled the wind. After Jake McCarthy singled, Dominic Miroglio laced a two-run single to deep right centerfield, allowing both Perdomo and McCarthy to score. The deficit was cut to 4-3.
Moments later, Amarillo third baseman Camden Duzenack lifted a high fly ball to deep left field that just cleared the wall for a go-ahead two-run homer. The Sod Poodles took a 5-4 lead on Duzenack's first blast in an Amarillo uniform.
After the Soddies' rally, the Drillers immediately threatened against reliever Justin Lewis in the bottom of the eighth. With two on and nobody out, Lewis induced a fly out and struck out a pair to escape the jam.
In the ninth, righty Luis Castillo entered. After Steve Berman singled to put the tying run on with no one out, Castillo proceeded to retire the next three batters in a row to end the ballgame.
Prior to Amarillo's late comeback, starter Humberto Mejia tossed six strong innings. Mejia allowed a run in each of the game's first two innings, but settled down to ultimately strike out nine while walking just one.
Mejia left with the Sod Poodles trailing 2-1.
In the bottom of the seventh, Tulsa outfielder Carlos Rincon popped a two-run homer off the right field foul pole against Amarillo reliever Justin Vernia. Rincon's home run extended Tulsa's lead to 4-1, before Amarillo eventually took the lead in the eighth.
Perdomo collected a pair of hits in Amarillo's win, including an RBI single in the fifth. It was Perdomo's first RBI of the season.
The Sod Poodles are off Monday and continue their 12-game road trip at Wichita on Tuesday night, when the Wind Surge play the first ever Minor League Baseball game at the city's new Riverfront Stadium. It will be the first home game in team history.
First pitch in the opener of a six-game series is at 7:05 p.m.
The game can be heard on Amarillo's NewsTalk 940 AM and along the Sod Poodles Radio Network. Coverage with Sam Levitt begins at 6:45 p.m.,