After long wait, Dodgers' Buehler raring to go
No. 5 prospect underwent Tommy John surgery following 2015 Draft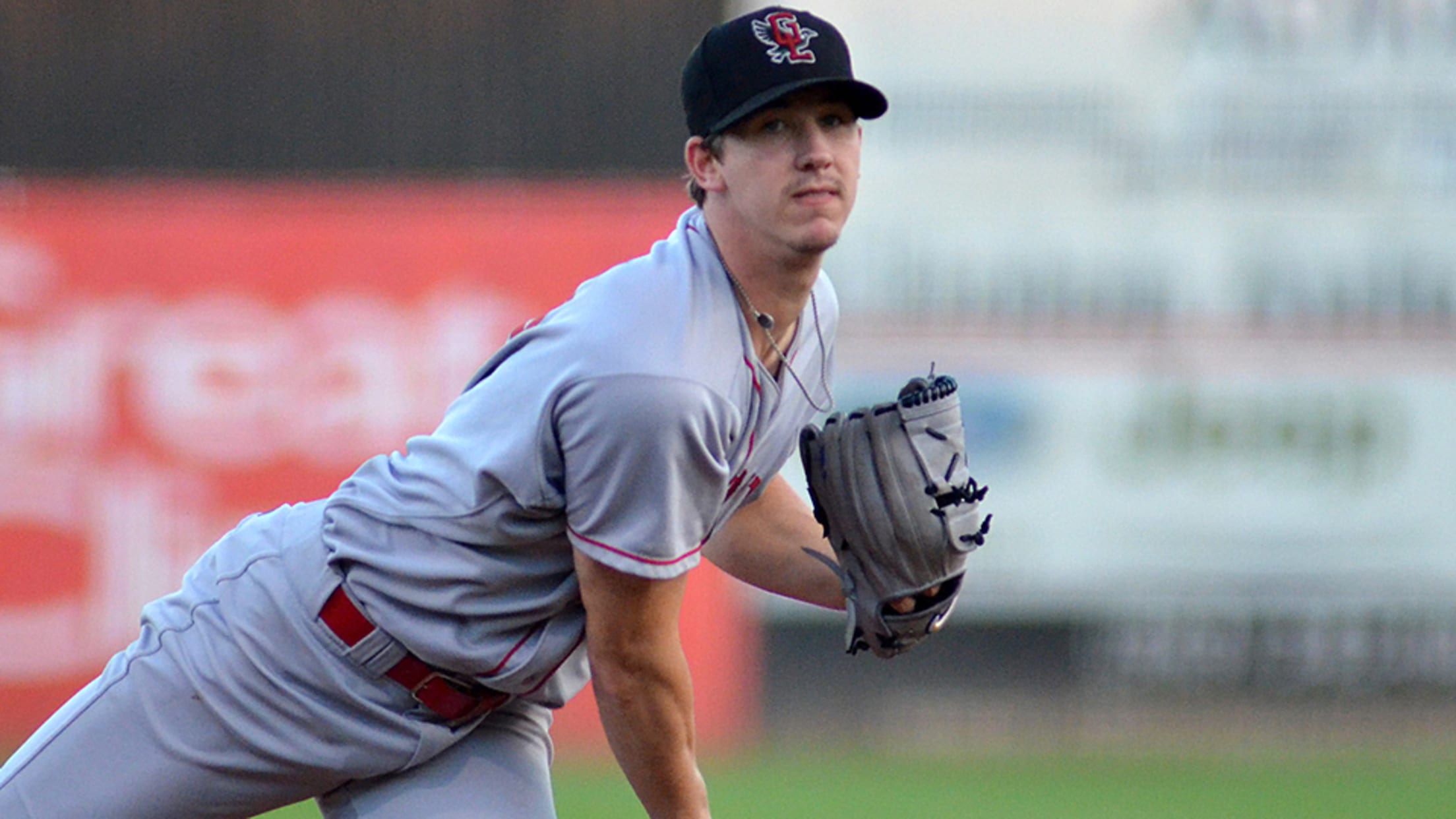 Walker Buehler pitched five scoreless innings in the playoffs for Class A Great Lakes last year. (Paul R. Gierhart/MiLB.com)
GLENDALE, Arizona -- After sitting around with a lot of time to think, Walker Buehler has one thing on his mind."I just want to win games, to be honest with you," he said. "There's no other way to explain it. When you sit down for a year, all you want
GLENDALE, Arizona -- After sitting around with a lot of time to think, Walker Buehler has one thing on his mind.
"I just want to win games, to be honest with you," he said. "There's no other way to explain it. When you sit down for a year, all you want to do is come and win games. I want to stay healthy and compete for a ring, no matter where that is."
The Dodgers' No. 5 prospect and MLB.com's No. 93 overall was off the diamond for roughly the first 12 months of his career after undergoing Tommy John surgery in August 2015, not long after Los Angeles selected the Vanderbilt standout with 24th pick of the Draft. Active in Spring Training for the first time, Buehler is thrilled to be here and eager to get going in his first real season as a professional.
"I've told people the mental side of having surgery like that is probably tougher on you than the physical stuff ... " the 22-year-old right-hander said. "It's one of those things a lot of people end up having to go through, and I'm kind of glad I got mine done early and in the past and now I'm ready to get going."
Buehler got into three games in the regular season last year -- one in the Rookie-level Arizona League and two in the Class A Midwest League - for a total of five hitless, scoreless innings. He struck out six, walked three and hit a batter. Making a pair of brief playoff starts for Great Lakes en route to the Midwest League championship, he worked five shutout frames and allowed two hits while fanning five.
<jsp:include page="/milb/include/spring_2017.html">
"The cool part about that whole experience for me was, the first game back, it's not some meaningless thing," he said. "You go to a team that struggled early in the year and kind of made a run, and to be able to join that team was a really fun deal for me, especially coming from college, where we played some playoff-type games. It's always fun to play in games that mean that much."
With meaningful regular-season games just around the corner, the Kentucky native will leave camp with a pared down repertoire.
"This spring, we've kind of moved into that three-pitch mix and slowed down on the slider, slowed down on the two-seamer and kind of worked with some numbers, seeing what we can do fastball-curveball-change," Buehler said. "The slider's something I've thrown forever, but I think there's the idea of renting a couple or owning a couple or owning one. At least for the spring right now, it's just the three pitches."
Where he's headed when camp breaks has yet to be determined, but Buehler isn't putting much thought into speculation that his advanced stuff would tempt the Dodgers to move him into a relief role to get him to the big leagues faster.
"That's not my call and that's not my goal. My goal is to be a starting pitcher in the Major Leagues at some point in my career," he said. "Obviously, pitching in the big leagues at all is a big honor."
"[Former Vanderbilt teammate and White Sox prospect Carson Fulmer] got to go [to the Majors as a reliever], but he wants to start. It's one of those things where you do what they ask of you, and I do have some experience relieving. In college, I would throw midweek and then relieve on the weekends once in a while and stuff like that. It [would be] an adjustment but not something that really scares me."
Whatever role he ends up filling, at whatever rung of the organization ladder, he'll be thrilled about embarking on a full season of competitive action.
"Absolutely," Buehler said. "You get to know people for a year and a half and you've got teammates you've never gotten to play with, so I'm really excited."

Notes from camp
Alvarez aiming high:
Yadier Alvarez, the Dodgers' second-ranked prospect who struck out 81 while walking 21 over 59 1/3 innings in 14 starts between Rookie ball and the Loons last year, hopes to earn an aggressive assignment out of the gate this season.
"The biggest thing is just to try to get up to the higher levels of the Minors because my training this offseason has been good in preparing myself for that," Alvarez said through senior manager of player development and translator Matt McGrath, "but my biggest goal this year is just to move along as fast as I can."
In the meantime at Camelback Ranch, he said he's "basically just building everything up. One of the biggest things I'm focused on right now is my curveball and slider, just my control with those two and developing my changeup as well."
Got the first one out of the way:
Gavin Lux, the 20th overall pick in last year's Draft, logged a hit in his first-ever Minor League Spring Training game. On Monday in Surprise in a Class A Advanced game against the Rangers, the 19-year-old left-handed-hitting shortstop grounded a ball up the third base line against Michael Lagrange. Brallan Perez made a spectacular diving stop to rob Lux of extra bases, but the Dodgers' No. 7 prospect was pleased with the hit.
"That was my third at-bat and having to face a [6-foot-8] lefty submarine pitcher in my third at-bat ... it was good to see that and get a little bit of a result from that," he said.
Lux's club won, 10-2.
Calhoun pleased with defense:
Willie Calhoun bashed 27 homers while compiling a .317 on-base percentage in the Texas League last year before earning MVP honors in the Arizona Fall League's Rising Stars Game. But he knows he's got work to do on defense.
"This Spring Training, I'm focusing on my defensive side, the majority, trying to get better at second base. That's something I've been doing since I showed up early in January," he said. "I've been working with Woody [Chris Woodward], our infield coach and been strength training with [strength and conditioning coach] Brandon [McDaniel] and the strength guys a lot.
"It's footwork and the range part," on which he's been particularly focused, he said. "That's something I attacked early in the Spring Training and now that I'm getting deeper into it, it's starting to get a lot easier."
Josh Jackson is a contributor to MiLB.com. Follow and interact with him on Twitter, @JoshJacksonMiLB.