Cubs summon southpaw Marquez to Majors
No. 64 overall prospect makes debut in regular-season finale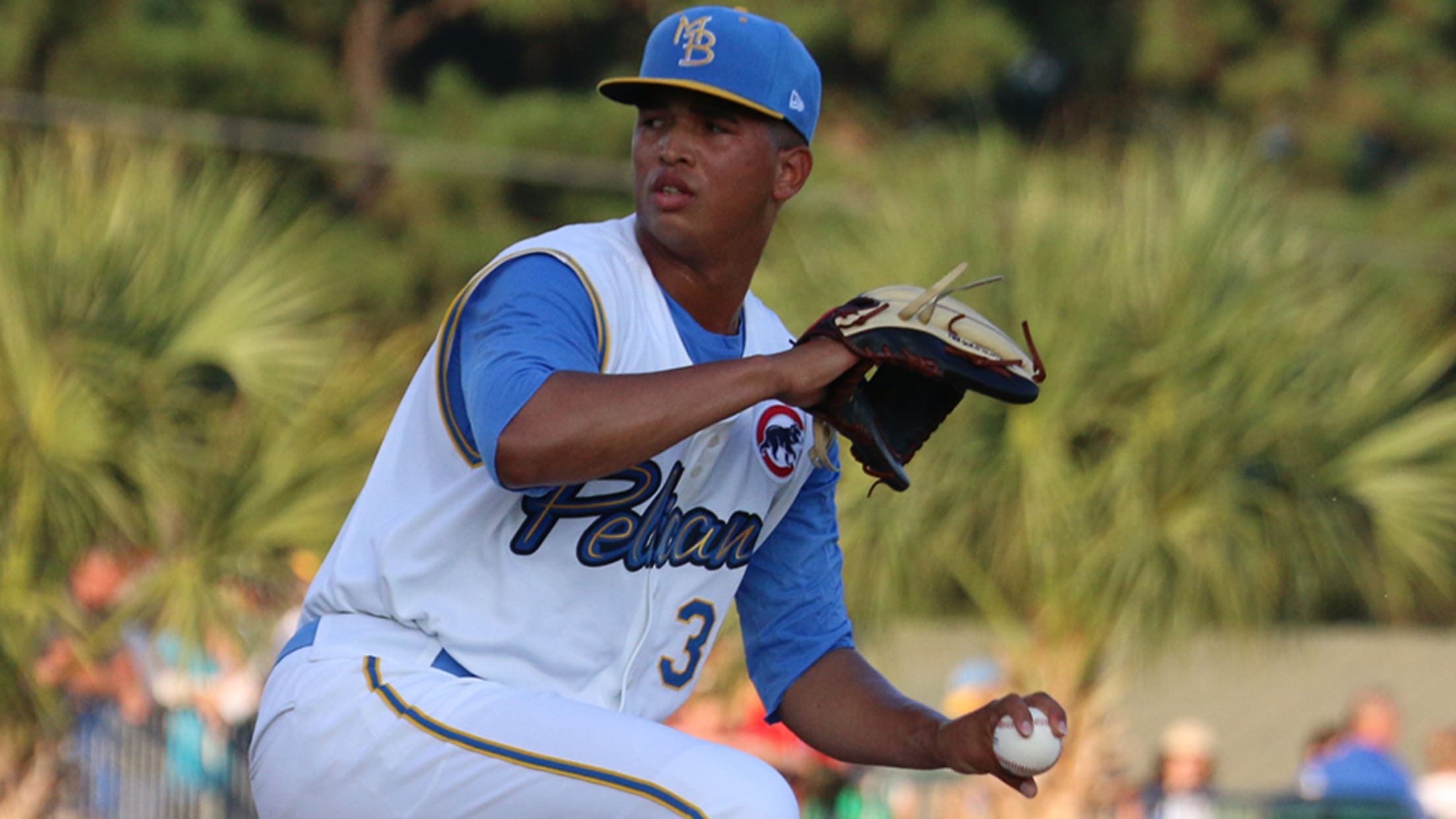 Brailyn Marquez pitched for Class A South Bend and Class A Advanced Myrtle Beach in 2019. (Larry Kave/Myrtle Beach Pelicans)
With the National League Central Division title already sealed and steaming toward the postseason, the Cubs have welcomed their top prospect to the North Side. Brailyn Marquez, MLB Pipeline's No. 64 overall prospect, was promoted to the Major Leagues on Sunday and entered the Cubs' regular-season finale in the eighth
With the National League Central Division title already sealed and steaming toward the postseason, the Cubs have welcomed their top prospect to the North Side.
Brailyn Marquez, MLB Pipeline's No. 64 overall prospect, was promoted to the Major Leagues on Sunday and entered the Cubs' regular-season finale in the eighth inning with his club holding a comfortable lead over the White Sox1. The left-hander had been at the team's alternate training site in South Bend, Indiana.
"For me to trust somebody, you want to get your eyes on him in real competition," Cubs manager David Ross told reporters before the game. "And being able to bring him into that environment, the next level, makes some sense with his stuff."
Marquez made 22 starts last season between Class A South Bend and Class A Advanced Myrtle Beach, posting a 3.13 ERA and 128 strikeouts over 103 2/3 innings. The 21-year-old was refining some aspects of his game before getting the call, Cubs president of baseball operations Theo Epstein said.
"I know people were calling for him earlier. He wasn't ready," Epstein told the media Sunday. "It was definitely a process, but we're really comfortable with where he is right now. In fact, we're excited about where he is right now. Happy for him to have this opportunity and we'll see what happens going forward.
"I wouldn't read too much into this, except that we want to give him that inning to get comfortable. And that at least puts him on the radar screen as we move forward."
The Cubs signed their current top prospect in 2015, inking a 16-year-old lefty whose fastball already touched the low 90s. Last year, Marquez routinely touched triple digits and registered 102 multiple times. He dominated hitters toward the end of the Minor League campaign -- including in a hitless Carolina League debut -- by compiling a 1.17 ERA and 48 strikeouts against eight walks in his last seven starts. Following the season, Marquez was named an Organization All-Star.
With Major League Baseball's expanded playoff field and compressed schedule this year, the Cubs have an eye on pitching depth as the playoffs approach.
"In some of these longer series there are no off days," Epstein noted. "You need a deep roster of pitching. You're going to need a lot of options to get through this series with no off days.
"So we felt like Brailyn could put himself in a position to be an option for us potentially."
To clear room on the 40-man roster, the Cubs designated infielder Patrick Wisdom for assignment.
Tyler Maun is a reporter for MiLB.com and co-host of "The Show Before The Show" podcast. You can find him on Twitter @tylermaun.