Chiefs Pound Bees Wednesday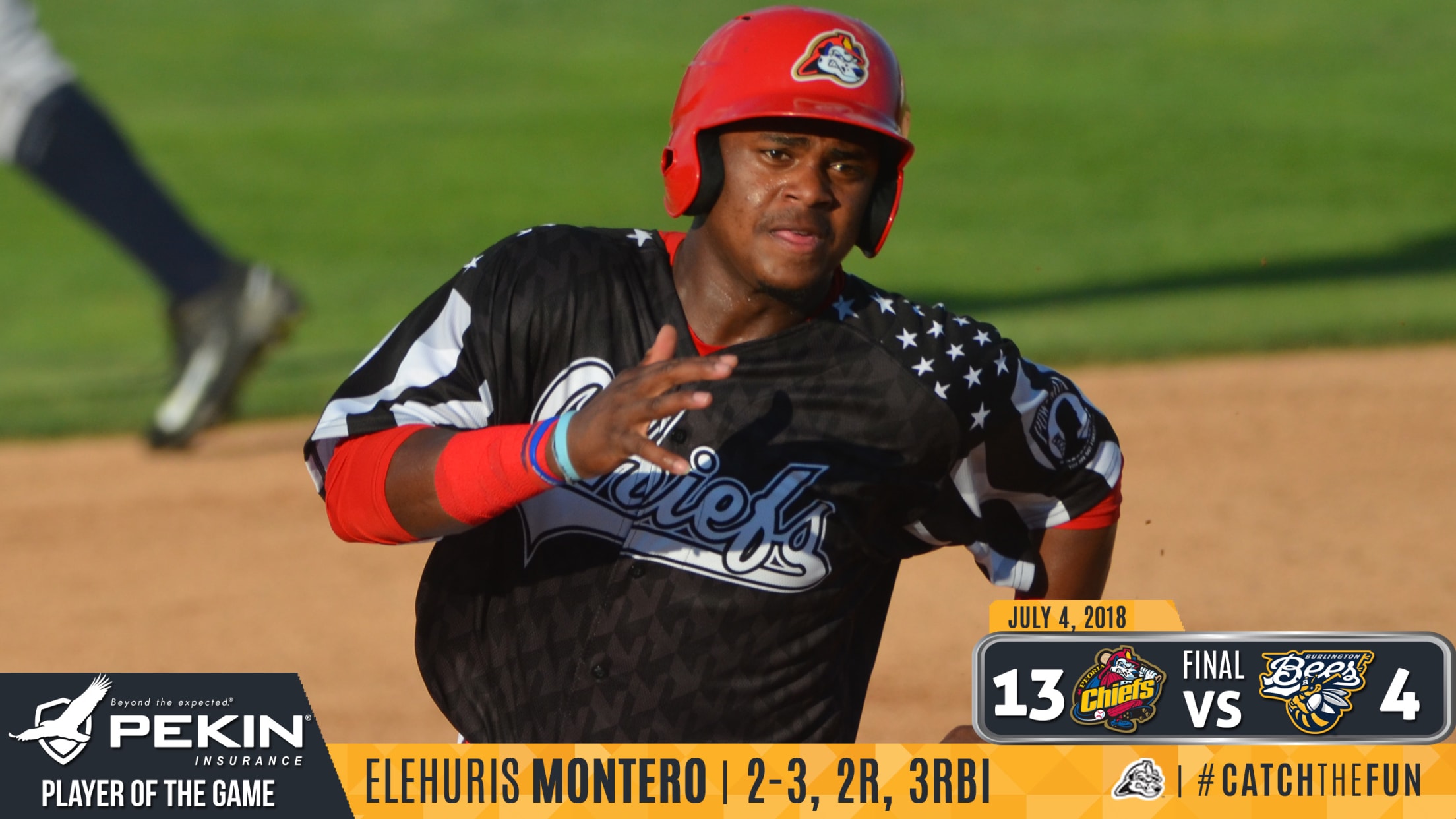 Peoria, IL - The Peoria Chiefs crushed the Burlington Bees 13-4 in the third game of the series on Wednesday night in front of 6692, the largest crowd of the season. The Chiefs snapped a three-game losing streak to improve to 8-5 in the second half and 47-46 overall with
Peoria, IL - The Peoria Chiefs crushed the Burlington Bees 13-4 in the third game of the series on Wednesday night in front of 6692, the largest crowd of the season. The Chiefs snapped a three-game losing streak to improve to 8-5 in the second half and 47-46 overall with the series finale set for Thursday night at 7:00 p.m.
The Chiefs jumped out to another early lead in the bottom of the first on Bees starter Luis Madero. Elehuris Montero drew a two-out walk and Yariel Gonzalez put runners at the corners with a single to center. A wild pitch with Julio Rodriguez at the plate put the Chiefs on the board first 1-0.
With the game tied 1-1, Peoria batted around for a comfortable lead in bottom of the third. Back-to-back walks were issued to Rayder Ascanio and Nick Plummer followed by an Irving Lopez single to load the bases with nobody out. Montero extended his hit streak to 10 games with a line drive single to right center scoring Ascanio and Plummer for a 3-1 advantage with runners at the corners. Rodriguez pounded a one-out triple to left center to score Lopez and Montero as the Chiefs went ahead 5-1. The margin increased to 6-1 as Bryce Denton hit a sharp ground ball into left field to plate Rodriguez. JR Davis drew a two-out walk to put runners at first and second as Madero's day ended. Ed Del Rosario entered out of the bullpen to face Ascanio who hit a fly ball that was dropped by left fielder Kevin Williams to score Denton as the Chiefs widened the gap to 7-1.
Up 7-2, the Chiefs tacked on two more runs in the bottom of the sixth. Nick Plummer led off with a solo shot to dead center for his fifth of the season and an 8-2 lead. Irving Lopez smashed a double to the gap in right center and Montero singled to put runners at the corners. Del Rosario exited the game and was replaced by Michael Santos. Gonzalez scored Lopez on a ground ball for a 9-2 advantage.
Up 9-3, Peoria poured it on the bottom of the seventh inning. Wood Myers led off with a double down the right field line and Davis drove him in on a single up the middle while advancing to second on the throw. Ascanio moved Davis to third on a ground ball followed by a Plummer walk and he moved to second on a wild pitch. Lopez walked to load the bases and Montero walked to score Davis as Santos left the game with the Chiefs winning 11-3. Position player Jeyson Sanchez came in to pitch and Gonzalez singled to right to plate Plummer. Rodriguez capped off the Peoria scoring with a sacrifice fly to center as Lopez crossed home plate for a 13-3 lead. Burlington scored a lone run in the top of the ninth for the 13-4 final score.
Cruz took a no-decision throwing 4 2/3 innings allowing two runs on five hits with three walks and nine strikeouts. Balestrieri (5-3) earned the win tossing 4 1/3 innings allowing two runs on five hits with one walk and five strikeouts.
Notes… Peoria is 11-3 against the Bees this season with one game left…Cruz recorded a career high nine strikeouts…Myers collected his first hit of the Midwest League season…The Chiefs matched their season high of six runs in an inning dating back to June 17 at Cedar Rapids…Peoria tied a season-high in runs with 13 and hits with 15…At 3:09 the game is the 12th straight 9-inning game the Chiefs have played over 2:45 and the 18th in the last 20 games to last that long…The 6,692 is a season-high in attendance at Dozer Park…The Chiefs are 3-1 in specialty jerseys at home…Montero has a 10-game hit streak which is tied for second longest on the team this season…He has a team-high 52 RBI…Davis has a 8-game hit streak…Rodriguez has three straight multi-RBI games and hit his first triple of the season…The Chiefs are 30-11 when scoring at least five runs…The series concludes at 7:00 p.m. Thursday as the Chiefs start RH Alvaro Seijas (2-4, 5.03) against Burlington LH Max Herrmann (1-3, 4.78)… Thursday is a Baumgarten Distributing Beer & Brat Thirsty Thursday featuring $2 12 ounce domestic cans and soda, $3 16 ounce craft drafts and margaritas, and $3 brats…Students with a valid college ID can purchase $5 Lawn seats…Thursday is also a Taco Bell Live Mas Thursday as fans can show a Taco Bell receipt within the last seven days to receive a buy one, get one free ticket, limit four free tickets per transaction…The broadcast can be heard, starting with the Pre-Game Show at 6:45 p.m. on www.peoriachiefs.com/listenlive and is also available on the Peoria Chiefs Network in the Tune-In Radio App…The game is also available to subscribers on MiLB.TV.