Cubs have power, speed headed for Wrigley
Crow-Armstrong among young Cubs with exciting combo of tools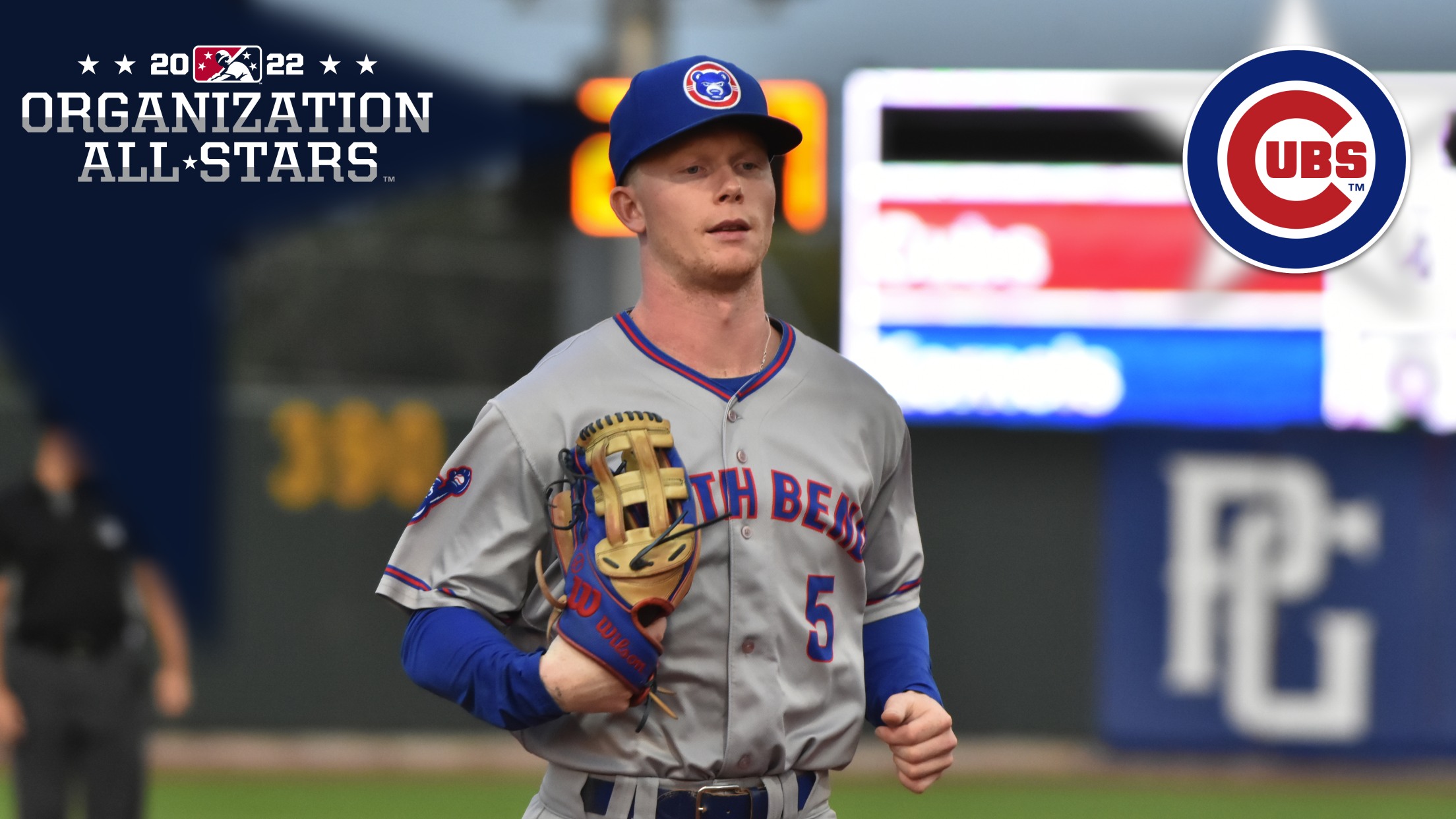 Pete Crow-Armstrong was one of only two Minor Leaguers with at least 10 triples, 20 doubles, 15 homers and 30 stolen bases in 2022. (Paul R. Gierhart/MiLB.com)
Each offseason, MiLB.com goes position by position across each organization and honors the players -- regardless of age or prospect status -- who had the best seasons in each farm system. Next up in our 2022 Organization All-Stars series are the Chicago Cubs.
Each offseason, MiLB.com goes position by position across each organization and honors the players -- regardless of age or prospect status -- who had the best seasons in each farm system. Next up in our 2022 Organization All-Stars series are the Chicago Cubs.
2022 Organization Summary
Triple-A Iowa: 68-81
Double-A Tennessee: 71-66 (Southern League runner-up)
High-A South Bend: 73-58 (Midwest League champion)
Single-A Myrtle Beach: 78-53 (first-half division winner)
ACL Cubs: 25-29
DSL Cubs Blue: 23-37
DSL Cubs Red: 22-38
Overall record: 360-362 (.499 winning percentage, 17th among MLB organizations)
Cubs Organization All-Stars
Catcher: Adan Sanchez
Just four years ago Sanchez was representing Panama in the Little League World Series, crushing a three-run homer against Canada and prompting from the color commentator to say, "You better learn his name. Adan Sanchez is an absolute stud." That broadcaster was David Ross, the Cubs' current manager.
In his first professional season after signing for a reported $1.5 million in January, Sanchez showed there might be some truth to Ross' evaluation.
Over 47 games in the Dominican Summer League, the 17-year-old batted .328 with an .840 OPS and had nearly as many walks (24) as strikeouts (26). Defensively, he got some reps at the corner infield spots but mainly stayed behind the plate, where he threw out 15 of 59 (25.4 percent) attempted base stealers.
First base: Matt Mervis
The chase for the 2022 Minor League home run title was a four-way race featuring two Cubs prospects. While the Cardinals' Moises Gomez finished on top, Mervis and Alexander Canario proved there was a formidable power duo approaching Wrigley Field.
Mervis finished with 36 long balls while leading the system with 119 RBIs, 92 runs, 40 doubles, a .605 slugging percentage and .984 OPS. The Cubs' No. 21 prospect also batted .309 across three levels and lowered his strikeout rate at each level -- 24.1 percent in South Bend, 20 percent in Tennessee and 14.6 percent in Iowa.
"That's extremely hard to do," said Cubs director of player development Jared Banner. "He's done a great job honing in on his damage areas and being extremely selective."
The 24-year-old, who went undrafted and signed with the Cubs in 2020, is currently with Mesa in the Arizona Fall League and has already hit four homers.
Second base: Chase Strumpf
The 2019 second-rounder tapped into his power during a full season in Tennessee. Strumpf clubbed 21 homers while driving in 57 runs and scoring 73 times. The 24-year-old debuted at the level last year but was able to boost his average to .234 and OPS to .840 in 2022. Strumpf built a reputation at UCLA as a hitter who can control the zone, but his strikeout rate spiked to 33.3 percent this season. Good things happened when he put the ball in play, however, as evidenced by his .336 BABIP. If he can manage to cut down the strikeouts without sacrificing too much power, he could challenge for a big-league roster spot next season.
Third base: Jake Slaughter
The 25-year-old went deep 23 times while swiping 36 bases across 106 games between South Bend and Tennessee -- one of only five Minor Leaguers to reach both those marks -- and his 22.3 percent strikeout rate was the lowest among that group. The 2018 18th-rounder had just one hit in 19 at-bats during his Southern League debut last season but rebounded to hit .293 with a .923 OPS after being promoted in June. Slaughter also led all Cubs third base prospects with 80 RBIs and 75 runs scored while collecting 114 hits. Defensively, Slaughter spent time at four different positions but mainly stayed at the hot corner, where he committed nine errors.
Shortstop: Andy Weber
The 25-year-old was left exposed in the Rule 5 Draft after an injury-shortened 2021 season that saw him struggle to catch up to Double-A pitching before an encouraging stint in the AFL. This season, one in which he was again limited by injury, Weber regained his form, batting .300/.360/.393 with 17 extra-base hits and 47 runs scored in the Southern League. The 2018 fifth-rounder also decreased his strikeout rate in more than twice as many plate appearances with the Smokies. Defensively, Weber saw time at all four infield positions but mostly played short.
Outfield: Pete Crow-Armstrong
After a labrum tear cut Crow-Armstrong's first professional season short, there was some uncertainty about how the 20-year-old would respond in his first full season. But in 101 games between Myrtle Beach and South Bend, he proved to be one of the most exciting players in the Minors.
"He just displays all five tools on a regular basis," said Banner. "He's capable of hitting home runs and stealing a lot of bases. I'm not gonna put any limits on what he can do. But I think he's a special young player."
MLB Pipeline's No. 30 overall prospect was one of only two players in the Minors with at least 10 triples, 20 doubles, 15 homers and 30 stolen bases. He batted .312 with an .896 OPS overall and catapulted himself to No. 1 on the Cubs' prospect list.
"He's just a much different physical specimen than he was when he was first drafted," said Banner, who described Crow-Armstrong as a game-changing defensive player. "He's done a lot of work on his swing … there's a lot more stability, and he's in a great hitting position. I think that has a lot to do with why he's hitting for more power."
Canario put on a power show in 2022, finishing second in the Minors with 37 long balls across three levels.
"He has light-tower power from pole to pole," Banner said. "You don't see many hitters his age in Triple-A hitting opposite-field home runs the way he does."
The 22-year-old, who came to the organization from the Giants at last year's trade deadline, hit .252/.343/.556 with 97 RBIs, 84 runs scored and 23 stolen bases overall. He also struck out 147 times, but Banner points out that his punchout rate decreased as the season progressed.
He's currently playing winter ball with Aguilas in the Dominican League, where he's collected five hits in his first 16 at-bats.
A 20th-round pick with less than a season's worth of game experience entering the year, Hill led the system with 166 total hits while his .314 batting average was the best among Cubs prospects with at least 250 plate appearances. The 25-year-old finished second with 36 doubles while posting an impressive 13.4 percent strikeout rate. He opened this season with the Smokies but was quickly promoted to Iowa in May and posted better numbers after the promotion, batting .318 with 109 hits in 89 games.
Right-handed starting pitcher: Luis Devers
There was only one other pitcher in the Minors -- Dodgers prospect Gavin Stone -- who completed at least 115 innings in 2022 and had a better ERA than Devers. The 22-year-old posted a 1.91 ERA while striking out 122 in 117 ⅔ innings across two levels, and his numbers actually got better after a July promotion to South Bend. Banner noticed Devers' fastball became more formidable after a nearly 3 mph spike in velocity, but noted that he did more than just blow hitters away.
"His feel to pitch is really uncanny. He actually quick pitches a lot. He's able to play around with his delivery to throw off the timing of hitters," said Banner, likening Devers' occasional change in delivery to Johnny Cueto. "It really goes to show his athleticism."
The Cubs' No. 26 prospect made 12 scoreless appearances and tied for third in the Minors with 13 wins.
Left-handed starting pitcher: DJ Herz
Herz led the system in strikeouts for the second consecutive season, fanning 141 over 95 ⅓ innings. His 13.31 K/9 was also tops among Cubs pitching prospects to complete at least 70 innings. The 21-year-old finished the 2021 season with South Bend and was dominant in 17 starts in the Midwest League to open 2022, posting a 2.26 ERA while holding opposing batters to a .150 average. Following a promotion to Tennessee in July, Herz showed some command issues and was placed on the development list but returned for two decent outings in September. Over the course of the season, Herz made nine starts in which he struck out at least seven batters.
Reliever: Riley Martin
The 24-year-old lefty made 31 appearances with Myrtle Beach and South Bend, all but one of which came out of the bullpen. His 120 strikeouts and 82 ⅔ innings pitched were the most among all Minor League pitchers who made fewer than two starts.
"He throws hard, and he can really spin the ball. He has an impressive slider," Banner said. "He worked on a lot during the season, and it got better and better. Whenever he's in the strike zone, he's going to be very tough to hit."
Banner said there's no rush to define his future as a starter or reliever. Martin, a sixth-round selection out of Quincy University, posted a 3.38 ERA while holding opponents to a .188 average across both levels.
"We'll see what that evolves into over time," Banner said. "I know he can get guys out, he can miss bats and his stuff is really good. And he's left handed. So the sky's the limit for him.