Tumor survivor comes home to Pensacola park
Summerlin and teammates enjoy stay at Blue Wahoo's Airbnb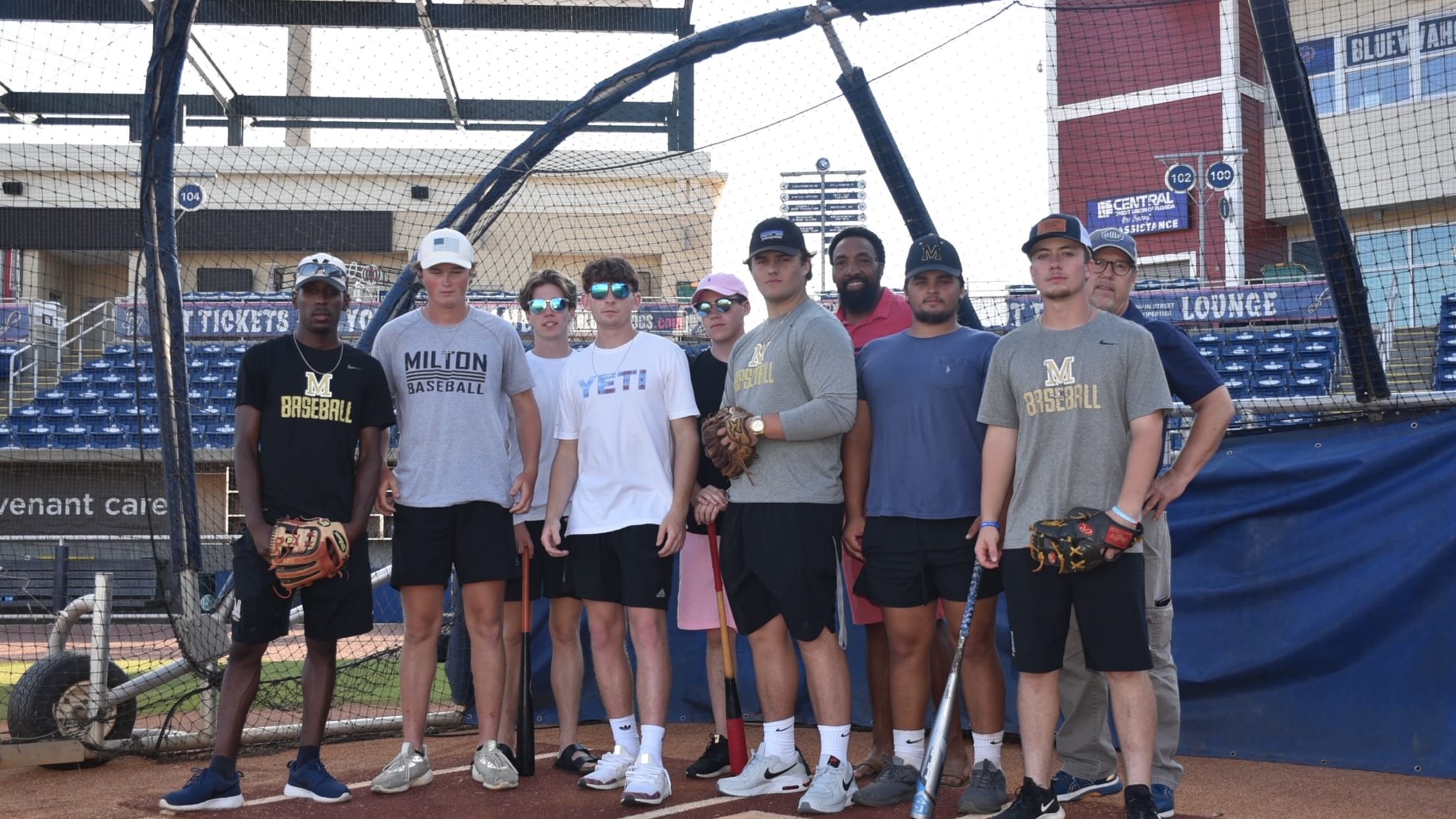 Caleb Summerlin (center with glove), father David (far right) and teammates hit in the batting cages at Blue Wahoos Stadium. (courtesy David Summerlin)
Caleb Summerlin and his buddies weren't going to waste their chance. Given the opportunity to stay the night in a Minor League ballpark and, being teenagers, not needing sleep, they stayed up until close to 4 a.m. playing a game as steeped in Americana as baseball itself: hide-and-seek. "We were
Caleb Summerlin and his buddies weren't going to waste their chance. Given the opportunity to stay the night in a Minor League ballpark and, being teenagers, not needing sleep, they stayed up until close to 4 a.m. playing a game as steeped in Americana as baseball itself: hide-and-seek.
"We were going to make the most out of it," the 18-year-old said. "I think the hide-and-seek was honestly the funnest part, though, because there were actually thousands of hiding places."
Summerlin and company had access to those hiding places through the Pensacola Blue Wahoos' Airbnb experience, an innovation that's helping the Twins' Double-A affiliate pay some bills during the pandemic-scrapped 2020 season. With the entire ballpark rented out by Caleb's father, David, the pair and eight of Caleb's high school teammates got to hit in the batting cages, play disc golf on a course designed by Bubba Watson and … well, get into any other fun they could find inside Blue Wahoos Stadium.
It was a night that probably wouldn't have seemed possible six years ago.
At the age of 12, the younger Summerlin started having seizures, including one on the ballfield. A visit to the doctor and some tests revealed he had a brain tumor.
"It is one of those things. You want the very best for your children," he said. "It just broke your heart whenever he was doing all this, and then we found out it was a tumor. That's scary and it's been very difficult. It was very difficult because he had dreams, and you want him to reach his dreams."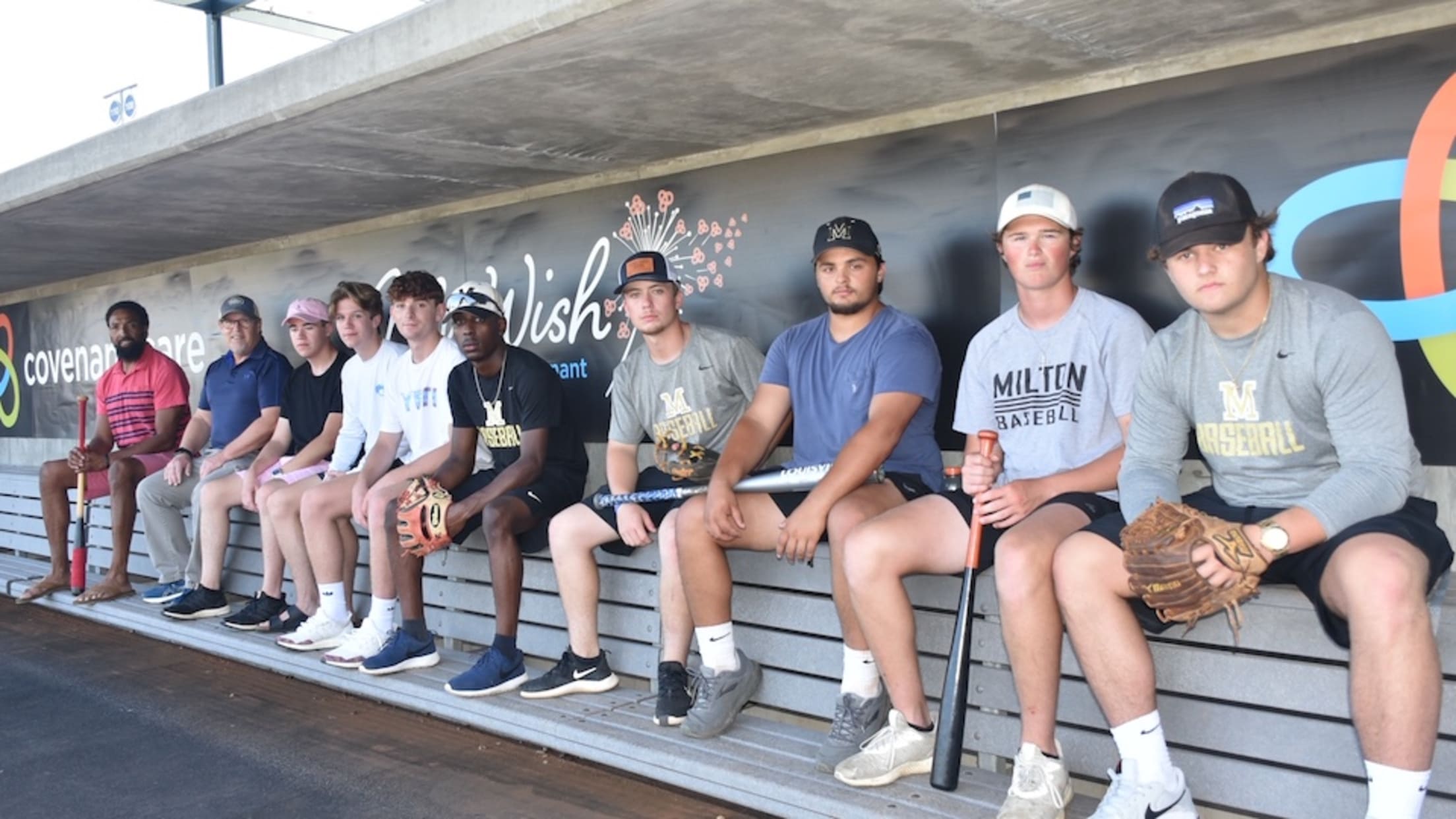 But the boy wasn't going to let medical issues keep him down. Both he and his father admit that when it came to being brave about the situation, it was the younger Summerlin who held it together. On Oct. 28, 2014, he underwent surgery to have the tumor removed.
"Caleb, quite a trooper, went through the surgery and did fine," his father said. "Dr. [Matthew] Pearson and the staff at Sacred Heart Hospital did a great job, and then the follow-up with Dr. [David] Sandberg over at MD Anderson, they've been doing a great job. You know what? I'll just tell you. God is good and he is just taking such a good care of Caleb. He's a sharp kid."
Most parents, however, would be hard-pressed not to worry about how something as difficult as this could affect their child. A visit to Dr. Pearson before the tumor was removed instilled some confidence in David Summerlin that, if the surgery was successful, things could return to normal.
"I remember going to Dr. Pearson and whenever we were setting up for the surgery and asked him, I said, 'Caleb is a smart kid,'" Summerlin said. "He goes, 'After this surgery, Caleb's still going to be a smart kid.' I said, 'Caleb is a good pitcher and he loves to pitch.' And he said, 'Caleb is still going to be a good pitcher and he's still going to be able to pitch.'"
The doctor was right. In fact, the Airbnb experience wasn't Caleb's first time at Blue Wahoos Stadium. Following the surgery, the team invited him to take part in an event called Home Run For Life.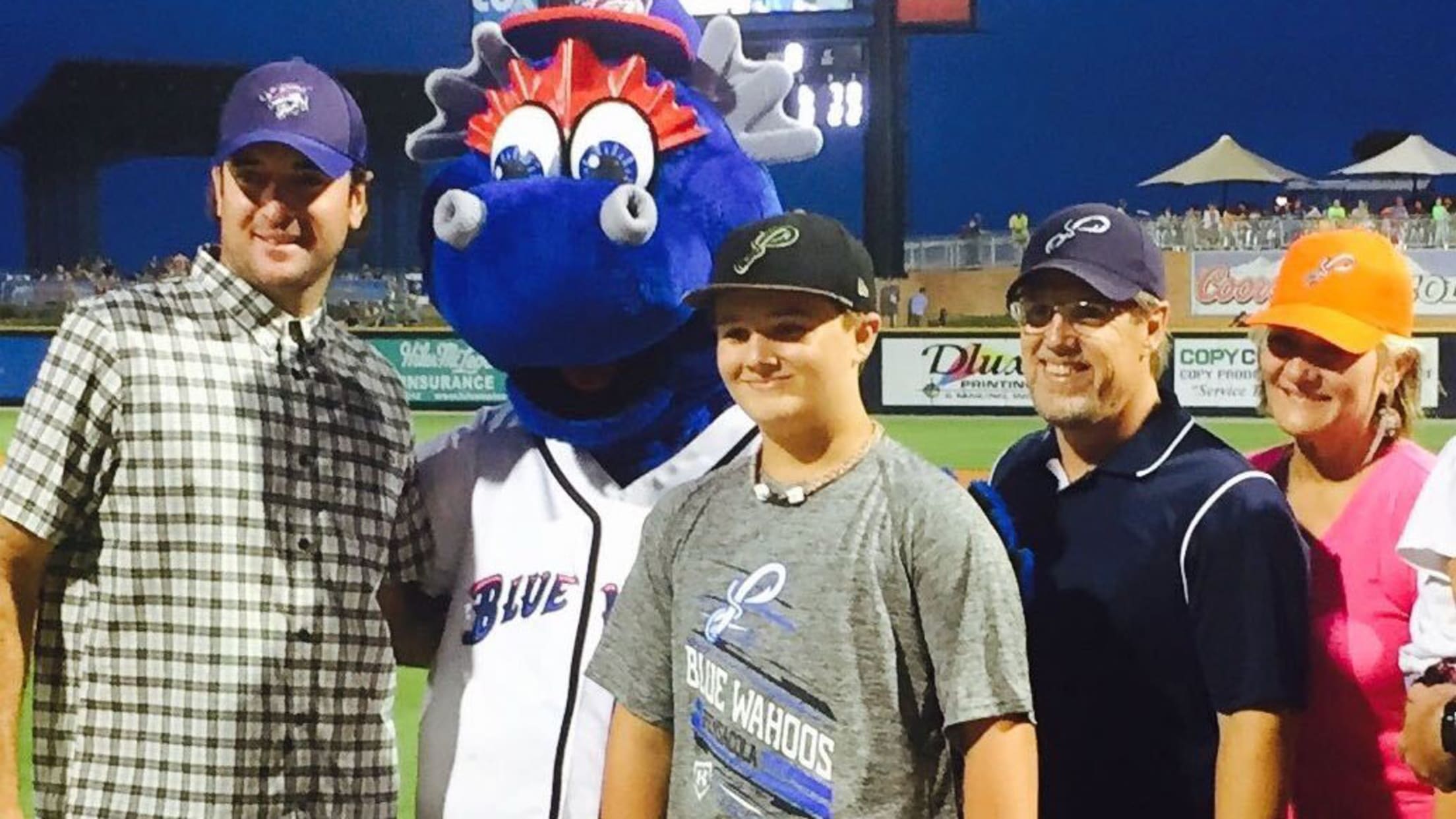 "So he ran around the bases there and he gave a high-five to all the guys on both teams as he ran around the bases, and then when he got back to home plate, Bubba Watson was there to congratulate him on doing so well. And also the nurses from Sacred Heart Hospital that worked with him, they were there on home plate for him and his family," his father recalled.
Caleb Summerlin returned to the stadium as a player, taking the bump for the Milton High School Panthers. He was lights-out, throwing six scoreless innings to earn the victory in a 4-3 win. All of these memories have made Summerlin a self-described "Wahoos fan for life" and, when he found out about the AirBNB rentals, he brought the idea to his father.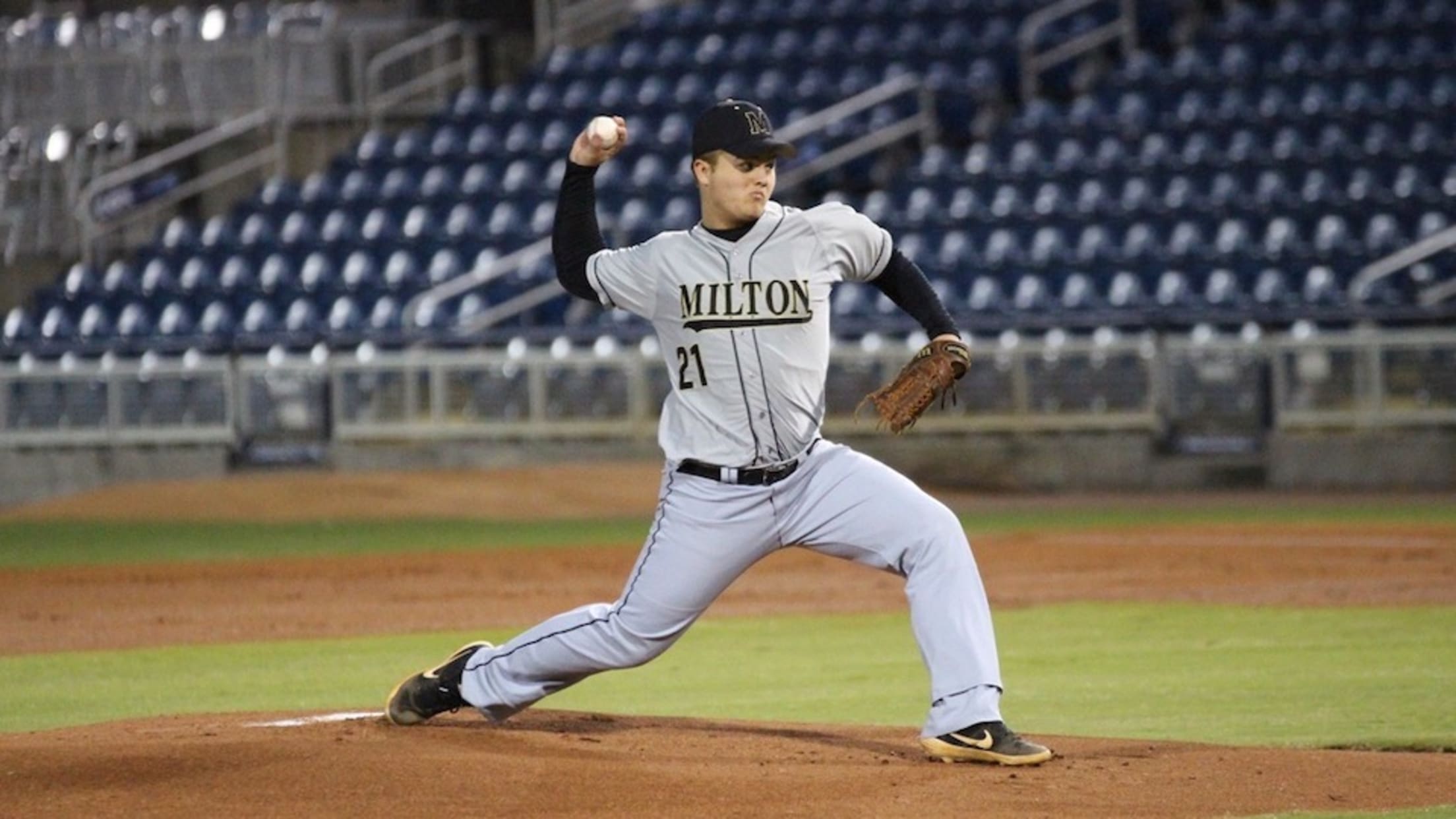 "Me and my buddies kind of found out about it and we were trying to talk Dad into it for a little while, and then he got on board pretty much as soon as he heard about it," Caleb said.
What better way could there be for father and son to celebrate an 18th birthday?
"It just came out that [the Blue Wahoos] were going to do this Airbnb," David Summerlin said. "Normally, we'll travel somewhere for his birthday, but we weren't able to do that, so I just decided that maybe we could rent that out. And it was a great idea."
As it turned out, the father might have had a better time than the high schoolers.
"I remember standing up there, looking out going, 'Man, this is great,'" he said. "Beautiful weather. And, matter of fact, now I'll drive by and I'll go in there thinking about what a great memory. Every event that we did there, unbelievable memories that we've made."
The Wahoos made sure the stay went off without a hitch. And typically happens with teenagers, food played an important role.
"They fed us well," David Summerlin said. "We had a great meal that night and then at midnight, we called and got some pizza And then, the next morning, they fed us again."
The night also was a small way of soothing the disappointment the boys faced after losing their high school and summer seasons. For Caleb Summerlin, whose ultimate dream is to pitch at Auburn University, his dad's alma mater, it was a missed opportunity to show what he's capable of on the mound.
"We can't go anywhere to be seen, so it's affected our ability to get out there and get some college looks," his father said. "So that's kind of a frustrating thing."
That's small potatoes compared to what Summerlin already has been through at such an early age. From the down days of being diagnosed with a tumor to the recovery process all the way to a night at Blue Wahoos Stadium, he's kept his head high. No matter what the future holds, the teenager will think of the Blue Wahoos with a warm smile.
"I would say it holds a very special place in my heart, that whole stadium does and that team," he said.