10 years later: Ben's Biz returns to Hillsboro
Ben checks in on the Hops' 10th anniversary at Ron Tonkin Field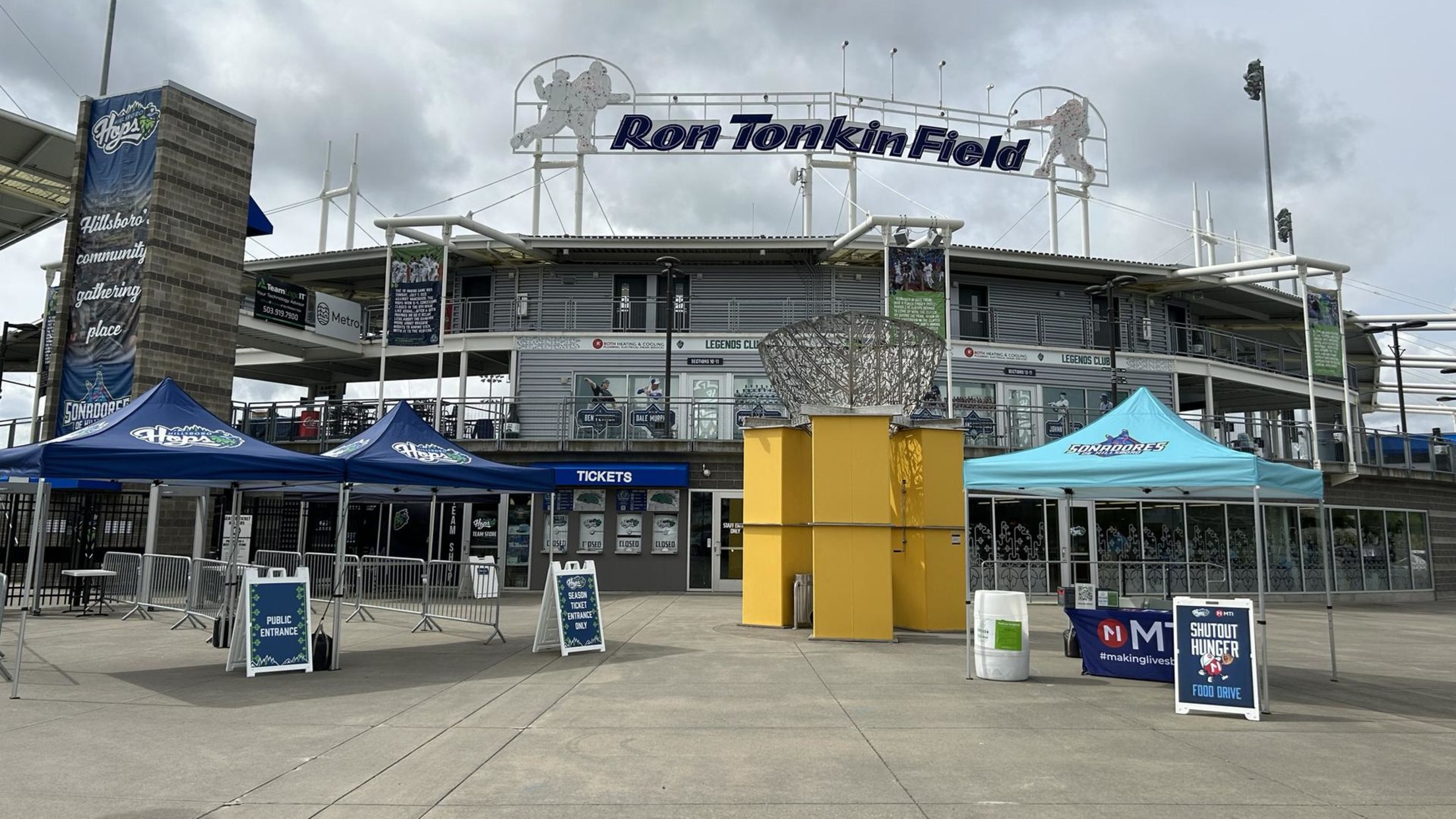 This is an excerpt from the latest edition of the Ben's Biz Beat Newsletter, bringing Minor League Baseball business and culture news to your inbox each and every Thursday. Check out the full newsletter HERE. Subscribe HERE.
This is an excerpt from the latest edition of the Ben's Biz Beat Newsletter, bringing Minor League Baseball business and culture news to your inbox each and every Thursday. Check out the full newsletter HERE. Subscribe HERE.
On the morning of Sunday, May 7, I checked out of my hotel in Eugene, Ore., hopped into my rental car -- a white Camaro, for those keeping score at home -- and drove north on I-5 to the Portland-adjacent town of Hillsboro. The Hops, High-A affiliate of the Arizona Diamondbacks, reside here.
The Hops are celebrating their 10th anniversary in 2023, having debuted at Ron Tonkin Field in 2013 after relocating from Yakima, Wash.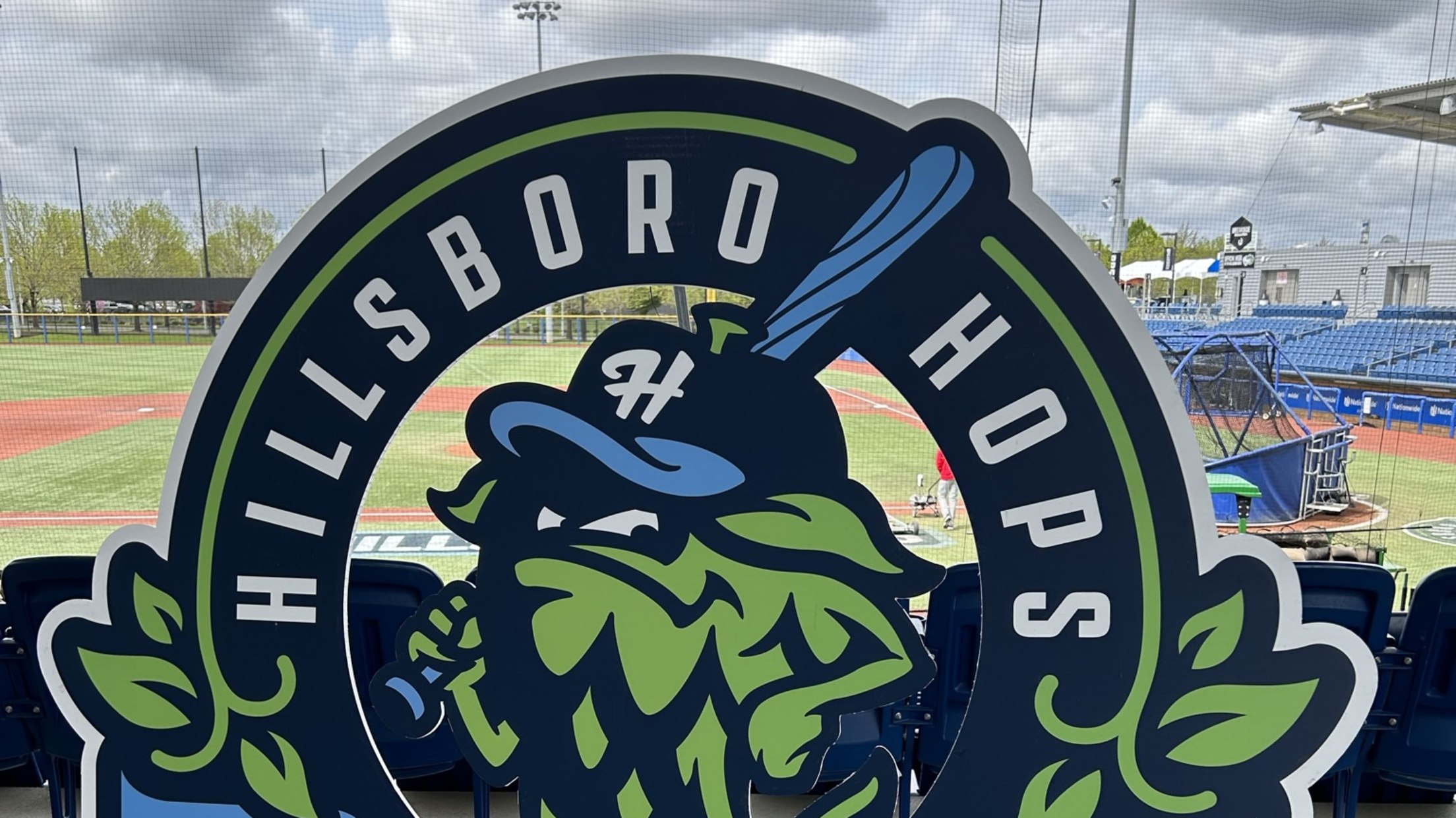 2023 also marks the 10th anniversary of the last time I visited Hillsboro. Where has the time gone? The Hops are now in what is scheduled to be their penultimate season at their current address, as plans are in the works for a new ballpark. This facility will be adjacent to where Ron Tonkin Field stands now, on its first-base side.
I cannot recall a team making plans to move to a new ballpark after such a short amount of time in their current one. However: Ron Tonkin Field was built for a short-season team (the Hops switched to High-A prior to the 2021 season), and it needs myriad upgrades in order to meet the PDL (Professional Development License) standards now required by Major League Baseball.
Hops president K.L. Wombacher told me that, due to a variety of infrastructural issues, building a new ballpark is less expensive than renovating the existing one. While the Hops will no longer play there, the team is recommending that it be reconfigured into a fastpitch softball facility. Ultimately, that will be the city's decision.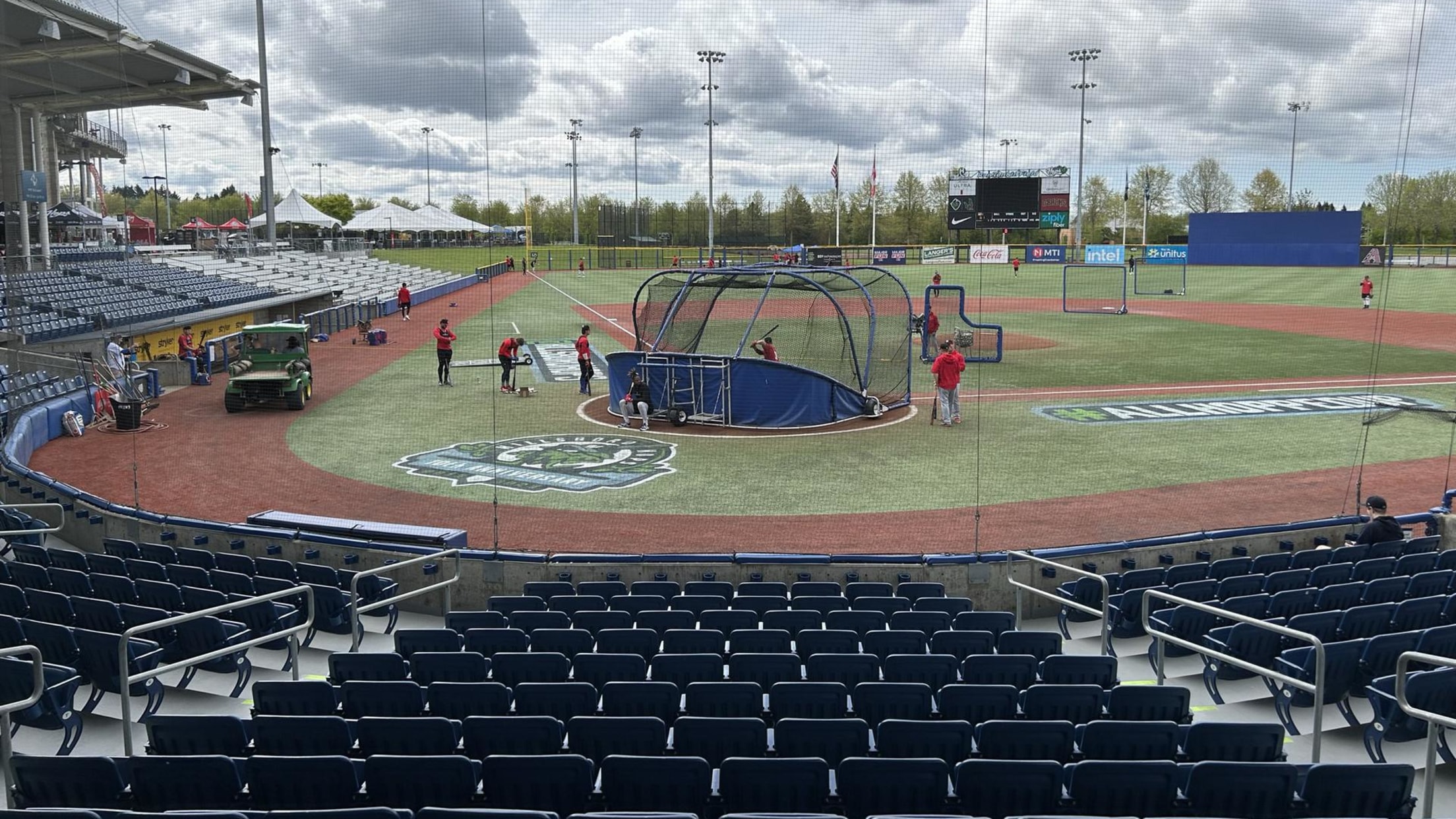 We now return to the narrative at hand, in which a traveling Minor League baseball writer rolls into a Northwest League ballpark in a Camaro (I prefer more modest forms of transportation, but it was the only car the rental company had available). I entered Ron Tonkin Field a little after 10 a.m., into the midst of a soothing Sunday morning scene. Bob Marley's "Three Little Birds" wafted over the PA, intermingling with the crack and thwack of batting practice and the low rumble of carts wheeling around the concourse as gameday workers prepared for the early-afternoon tilt against the Vancouver Canadians.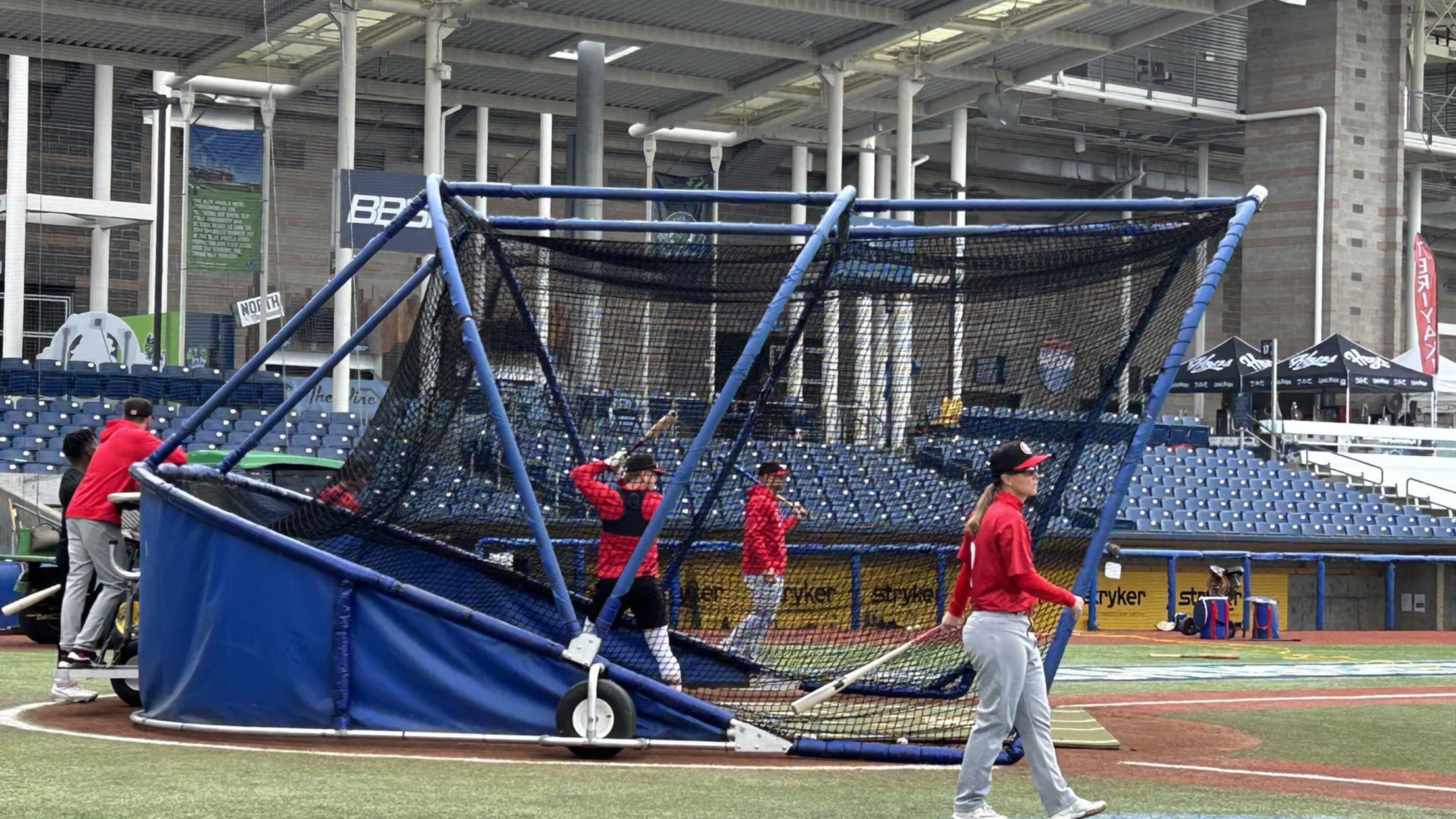 Ashley Stephenson, a position coach for the Vancouver Canadians, can be seen in the foreground of the above picture. This was to be the closing game of a historically significant series, as it marked the first time that two women coaches faced off at the High-A level: Stephenson for the Canadians, and manager Ronnie Gajownik for the Hops.
I was unable to interview Stephenson and Gajownik, so I will direct you to Steph Sheehan's recent MiLB.com article about the career paths of both women as well as their thoughts on one another. I will also direct you to this great picture taken earlier in the series by MLB.com's Jared Ravich: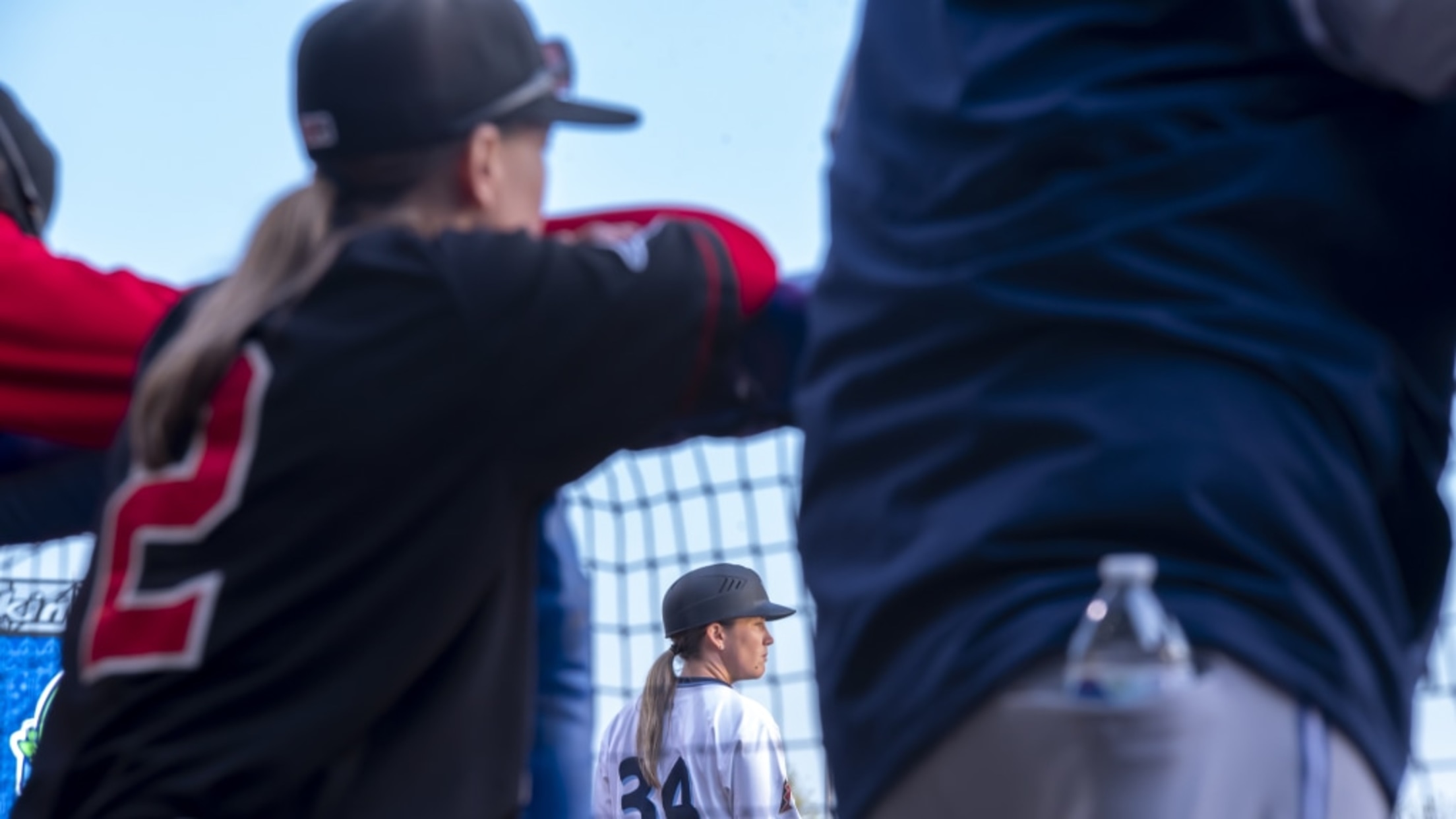 I was able to interview a pair of Hops pitchers about their respective video game obsessions, however. Connor Grammes is a world-ranked Pac-Man player, while Dylan Ray (pictured below) is downright obsessed with Rocket League (think soccer, but played by cars instead of humans).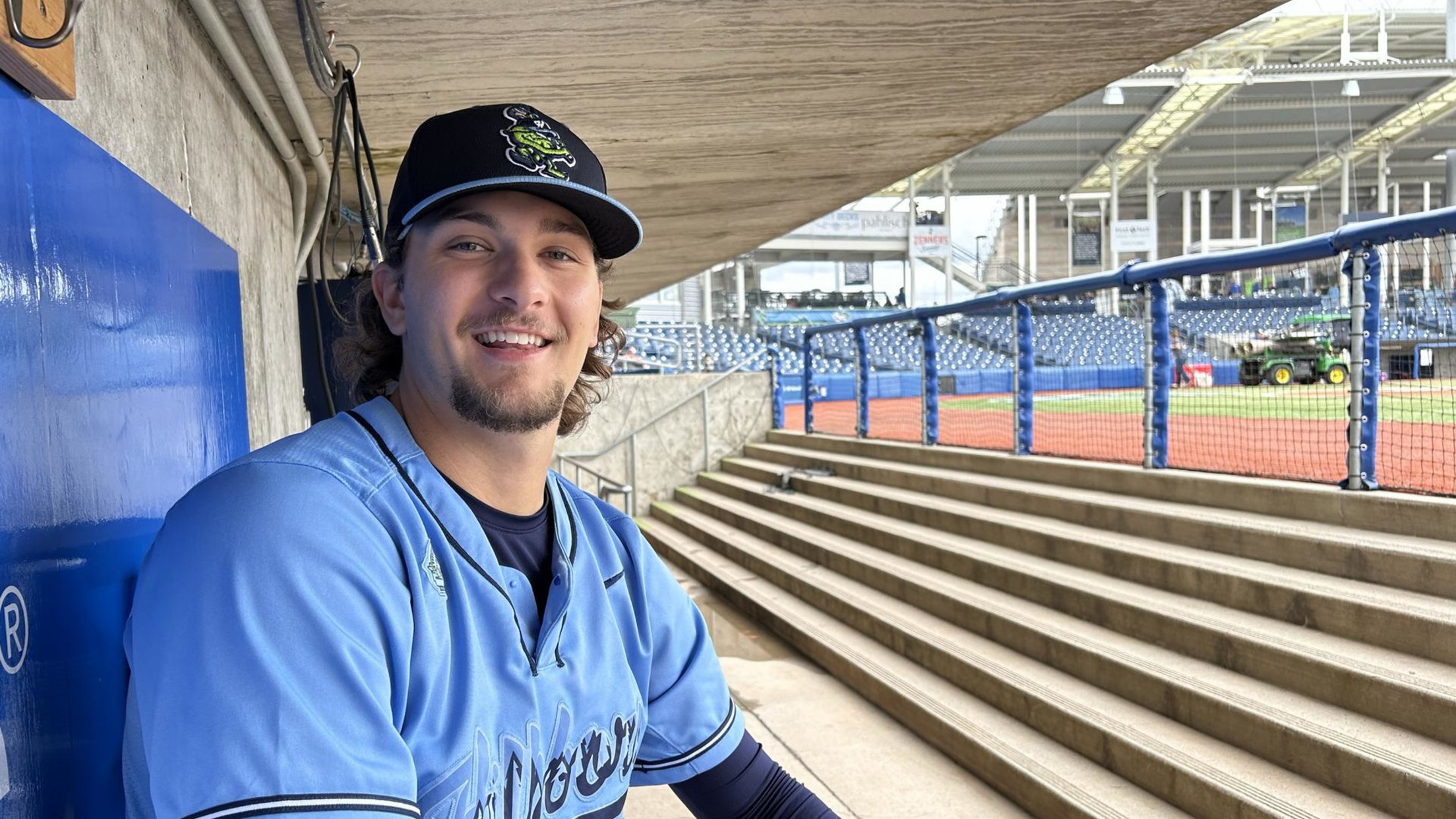 Both of these interviews were featured on last week's episode of "The Show Before the Show" podcast, which also includes an audio recap of my trip that I recorded while wandering about Tacoma's Owen Beach. LISTEN HERE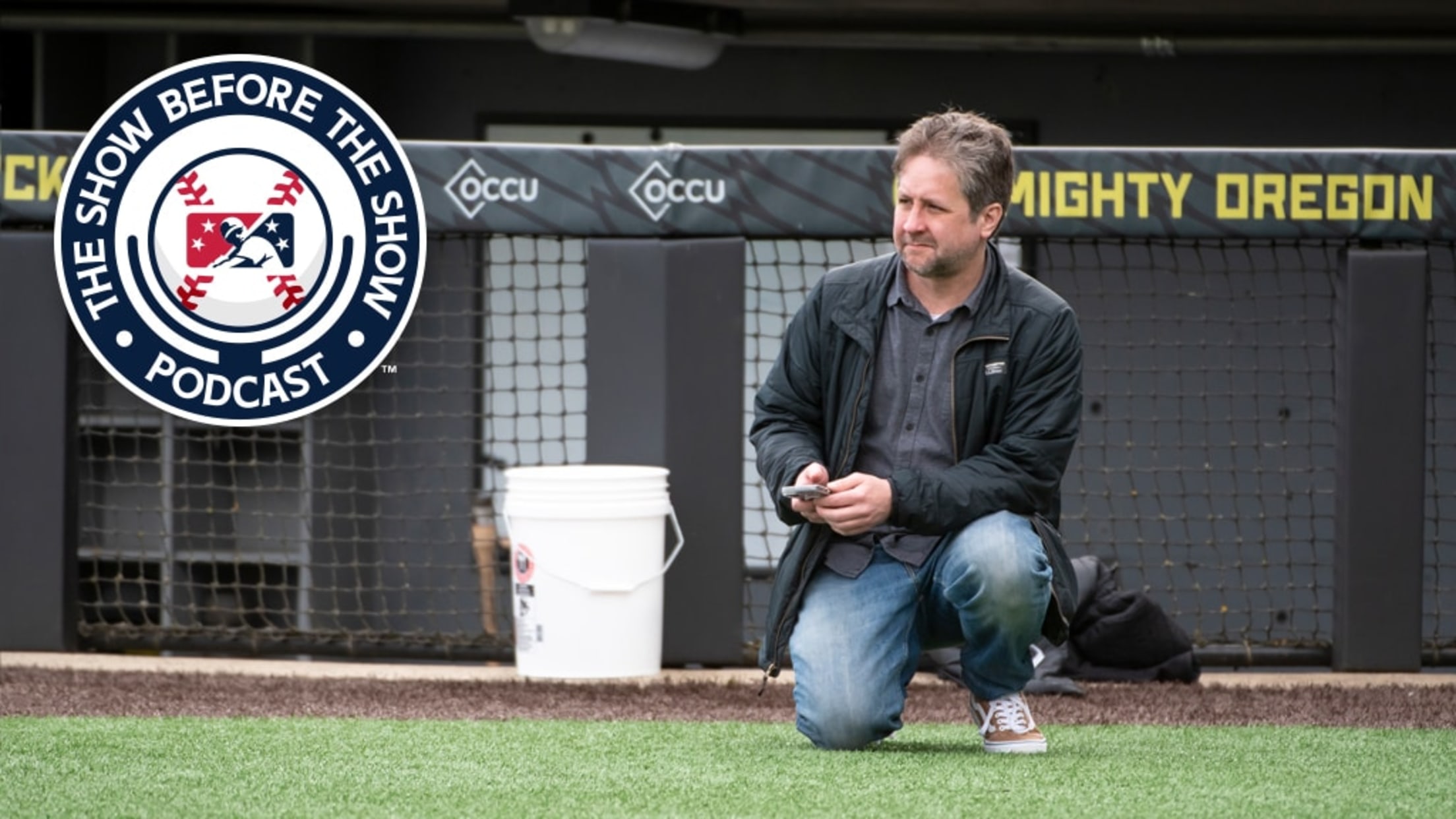 I met with Heather Lubay, the afternoon's Designated Eater, shortly after the game began. Heather, a Pittsburgh-area native who now teaches journalism at Portland Community College, then embarked upon a culinary journey that began with the self-explanatory Taco Pizza.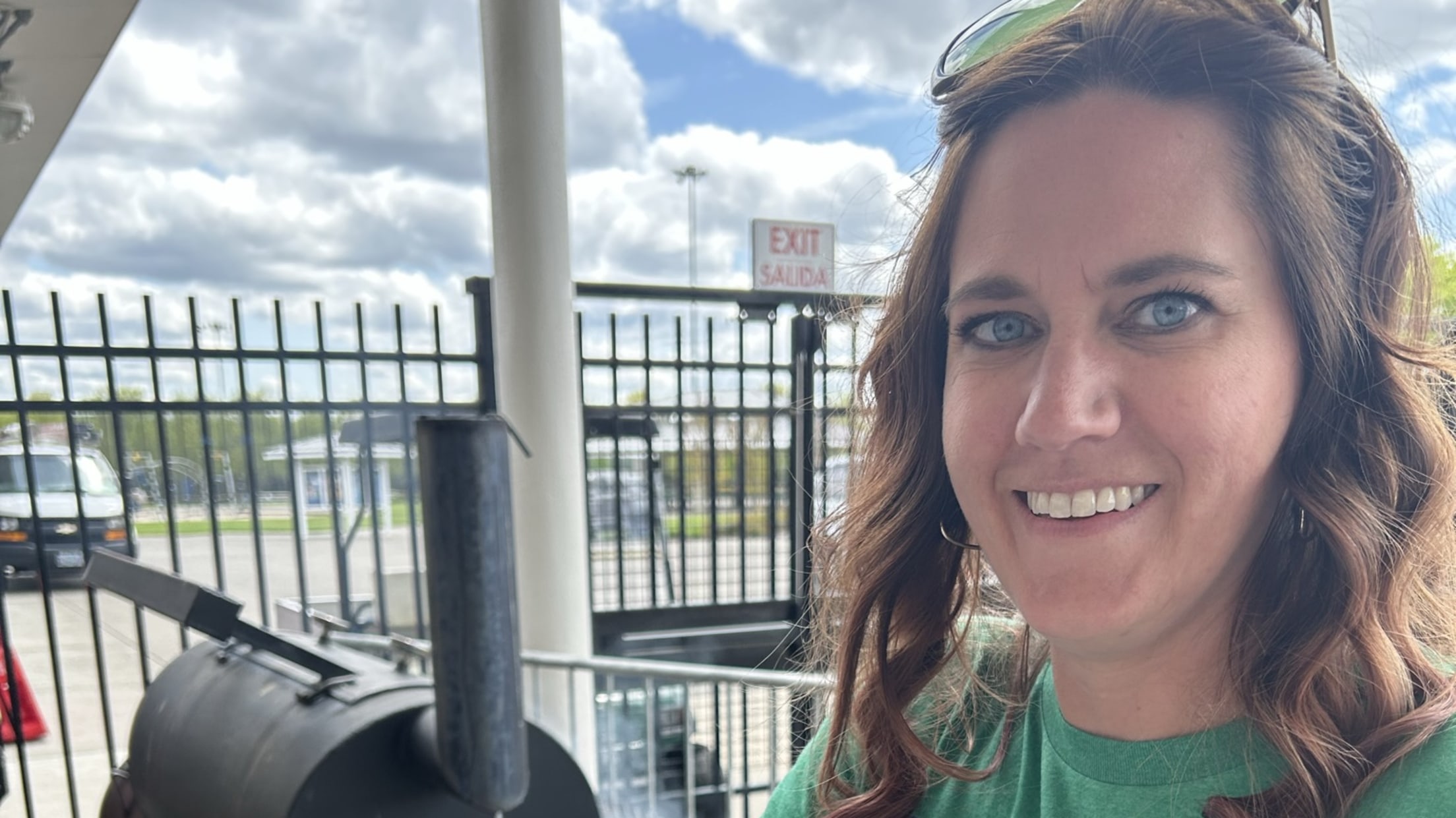 Taco Pizza was followed by a Charro Bean Tostada, a Nashville Hot Chicken Sandwich and, finally, a Turkey Banh Mi (topped with pickled radish, cucumber, carrots, sambal mayo and cilantro).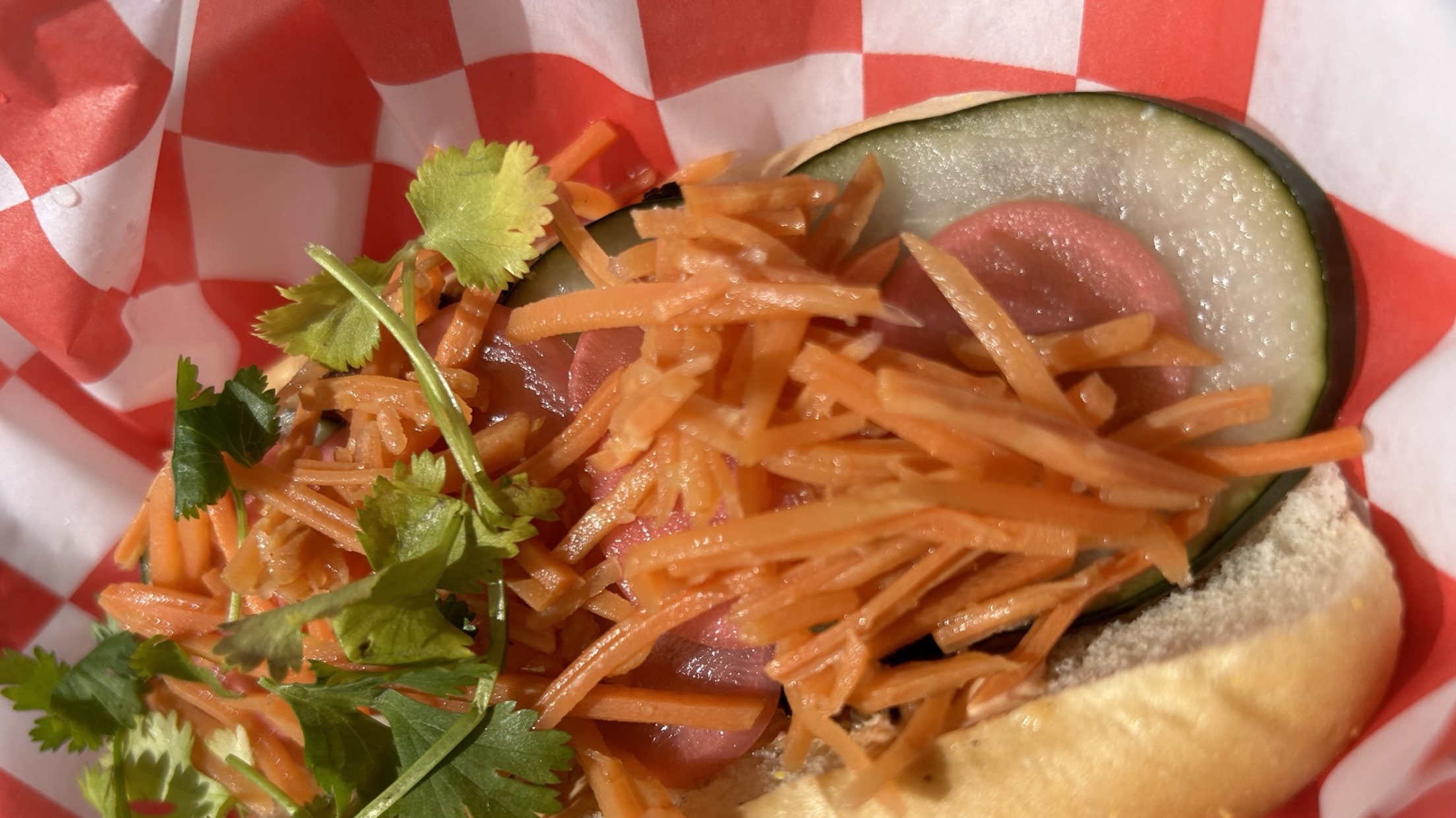 After bidding adieu to Heather, who impressively carried all of her leftovers back to her seat without needing any assistance, I wandered over to a section of seats located at the far end of the first-base dugout. This is the domain of Hippidy Hops Guy -- a.k.a. Christian Trout -- a Hops fan extraordinaire.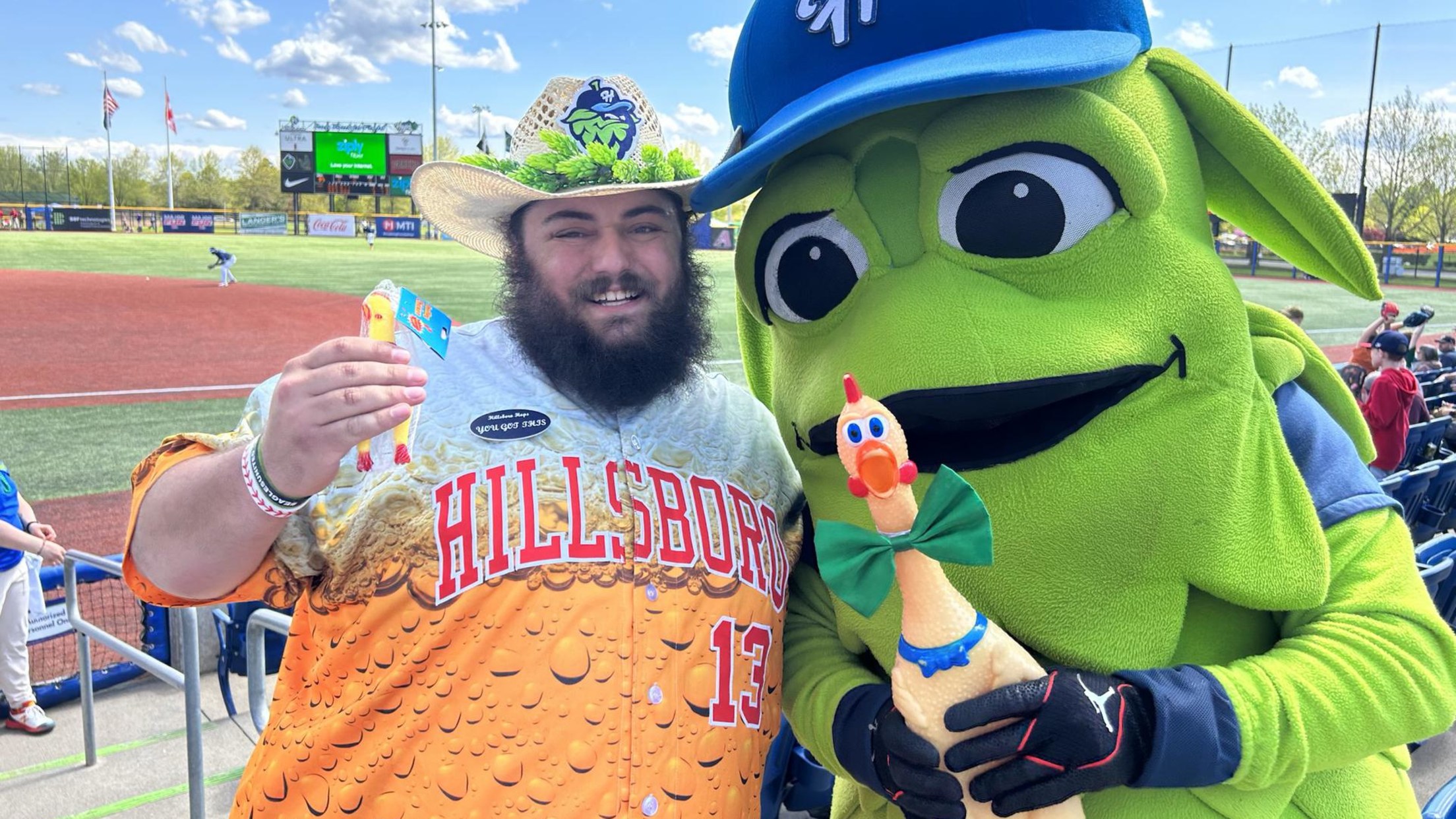 Hippidy Hops Guy adds a lot of energy to the ballpark, and a lot of noise. He wields a large rubber chicken throughout the ballgame, and its atonal squeaks blend in with the sounds of dozens, if not hundreds, of similarly skronking rubber chickens. Hippidy Hops Guy is responsible for this beak chorus, as he gives away mini rubber chickens throughout the game, to any fan who asks for one. He also maintains a shrine atop the dugout, filled with Hops good luck charms and trinkets as well as voodoo doll of the opposing team.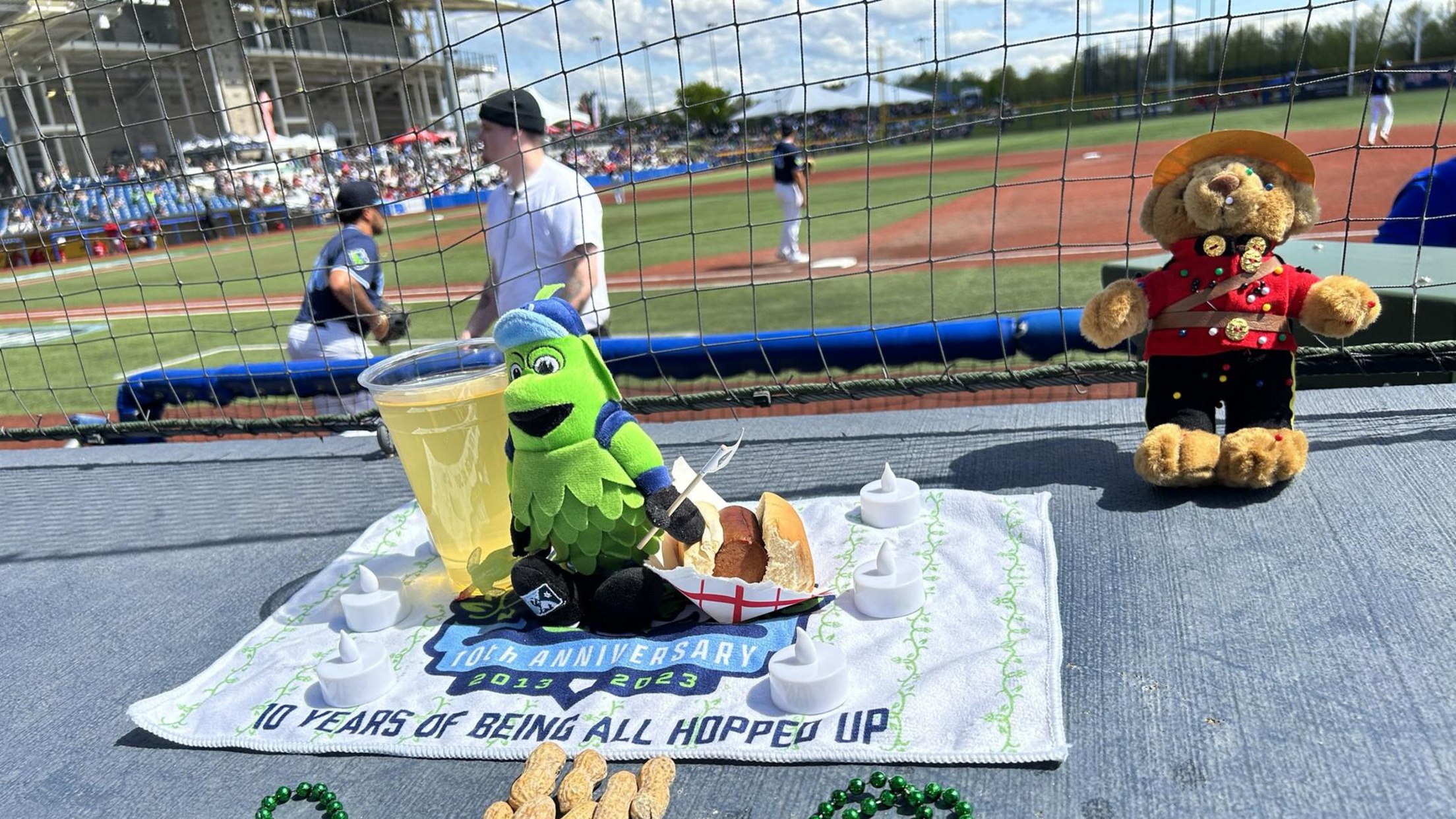 Walking away from Hippidy Hops Guy, with a newly acquired rubber chicken poking out of my breast pocket, I did one more lap of the ballpark. A cool thing about Ron Tonkin Field is that it is fully walkable, with the path from left to right field (and vice-versa) comprised of a narrow but verdant berm seating area.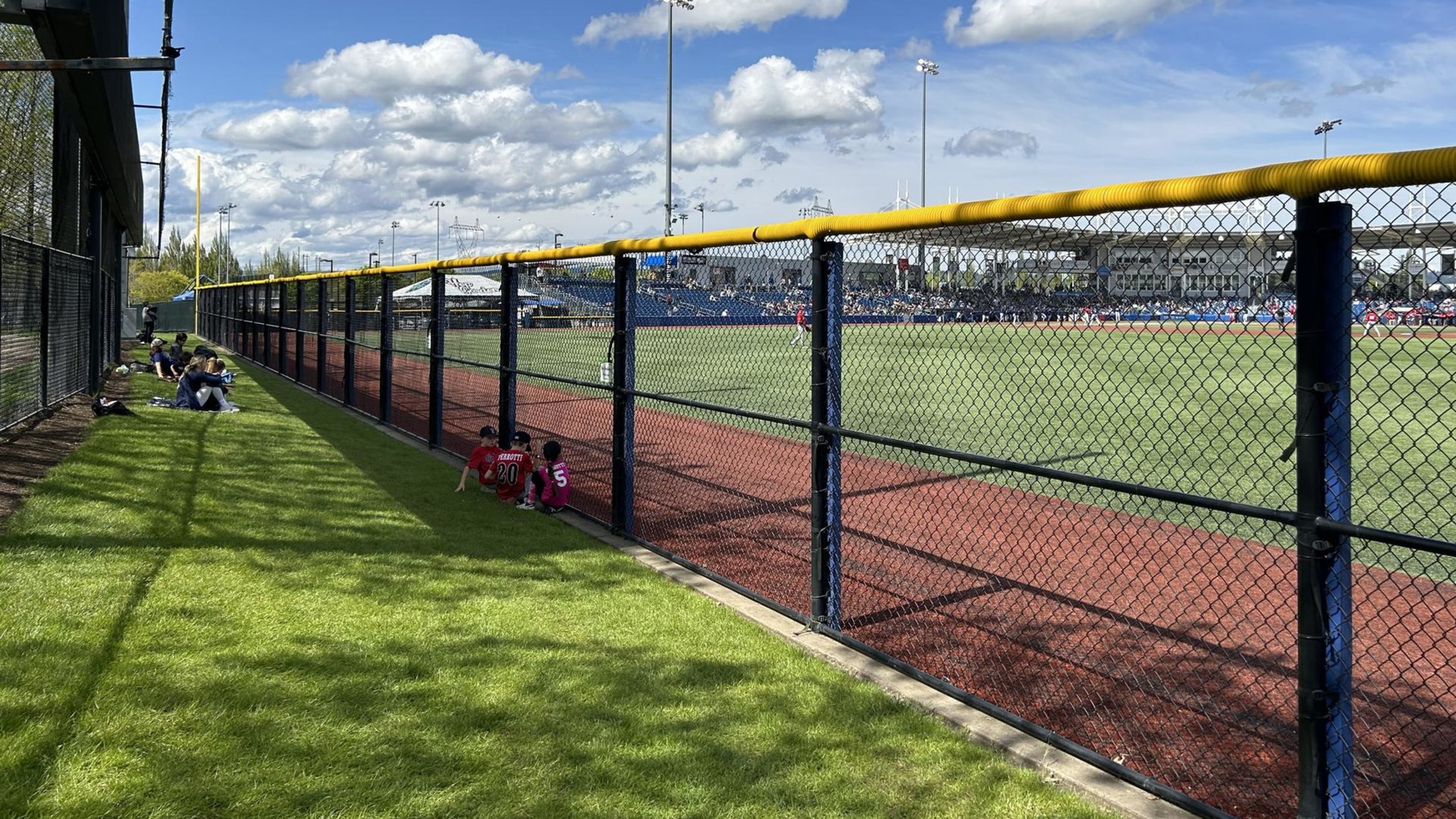 Both bullpens are located along this berm pathway, eminently accessible to passing fans (as well as kids who lean on the railing and incessantly ask for baseballs).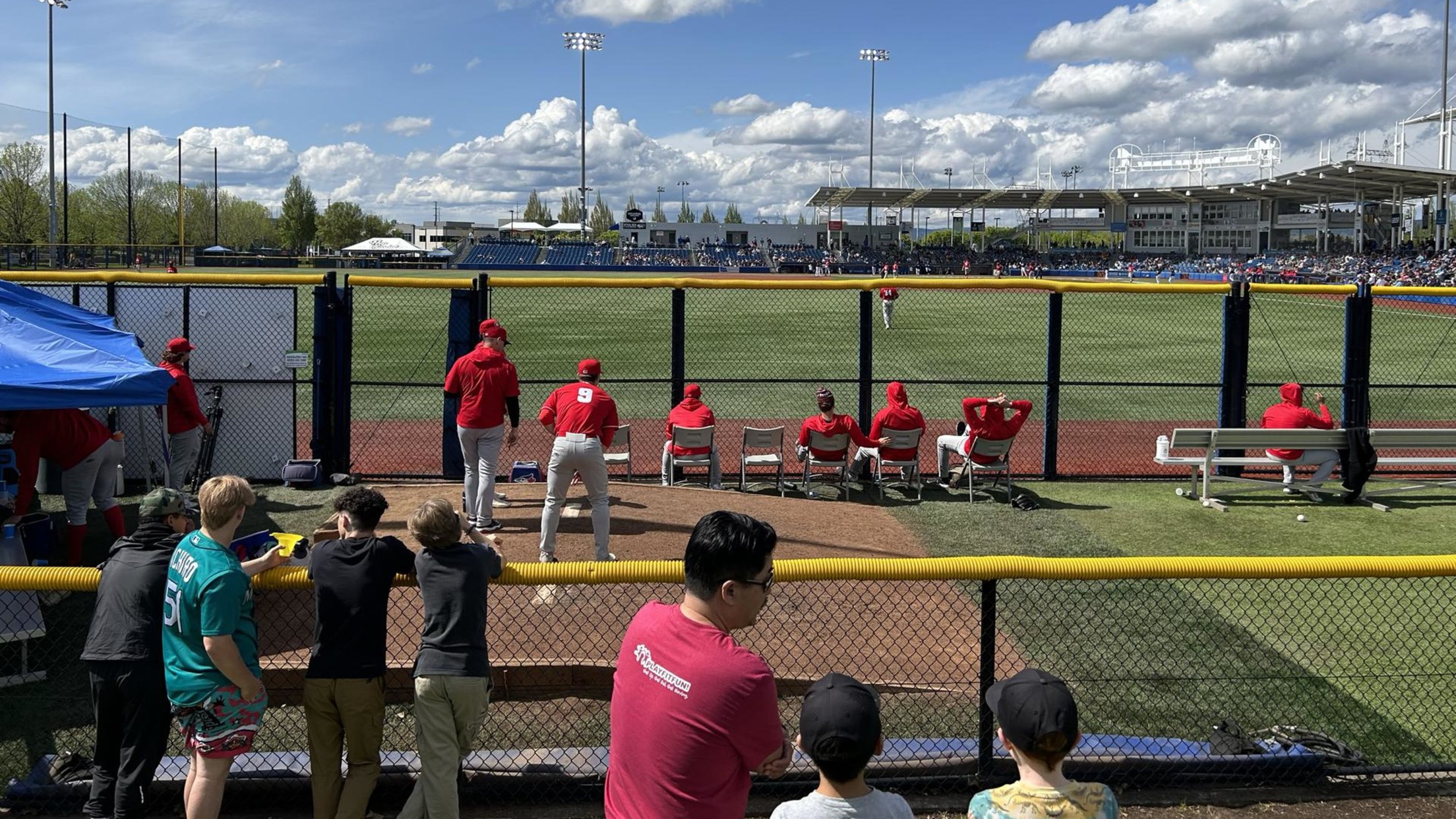 With the game winding down, I returned to the home-plate side of the ballpark and took a seat in the very first row, next to mayor Steve Callaway. "Mayor" as in, the literal mayor of Hillsboro. When it was announced that the Yakima Bears were relocating to Hillsboro, Callaway, then a member of the city council, put down the very first season ticket deposit in Hops franchise history. Since then he's been a ballpark fixture.
I spoke with Callaway about his history with the team, fielding constituent concerns at baseball games, the Hops' new ballpark and more. The game ended as we were talking -- I honestly forget who won -- and then we wandered out onto the field.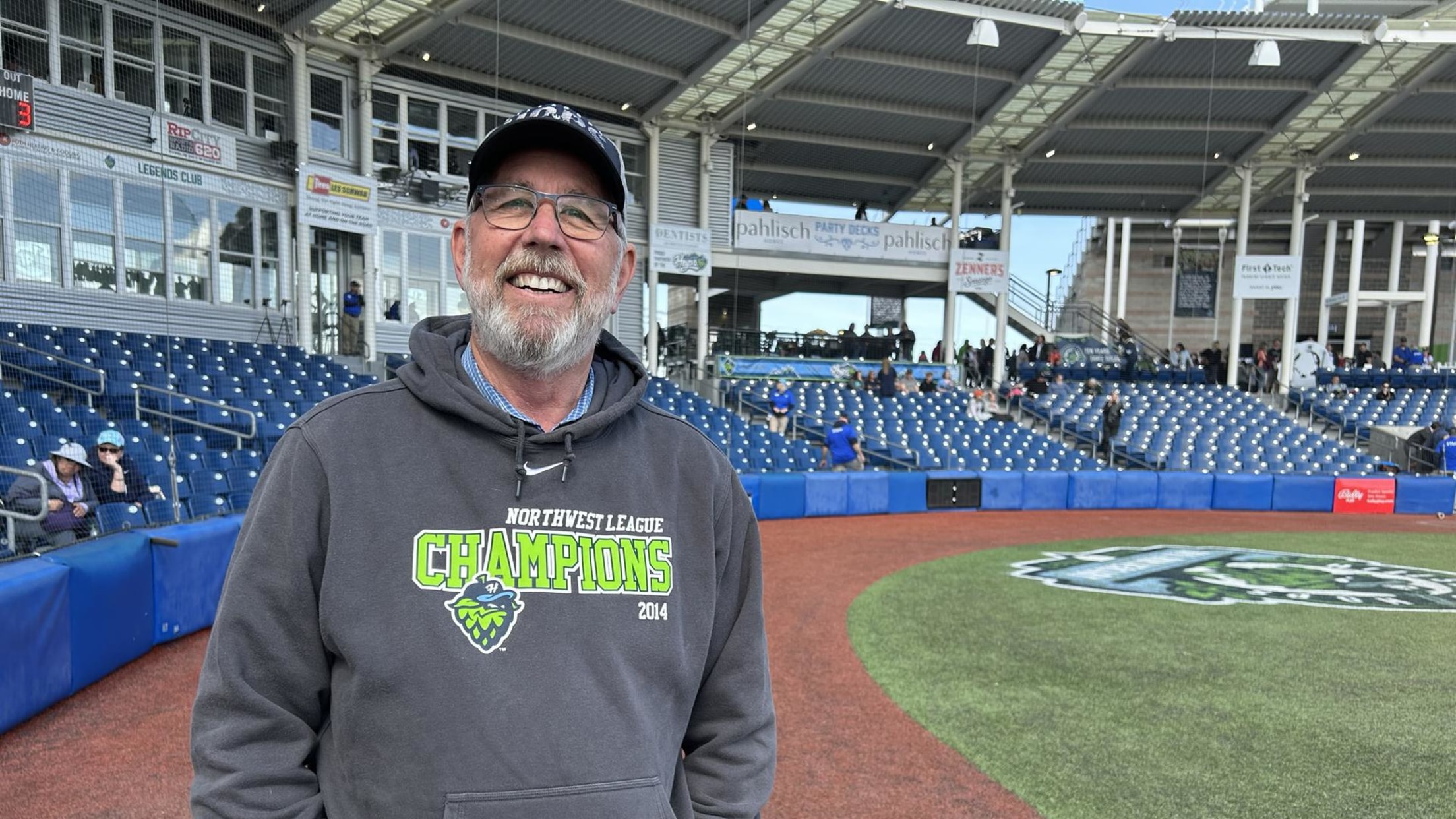 After the game I caught up with Michael Harris, last seen in this newsletter serving as a Designated Eater in Manchester, New Hampshire (when the Fisher Cats made their debut as the Chicken Tenders). Ron Tonkin Field was the final active Minor League ballpark that Michael needed to visit, in order to have been to them all.
Congrats, Mike!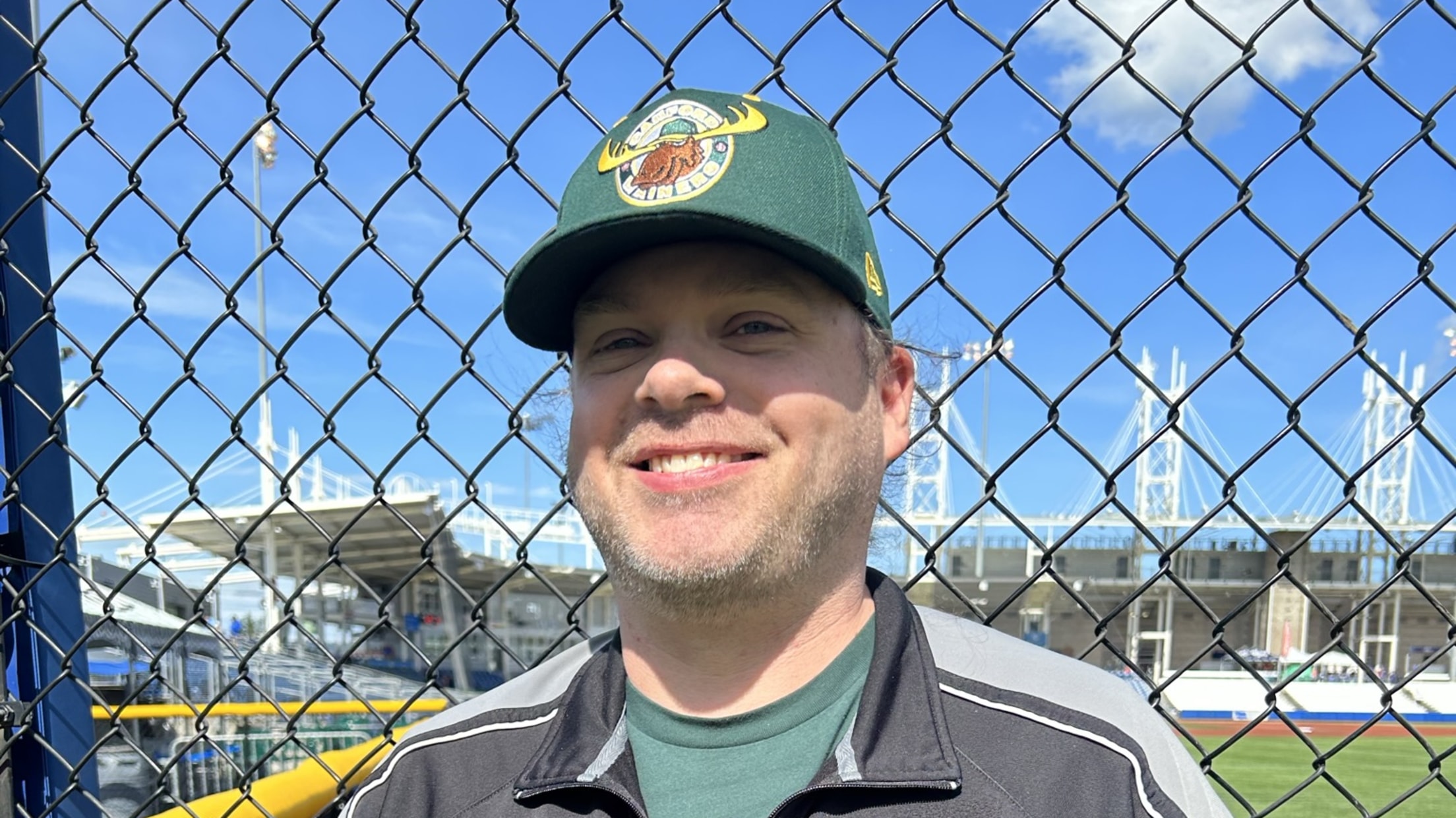 And with that, I left the ballpark, told a joke, hopped in the Camaro and motored toward the Tacoma Rainiers. That visit will be detailed in next week's newsletter, which will be one of many more missives emanating from my trip to the Pacific Northwest.
Stay tuned, thanks for reading, and get in touch anytime. [email protected] (Twitter: @bensbiz; Instagram: @thebensbiz)