Barons Fight Back, Win 5-4 in Opener
Birmingham bullpen pitches four scoreless frames to seal victory over Chattanooga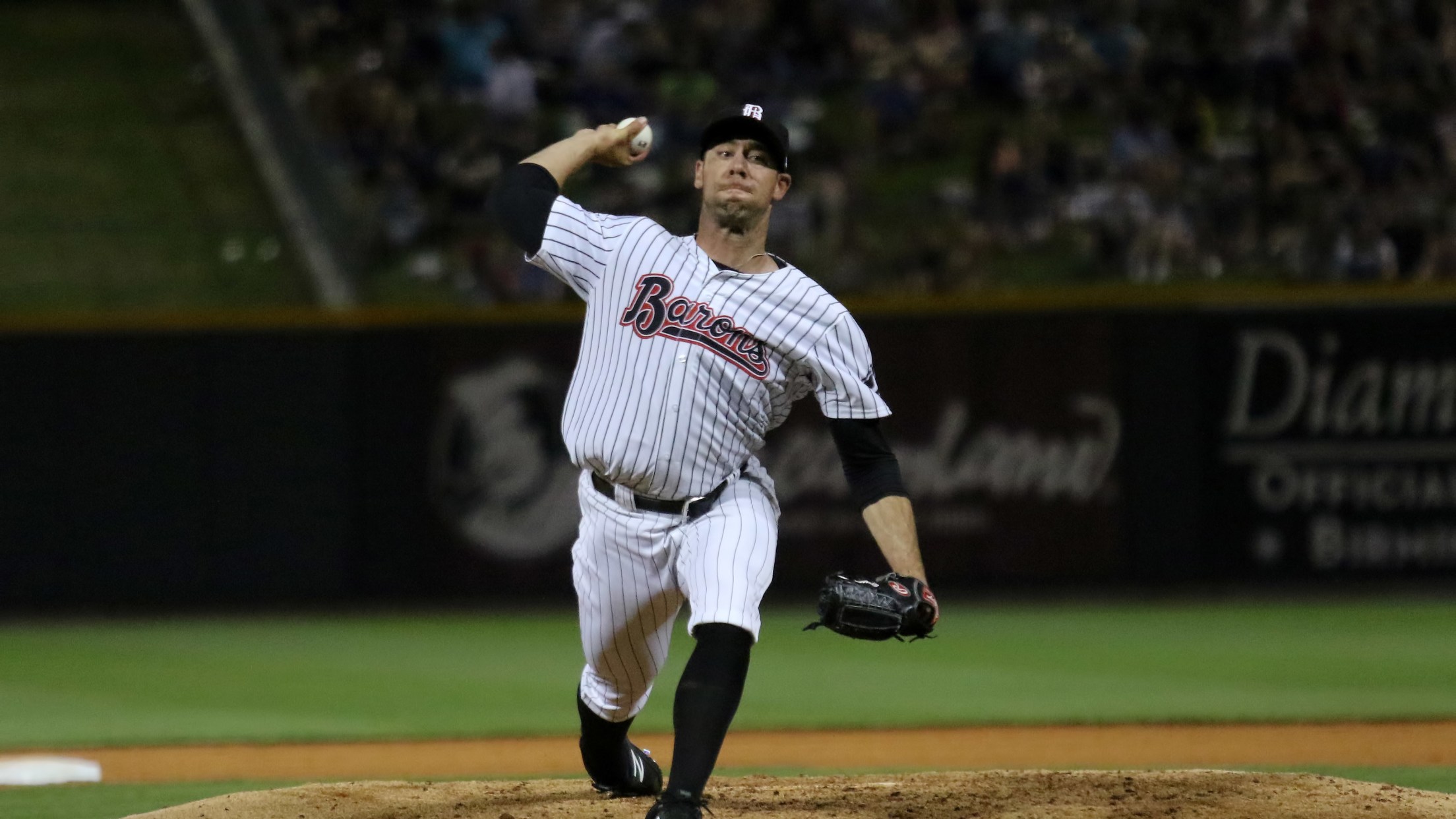 Brandon Brennan earned his first save of the season on Opening Night. (Michael Wade)
The Birmingham Barons (1-0) battled back time and time again to defeat the Chattanooga Lookouts (0-1) on Opening Night at AT&T Field on Thursday. Down one run on three different occasions, Birmingham rallied to tie the game before taking and holding a late lead behind a strong performance from the
The Birmingham Barons (1-0) battled back time and time again to defeat the Chattanooga Lookouts (0-1) on Opening Night at AT&T Field on Thursday. Down one run on three different occasions, Birmingham rallied to tie the game before taking and holding a late lead behind a strong performance from the bullpen.

Turning Point:

In the top of the fifth, the Barons' patience paid off. Chattanooga starter Zack Little was pulled after giving up a double to Danny Mendick , who advanced to third on a fly out. Ryan Eades came in and provided little relief for the home team, walkingJameson Fisher , Zack Collins , Seby Zavala , and Keon Barnum to tie the game 3-3.

Moment That Mattered:

Making his Birmingham debut, Fisher came through with the clutch hit his team needed. His RBI double to left in the top of the eighth, his first Double-A hit, scored Tito Polo all the way from first base with the eventual winning run.

Facts And Figures:

12 Outs. After starter Spencer Adams gave up four runs in 5.0 innings, relievers Jorge Rondon , Colton Turner (W, 1-0), and Brandon Brennan (S,1) combined to pitch the final 4.0 innings without giving up a run to preserve the win.

By The Numbers:

10 Walks. The Barons showed a good eye at the plate on Thursday, drawing 10 walks off Chattanooga pitchers, including three walks with the bases loaded to earn the come-from-behind victory. Collins led the way by taking three free passes while Zavala drew a pair of walks in his Barons debut.

Up Next:

The Barons and Lookouts will play the second game of their five-game series at AT&T Park on Friday night at 6:15 p.m. Right-hander Jordan Stephens will make his season debut for the Barons against Chattanooga southpaw Stephen Gonsalves. Curt Bloom will have the call on 960 WERC News Radio and the iHeart Radio app.