11-Run Eighth Leads to Eighth Straight Home Win
Haley, Thorpe, Theo and Clay Combine for Shutout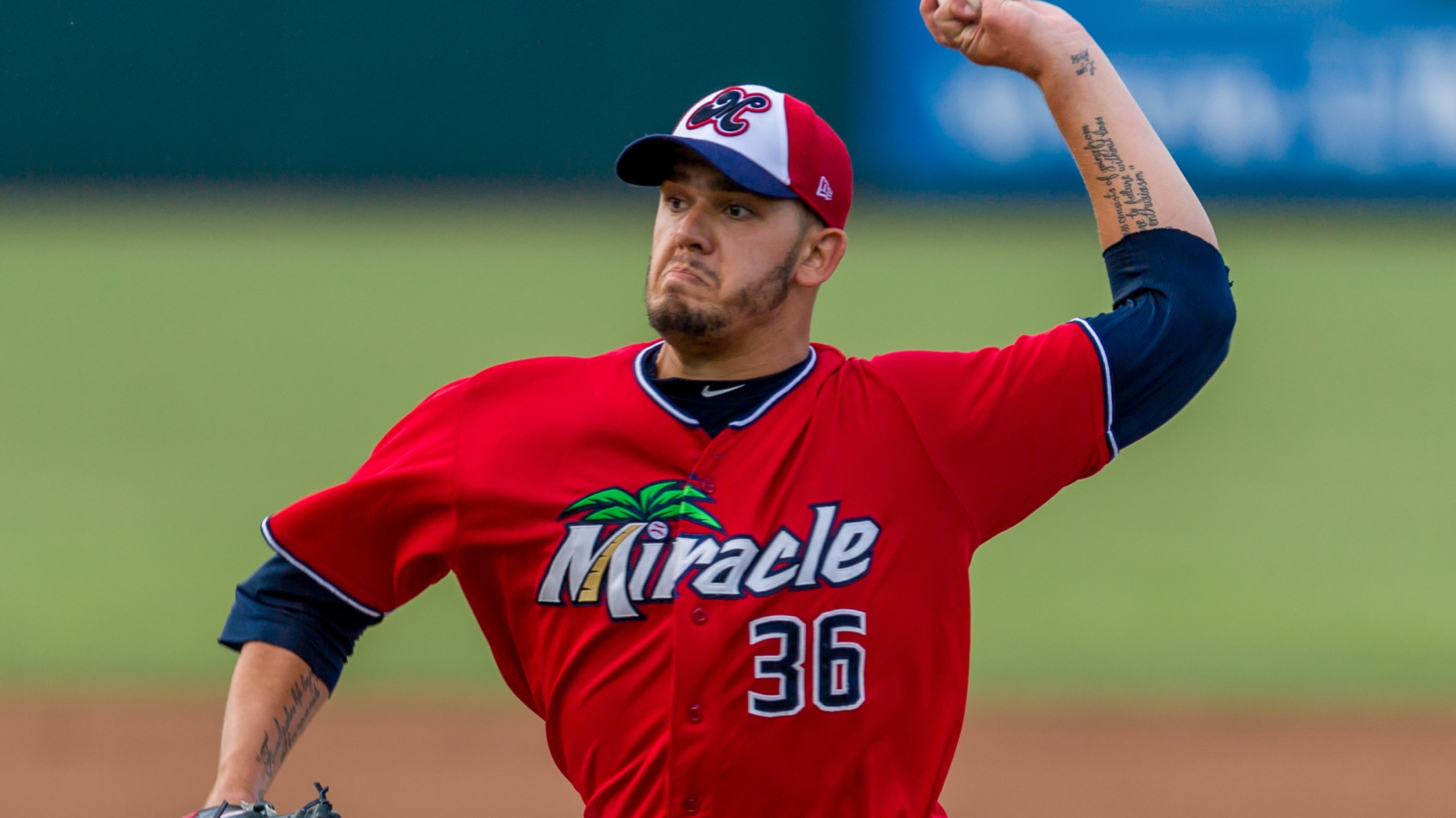 (Linwood Ferguson)
FORT MYERS, Fla. (June 30, 2017) - The Fort Myers Miracle's (5-2) grabbed 11 eighth-inning runs to down the St. Lucie Mets (1-6) on Friday night. 16 men came to the plate in the frame as three pitchers combined to shutout the Mets.Before the Miracle plated their runs, RHP Justin Haley
FORT MYERS, Fla. (June 30, 2017) - The Fort Myers Miracle's (5-2) grabbed 11 eighth-inning runs to down the St. Lucie Mets (1-6) on Friday night. 16 men came to the plate in the frame as three pitchers combined to shutout the Mets.
Before the Miracle plated their runs, RHP Justin Haley faced the minimum in two innings of his Major League rehab appearance. The righty allowed a single in the first and walk in the second but extinguished the threats with a pair of double play balls.
LHP Lewis Thorpe took over for the next 4.2 innings and did not allow a run surrendering just two hits. The Aussie spun his way out of several run-scoring situations. In the top of the fifth with just one out, Thorpe saw runners at second and third when he struck out Tim Tebow. He then fanned Anthony Dimino on a slider to keep the game scoreless.
In the seventh, Thorpe found himself in the same situation and recorded another big strikeout, this time of Michael Paez. With two down and runners at second and third, Tebow was due up, but manager Doug Mientkiewicz lifted Thorpe in favor of LHP Michael Theofanopoulos (W, 3-1). The reliever hit Tebow on the arm with the first pitch, but then induced a popout of Dimino.
The floodgates opened up in the bottom of the eighth with 11 runs. The first four batters reached against RHP Justin Brantley (L, 3-2) with Kevin Garcia delivering the first run on a single back up the middle. Brantley was then replaced by RHP Alex Palsha who could only record one out. With the bases loaded, Palsha walked Brandon Lopez, hit Jaylin Davis and then balked with Nelson Molina at the plate to quickly give Fort Myers a 4-0 lead. Molina drove in two more with a single, and later in the frame, Jermaine Palacios drove in a run followed by a 3-RBI double for Zander Wiel. Mitchell Kranson, Palacios and Wiel all scored two runs in the eighth inning.
To stay up to date on upcoming promotional nights, follow the Miracle online at Miraclebaseball.com or through social media; Twitter: @MiracleBaseball, Instagram: fortmyersmiracle, Facebook: Fort Myers Miracle, Snapchat: ftmyersmiracle. To purchase tickets, visit MiracleBaseball.com/tickets. For further information or questions regarding the 2017 25th Anniversary Season, call the Miracle offices at (239) 768-4210.