Sugar Land Snaps OKC Winning Streak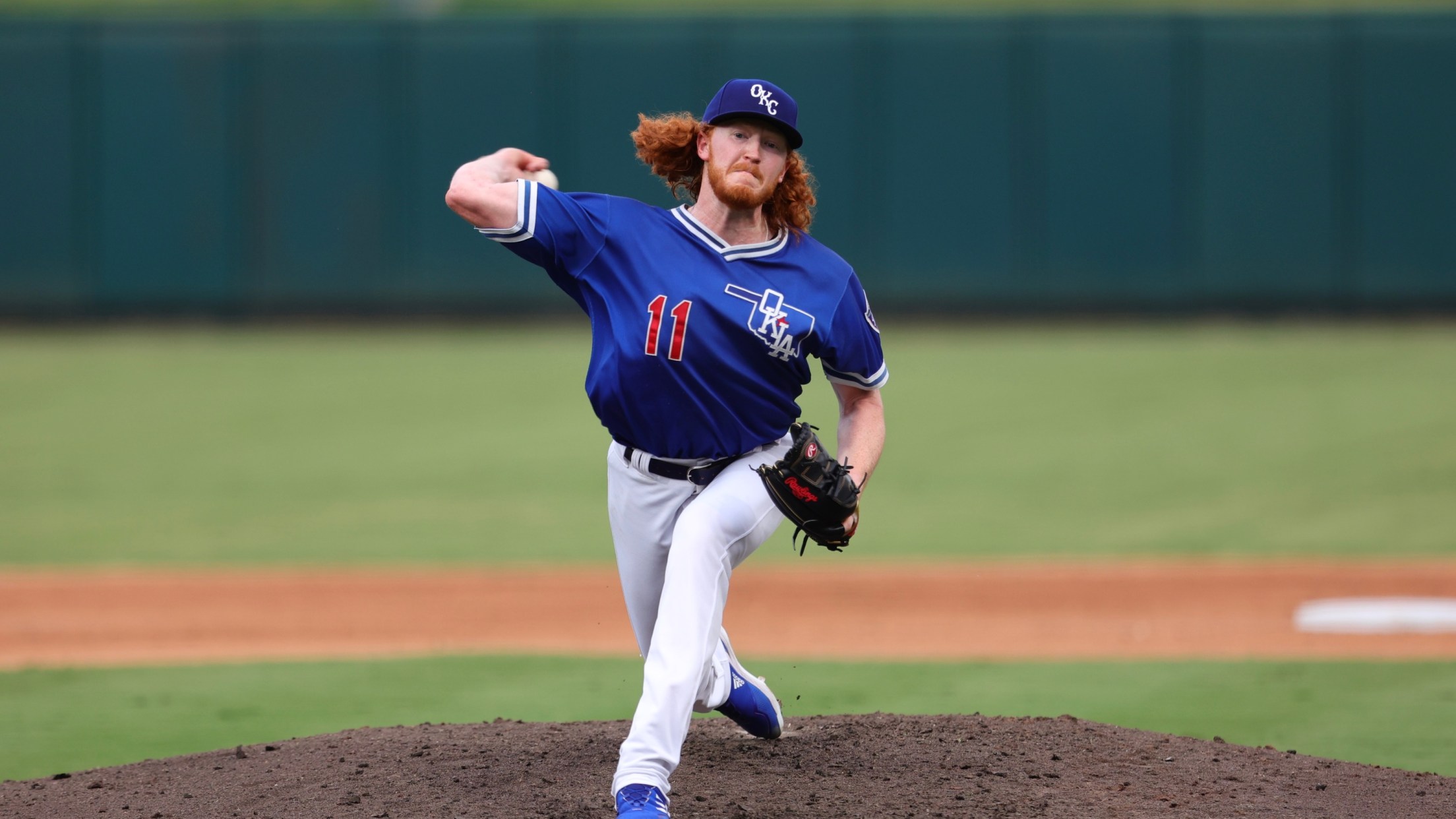 (Eddie Kelly)
Sugar Land Space Cowboys – 12 Oklahoma City Dodgers – 7 Thursday, July 28, 2022 – Chickasaw Bricktown Ballpark – Oklahoma City, Okla. Game Summary: The Sugar Land Space Cowboys scored 12 straight runs to overcome an early six-run deficit on the way to a 12-7 win against the Oklahoma
Sugar Land Space Cowboys – 12
Oklahoma City Dodgers – 7
Thursday, July 28, 2022 – Chickasaw Bricktown Ballpark – Oklahoma City, Okla.
Game Summary: The Sugar Land Space Cowboys scored 12 straight runs to overcome an early six-run deficit on the way to a 12-7 win against the Oklahoma City Dodgers Thursday night at Chickasaw Bricktown Ballpark. The Dodgers (57-39) scored six runs in the third inning, all with two outs, to take the first lead of the game. Miguel Vargas hit a two-run double and Michael Busch followed with a RBI single. After Jason Martin drew a walk, Ryan Noda hit a three-run homer out to right field for a 6-0 advantage. The Space Cowboys (41-55) answered in their next at-bat, scoring three runs in the fourth inning, including home runs by Jose Siri and Lewis Brinson, a two-run shot, to cut OKC's lead to 6-3. Sugar Land added five runs in the fifth inning, including a pair of two-run doubles by Yainer Diaz and Alex De Goti, to take an 8-6 lead. Sugar Land scored four additional runs in the seventh inning, including a three-run home run by Corey Julks for a 12-6 advantage. Michael Busch hit a solo home run to lead off the bottom of the eighth inning for OKC's seventh run of the night, but Sugar Land went on to trim OKC's series lead to, 2-1.
Of Note:
-Michael Busch went 3-for-4 with a home run, collecting a game-high three hits and finishing with three or more hits in a game for the fourth time this season with OKC. He had two RBI and scored two runs. Over the last six games, Busch is 11-for-21 with four extra-base hits and six walks, reaching base in 17 of 28 plate appearances.
-Ryan Noda hit his 15th home run of the season and finished with a team-best three RBI. Over the first three games of the current series with Sugar Land, Noda is 4-for-11 with a double, two homers and six RBI.
-Los Angeles Dodgers pitcher Dustin May continued his Major League Rehab Assignment, pitching 3.0 scoreless innings. He allowed two hits and no walks with six strikeouts. He faced 12 batters, throwing 46 pitches, including 32 strikes. May allowed a leadoff triple to open the game, then retired the next three batters. He allowed a single with one out in the third inning and went on to strike out the side. May underwent Tommy John surgery in May 2021.
-Los Angeles Dodgers infielder Edwin Ríos opened a ML Rehab Assignment, reaching base twice. He was hit by a pitch in his first at-bat of the game and later drew a walk in the fifth inning. He was placed on the Dodgers Injured List June 3 with a right hamstring injury and was transferred to the 60-day IL June 22.
-Drew Avans drew a walk and scored a run as he extended his on-base streak to 35 games — tied for the longest on-base streak this season by a player in the PCL. El Paso's Nomar Mazara reached base in 35 consecutive games April 12-May 29. Avans owns the longest on-base streak by an OKC player since the 2019 season when Gavin Lux reached base in 37 consecutive games.
-The six runs scored in the third inning by the Dodgers marked the 12th time this season the Dodgers scored six or more runs in an inning and they reached the mark for the second time this homestand after scoring seven runs in the third inning against Sacramento July 22.
-The Dodgers had their six-run advantage erased in the loss for the team's largest lead in a loss since a 12-11 defeat in Sugar Land Aug. 21, 2021. In that 2021 game, the Dodgers took an 11-0 lead in the third inning before Sugar Land closed out the win by scoring 12 unanswered runs…OKC's six-run advantage Thursday was the team's largest lead in a home loss since July 30, 2012 in a 7-6 defeat against Omaha at Chickasaw Bricktown Ballpark. The Dodgers also started that game with a 6-0 advantage before Omaha scored seven unanswered runs. Current Sugar Land manager Mickey Storey pitched for the Oklahoma City RedHawks that night and was charged with the loss, allowing Omaha's go-ahead run in the ninth inning.
-The 12 runs allowed by the Dodgers in Thursday's loss were the most allowed by the team in a stretch of 18 games and the most since a 12-4 loss against Las Vegas in OKC July 4.
-Thursday snapped the Dodgers' five-game winning streak — tied for the team's longest winning streak of the season. It was also OKC's first loss during the current nine-game homestand that began last Friday.
-Thursday's game started after a delay of 16 minutes due to inclement weather in the Oklahoma City metro area.
What's Next: The series between the Dodgers and Space Cowboys continues at 7:05 p.m. Friday at Chickasaw Bricktown Ballpark. July's INTEGRIS Health "Home Run For Life" honoree will be recognized before the game and Friday Night Fireworks are set to follow the game. Live radio coverage of each OKC Dodgers game begins 15 minutes before first pitch on AM 1340 "The Game," 1340thegame.com and through the free iHeartRadio or MiLB First Pitch apps. All OKC Dodgers games are also available streamed live on MiLB.TV with a subscription.