Granite State Baseball Dinner
presented by Delta Dental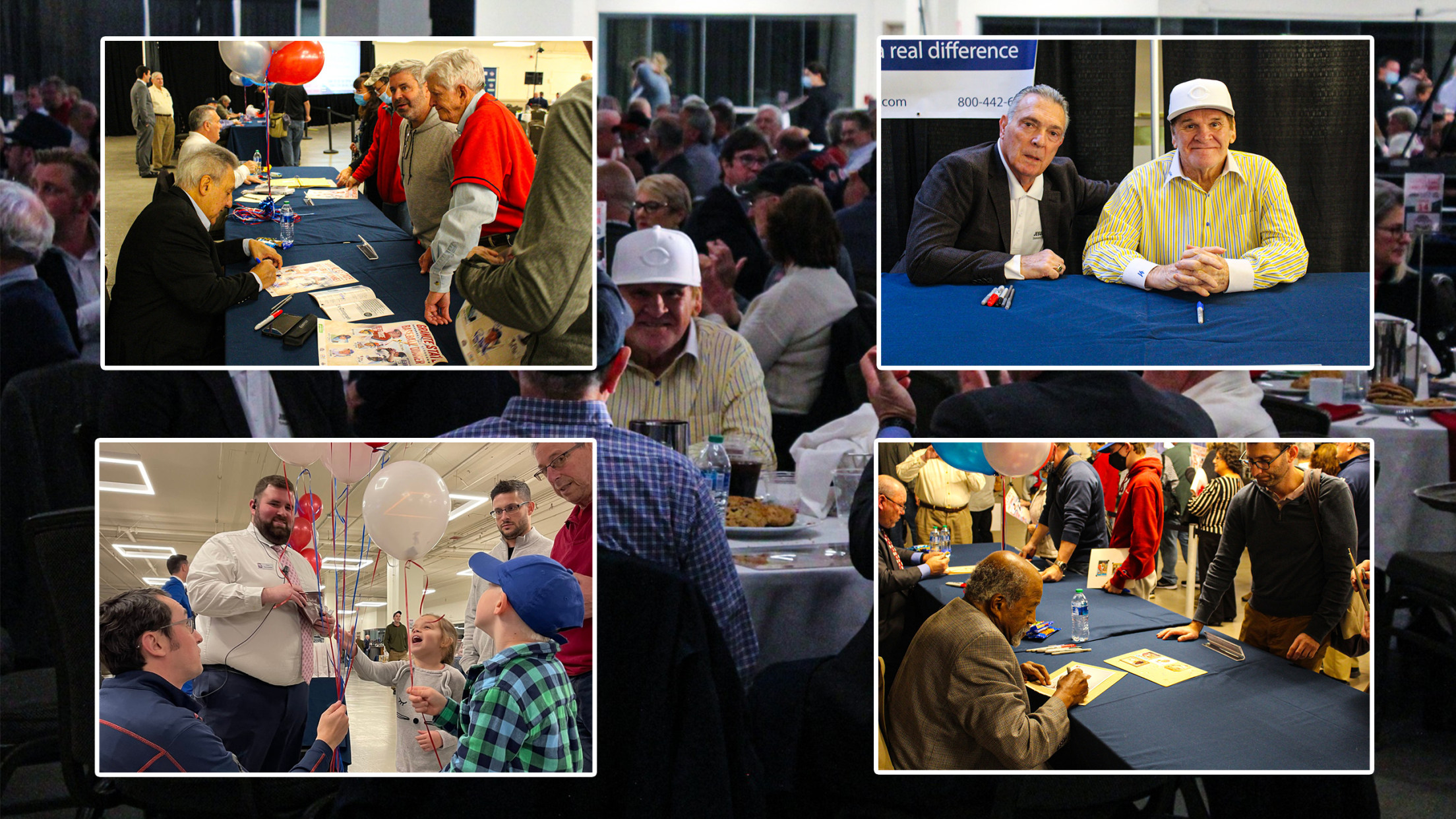 Thank You For Another Great Event!
The Granite State Baseball Dinner, presented by Delta Dental, is an annual charitable event that benefits two outstanding organizations: the Children's Hospital at Dartmouth-Hitchcock (CHaD), New Hampshire's only comprehensive full-service children's hospital and the Fisher Cats Foundation, a statewide charitable organization that provides scholarships to college-bound New Hampshire and Massachusetts high school student athletes in addition to supporting youth organizations and charities throughout the state.
The New Hampshire Fisher Cats, in partnership with the Ted Williams Museum, have been putting on this event for the past 14 years. Through sponsorship donations, ticket sales, silent and live auctions, and raffle ticket sales, the dinner has generated more than $1.75 million for these worthy charities.
This year's event will be hosted at the Doubletree Manchester Downtown, with a silent auction and autograph session from 5 p.m. - 6:45 p.m. before dinner and the popular Q&A with the celebrity guests.
---
Reserve Your Seats!
Individual tickets are now available! Click below to book your tickets for this year's dinner, complete with access to the autograph session featuring Pete Rose, a delicious dinner at the Doubletree Manchester Downtown, and the celebrity Q&A. All proceeds benefit the Children's Hospital at Dartmouth-Hitchcock and the Fisher Cats Foundation.
Sponsorships
Want to be a sponsor for this amazing event? We offer a wide range of opportunities to help support CHaD and the Fisher Cats Foundation. No matter the size of your business, we have a package that works for you.
2021 Guests
All-time MLB hits leader Pete Rose headlines this year's event, making his first-ever appearance at the Granite State Baseball Dinner. The 17-time All-Star amassed 4,256 hits in his 24 big league seasons, and won three World Series Championships (1975, 1976, 1980). One of the most decorated players in Granite State Baseball Dinner history, Rose earned Rookie of the Year honors (1963), an MVP award (1973), and three batting titles (1968, 1969, 1973) during his storied career.
Luis Tiant, affectionately known as 'El Tiante', was one of the most dominant, durable pitchers of his generation. Over 19 seasons, he dazzled lineups with his overpowering stuff and unique, back-to-the-hitter wind-ups. A three-time All-Star, he shined for the Red Sox from 1971-78, perhaps making his biggest impact for the 1975 American League Champions.
In Game 6 of the 1975 World Series, Bernie Carbo hit one of the most memorable home runs in Red Sox history. Facing elimination and a three-run deficit in the bottom of the eighth inning, Carbo was brought in to pinch hit with two on and two out. He drilled a game-tying blast to center field, and the Red Sox eventually prevailed in the 12th inning on a Carlton Fisk homer.
Rico Petrocelli is regarded as one of the best defensive players of all time. He spent his entire 13-year career in Boston, and was inducted into the Red Sox Hall of Fame in 1997.
Dick Drago spent 13 years in the major leagues as a pitcher for the Red Sox, Royals, Angels, Mariners, and Orioles, and pitched in the iconic 1975 Red Sox - Reds World Series.
Rich Gedman is a Red Sox Hall of Famer and two-time MLB All-Star (1985 and 1986). The Worcester, MA native played in Boston from 1980-1990, and was behind the plate for Roger Clemens' first 20-strikeout game.
Denny McLain is a Detroit Tigers legend, with two Cy Young Awards (1968 and 1969), an MVP Award (1968) and a World Series Championship (1968) on his resume. In 1968, he accomplished the rare feat of winning 30 games in a single season (31-6).
Past Granite State Baseball Dinner Guests
CECIL FIELDER • DENNIS 'OIL CAN' BOYD • BERNIE CARBO • ALEX COBB • STEVE CARLTON • BROCK HOLT • JONNY GOMES • DOC GOODEN • JEFF LOCKE • FRED LYNN • FRED McGRIFF • TERRY O'REILLY• JOHNNY PESKY • RICO PETROCELLI • LUIS TIANT • HEIDI WATNEY • VICTORIA ARLEN • TONY PEREZ • LOU MERLONI • ORESTES DESTRADE
Questions about sponsorships or tickets? Call or click below to find out all you need to know!

Inside Fisher Cats Community