Biscuits Handle Trash Pandas In Record Fashion, 19-4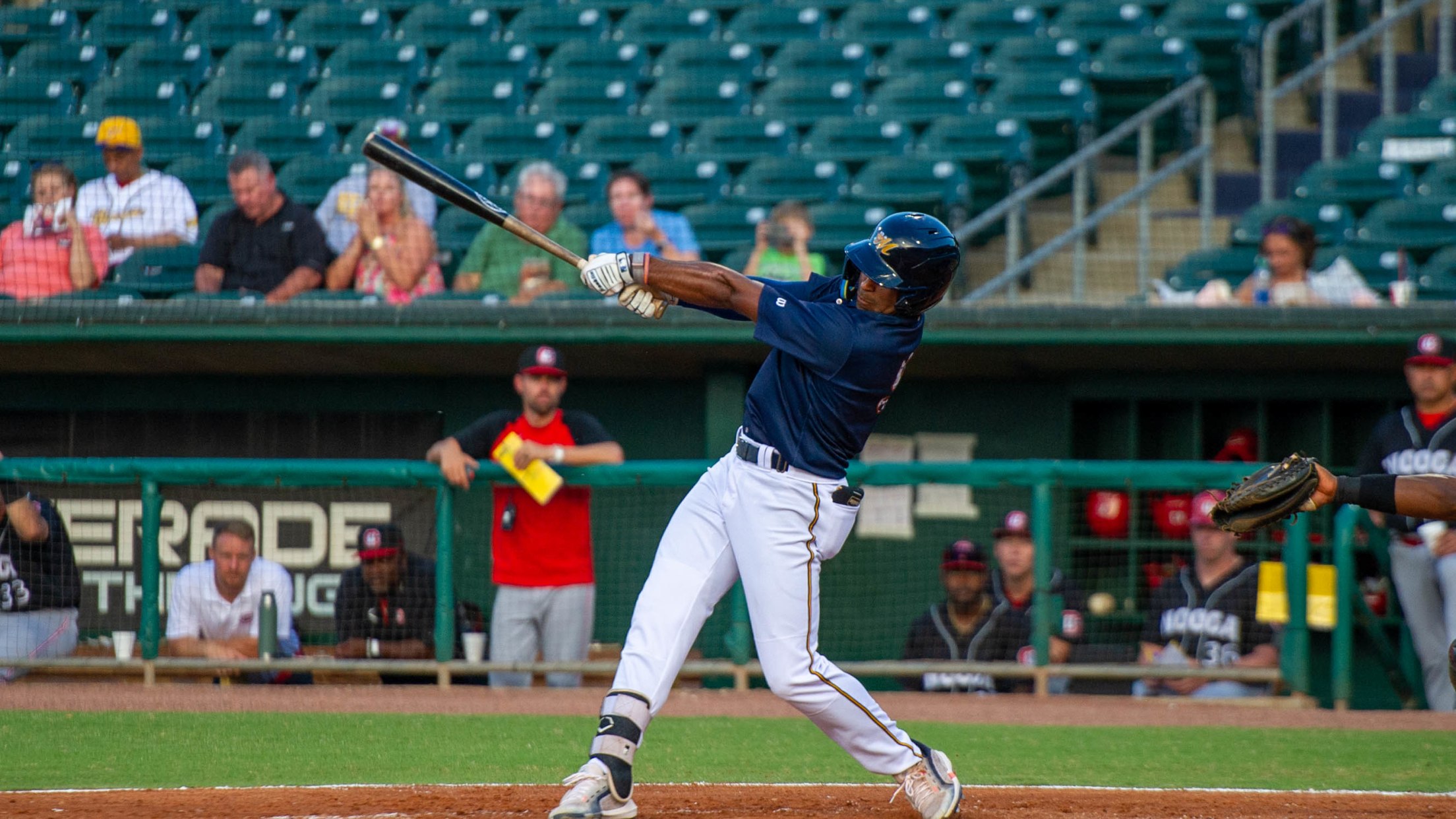 MADISON, Ala. – It was run galore as the Biscuits (24-29) soundly crushed the Rocket City Trash Pandas (36-24), 19-4 on Thursday night at Toyota Field. The Biscuits took a sip of their own secret stuff, and let the bats crack as they recorded a season-high in runs (19), and
MADISON, Ala. – It was run galore as the Biscuits (24-29) soundly crushed the Rocket City Trash Pandas (36-24), 19-4 on Thursday night at Toyota Field.
The Biscuits took a sip of their own secret stuff, and let the bats crack as they recorded a season-high in runs (19), and hits (22). The Biscuits had nearly triple the number of base-hits compared to the Trash Pandas, as they could only rack in eight.
Shortstop Greg Jones was perfect at the plate, as he went 3-for-3 with two doubles, two RBIs, and three runs. On the mound, the Trash Pandas rotated seven different pitchers in the outing. 19 runs are the most Rocket City has ever given up in franchise history. On the other end, 19 runs and 22 hits are a season-high for the Biscuits. Montgomery was one run and three hits shy of tying the franchise record for runs and hits in a game.
It all started in the top of the first when Montgomery scored two runs with an RBI-single by Austin Shenton, while Kameron Misner recorded an RBI-double. With the Biscuits up 2-0, the Trash Pandas kept it close thanks to a solo home run by Orlando Martinez that made it 2-1.
The lead increased to 3-1, thanks to Greg Jones in the top of the second. Jones was able to advance to third after a fielding error by Martinez. In the top of the fourth, Montgomery brought in two more runs and improved the lead to 5-1 after another Misner RBI-double and sac fly by Roberto Alvarez.
In the fourth, Grant Witherspoon grounded out, but Lookouts committed another error this time by Jeremiah Jackson. Brett Wisely was able to come home and grow the lead to 6-1. In the fifth, two runs were scored after Jones and Niko Hulsizer were both hit by a pitch by Jack Dashwood and Zach Linginfelter. Witherspoon also contributed with another RBI this time in the form of a double. Headed into sixth, the Biscuits were in full control 10-1.
In the sixth inning, the Biscuits brought in a barrage as they scored seven runs. Brett Wisely hit a two-run RBI-single to go up 12-1. Shenton delivered with a three-run home run that made it 15-1. The last two runs came in after a wild pitch struck out Garrett Hiott, but allowed Misner and Hulsizer to come home.
With the game far out of reach, Rocket City was able to create some offense late. A sac fly by Braxton Martinez made it 17-2 in the seventh. In the eighth, Biscuits Jackson McGowan and Jones both hit RBI-singles, driving in two runs and giving the Biscuits their highest run total of the season. Before the game closed, Rocket City's Kevin Maitan and Martinez recorded two more RBIs in the form of a single and sac fly that set the score at 19-4.
Montgomery will look to keep this momentum going as the duo of Caleb Sampen and Michael Mercado duels Ky Bush Friday night at Toyota Stadium at 6:35 PM CT. The Biscuits will return to Montgomery for Baking Weekend on for Golden Biscuits Tuesday on Tuesday, June 21st at 6:35 PM CT, Military Wednesday president. By WOW! on Wednesday, June 22nd, Fresh Baked T-Shirt Giveaway pres. by The Waters & Thirsty Thursday at 6:35 PM CT, Cookie Cutter Giveaway on Friday, June 24th at 6:35 PM CT, "Fan vs. Food" Challenge & MAX Fireworks on Saturday, June 25th at 6:05, and Kids Baker Hat Giveaway Sunday, June 26th at 3:33 PM CT.