Biscuits Conquer Barons, 3-2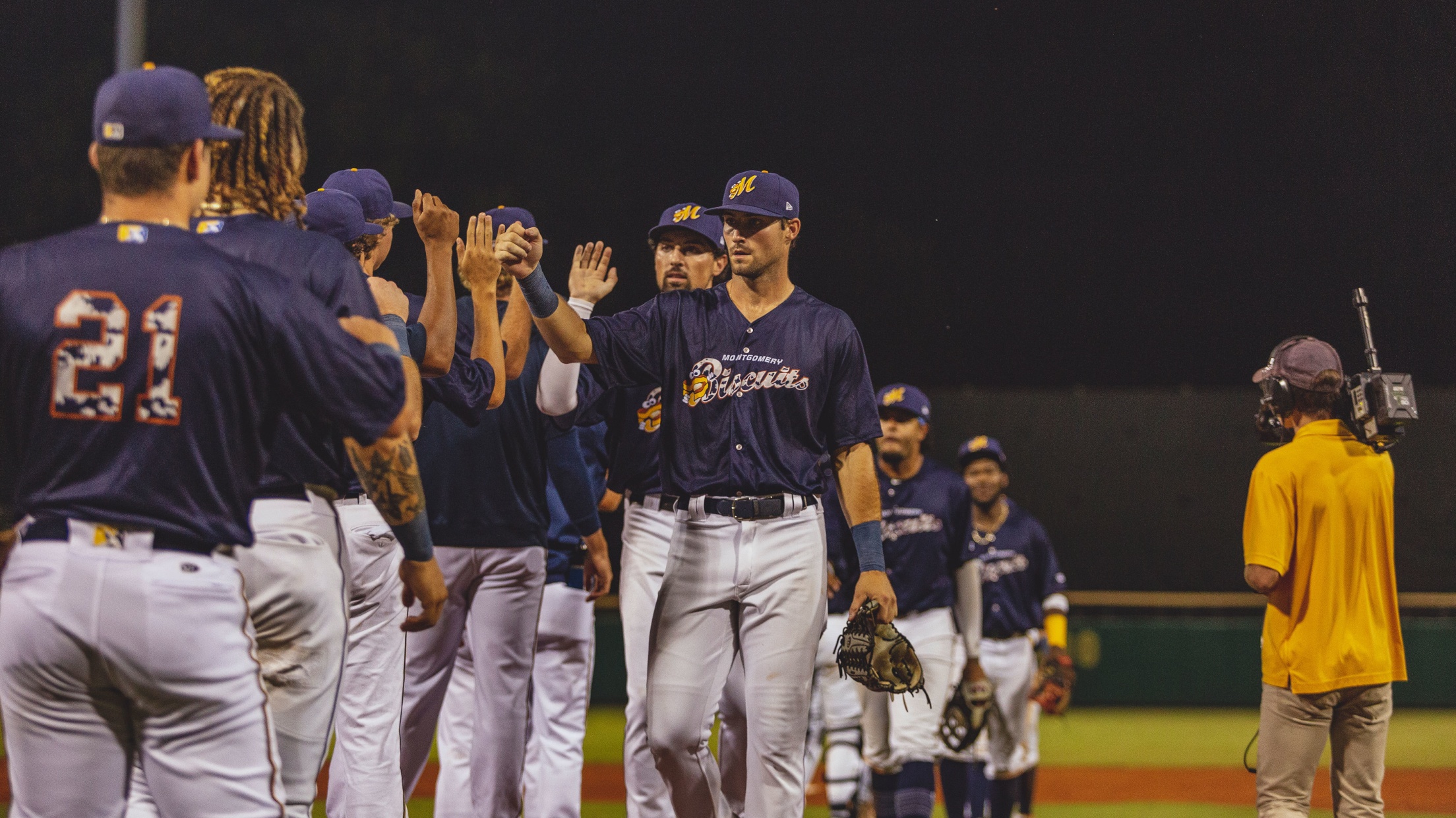 MONTGOMERY, Ala. – The Biscuits (63-55/35-21) got things back on track as they defeated the Birmingham Barons (55-70/24-32), 3-2, Saturday night at Riverwalk Stadium. In the top of the first inning, Biscuits starter Michael Mercado (4-6) opened his start with a one-two-three inning to get the Biscuits going on the
MONTGOMERY, Ala. – The Biscuits (63-55/35-21) got things back on track as they defeated the Birmingham Barons (55-70/24-32), 3-2, Saturday night at Riverwalk Stadium.
In the top of the first inning, Biscuits starter Michael Mercado (4-6) opened his start with a one-two-three inning to get the Biscuits going on the right foot. On the other end, Barons starter Cristian Mena (0-1) started his day with a triple from Biscuits infielder Brett Wisely with the first pitch. Biscuits center fielder Kameron Misner brought Wisely home to put the Biscuits up 1-0 in the bottom of the first.
In the bottom of the second, Biscuits catcher Blake Hunt improved the Biscuit lead to 2-0 after an RBI-double to center field. The 2-0 lead would be chopped in half after a solo home run to left from Barons' second baseman Moises Castillo in the top of the third.
In the bottom of the inning, Biscuits Ronny Simon would connect on a solo home run to left center that grew the Biscuit lead to two, 3-1 Montgomery. Birmingham did not take long to respond as they got the run back with a solo home run to right from outfielder Oscar Colas to make it 3-2 Biscuits.
From there Mercado would pitch another two innings and only allow a pair of hits before Andrew Gross replaced him in the sixth. Gross pitched one inning and went one-to-three to retire the side. With no runs scored since the fourth, Biscuits closer Joe LaSorsa was called to the mound to record his first save of the season and give the Biscuits the win, 3-2
The Biscuits return to action Sunday when RHP Sean Hunley (6-1) faces RHP Norge Vera (0-0) for Princess Day featuring Team Poster Giveaway & Bark in the Park on Sunday, September 4 at 3:33 PM CT.