JetHawks' Hampson leads week's top hitters
No. 8 Rockies prospect goes 11-for-25 (.440) with five stolen bases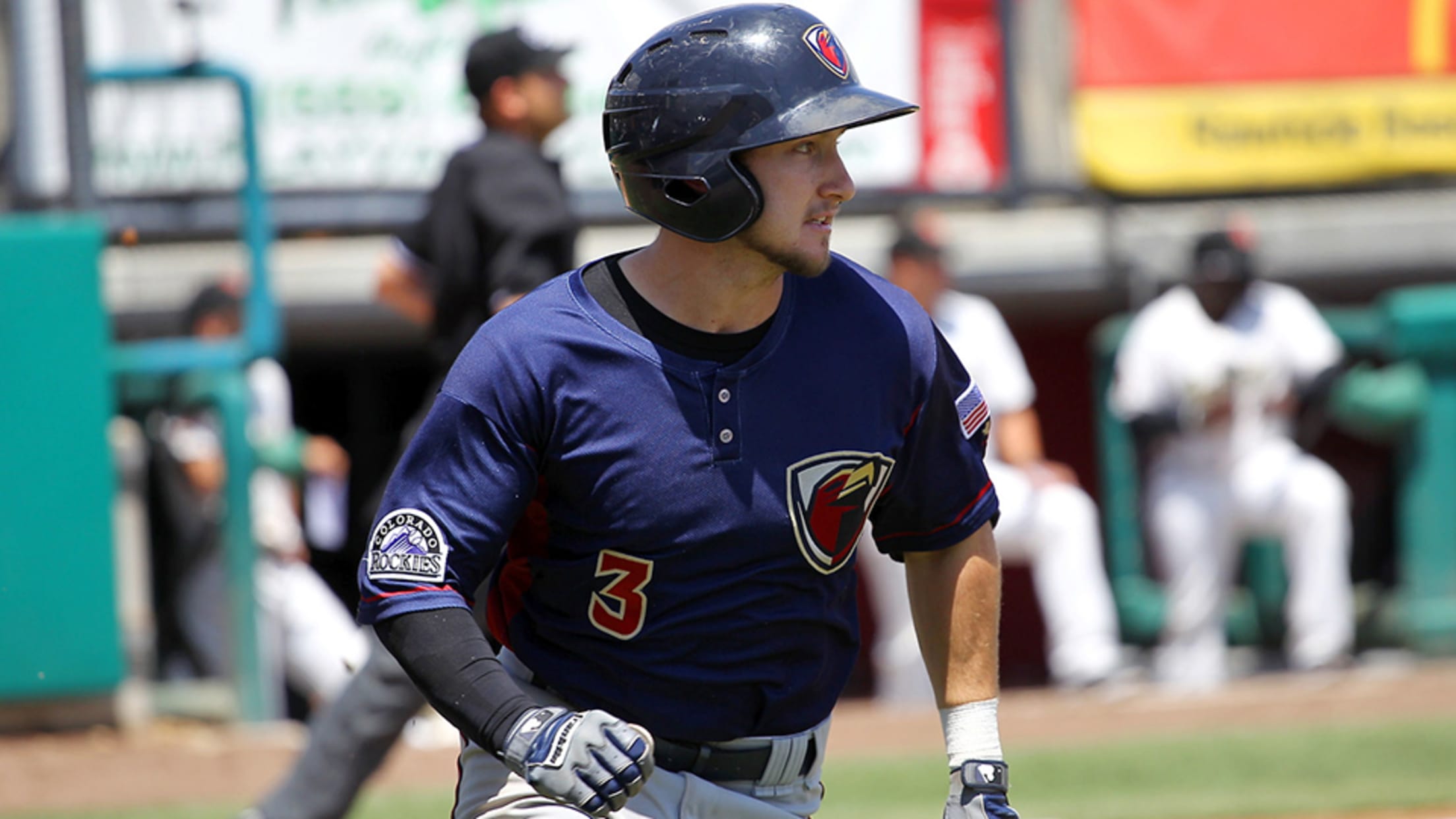 Garrett Hampson ranks third among all Minor Leaguers with 44 stolen bases this season. (Ben Sandstrom/MiLB.com)
Garrett Hampson has done two things extraordinarily well since the Rockies took him in the third round out of Long Beach State in 2016 -- hit and run. His skills at the plate and on the basepaths have earned him his latest honor in the pros. The No. 8 Rockies
Garrett Hampson has done two things extraordinarily well since the Rockies took him in the third round out of Long Beach State in 2016 -- hit and run. His skills at the plate and on the basepaths have earned him his latest honor in the pros.
The No. 8 Rockies prospect has been named the California League Player of the Week after going 11-for-25 (.440) with one homer, one triple, two doubles and five steals over six games last week for Class A Advanced Lancaster. This is the first Player of the Week award of Hampson's career, though he has been named a mid-season All-Star twice and a post-season All-Star last year in the Northwest League.
"This is a good feeling," Hampson said. "I thought I put together a nice week, and to see it rewarded like this is really nice and means a lot for where I'm at right now."
The 22-year-old middle infielder's standout week was bookended by a pair of impressive performances at The Hangar. He matched a career high last Monday with four hits, one of which was an inside-the-park home run to right, and tied a career mark Sunday with three stolen bases as part of a 3-for-5 showing.
In both cases, Hampson's plus speed was on display as it has been for the majority of the 2017 season. He ranks third among all Minor Leaguers with 44 steals in 54 attempts over 110 games for the JetHawks this season, trailing only teammate Wes Rogers (60) and A's prospect Jorge Mateo (45). This isn't a new development for Hampson -- who swiped 36 bags over 68 games for Class A Short Season Boise last season -- but it's notable that he's gaining steam as his first full season progresses. Twenty-three of Hampson's steals in 2017 have come over just 38 games since July 1, compared to 21 over his previous 72 contests.
"I think it's obviously a big part of my game," Hampson said of his speed. "I'm always trying to utilize it to the best of my ability and get some bags for the guys behind me to drive me in. I think anybody on this team can run, and we just feed off each other, trying to be aggressive when we can be out there."
• View the Pitcher of the Week winners »
Because of Hampson and Rogers' aggressive nature on the dirt, Lancaster has been easily the most successful California League team on the basepaths in 2017. The JetHawks have swiped 252 bags over their 120 contests this season. Inland Empire (111) and Modesto (110) -- the teams ranking second and third in the circuit in the category -- have combined for only 221 stolen bases.
According to Hampson, it's a mix of team philosophy and talent that has led to that level of thefts.
"It started early," he said. "We have a bunch of guys who can do that with their game, though. You have to be fast to steal as many bases as we can. Our team has [six] guys with 20 or more steals, and you only get to that point by being fearless out there and aggressive. ... It's nice having those guys to push, and we try to make it a fun competition. But mostly, we feed off each, and it's nothing we take too seriously."
Of course, Hampson's speed also helps the Reno, Nevada, native pick up some extra hits here and there, and indeed, he's been a .300 hitter at each of his first two stops in the Colorado system. Hampson owns a .311/.373/.441 slash line this season, and while playing at an incredibly hitter-friendly park has given those numbers a boost, he ranks 11th in the Cal League with a 120 wRC+, despite showing relatively little power for the circuit. He's also posted the second-lowest strikeout rate in the Cal League at 13.3 percent, and by putting the ball in play often, he offers himself the best chance to take advantage of his speed.
"I try to stay as aggressive as I can, even at the plate," he said. "I really don't want to miss my pitches to hit. Lately, I've been fortunate to get some of those, so it's on me to take advantage."
Because his bat and run tool have played so well in his first full season, the biggest question surrounding Hampson at this stage comes on the defensive side. Drafted as a shortstop, he's split his time in 2017 both there and at second base. That made some sense when he was paired up the middle with top Rockies prospect/fellow shortstop Brendan Rodgers, but since Rodgers' promotion to Double-A Hartford, Hampson has continued to get time at both positions. In fact, he got an three starts apiece between short and second in this past award-winning week. Because Rodgers is believed to possess the stronger arm, he's the more likely of the two to stick at short going forward.
"This year has been big for me to learn a new position," Hampson said. "But now, this is something I can have in my back pocket, being able to move around the infield wherever I'm needed. They told me [in Spring Training] that this was going to be the plan and it's taken some time, but I feel comfortable over at second base. I definitely feel like it's worked out for the best."
Below is the complete list of Minor League Offensive Players of the Week for Aug. 7-13:
| League | Player | Team | MLB | Stats |
| --- | --- | --- | --- | --- |
| International | Rymer Liriano | Charlotte | CWS | .345/.367/.759, 7 G, 10-for-29, 3 2B, 3 HR, 7 RBI, 7 R, 1 BB, 8 K |
| Pacific Coast | Zach Borenstein | Reno | ARI | .458/.480/1.125, 7 G, 11-for-24, 2 2B, 1 3B, 4 HR, 12 RBI, 8 R, 1 BB, 4 K, 1 SB |
| Eastern | Harold Castro | Erie | DET | .571/.609/.857, 5 G, 12-for-21, 4 2B, 1 3B, 5 RBI, 5 R, 2 BB, 1 K, 3 SB, 1 CS |
| Southern | Nick Senzel | Pensacola | CIN | .522/.560/1.130, 6 G, 12-for-23, 2 2B, 4 HR, 9 RBI, 7 R, 2 BB, 3 K, 1 SB |
| Texas | B.J. Boyd | Midland | OAK | .480/.536/.640, 6 G, 12-for-25, 1 2B, 1 HR, 4 RBI, 8 R, 3 BB, 1 K, 1 SB, 1 CS |
| California | Garrett Hampson | Lancaster | HOU | .440/.462/.720, 6 G, 11-for-25, 2 2B, 1 3B, 1 HR, 4 RBI, 7 R, 1 BB, 2 K, 5 SB, 1 CS |
| Carolina | Eloy Jimenez | Winston-Salem | CWS | .385/.448/.846, 6 G, 10-for-26, 3 2B, 3 HR, 7 RBI, 7 R, 3 BB, 4 K, 1 CS |
| Florida State | Brent Rooker | Fort Myers | MIN | .364/.417/.818, 6 G, 8-for-22, 1 2B, 3 HR, 13 RBI, 5 R, 1 BB, 5 K |
| Midwest | Conner Capel | Lake County | CLE | .444/.448/.667, 6 G, 12-for-27, 1 2B, 1 3B, 1 HR, 8 RBI, 6 R, 1 BB, 3 K, 1 SB, 2 CS |
| South Atlantic | Darick Hall | Lakewood | PHI | .417/.500/.917, 7 G, 10-for-24, 3 2B, 3 HR, 4 RBI, 5 R, 2 BB, 3 K |
| New York-Penn | Marino Campana | Lowell | BOS | .458/.500/.792, 6 G, 11-for-24, 5 2B, 1 HR, 10 RBI, 5 R, 1 BB, 8 K |
| Northwest | Bret Boswell | Boise | COL | .500/.529/1.000, 7 G, 16-for-32, 2 2B, 1 3B, 4 HR, 9 RBI, 12 R, 2 BB, 4 K, 1 CS |
| Appalachian | Roman Garcia | Greeneville | HOU | .429/.478/.905, 7 G, 9-for-21, 1 2B, 3 HR, 5 RBI, 5 R, 1 BB, 6 K |
| Pioneer | Joey Rose | Missoula | ARI | .346/.346/.846, 6 G, 9-for-26, 4 2B, 3 HR, 9 RBI, 5 R, 0 BB, 4 K |
Sam Dykstra is a reporter for MiLB.com. Follow and interact with him on Twitter, @SamDykstraMiLB.