Kernels Give Lugs Lopsided Loss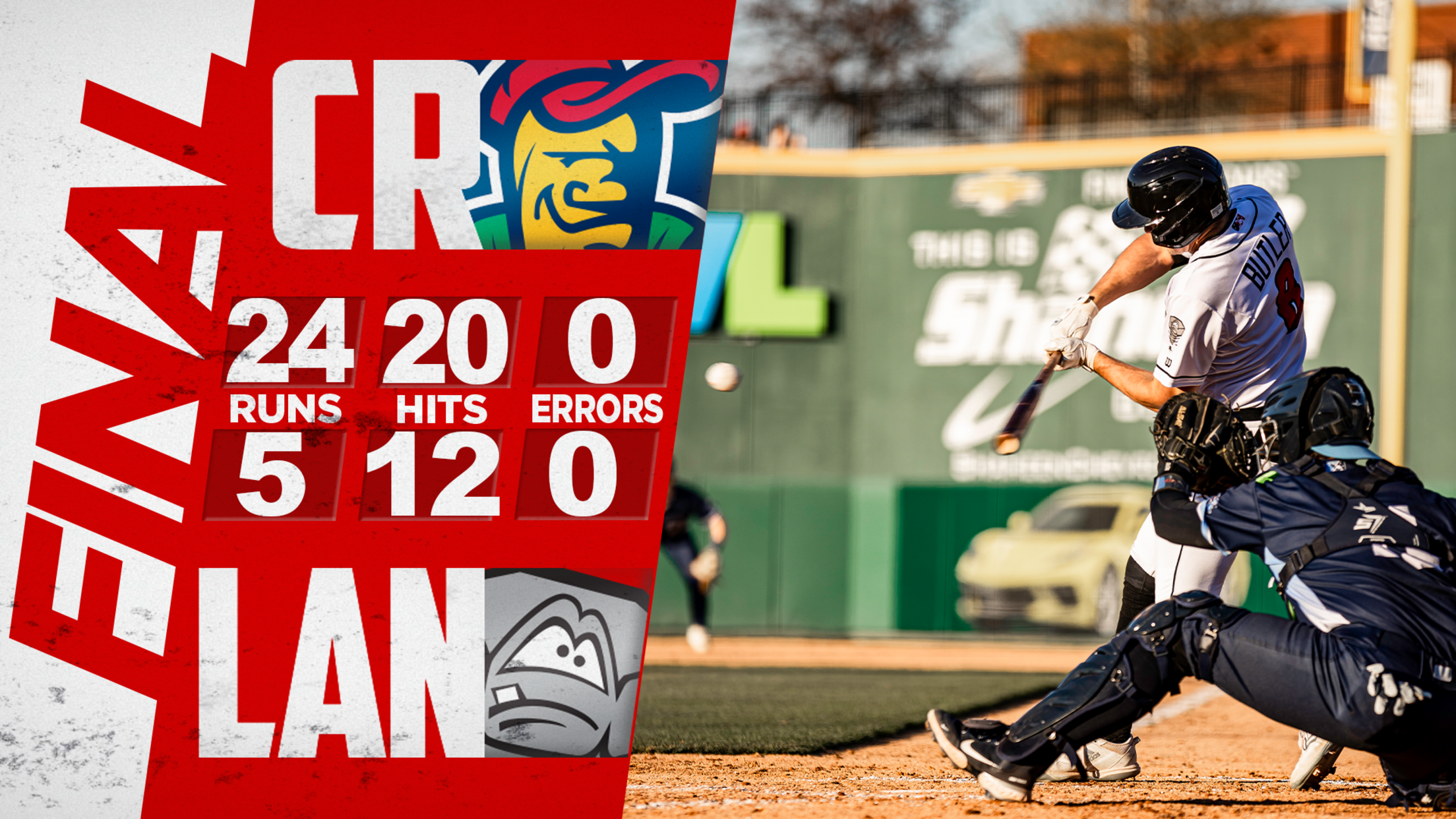 LANSING, Mich. – After two one-run wins to open the series, Cedar Rapids (28-20) wasted no time making sure tonight's game was not close against the Lansing Lugnuts (21-27). The Kernels scored two runs in the first and never looked back, routing the Lugnuts, 24-5 at Jackson® Field™. The Kernels
*LANSING, Mich. – * After two one-run wins to open the series, Cedar Rapids (28-20) wasted no time making sure tonight's game was not close against the Lansing Lugnuts (21-27). The Kernels scored two runs in the first and never looked back, routing the Lugnuts, 24-5 at Jackson® Field™.
The Kernels have won each of the first three games in the six-game series.
Tanner Schobel had another big night, finishing a triple short of the cycle, he led off the 20-hit parade with a double against Lugnuts starter Jake Garland. Ben Ross singled him in and then Noah Cardenas got a SAC fly to make it 2-0 after one.
Things turned lopsided in the third though. The Kernels brought twelve batters to the plate, knocked out Garland and scored seven runs. After six straight reached with walks and singles, Schobel cleared the bases with a 3-run shot off Luke Anderson and it was 9-0.
The Lugnuts got on the board with a solo home run from Jonny Butler to straight away center field in the bottom of the third. It was his fourth long ball and second in as many nights. Lansing has now had five home runs in this series, all have been with nobody on base.
Cedar Rapids wasn't done though. Up 9-1, they scored three more in the fifth and then hit their first grand slam of the night in the fifth off Kumar Nambiar, courtesy of Kala'i Rosario. It was the second of five home runs for Cedar Rapids on a season-high offensive night.
In the Ninth, up 16-5, the Kernels faced position player Danny Bautista Jr and they made him pay. Bautista gave up a lead-off home run to Ben Ross, a grand slam to Emmanuel Rodriguez and then another two-run homer to Ross. It was an eight-run half inning to ice it and make it 24-5.
The Lugnuts scored three runs in the fifth thanks to an RBI single from Daniel Susac, who had three hits and a two-run single from Clark Elliott. Elliott would provide the last run for the Nuts in the seventh, a SAC fly scoring Max Muncy, who reached three times in the game with two singles and a walk.
Nuts right-hander Jacob Watters starts the fourth game of the series on a Lugnut P.I Night, a tribute to Magnum P.I. with a special Luggie Hawaiian Shirt giveaway! Cedar Rapids counters with right-hander Marco Raya. First pitch is set for 7:05 p.m. with gates opening at 6 p.m. Tickets are available via lansinglugnuts.com or by calling (517) 485-4500.
# # #
Lansing Lugnuts Baseball
Jackson® Field™ - 505 E. Michigan Ave. Lansing, MI 48912
Phone: 517.485.4500 | Fax: 517.485.4518