The Lake County Captains Announce New Ownership Team; Promising Significant Investment In the Team's Growth, the Local Community & Surrounding Counties
Alan Miller and Jon Ryan, Owners of the Portland Pickles, to Lead the New Ownership Group for the Guardians High-A Affiliate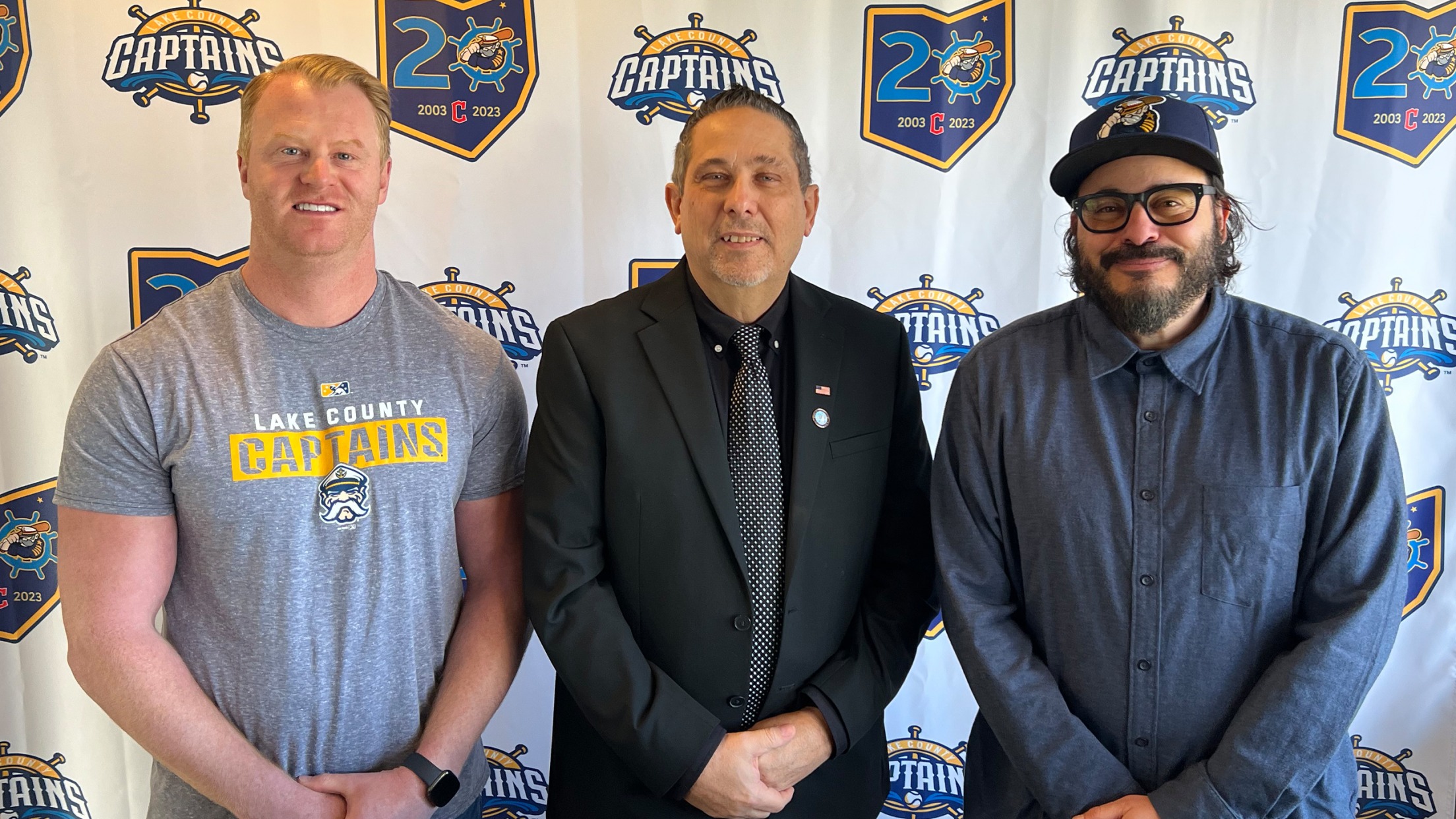 EASTLAKE, Ohio (January 17, 2023) — The Lake County Captains, minor league baseball team in the Midwest League and High-A affiliate of the Cleveland Guardians, are excited to announce new majority ownership. Entrepreneurs Alan Miller and Super Bowl XLVIII Champion Jon Ryan, both owners of COLLiDE Sport and the Portland
EASTLAKE, Ohio (January 17, 2023) — The Lake County Captains, minor league baseball team in the Midwest League and High-A affiliate of the Cleveland Guardians, are excited to announce new majority ownership. Entrepreneurs Alan Miller and Super Bowl XLVIII Champion Jon Ryan, both owners of COLLiDE Sport and the Portland Pickles baseball team, will join as majority owners of the Lake County Captains. Financial terms of the sale are private and were not disclosed.
The Captains will celebrate their 20th season in Lake County this April. The new ownership group, COLLiDE NEO, has plans to make significant investments in the team's growth, which will ensure an increased commitment to Lake County, the local community and surrounding counties.
"We are thrilled to partner with the Cleveland Guardians organization to bring our passion for baseball and fun to Northeast Ohio," said Miller, co-owner of the Lake County Captains, Portland Pickles and COLLiDE. "We are grateful to Peter and & Rita Carfagna for the opportunity to take the reins on this organization and continue their commitment to Lake County."
"The Cleveland Guardians organization is very excited to partner with Alan and Jon from COLLiDE Sport on their new venture in owning our high-A affiliate in Lake County," said Cleveland Guardians Owner/Chairman/CEO Paul Dolan. "We are very fortunate to have Lake County in close proximity from a player development standpoint and know their wealth of expertise in professional baseball will only enhance the experience for our players and Captains/Guardians fans."
The Captains are excited to announce new initiatives for the 2023 season including live broadcasts of all home games, new food and beverage menus, and the new left field super awesome fun zone featuring a 9 hole mini golf course. In addition to these events, the group is also dedicated to growing its community reinvestment programs, which focus on supporting youth sports, cultural events, and tourism initiatives in the local area.
Former majority owner and Chairman, Peter Carfagna, who will stay on as a minority shareholder in the new ownership group said, "Our family is thankful to the City of Eastlake for welcoming us and Minor League Baseball into the community nearly 20 years ago. We have loved every minute of celebrating local heroes, youth sports teams, partnerships, championships and everything in between. We have enjoyed the handshakes and smiles from over 5 Million Fans at Classic Park, our summer home. Our family has appreciated the support from our staff, partners and fans for nearly two decades and we look forward to continuing those relationships in a minority role."
Northeast Ohio natives, Peter and Rita Carfagna, along with Ray and Katie Murphy, purchased the Columbus Georgia Redstixx and moved the franchise to Eastlake in 2003 with the partnership of Dolan Eastlake Baseball. The families have been philanthropic to many local non-profit organizations including the United Way of Lake County through Catholic Charities, Lake Health Foundation and the Miracle League of Lake County. The club has contributed nearly $5 Million annually in local economic impact and community support.
City of Eastlake Mayor, Dennis Morley and Captains' General Manager, Jen Yorko are excited for the new partnership with the Cleveland Guardians and the Portland Pickles. "This new partnership will allow for growth at Classic Park; including events, experiences, concessions, and broadcasting, to name a few. We look forward to celebrating our 20th season with our partners and fans," said Yorko.
Exclusive ticket memberships and group outings are available for purchase now and more information may be found at CaptainsBaseball.com or by calling 440-954-WINS (9467).
Exclusive merchandise celebrating the 20th season go on sale today at ShopCaptains.com.
About the Lake County Captains
The Lake County Captains are the professional High-A affiliate of the Cleveland Guardians located in Eastlake Ohio. Our mission is to honor the rich history of our organization while also introducing baseball to a new generation of fans through innovative means. We are committed to supporting our community, sports teams, and each other by demonstrating passion and having fun every day.
About the Cleveland Guardians
The Cleveland Guardians Baseball Club, established in 1901 as one of the four Charter members of the American League, is an organization striving to unite and inspire the City of Cleveland with the power of team. The Guardians organization has provided superior customer service and entertainment to over 60 million fans at Progressive Field since the gates opened in 1994.
About Alan Miller
Renowned for his pioneering marketing achievements in the music, sport and entertainment industries, Miller has garnered a reputation as a dynamic visionary and tastemaker in this ever-changing business. Miller has more than 20 years of experience in entertainment and cultural marketing. Over that time, he founded COLLiDE Agency, Culture Collide festival, Travel with Purpose media network and co-founded influential music and culture magazine FILTER. In 2017, Miller founded COLLiDE Sport with Seattle Seahawks punter Jon Ryan. COLLiDE Sport currently owns multiple sports teams, including the Portland Pickles, Cleburne Railroaders, Dallas Jackals and the Official League merchandise brand. In 2019, Miller was named Executive of the Year in the West Coast League.
About Jon Ryan
Ryan is a Canadian former professional American football punter who has previously played for the Green Bay Packers and the Seattle Seahawks of the National Football League (NFL). Ryan helped the Seahawks win the Vince Lombardi Trophy in Super Bowl XLVIII over the Denver Broncos. Ryan began his professional career with the Winnipeg Blue Bombers of the Canadian Football League (CFL) after being selected in the Canadian College Draft.
About COLLiDE NEO
COLLiDE NEO is a group of investors and sports enthusiasts led by industry veteran Alan Miller. The group includes Jon Ryan, Brian Leibl, Chris Parker, Chris Rasmussen, Darren Cortese, Michael Zielinski, Peter Carfagna, Roger Weber, Ron Kuehl, Scott McCaskill, Tim Redmond, and Tom Vanderveen, who hail from various parts of the country.