Wednesday Doubleheader Postponed
Tonight's doubleheader between the Daytona Tortugas and Jupiter Hammerheads has been postponed in adherence to Minor League Baseball's health and safety protocols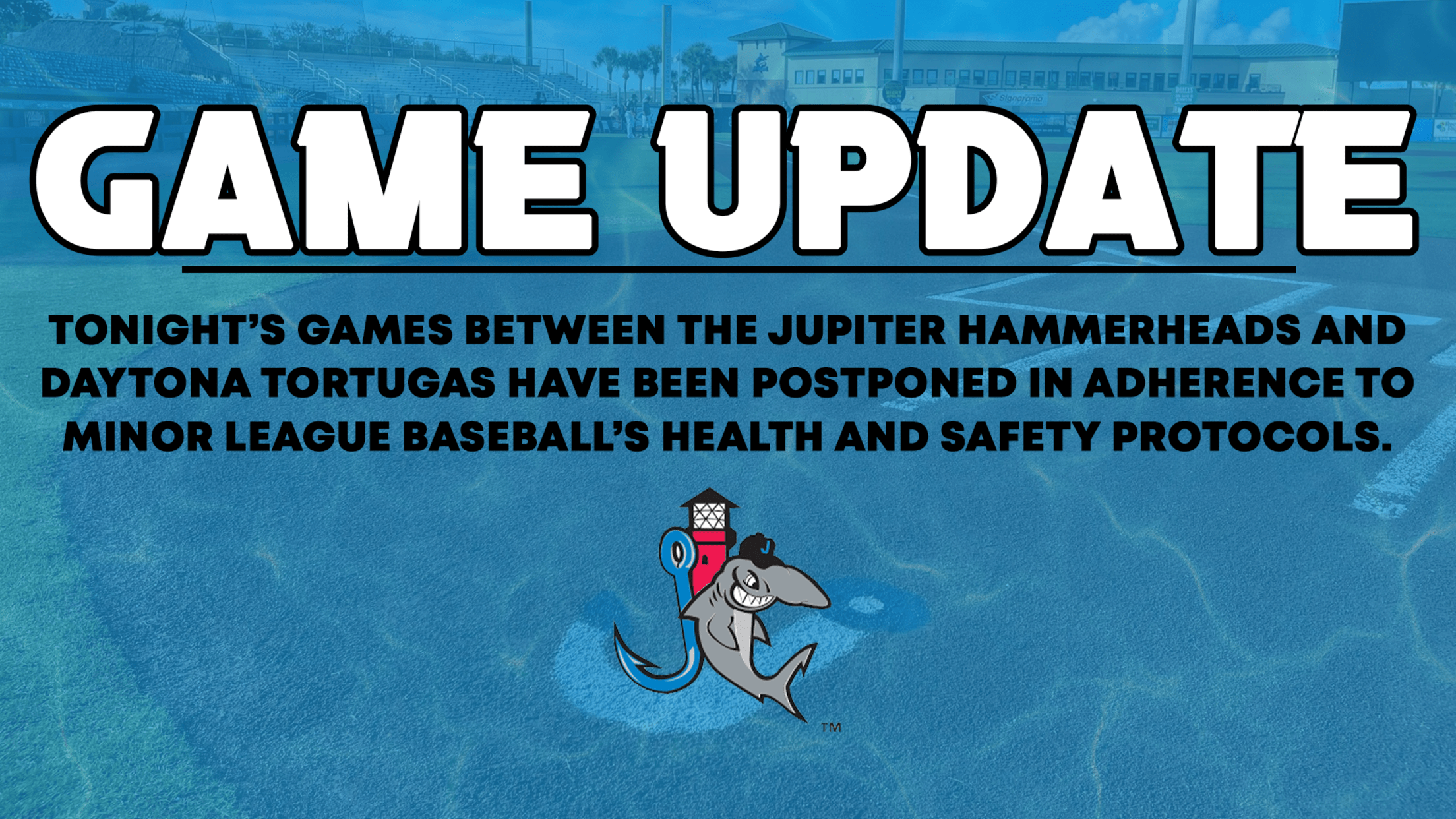 Tonight's doubleheader between the Daytona Tortugas and Jupiter Hammerheads has been postponed in adherence to Minor League Baseball's health and safety protocols. The Tortugas and Hammerheads will continue to practice caution and follow the guidance of health and safety experts and further updates on the rescheduling of tonight's game will
Tonight's doubleheader between the Daytona Tortugas and Jupiter Hammerheads has been postponed in adherence to Minor League Baseball's health and safety protocols. The Tortugas and Hammerheads will continue to practice caution and follow the guidance of health and safety experts and further updates on the rescheduling of tonight's game will be provided when available.
The Hammerheads regret having to postpone tonight's game on such short notice, but the safety of our players, coaches, and fans is of utmost importance for our organization and Minor League Baseball.
The two clubs will now play a doubleheader on Thursday, July 28th. Game One will be a continuation of Tuesday's suspended game, with Game Two being a seven-inning affair roughly 30 minutes following the conclusion of the first game.Further schedule updates will be coming at a later time.
Fans with tickets for tonight's game may exchange their game ticket for another Florida State League game this season. Guests may bring their ticket stubs to the ticket window and exchange them for any other game that season, excluding July 3rd and 4th. No refunds will be issued.
For Group Ticket refunds, Roger Dean Chevrolet Stadium will work directly with the respective group leaders and handle refunds accordingly. Group tickets will not be allowed to be exchanged at the Roger Dean Chevrolet Stadium Ticket Office. Please contact your group leader for more information.
For more information regarding ticket exchange policies, fans should visit www.jupiterhammerheads.com or www.rogerdeanchevroletstadium.com