Iowa Cubs Valentine's Day Package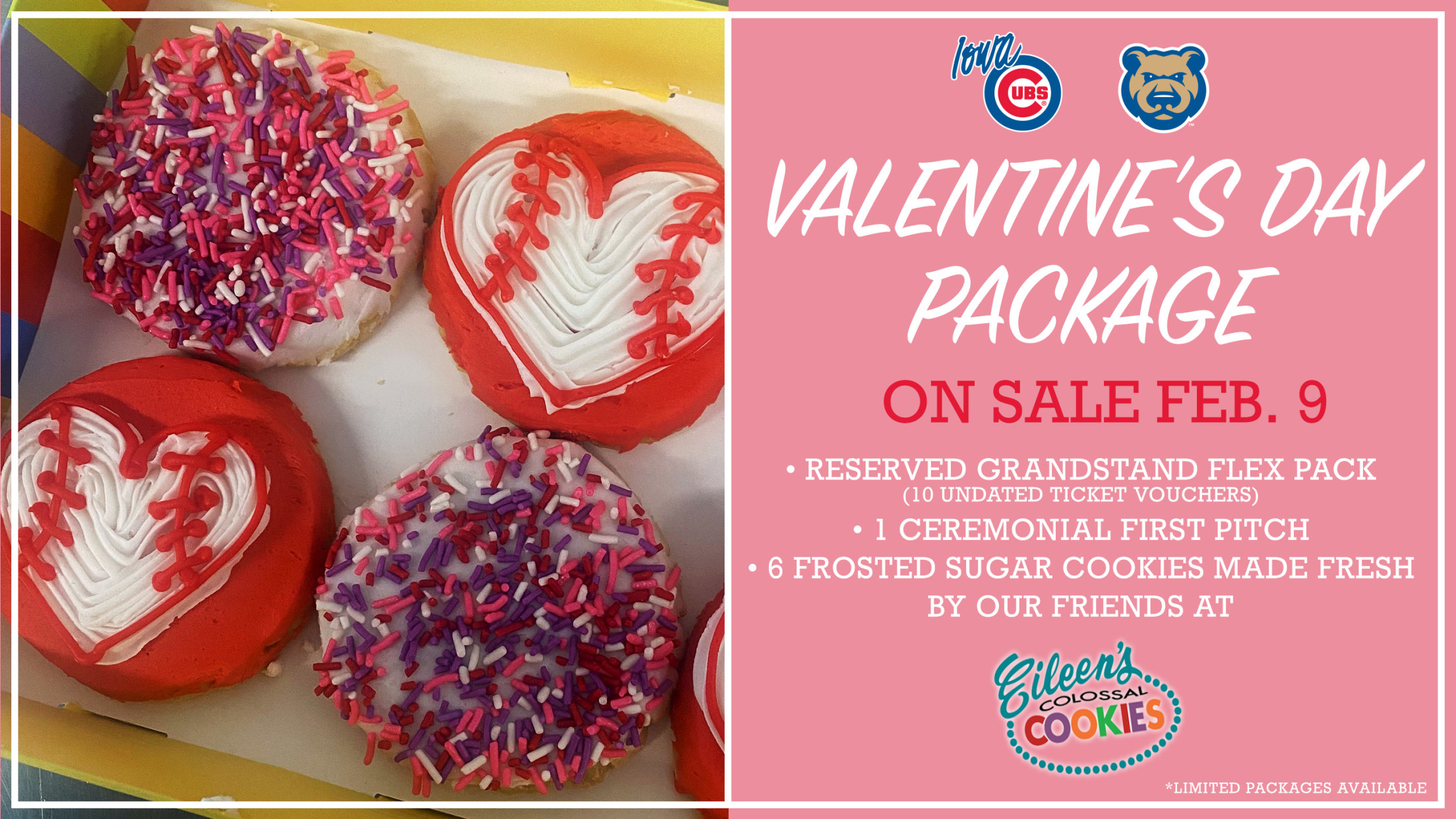 DES MOINES, IA – This Valentine's Day, give the gift of baseball to the special person in your life! The Iowa Cubs Valentine's Day package will go on-sale online, for one day only, on Thursday, February 9 at 9 a.m. CT. Valentine's Day packages are limited and will only be
DES MOINES, IA – This Valentine's Day, give the gift of baseball to the special person in your life! The Iowa Cubs Valentine's Day package will go on-sale online, for one day only, on Thursday, February 9 at 9 a.m. CT. Valentine's Day packages are limited and will only be available for purchase while supplies last.
For $110, the Valentine's Day package includes:
Reserved Voucher Flex Pack – 10 undated, reserved ticket vouchers good for any regular season game (subject to availability, excluding July 4)
(1) Ceremonial first pitch during the 2022 regular season
(6) Frosted sugar cookies made fresh by our friends at Eileen's Cookies
THE VALENTINE'S DAY PACKAGE IS NOW SOLD OUT.
Fans will be able to access their Reserved Voucher Flex Pack digitally through their My Tickets account with the log in information provided at check out. These undated ticket vouchers allow you the flexibility of enjoying Iowa Cubs baseball without being tied to a specific set of dates. You will be able to redeem your vouchers throughout the season starting when single game tickets go on sale on March 1.
One ceremonial first pitch will be included with the purchase of each Valentine's Day package. This first pitch opportunity will be coordinated with a member of the Iowa Cubs staff based on availability throughout the season.
The half dozen frosted sugar cookies from Eileen's Cookies will be available for pick-up at Principal Park on Tuesday, February 14 between 9 a.m. and 5 p.m. Those packages will be at our Front Desk located at Gate C at the South end of the ballpark next to the Iowa Cubs Team Store.
For additional information, please call the Iowa Cubs Front Office at 515-243-6111 or subscribe to our email newsletter to get the purchase link sent directly to your inbox.