Silent Night: Renegades three-hit by Cyclones
Hudson Valley offense falls short in loss to Brooklyn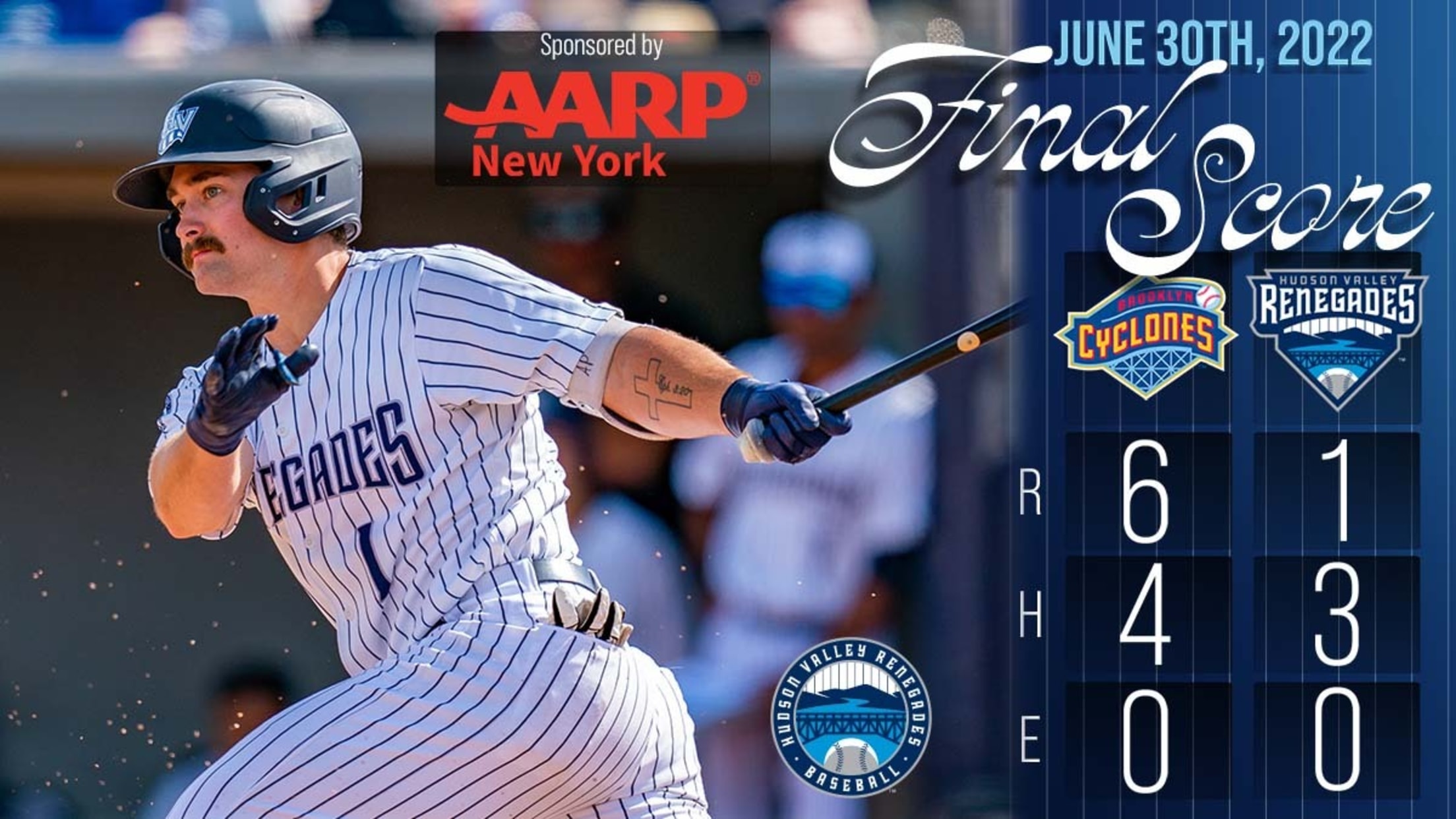 Aaron Palensky banged a fifth-inning double in the Renegades 6-1 loss on Thursday night. (Dave Janosz)
WAPPINGERS FALLS, N.Y. (June 30, 2022) — After matching zeros through five innings, the Hudson Valley Renegades fell to the Brooklyn Cyclones 6-1 on Thursday night at Dutchess Stadium. After carrying a no-hitter into the sixth inning, Blas Castañ allowed four runs to Brooklyn in the top of the sixth
WAPPINGERS FALLS, N.Y. (June 30, 2022) — After matching zeros through five innings, the Hudson Valley Renegades fell to the Brooklyn Cyclones 6-1 on Thursday night at Dutchess Stadium.
After carrying a no-hitter into the sixth inning, Blas Castañ allowed four runs to Brooklyn in the top of the sixth to break a scoreless tie.
Jaylen Palmer lifted a solo home run to left for the first Cyclones hit, Shervyen Newton lined a two-run triple, and J.T. Schwartz chopped an RBI single to give the Cyclones a 4-0 lead.
Castaño (2-6) logged six innings, allowing four runs on four hits, striking out five and walking one.
Nick Zwack (2-1) shined on the bump again for Brooklyn, tossing six shutout innings, allowing only one hit, walking three and striking out six.
The Renegades rallied in the bottom of the eighth, loading the bases on three walks issued by Sammy Tavarez. Spencer Henson drew a fourth walk of the inning to force in Anthony Seigler and trim the deficit to 4-1.
The Cyclones added insurance in the top of the ninth. With the bases loaded and no outs, Matt O'Neill was hit by a pitch and Newton grounded into a fielder's choice to extend the lead to 6-1.
In the bottom of the ninth, the Gades got back-to-back singles from Cristian Perez and Cooper Bowman, but Grant Hartwig induced a game-ending double play from Seigler to close out the contest.
The Renegades managed just three hits in the game, including the two in the ninth.
Hudson Valley continues its series with Brooklyn tomorrow night at Dutchess Stadium. RHP Beck Way (3-3, 3.97) makes the start for the Renegades, while the Cyclones counter with RHP Garrison Bryant (3-1, 3.80). First pitch is scheduled for 7:05 p.m. Coverage begins on the Renegades Baseball Network at 6:45.