Hill Leads Hops to Independence Day Victory 
Lawlar Fills Box Score in Hillsboro Debut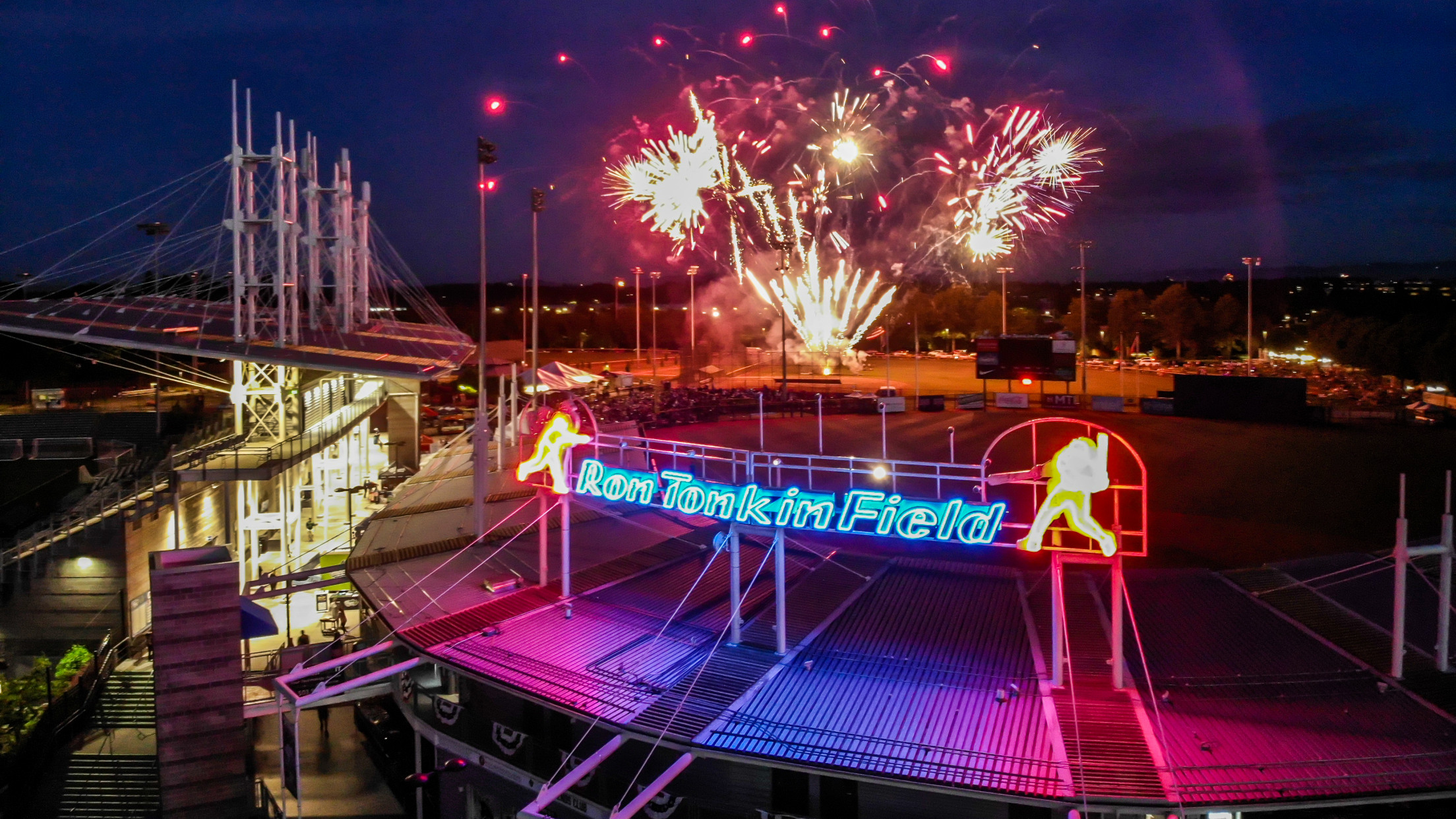 Hillsboro, OR (July 4, 2022) – The capacity crowd on 4th of July at Ron Tonkin Field went home happy, as the Hops defeated the Eugene Emeralds 5-3. Jamison Hill was on the mound for Hillsboro and turned in the longest outing of his professional career, giving up just two
Hillsboro, OR (July 4, 2022) – The capacity crowd on 4th of July at Ron Tonkin Field went home happy, as the Hops defeated the Eugene Emeralds 5-3. Jamison Hill was on the mound for Hillsboro and turned in the longest outing of his professional career, giving up just two earned runs over 6.1 innings. Jordan Lawlar, the Diamondbacks #2 prospect and #17 ranked prospect in baseball, had a single, stolen base, run scored and RBI in his Hillsboro debut. Another top D-backs prospect, Ryan Bliss, homered in the first inning to set the tone for the Hops. Kyle Backhus and Christian Montes De Oca once again had scoreless late innings outings out of the bullpen, as Hillsboro took game one of the series.
Hunter Bishop continued his hot hitting with a solo home run in the first inning for Eugene, his sixth consecutive series with a homer.
Hillsboro answered the Emeralds' solo shot with one of their own, as Ryan Bliss homered on the first pitch he saw from Eugene starter, Jake Wong. Bliss' home run landed almost identically to Bishop's shot, just to the right of the batter's eye in centerfield. Bliss has now homered twice in the last four games. The inning was not done there, with Jordan Lawlar picking up an infield single in his first at-bat as a Hop. Lawlar then stole second and scored, giving Hillsboro a 2-1 lead.
The Hops came back in the second to get two more runs against Wong, piling on four singles in the frame. Lawlar picked up his first RBI on a ground out to first base that scored Lyle Lin. Hillsboro led 4-2 after two.
Hill breezed through the third inning needing only six pitches, but would throw 34 in the fourth. Luis Toribio had a two-RBI double in the fourth and Hill would escape without further damage.
Neyfy Castillo hit what he thought was a home run, slowing down around the bases and pointing out to the bullpen, but the ball was still in play as it hit off the top of the fence. Castillo was still able to get into third with a triple for his second hit of the game and first triple of 2022. Channy Ortiz brought him home with a sacrifice fly, extending the lead to 5-3.
In the longest outing of his pro career, Jamison Hill struck out six, while allowing just two earned runs and two walks. Hill got the win, improving to 4-5.
For the second time in three games, Backhus secured a hold and Montes De Oca got the save.
Eugene leadoff hitter, Vaun Brown, was 0-for-5 in the game with 5 strikeouts – just the third time ever that a batter has struck out five times in a Hops' game (home or road).
Fox Semones, who was signed as a minor league free agent on June 16th, singled in the game and has now hit safely in all eight games for Hillsboro.
Hillsboro (35-39) and Eugene (43-30) will play next on Wednesday, with a day off on Tuesday. First pitch on Wednesday is at 7:05, with the pre-game show at 6:50 on Rip City Radio 620 and MiLB.tv.