Crawdads Win Behind Kindreich's Strong Start
Lefty Tosses Five Scoreless in 9-2 Victory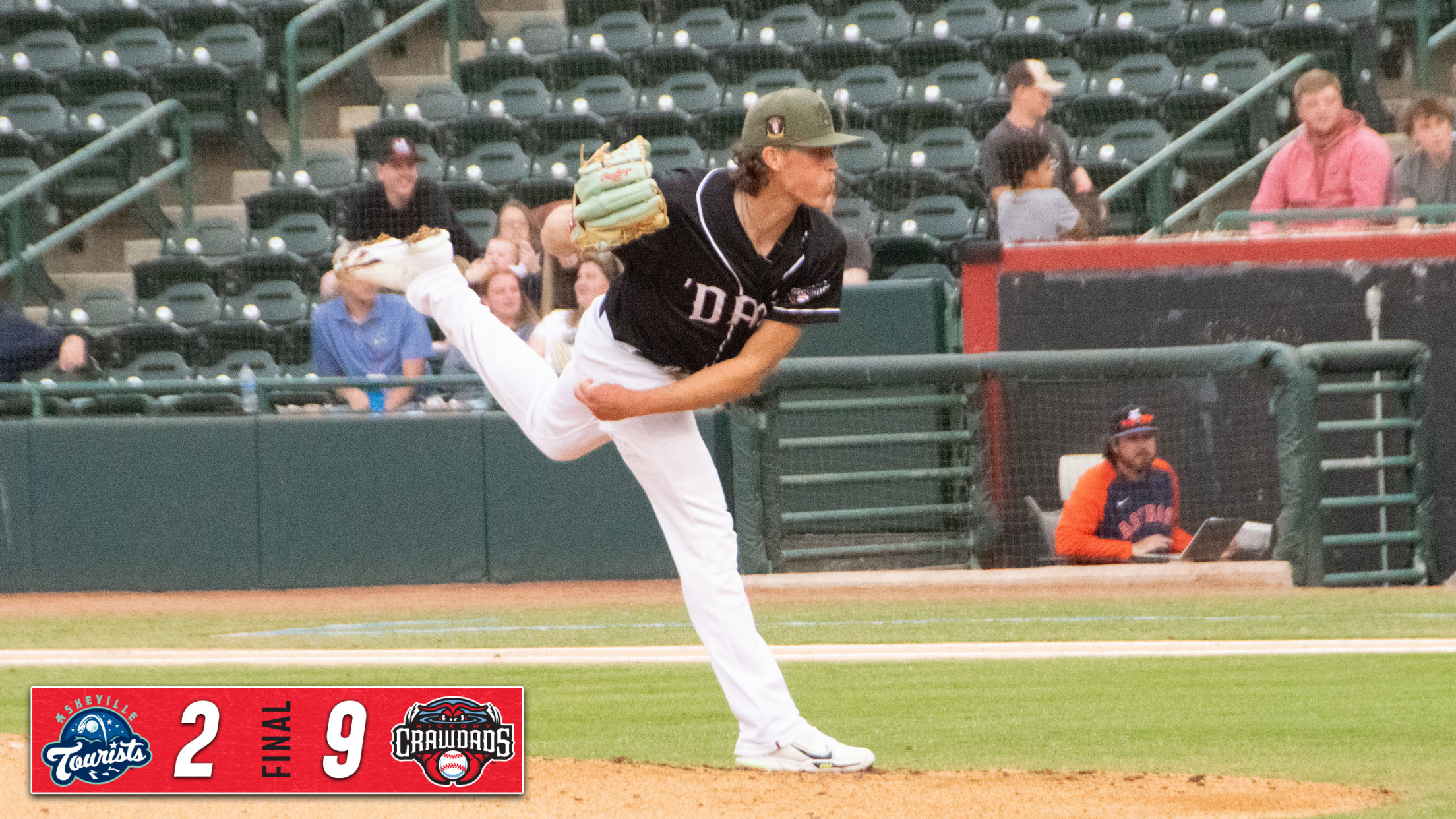 Hickory, NC- The Crawdads rolled the Tourists 9-2 on Friday night, pulling ahead 3-1 in the series. The 'Dads got their first run in the second to pull ahead 1-0. Tucker Mitchell walked and moved to second as Daniel Mateo was able to reach on a fielder's choice and Keyber
Hickory, NC- The Crawdads rolled the Tourists 9-2 on Friday night, pulling ahead 3-1 in the series.
The 'Dads got their first run in the second to pull ahead 1-0. Tucker Mitchell walked and moved to second as Daniel Mateo was able to reach on a fielder's choice and Keyber Rodriguez walked to load the bases. Jayce Easley singled in the lead runner to get the Crawdads on the board.
They added on again with a run in the third. Maximo Acosta singled and Geisel Cepeda walked. Acosta was caught on a double steal, but Cepeda took second without a play. Abimelec Ortiz advanced him with a ground out. A wild pitch on ball four to Mitchell allowed Cepeda to score.
In the fourth inning, the 'Dads got on the board once more, this time getting two runs. Mateo singled and stole second base. Rodriguez drew another walk and Mateo stole third. Angel Aponte struck out, but Rodriguez stole second on strike three to put two in scoring position. A wild pitch brought in Mateo and sent Rodriguez to third. Jayce Easley struck out, but the catcher didn't catch the ball and made a throwing error on the play, allowing Rodriguez to score and Easley to safely reach second.
The 'Dads made it a 5-0 game with a run in the sixth. Mateo walked and stole second base but a throwing error by the catcher let him move to third. Aponte's ground out brought him home.
The Crawdads put together their biggest rally of the night in the seventh, scoring three. Abimelec Ortiz walked while Tucker Mitchell singled and a balk put them both in scoring position. Mateo drove in Ortiz with a single and then stole his fourth base of the night to keep runners on second and third. Rodriguez scored both on a single to right.
The offense continued to add on with a run in the eighth to bring it to 9-0. Acosta hit a one-out single and advanced to second on a fielding error by the center fielder. Cepeda moved him to third on a ground out. Ortiz continued his strong debut week for the 'Dads, driving in the runner with a double to right.
On the mound for the 'Dads, Larson Kindreich kicked things off with five scoreless innings. He allowed two hits and two walks while striking out four. Bradford Webb handled the next three innings, giving up just one hit and no walks and collecting five strikeouts. Robby Ahlstrom pitched the ninth, surrendering two runs.
The series will continue tomorrow night with a 7pm game. It is Wrestling Night with a Hacksaw Jim Duggan appearance. The first 1,000 fans will also receive tee shirts courtesy of Here 2 Pray and Big Dawg 92.1.