Crawdads Win 8-7 on Walk-Off 
Freeman Delivers Game-Winning Hit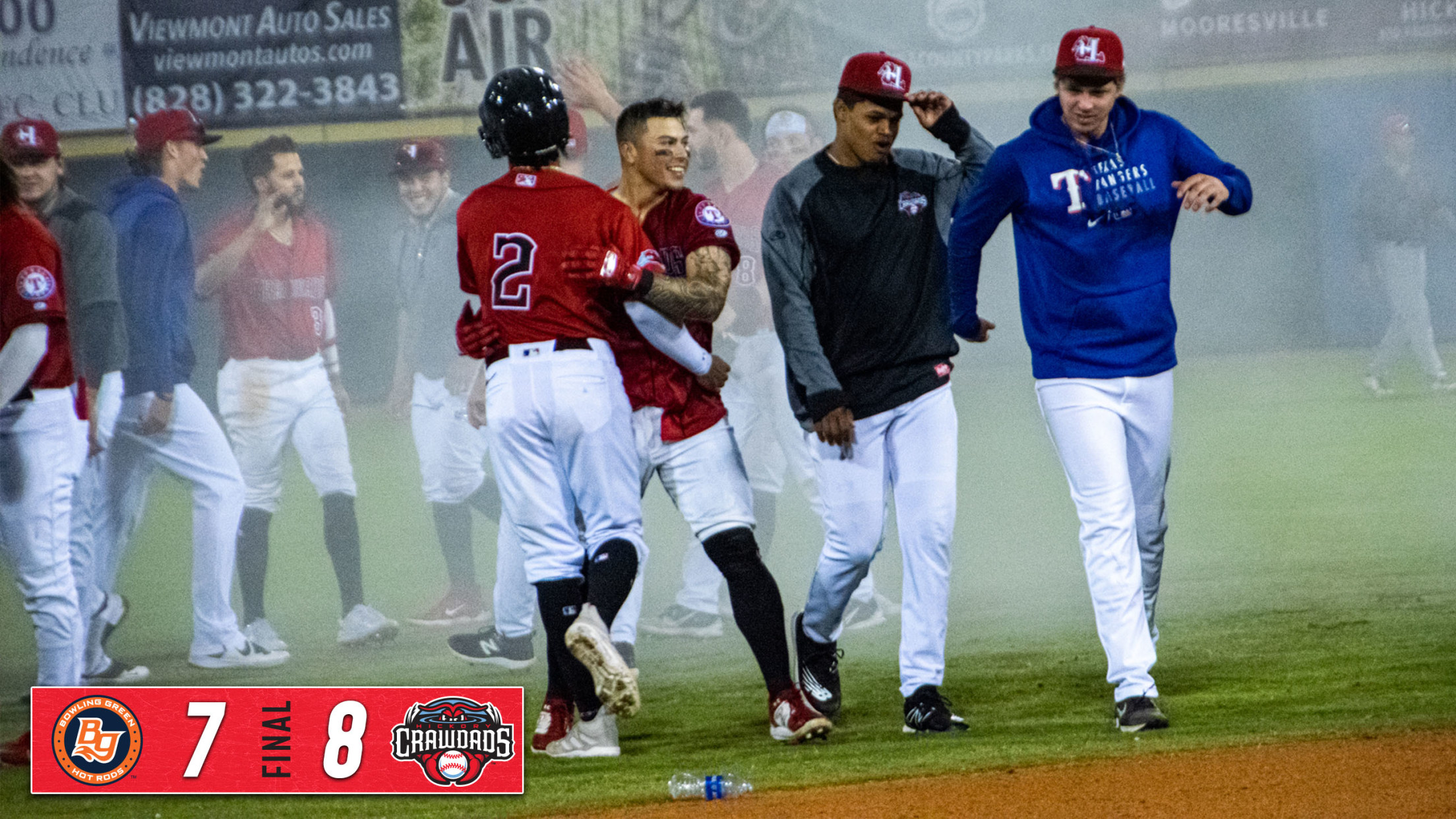 Hickory, NC- The Crawdads rallied to come from behind and defeat the Bowling Green Hot Rods 8-7 on a walk-off single by Cody Freeman on Wednesday night. Bowling Green pulled ahead in the first with two runs and added on two more in the top of the third. The Crawdads
Hickory, NC- The Crawdads rallied to come from behind and defeat the Bowling Green Hot Rods 8-7 on a walk-off single by Cody Freeman on Wednesday night.
Bowling Green pulled ahead in the first with two runs and added on two more in the top of the third.
The Crawdads started chipping away in the bottom half of the third, scoring three runs. Marcus Smith started the rally with a single. Jayce Easley doubled him in for the first run of the inning. Max Acosta reached as the second baseman dropped a high pop up. Alejandro Osuna drove in Easley with a base hit to right. Josh Hatcher capped off the rally with a force out to second.
The Hot Rods pushed back in the top of the fourth, scoring three and bringing the score to 7-3.
The Crawdads clawed back for a run in the bottom of the sixth. Osuna walked and advanced to second on a single by Hatcher. Cody Freeman grounded into a force out by a throwing error allowed Osuna to score and cut the deficit to three.
The 'Dads rallied to tie the game at seven in the seventh. A walk by Easley and a single by Maximo Acosta put two runners on for Osuna. The outfielder delivered a double that scored one and put two runners in scoring position. Hatcher tied the game with a single to right.
The bullpen blanked the Hot Rods through the top of the ninth, setting things up for the 'Dads in the home half of the inning.
Hatcher started off the inning with an eight-pitch walk. Mateo followed up with a walk of his own. Down 0-2, Freeman drove a ball deep to center, scoring Hatcher from second to win the game for the Crawdads.
The series will continue tomorrow evening with Thirsty Thursday by Focus News. It is also People's Bank Thursday where customers can show their People's Bank card for a discounted $6 ticket. Tomorrow will be a Planet Fitness Thursday and members can get $6 tickets to the Planet Fitness section. It will be an Homage to Hockey and fans can dress in their favorite team's gear for a discounted $6 ticket.