Crawdads Come from Behind to Win 10-7
'Dads Put Together 1-2-3 & 4 Run Rallies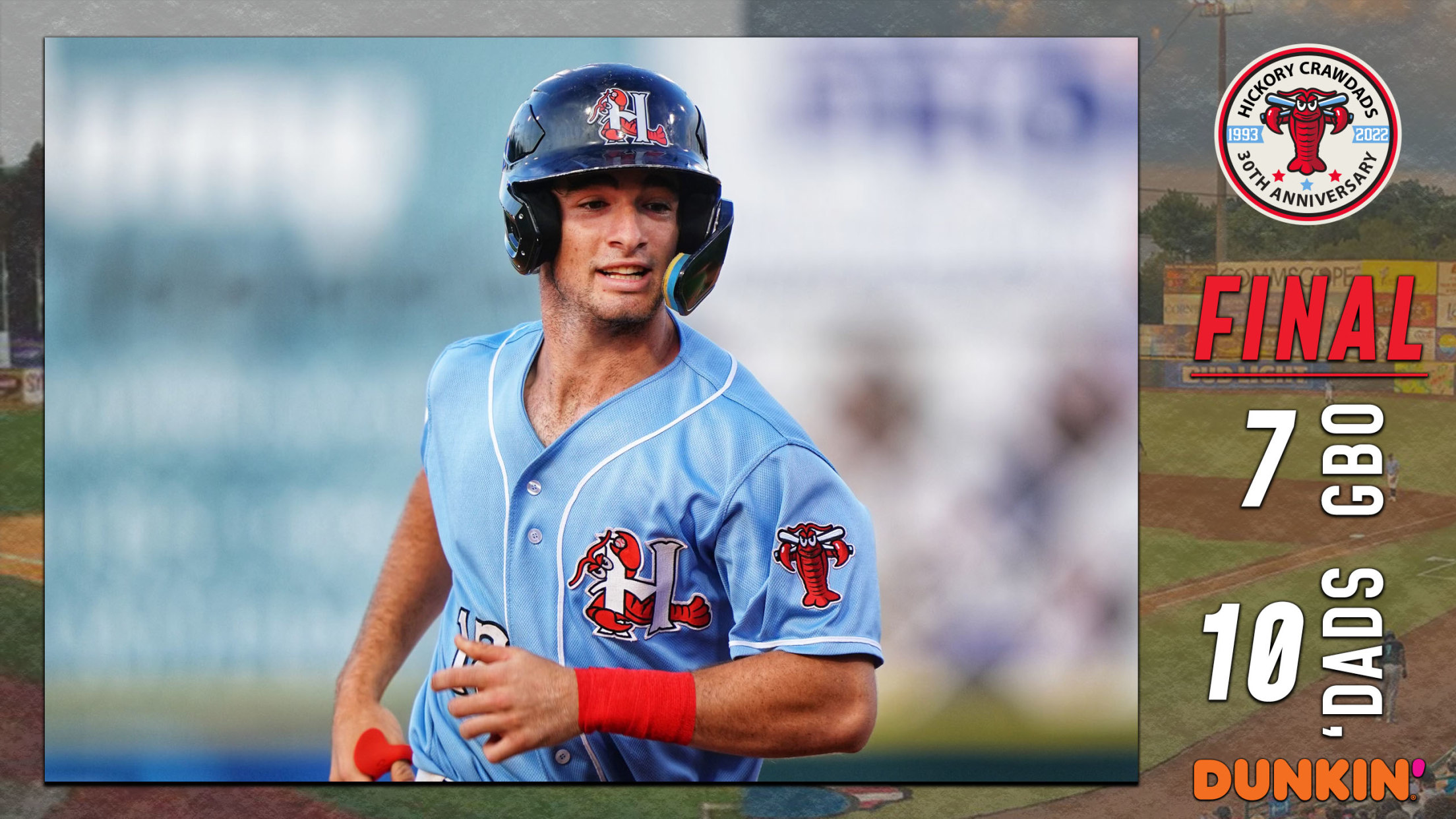 Hickory, NC- The Crawdads came back from behind twice on Sunday to win 10-7 in front of packed crowd of 4,176. Greensboro went ahead early, scoring three in the first inning. The Crawdads got on the board with a run in the fourth inning. Cody Freeman doubled to lead off
*Hickory, NC- *The Crawdads came back from behind twice on Sunday to win 10-7 in front of packed crowd of 4,176.
Greensboro went ahead early, scoring three in the first inning.
The Crawdads got on the board with a run in the fourth inning. Cody Freeman doubled to lead off the fourth and came in to score on a triple by Trevor Hauver.
The Grasshoppers pushed back in the fifth with three runs to take a 6-1 lead.
In the bottom of the sixth, the Crawdads started chipping away at the five-run deficit. Hauver was hit by a pitch and Thomas Saggese drew a walk to put two runners on. Keyber Rodriguez grounded out but was able to advance both men on base. Frainyer Chavez singled to right to make it a 6-3 game.
The bats continued to work in the seventh with three more runs. Aaron Zavala homered to right-center to start things off. Cody Freeman hit a single to right. Hauver was called out looking, a call that got Crawdads manager Carlos Cardoza ejected. With a fired-up crowd, Thomas Saggese homered to left to tie the score at six.
Greensboro got a run in the eighth inning to take a 7-6 lead.
The 'Dads didn't stay down for long, clawing back for four more runs in the bottom half of the inning. Frainyer Chavez walked to lead off the inning. Angel Aponte reached on a fielding error that sent Chavez to second. Aaron Zavala was hit in the foot, a call that was initially not given to Zavala which led to him getting ejected. The call was reserved following an appeal with the field umpire and Evan Carter, who entered the game for Zavala, took first to load the bases. The Greensboro manager was tossed after he argued the call's reversal. Once the dust settled, Freeman hit a grounder to short that was misplayed, and Chavez came in to score the tying run. Hauver walked to bring in the go-ahead run. Saggese singled to center to bring home two more insurance runs.
John Matthews closed the door in the ninth to secure the 10-7 win.
The Crawdads split the series 3-3 with the Grasshoppers. They will hit the road for six games in Bowling Green.