Timely Hitting, Strong Pitching Secures Stripers' 6-3 Win on Independence Day
Multi-hit games from Dunand, Goins back strong outing from Kingham in win over Charlotte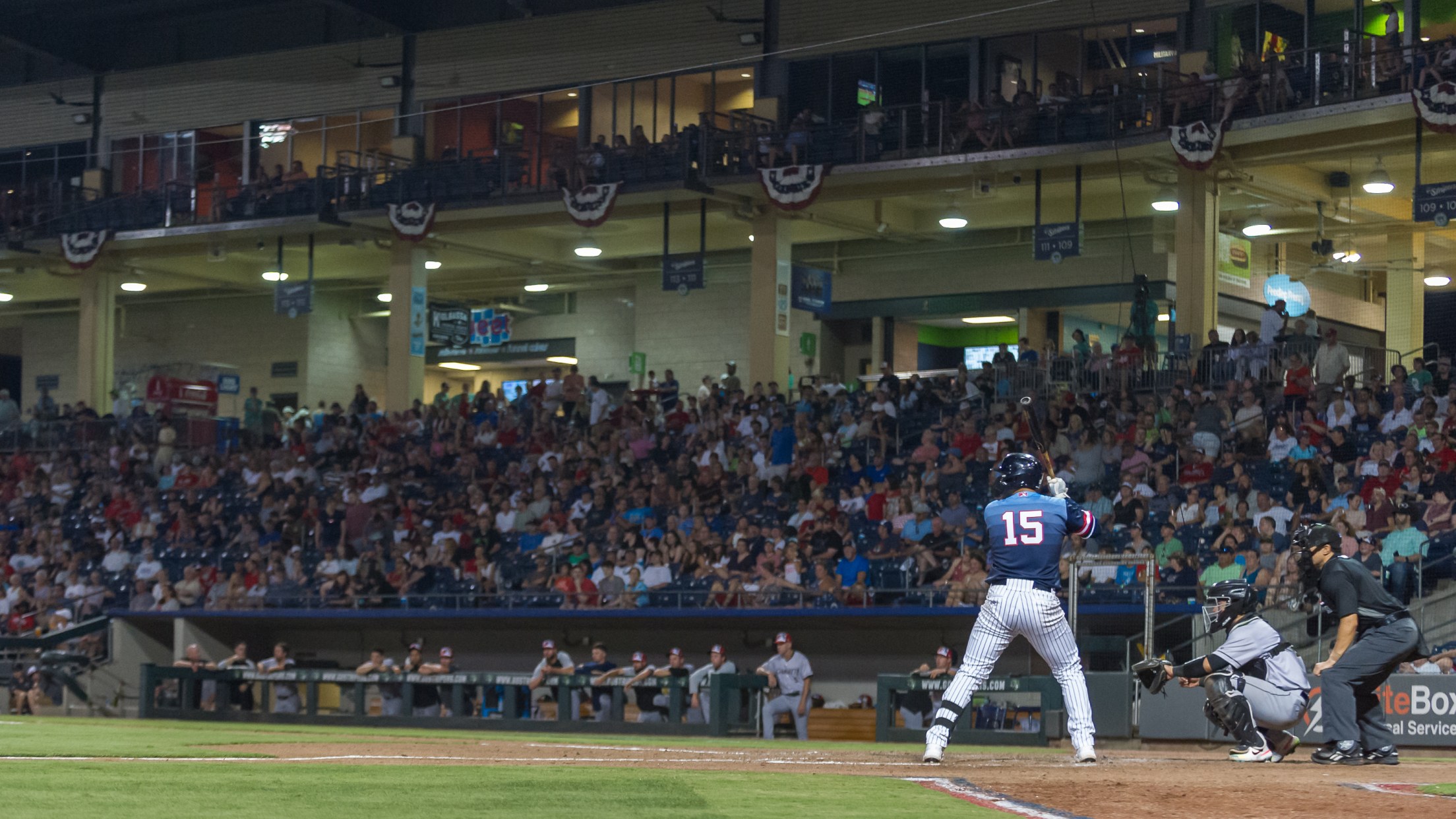 Joe Dunand stands in in front of over 8,000 fans on Independence Day at Coolray Field. (Paul Daniel/Gwinnett Stripers)
LAWRENCEVILLE, Ga. – The Gwinnett Stripers (38-41) hung on early and pulled away late as they toppled the Charlotte Knights (29-50) 6-3 on Independence Day at Coolray Field. Joe Dunand and Ryan Goins each had multi-hit performances in the victory. A season-high 8,497 fans were in attendance. Decisive Plays: The
LAWRENCEVILLE, Ga. – The Gwinnett Stripers (38-41) hung on early and pulled away late as they toppled the Charlotte Knights (29-50) 6-3 on Independence Day at Coolray Field. Joe Dunand and Ryan Goins each had multi-hit performances in the victory. A season-high 8,497 fans were in attendance.
Decisive Plays: The Knights put up all three of their runs in the top of the first inning, but the Stripers struck back immediately, tying the game on Alex Dickerson's sac fly in the bottom of the first. Gwinnett took a 4-3 lead in the fifth thanks to a bases-loaded walk by Preston Tucker. Ryan Goins provided some insurance in the eighth inning with a two-out, two-run single.
Key Contributors: Joe Dunand doubled twice and scored in his 2-for-3 showing. Goins also had a multi-hit night (2-for-4, 2 RBIs). Tucker (1-for-3, BB) also drove in two, while Dickerson and Pat Valaika also had RBIs. Kingham had his longest outing of the season (5.0 IP, 9 H, 2 ER), and the Stripers' bullpen combined for 4.0 scoreless innings.
Noteworthy: With the win, Kingham earned his first victory as a starter since August 20, 2021 with Double-A Mississippi. Michael Tonkin (S, 6) pushed his scoreless streak to 11.0 innings over 10 appearances. Dunand is hitting .500 (5-for-10) in his last three games.
Next Game (Wednesday, July 6): Gwinnett vs. Charlotte, 7:05 p.m. at Coolray Field. RHP Huascar Ynoa (4-4, 5.13 ERA) for the Stripers vs. TBD for the Knights. Radio Broadcast: 6:50 p.m. on MyCountry993.com. It's Wet Nose Wednesday at Coolray Field as dogs get in the park for free with owner's paid admission. The Stripers will transform into the "Xolos de Gwinnett" to honor Gwinnett County's rich Hispanic heritage and culture.