Stripers Held to One Hit in 2-0 Loss at Norfolk
Gwinnett turns triple play behind Kyle Muller, but struggles offensively in shutout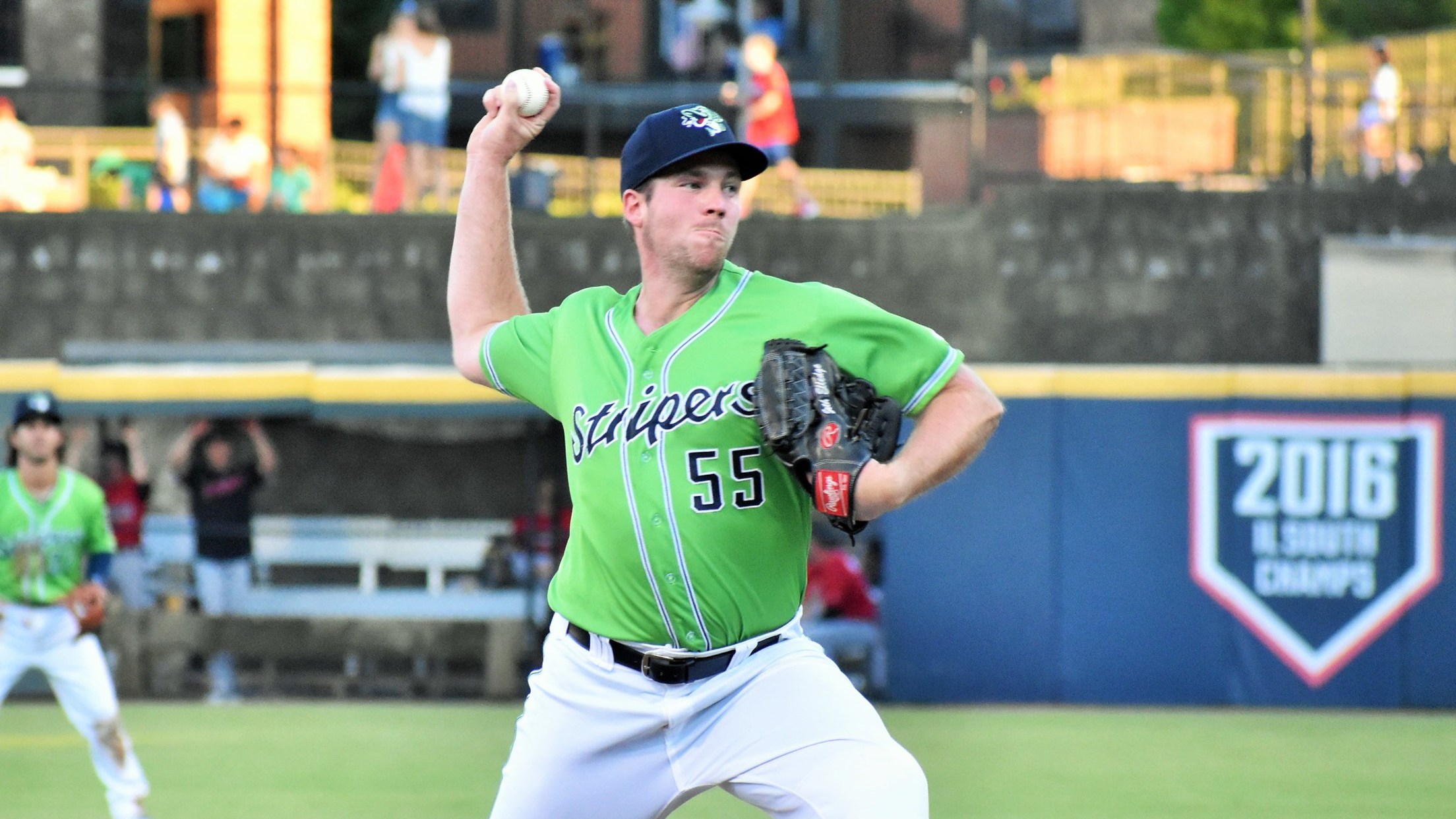 Seth Elledge tossed 1.2 scoreless innings in relief, extending his scoreless streak to 7.1 frames. (Josh Conner)
NORFOLK, Va. – A bunt single by Delino DeShields Jr. in the third inning proved to be Gwinnett's only hit of the game as the Stripers (36-40) were shut out 2-0 by the Norfolk Tides (37-39) on Friday night at Harbor Park. Tides' pitchers DL Hall and Chris Vallimont combined
NORFOLK, Va. – A bunt single by Delino DeShields Jr. in the third inning proved to be Gwinnett's only hit of the game as the Stripers (36-40) were shut out 2-0 by the Norfolk Tides (37-39) on Friday night at Harbor Park. Tides' pitchers DL Hall and Chris Vallimont combined on the one-hitter.
*Decisive Plays: *Norfolk scored the decisive run in the first two at-bats against Kyle Muller in the first inning. Terrin Vavra was grazed in the helmet by a pitch and scored on a double by Jordan Westburg. The Tides extended the lead to 2-0 in the fourth as Kelvin Gutierrez launched a solo home run (4) to left-center off Muller.
Key Contributors: Muller (L, 4-5) saw his five-game quality start streak snapped as he worked 5.1 innings with two runs on four hits. For the Tides, Hall pitched 4.0 one-hit innings and struck out eight, and Vallimont finished the game with 5.0 no-hit innings and six strikeouts. Westburg went 2-for-4 with a double and one RBI.
*Noteworthy: *Joe Dunand, Braden Shewmake, and Pat Valaika combined to turn a 5-4-3 triple play in the bottom of the second inning, Gwinnett's first triple play since June 5, 2021 vs. Jacksonville (Johan Camargo-Jason Kipnis-Travis Snider turned it 5-4-3). Seth Elledge pitched 1.2 scoreless innings in relief, extending his scoreless innings streak to 7.1 spanning his last seven outings.
Next Game (Saturday, July 2): Gwinnett at Norfolk, 6:35 p.m. at Harbor Park. RHP Bryce Elder (3-4, 5.86 ERA) for the Stripers vs. RHP Blaine Knight (1-2, 6.70 ERA) for the Tides. Radio Broadcast: 6:20 p.m. on MyCountry993.com.
Next Home Game (Monday, July 4): Gwinnett vs. Charlotte, 7:05 p.m. at Coolray Field. Radio Broadcast: 6:50 p.m. on MyCountry993.com. Join the Stripers for Independence Day, featuring a special pregame BBQ (purchase online at GoStripers.com) and a patriotic Fireworks Extravaganza after the game. Stripers players and coaches will wear specialty Patriotic Jerseys, which will be available for purchase in an online auction at GoStripers.com.