Stripers' Early Lead Not Enough in Norfolk
Gwinnett's 3-0 first-inning lead doesn't hold up in 6-3 loss at Harbor Park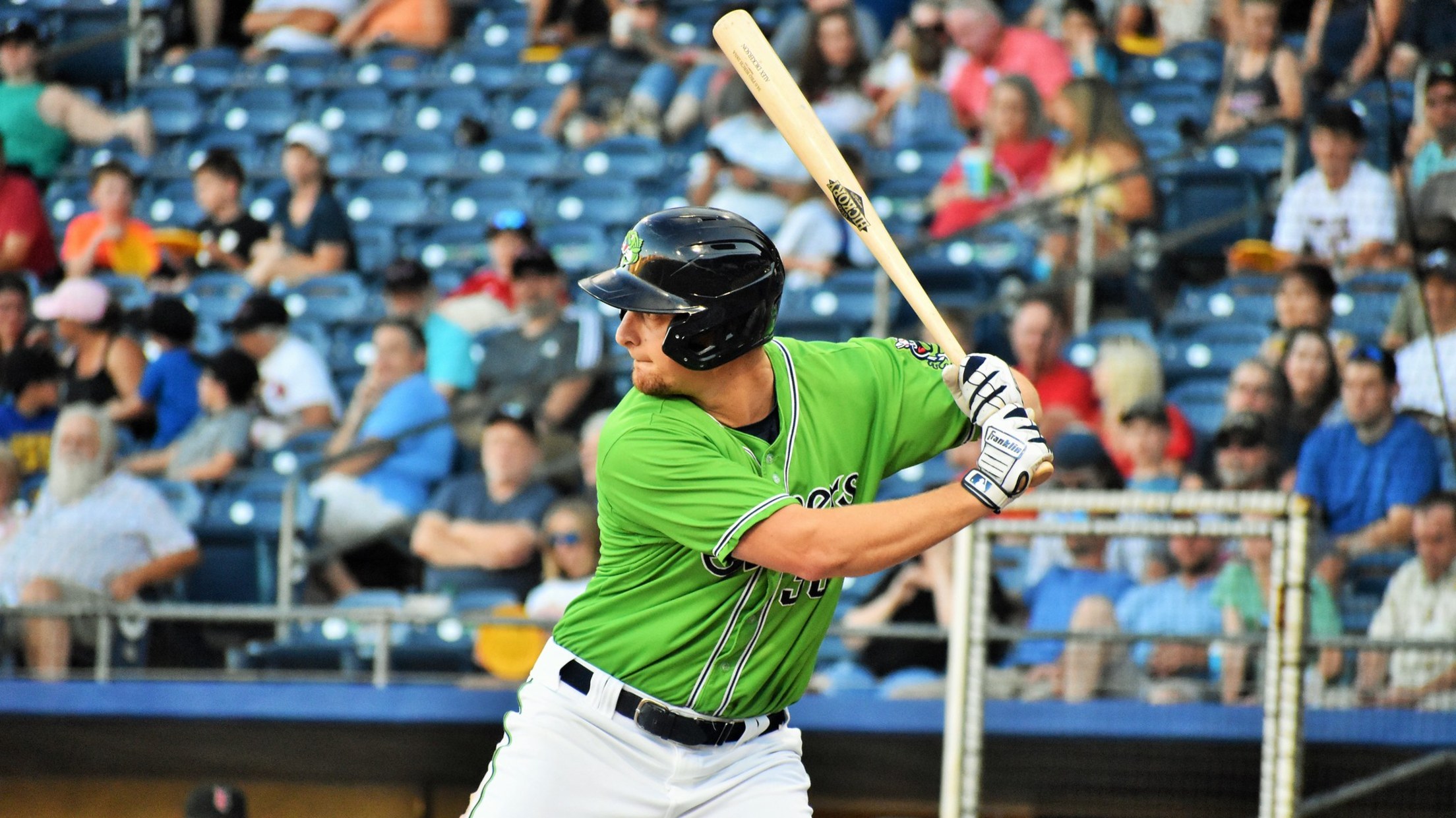 Alex Dickerson went 2-for-4 with an RBI on Sunday night at Norfolk. (Josh Conner)
NORFOLK, Va. – The Gwinnett Stripers (37-41) scored three runs on four hits in the top of the first inning but were held scoreless the rest of the way in a 6-3 loss to the Norfolk Tides (38-40) on Sunday night at Harbor Park. Decisive Plays: RBIs by Alex Dickerson
NORFOLK, Va. – The Gwinnett Stripers (37-41) scored three runs on four hits in the top of the first inning but were held scoreless the rest of the way in a 6-3 loss to the Norfolk Tides (38-40) on Sunday night at Harbor Park.
Decisive Plays: RBIs by Alex Dickerson and Chadwick Tromp helped stake the Stripers to a 3-0 lead in the top of the first against left-hander Bruce Zimmermann. Tucker Davidson (L, 2-5) yielded a two-run home run to Yusniel Diaz (3) to cut the lead to 3-2 in the second and a solo shot to Jacob Nottingham (4) that tied the game at 3-3 in the fourth. Later in the fourth, Jordan Westburg's RBI double gave the Tides a 4-3 lead. Kyle Stowers added a solo homer (15) for a 5-3 lead in the seventh and Gunnar Henderson lined an RBI single to make it 6-3 in the eighth.
*Key Contributors: * Drew Waters (3-for-4, run), Eddie Rosario (2-for-4, run) and Dickerson (2-for-4, RBI) all had multi-hit efforts in the losing cause for Gwinnett. Stowers, Diaz, and Nottingham each homered and combined to drive in four runs for the Tides. Zimmermann (W, 2-0) pitched 7.0 innings and yielded three runs on eight hits for the victory, while Kevin Smith (S, 2) tossed 2.0 scoreless innings in relief.
Noteworthy: The Stripers have now lost eight consecutive series finales since last winning on May 8 vs. Charlotte. Dickerson is batting .500 (5-for-10) with a triple and one RBI in three games to start July.
*Next Game (Monday, July 4): *Gwinnett vs. Charlotte, 7:05 p.m. at Coolray Field. RHP Nolan Kingham (1-1, 3.89 ERA) for the Stripers vs. TBD for the Knights. Radio Broadcast: 6:50 p.m. on MyCountry993.com. Join the Stripers for Independence Day, featuring a special pregame BBQ (purchase online at GoStripers.com) and a patriotic Fireworks Extravaganza after the game. Stripers players and coaches will wear specialty Patriotic Jerseys, which will be available for purchase in an online auction at GoStripers.com.