Loons Pitchers Outduel Lake County for Shutout Victory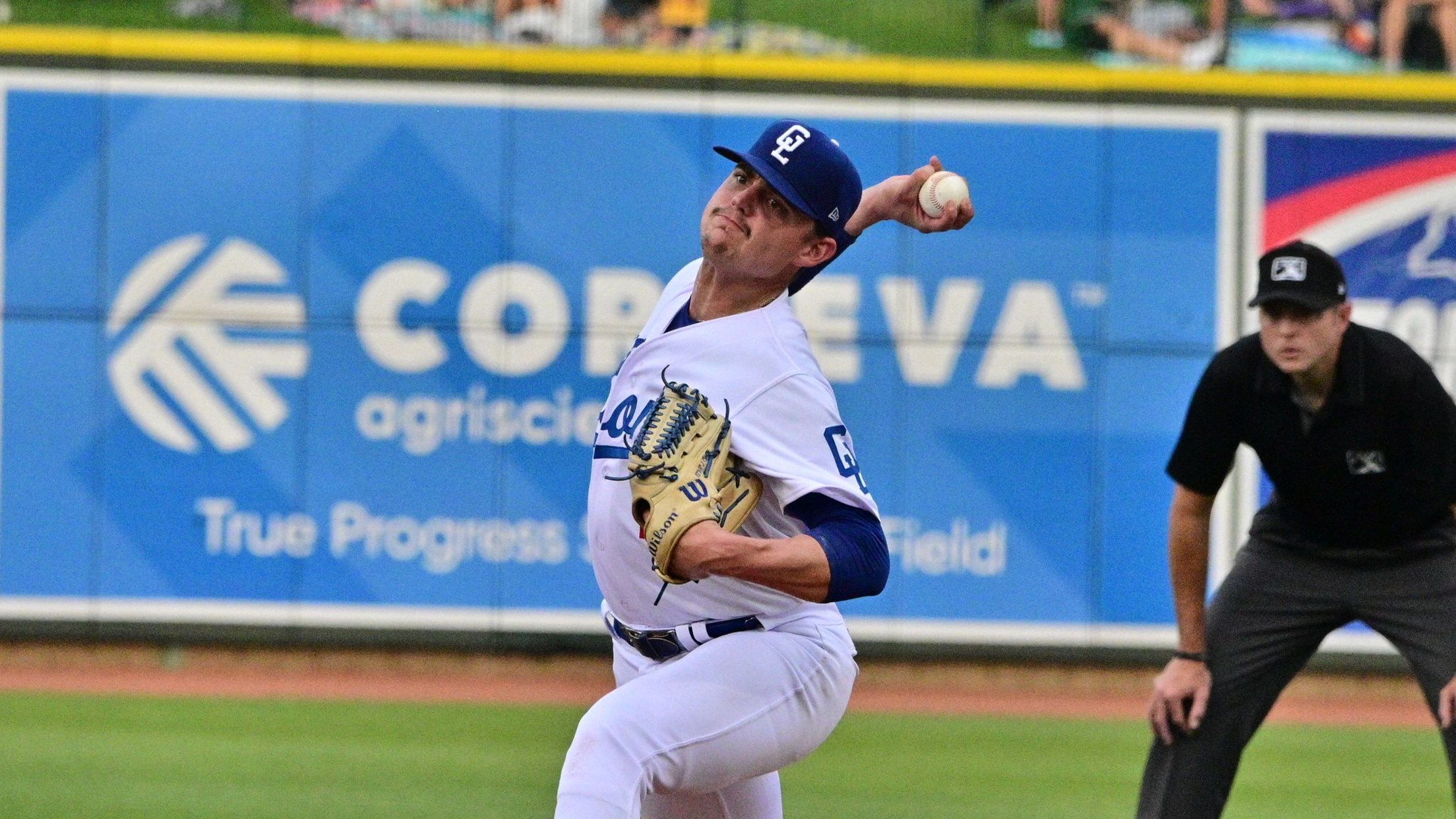 (Robert Spears Photography)
MIDLAND, Mich. – The Great Lakes Loons had lost three straight games to the Lake County Captains and were looking for a spark to break them out of that funk. A shutout with just four hits allowed and 12 strikeouts by the Loons' pitching staff? That'll do the trick. Great
MIDLAND, Mich. – The Great Lakes Loons had lost three straight games to the Lake County Captains and were looking for a spark to break them out of that funk.
A shutout with just four hits allowed and 12 strikeouts by the Loons' pitching staff? That'll do the trick.
Great Lakes had just enough offense to best Lake County, 1-0, in a pitchers' duel Friday night at Dow Diamond.
The Loons (74-50, 34-24 second half) started right-hander River Ryan, and Lake County made him work through his two innings. Ryan allowed a pair of walks, but no hits, and struck out four batters. He tossed 54 pitches in those two innings, and his day was done.
Great Lakes, the Los Angeles Dodgers' High-A partner, then turned to right-hander Ben Casparius, who kept things stable on the mound for the Loons. In four strong innings, Casparius allowed three hits and two walks, striking out five.
On the other side, Lake County (72-50, 37-19) had a great beginning to the game from their starter. Will Dion (L, 0-1), in his High-A debut, was no-hitting the Loons through five complete innings before Austin Gauthier led off the sixth inning with a single.
In the seventh inning, Eddys Leonard led off the frame with a solo homer, his 15th of the season and his third of the homestand. For the Loons, who had led the Midwest League in homers each of the past two weeks, that was their first longball of the series. It gave Great Lakes the one run it needed for the 1-0 victory.
The Captains, High-A affiliate of the Cleveland Guardians, had their chances to score in the game, but couldn't push anything across. Michael Hobbs (W, 7-1) spun 1 2-3 scoreless frames, from the seventh until two outs in the eighth, allowing just a walk while striking out one. The eighth, though, began with a three-base error, putting the tying run 90 feet away with nobody out – Lake County couldn't score him. Ryan Sublette (SV, 8) slammed the door with a four-out save, striking out a pair and allowing just one hit.
The Loons break a three-game losing streak, and snap Lake County out of a five-game winning streak. Great Lakes keeps the hope alive that it can split this series, trailing three games to one with two to play. The Loons have not lost a six-game series at Dow Diamond all season, winning seven and splitting two.
This six-game set continues Saturday night at Dow Diamond, with first pitch set for 7:05 p.m. Loons lefty Ronan Kopp (0-0, 6.75 ERA) takes the hill for a second time at this level, opposing right-hander Aaron Davenport (5-6, 4.60 ERA) for Lake County. Pregame coverage on ESPN 100.9-FM begins at 6:50 p.m. with the Loons On-Deck Circle, driven by Garber Chevrolet Midland.
Before the game, Dow Diamond hosts this year's second One-Mile Beer Run – three laps around the Dow Diamond concourse is one mile, and each lap starts with a Miller Lite. Special tickets needed – get yours at Loons.com. In addition, it's House Divided Night, celebrating the beginning of the college football season. Wear your Maize and Blue or your Green and White and celebrate your favorite school. After the game, enjoy our final Fireworks Loontacular of the season, thanks to Farm Bureau Insurance of Michigan. Tickets are still available at Loons.com.
The Great Lakes Loons have been a Single-A partner of the Los Angeles Dodgers since the team's inception in 2007. Dow Diamond serves as the team's home and also houses the Michigan Baseball Foundation, a 501(c)(3) non-profit public charity, and ESPN 100.9-FM. For tickets or information about the Loons, call 989-837-BALL or visit Loons.com.