Frisco falls in close Saturday affair
RoughRiders hold two leads but San Antonio wins, 6-4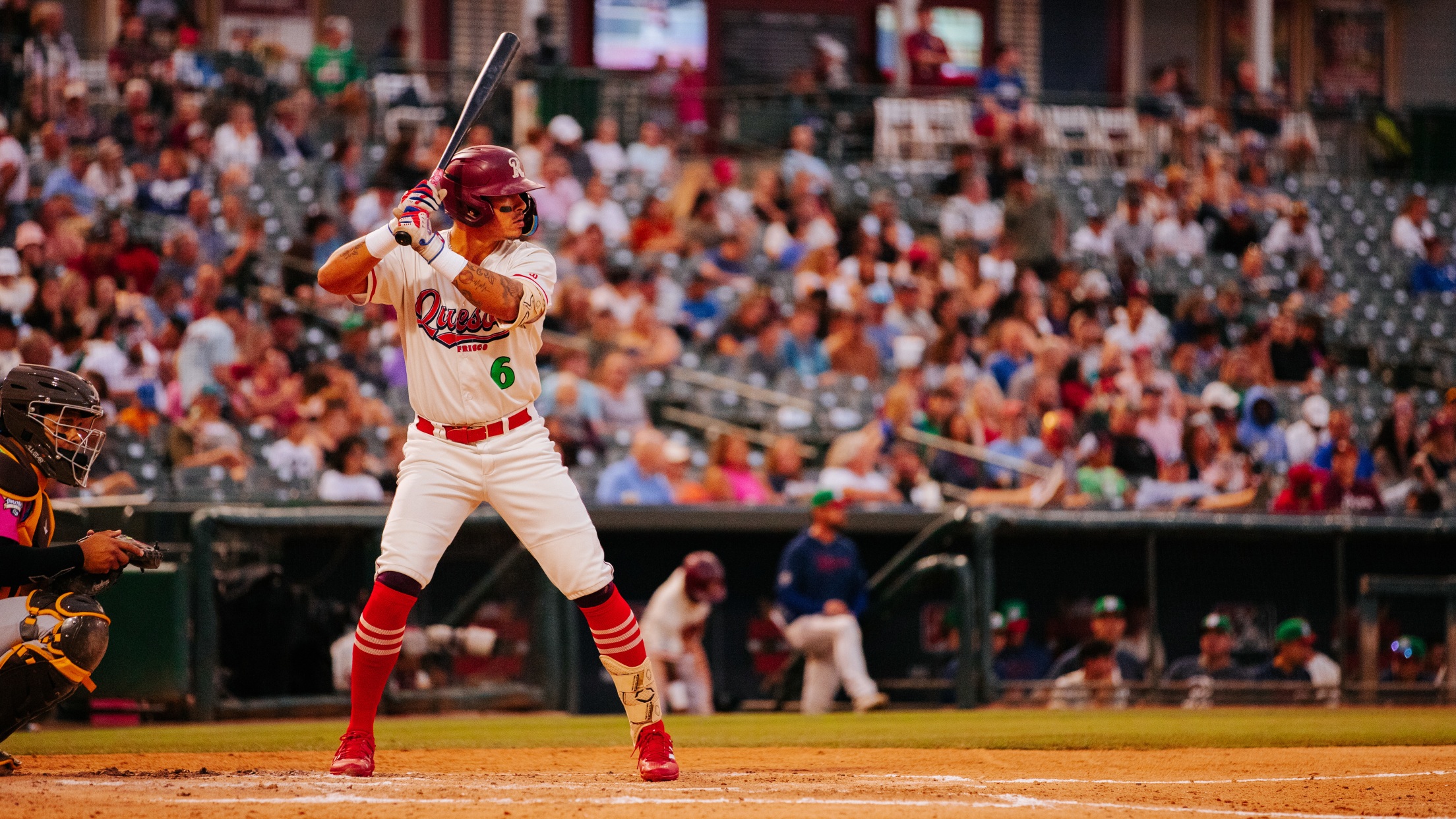 FRISCO, Texas (June 3, 2023) – The Frisco RoughRiders were edged by the San Antonio Missions, 6-4, in a back-and-forth Saturday evening game at Riders Field. Box Score Frisco (21-28) has one more game on the homestand tomorrow. San Antonio (27-23) remains one game ahead of Midland for first place
FRISCO, Texas (June 3, 2023) – The Frisco RoughRiders were edged by the San Antonio Missions, 6-4, in a back-and-forth Saturday evening game at Riders Field.
Frisco (21-28) has one more game on the homestand tomorrow. San Antonio (27-23) remains one game ahead of Midland for first place in the South Division with 19 games left in the first half.
Frisco's first lead of the game came early, when Luisangel Acuña stole second and third base in the first inning. He scored on an error to put Frisco up 1-0.
San Antonio immediately took their own lead, plating three runs the next half inning. Frisco responded in like fashion, scoring two runs to tie in the second inning. Kellen Strahm singled and Scott Kapers doubled to set the table for a Jax Biggers sac fly and Chris Seise's RBI double.
With the score still 3-3 in the fourth inning, Dustin Harris put on a baserunning show after his leadoff double. He took third base during a dropped-third-strike sequence, then came home on a wild pitch. That put Frisco up 4-3, but the RoughRiders did not score again.
Tekoah Roby exited with no outs in the second inning, having given up one earned run. Theo McDowell replaced him and did not allow an earned run in two innings. Kyle Funkhouser tossed a scoreless inning in his RoughRiders debut. Danny Duffy (0-1) allowed three earned runs in 0.2 innings for the loss, but the next three relievers -- Justin Slaten, Alex Speas and Nick Starr -- prevented further earned runs in their 4.1 innings.
Efrain Contreras (2-4) went five innings with three earned runs for the win. Nick Hernandez entered in the ninth inning with the tying run at the plate and did not allow a base runner to get the save.
Kapers had two doubles for Frisco. He recorded his 100th plate appearance of the year on Saturday and already has 13 extra-base hits.
The sixth and final game of the series will begin at 6:05 p.m. on Sunday, June 4th at Riders Field. RHP Ryan Garcia (1-4, 6.82 ERA) and RHP Nolan Watson (3-2, 1.59) start for Frisco and San Antonio, respectively. Get your tickets now at RidersBaseball.com or call 972.731.9200.
About the RoughRiders
The Frisco RoughRiders are the Double-A affiliate of the Texas Rangers and the 2022 Texas League champions. In 2023, the team is celebrating its 20th anniversary and has consistently finished in the top five among all Double-A franchises in attendance yearly. In August 2014, the RoughRiders were purchased by an ownership group led by Chuck Greenberg. Since then, the new ownership group, together with the City of Frisco, has spearheaded numerous major franchise enhancements, investing over $8 million in a wide array of facility upgrades and improvements, including a state-of-the-art HD video board, sound system, Bull Moose Saloon, Bullpen Bar, Riders Outpost Team Store and the world's largest water feature in a sports facility, the massive Lazy River. These enhancements earned the Riders and the City of Frisco Ballpark Digest's prestigious "Best Ballpark Renovation" award for two consecutive years (2015 and 2016). More than 185 former RoughRiders players have gone on to play Major League Baseball including current Rangers Josh Jung, Cole Ragans and Bubba Thompson. For more information on the Frisco RoughRiders, please visit RidersBaseball.com or contact [email protected].