Frisco takes series over Travs with 6-3 win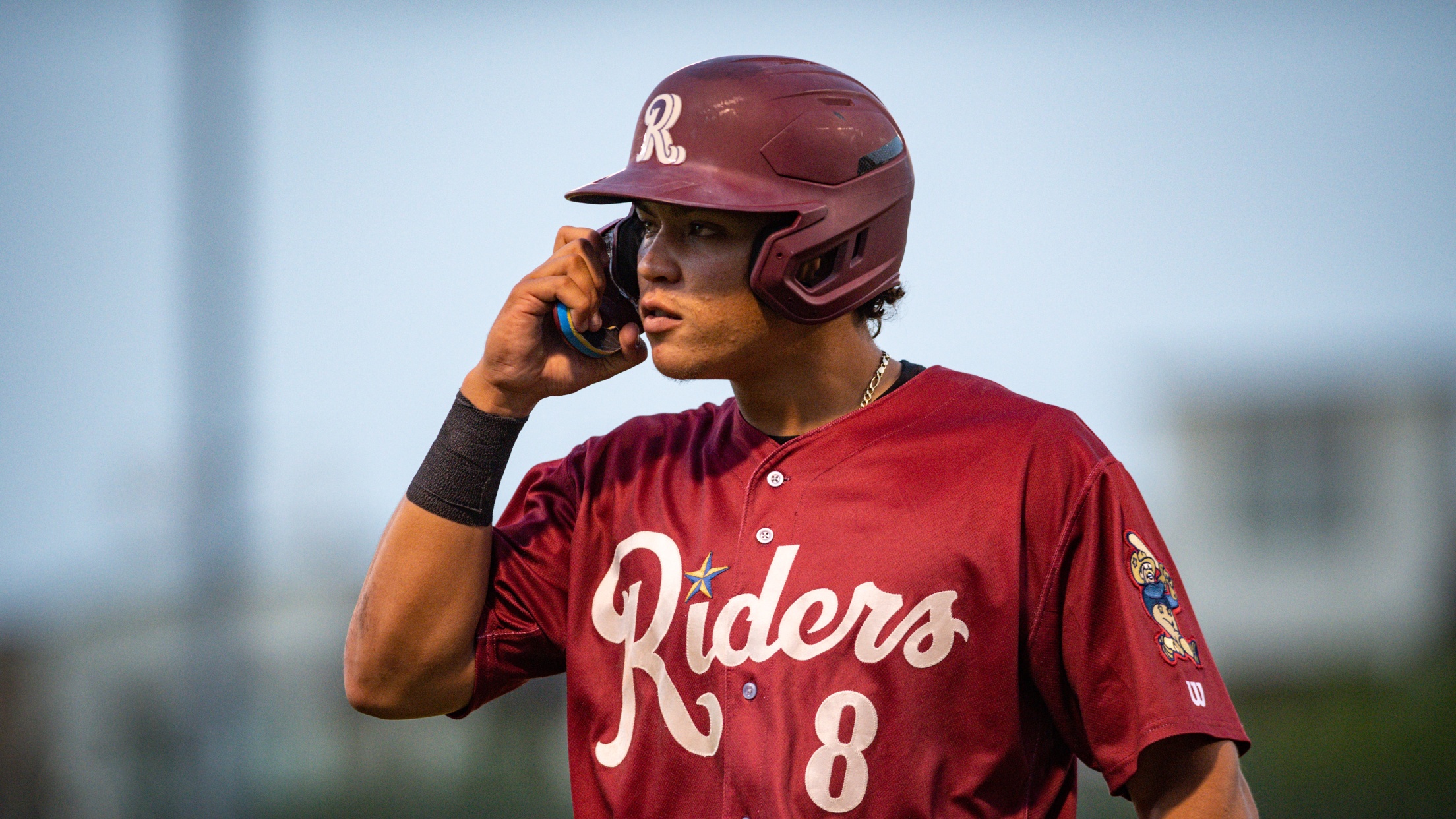 NORTH LITTLE ROCK, Arkansas (June 25, 2022) – The Frisco RoughRiders defeated the Arkansas Travelers at Dickey-Stephens Park Saturday night, 6-3. Frisco RHP Owen White made his Double-A debut, throwing 5.1 innings and striking out five to pick up the win. Dustin Harris and Sandro Fabian each finished with two
NORTH LITTLE ROCK, Arkansas (June 25, 2022) – The Frisco RoughRiders defeated the Arkansas Travelers at Dickey-Stephens Park Saturday night, 6-3. Frisco RHP Owen White made his Double-A debut, throwing 5.1 innings and striking out five to pick up the win. Dustin Harris and Sandro Fabian each finished with two hits and two RBIs to lead the offense to their fourth win of the week and the series win in North Little Rock.
In his Double-A debut, White (1-0) needed just five pitches for his first inning of work and didn't allow a run to score until a two-out home run from Arkansas designated hitter Jake Scheiner in the bottom of the fourth.
Frisco (36-32) gave White early runs of support against Arkansas right-hander Stephen Kolek (4-5) with five runs on five hits in the second inning.
Following a scoreless first inning, the first seven Frisco hitters reached base safely against Kolek in the second inning, beginning with Justin Foscue getting plunked by a pitch. After a J.P. Martinez walk, the Riders rattled off five consecutive hits, featuring a Fabian ground ball into center field with the bases loaded to score three and put the Riders in front first, 3-0. The inning ended with a Harris RBI single to give Frisco a 5-0 lead.
Kolek wouldn't allow another Riders run to score while he was on the mound, allowing just two hits in his final four innings. Kolek's efforts held the door open for Arkansas to chip back, beginning with Larsen's home run off White in the fourth to cut the Riders lead to 5-1. White began the sixth with a base hit and a fly out before surrendering his second walk of the night and departed with two aboard in the sixth. Frisco RHP Kevin Gowdy entered for the final two outs, but allowed a sacrifice fly to score the second and final run on White's line and eat into the Riders 5-2 lead.
Frisco reliever Joe Corbett entered to start the seventh and walked his leadoff batter before a one-pitch ground out from Travelers second baseman Patrick Frick. Corbett gave up a single to the top of the order before being replaced by lefty reliever Triston Polley, who walked his first two batters faced and allowed a run to score. Polley benefited from an inning-ending double play with the bases loaded to end the seventh inning with Frisco leading, 5-3.
The Riders plated the final run in the ninth, beginning with the fourth double of the season from catcher Matt Whatley. Harris singled in the following at bat and gave Whatley enough time to score the insurance run from second, giving Frisco a 6-3 lead.
Frisco reliever Nick Starr (S, 4) struck out two batters in a clean ninth to give Frisco the win and their first series win since defeating the RockHounds in Midland at the end of April, four games to two.
Frisco and Arkansas end their six-game series in North Little Rock on Sunday with a 1:35 p.m. first pitch. RoughRiders RHP Tim Brennan (1-1, 1.42 ERA) makes his third start of the year and faces Arkansas for the first time on Sunday, while the Travs counter with RHP Levi Stoudt (4-4, 5.07 ERA) for his second appearance of the series.
The Riders return to Frisco to conclude the month of June and usher in July with a six-game series against the Corpus Christi Hooks on June 28th. A promotional schedule includes Texas Baseball Legends on Wednesday, June 29th as Rangers legend Mark McLemore will be on hand for a meet and greet!
Thursday, June 30th is Singles Night as Ivan Hall from Season 16 of the Bachelorette is on hand for Thirsty Thursday, as well as another Blue Norther Hard Seltzer Rowdy @ The River.
Frisco welcomes in Stars & Stripes Weekend, beginning with Fireworks Friday, presented by Raising Cane's, and Sky-Lit Saturday! Then on Sunday, show up early for an American flag giveaway! Fans can stick around postgame for the Independence Day Fireworks Show on July 3rd, the biggest fireworks show of the year!
For tickets and more information about the Frisco RoughRiders, visit RidersBaseball.com or call 972.731.9200.
About the RoughRiders
The Frisco RoughRiders are the Double-A affiliate of the Texas Rangers. The team was founded in 2003 and has finished first among all Double-A franchises in attendance for 15 consecutive seasons (2005-2019). In August 2014, the RoughRiders were purchased by an ownership group led by Chuck Greenberg. Since then, the new ownership group, together with the City of Frisco, has spearheaded numerous major franchise enhancements, investing over $8 million in a wide array of facility upgrades and improvements, including a state-of-the-art HD video board, sound system, Bull Moose Saloon, InTouch Grille, Riders Outpost Team Store and the world's largest water feature in a sports facility, the massive Lazy River. These enhancements earned the Riders and the City of Frisco Ballpark Digest's prestigious "Best Ballpark Renovation" award for two consecutive years (2015 and 2016). More than 170 former RoughRiders players have gone on to play Major League Baseball. For more information on the Frisco RoughRiders, please visit RidersBaseball.com or contact [email protected].