Slugfest in Stockton: Fresno snaps skid with 22-2 rout at Banner Island Ballpark
Grizzlies blast season-high 6 clouts, including back-to-back-to-back homers; ties largest margin of victory in franchise history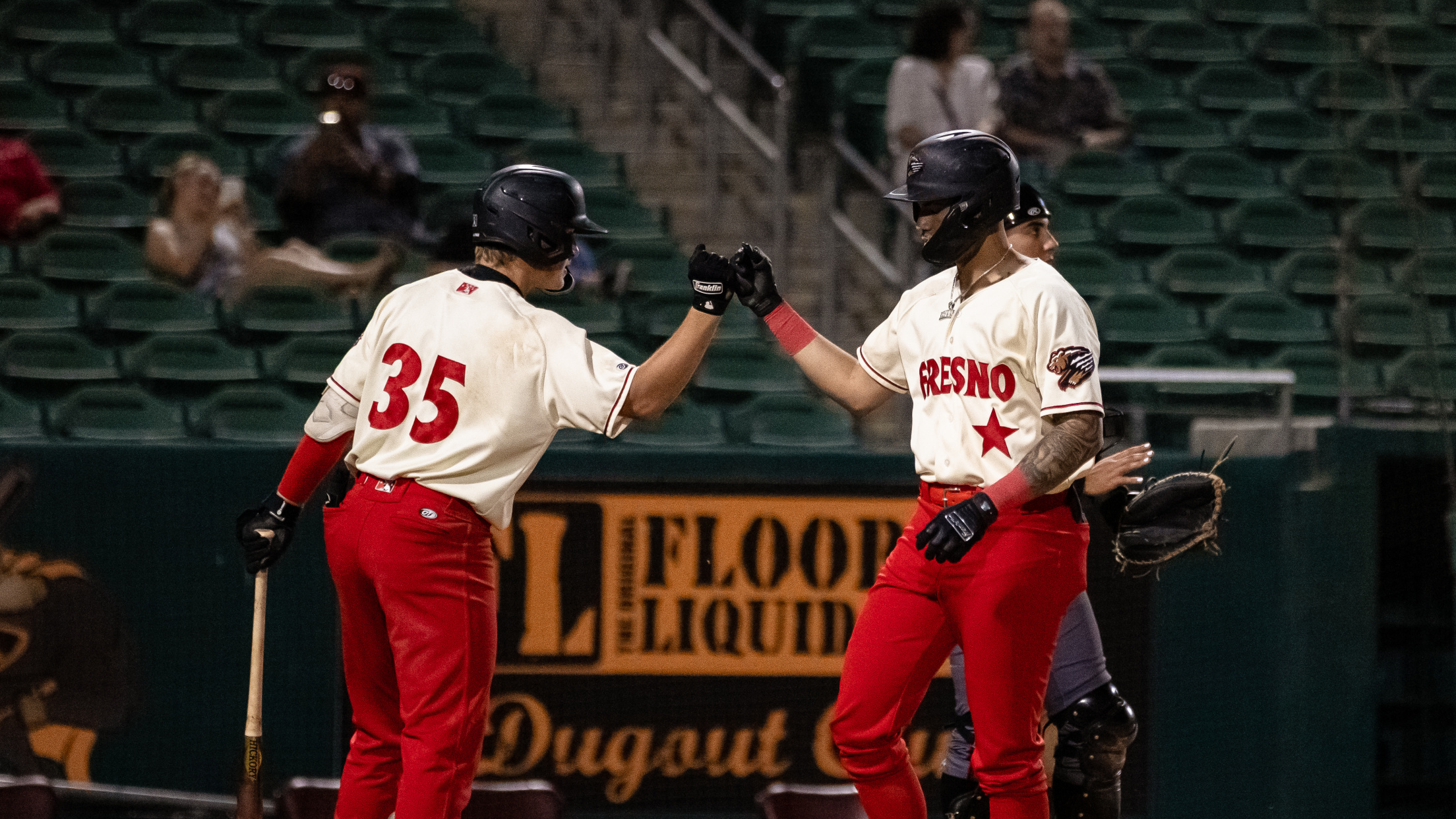 Stockton, CA (Tuesday, June 28) – The Fresno Grizzlies (42-28, 1-3) roared past the Stockton Ports (25-45, 0-4) 22-2 Tuesday night from Banner Island Ballpark. Fresno's 20-run margin of victory tied the franchise record that was initially set on June 30, 2016, against the Salt Lake Bees (23-3) at Smith's
Stockton, CA (Tuesday, June 28) – The Fresno Grizzlies (42-28, 1-3) roared past the Stockton Ports (25-45, 0-4) 22-2 Tuesday night from Banner Island Ballpark. Fresno's 20-run margin of victory tied the franchise record that was initially set on June 30, 2016, against the Salt Lake Bees (23-3) at Smith's Ballpark. The 22 runs ranks third in Grizzlies history and the most scored by Fresno since they became a Rockies affiliate. The Grizzlies plated a franchise-best 24 runs on August 25, 2006 versus Sacramento.
With the rout, the Grizzlies improved to 14-2 (+76 run differential, 135-59) against the Ports this year, 31-9 against Stockton over the past two seasons and 18-1 at Banner Island Ballpark (72-18 run differential this year). The Grizzlies also improved to 12-1 in the first game of a series with a 5-1 mark on the road. The only loss Fresno has suffered in the first game of a series came on April 12 at San Jose, which means the Grizzlies have won 11 straight series openers. Fresno has outscored their opponents 98-55 over those 13 games.
The Grizzlies offense supplied season-highs in runs (22), hits (20), homers (6), triples (1), extra-base hits (12) and total bases (45). All 10 batters who appeared for Fresno enjoyed at least one hit with nine of them scoring at least once. Every Grizzlies starter drove in one run with five separate hitters tallying multiple RBI. Fresno relished a run in six different innings, plating five in the fifth and eight in the eighth. Those two frames have been the highest scoring innings for the Grizzlies offense this year.
Third baseman Warming Bernabel highlighted the Fresno offense with two homers, five RBI and four runs. All three statistics tied season-highs for a Grizzlies batter. Bernabel went deep in consecutive innings and was the middle part of back-to-back-to-back clouts with Yanquiel Fernandez and Hunter Goodman. The last time Fresno accomplished this feat was on June 10th, 2018 versus Oklahoma City. AJ Reed, J.D. Davis and Derek Fisher crushed taters off of righty Guillermo Moscoso. Fernandez concluded his evening a triple shy of the cycle, but added three walks and four runs to his line. Goodman raced home three times and notched two RBI. Zach Kokoska and Braxton Fulford whacked the other two wallops with Fulford's ending in a two-run shot. Kokoska provided nine total bases, finishing a double shy of the cycle. He smacked four hits and supplied a quartet of RBI. Juan Guerrero knocked in four runs and waltzed home three times to go along with his two hits. Adael Amador, Fernandez and Bernabel all had seven plate appearances in the nine-inning affair, the most since Alex Presley on June 2, 2015 at Oklahoma City.
Both Aiverson Rodriguez and Yorvis Torrealba (Fresno debut) spanked two hits with one going for a double. Torrealba's the son of former Fresno Grizzlies & Colorado Rockies catcher Yorvit Torrealba. The elder Torrealba played with Fresno from 1998-99 & 2001. They became the first father/son duo to both play for the Grizzlies. Bryant Quijada came to the plate twice in the eighth with his first at-bat coming as a pinch-hitter. Later, Quijada would stride to the dish again, this time as an undefined position, an unusual circumstance in baseball. Grizzlies' righty Jarrod Cande (3-1) was awarded the decision after five innings of two-run ball. He struck out a career-high six before giving way to the bullpen. Cullen Kafka and Bryce McGowan wrapped up the contest with four scoreless frames. Kafka tossed three shutout innings, fanning four. Ports starter Yehizon Sanchez (1-4) agonized the defeat after four-plus rough frames of work. The clubs are back in action tomorrow night from Banner Island Ballpark.
Top Performers: Fresno Grizzlies (Colorado Rockies)
• 3B Warming Bernabel (2-6, 2 HR, 5 RBI, 4 R, BB)
• LF Zach Kokoska (4-6, HR, 3B, 4 RBI, R)
• RF Yanquiel Fernandez (3-4, HR, 2B, RBI, 4 R, 3 BB)
Top Performers: Stockton Ports (Oakland Athletics)
• 1B Shane McGuire (3-4, 2 RBI)
• 2B/SS Alexander Campos (2-5, R)
• RF Marcos Brito (0-2, R, 2 BB, HBP, SB)
On Deck:
Wednesday, June 29 @ Stockton Ports, Fresno RHP Case Williams (5-2, 3.98) vs. Stockton RHP Luke Anderson (4-4, 4.31), 7:05 pm PT
ON THAT FRES-NOTES:
Fresno has mashed 37 homers over their 16 affairs against Stockton this season, with three contests of five taters or more. On the other side of the ball, the Grizzlies pitching staff has struck out 138 batters over the past 12 contests against the Ports. During the 22-2 win, Fresno pitching did not allow an extra-base hit.
The Grizzlies were hit by four pitches and walked eight times.
Warming Bernabel extended his hit streak to eight games, Adael Amador lengthened his hit streak to seven games and Zach Kokoska pushed his hit streak to six games.