Guerrero and Goodman fuel Grizzlies to 5-4 win over Ports
Juan Guerrero and Hunter Goodman: 4-for-8, 2 HR, 4 RBI, 3 R, BB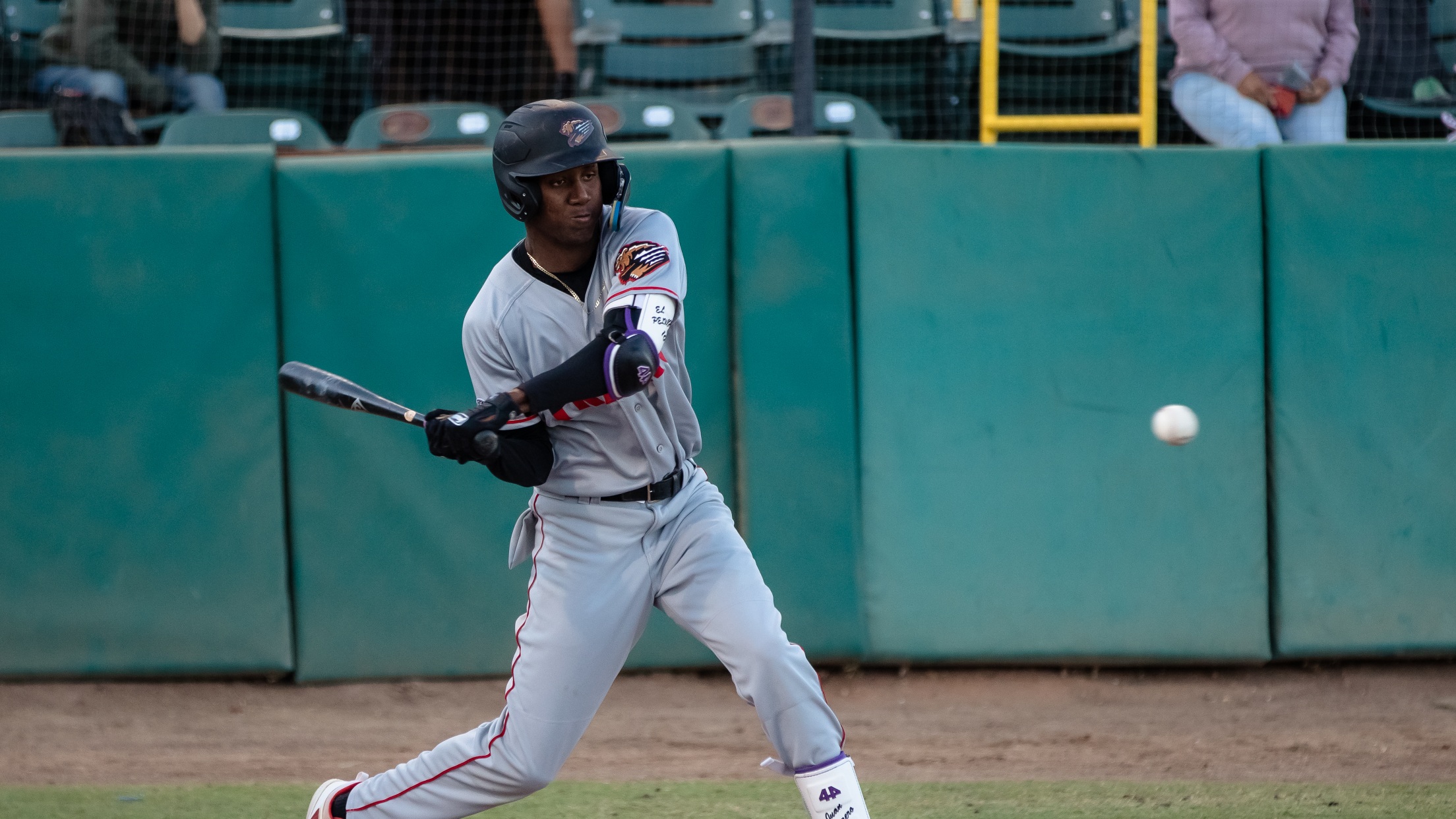 Stockton, CA (Saturday, July 2) – The Fresno Grizzlies (45-29, 4-4) snuck past the Stockton Ports (26-48, 1-7) 5-4 Saturday evening from Banner Island Ballpark. With the triumph, the Grizzlies improved to 17-3 (+95 run differential, 172-77) against the Ports this year, 34-10 against Stockton over the past two seasons
Stockton, CA (Saturday, July 2) – The Fresno Grizzlies (45-29, 4-4) snuck past the Stockton Ports (26-48, 1-7) 5-4 Saturday evening from Banner Island Ballpark. With the triumph, the Grizzlies improved to 17-3 (+95 run differential, 172-77) against the Ports this year, 34-10 against Stockton over the past two seasons and 21-2 at Banner Island Ballpark (10-1, 109-36 run differential this year).
Over the first four games of the series, the Fresno offense plated 54 runs on 66 hits with 18 of them leaving the yard. The Grizzlies tallied another five runs on 10 hits with two more wallops on Saturday. In the top of the first, Hunter Goodman lifted a two-run shot to left-center field, his California League best 22nd longball of the season. It was the 100th homer recorded by Fresno in 2022 and the fourth by Goodman in the series. In the sixth, Juan Guerrero drilled the second two-run dinger of the contest. It was Guerrero's eighth clout of the year and second straight game going deep. Two innings later, Guerrero pushed the Grizzlies ahead after scoring on a passed ball and two throwing errors by Stockton.
Fresno righty Victor Juarez did not factor in the final line after five and two-thirds innings of work. Juarez allowed four runs (three earned) on seven hits and one walk while striking out three. After departing, a trio of relievers worked three and one-third hitless, scoreless frames, fanning four. Sergio Sanchez (7-1) was awarded the victory after punching out Max Muncy to end the seventh. Tyler Ahearn received a hold after a clean eighth and Juan Mejia wrapped up the win with a perfect ninth. Mejia secured his fifth save of the season.
The Ports lineup swatted seven hits, including a triple and double in the loss. Cooper Uhl supplied a two-run single in the second. Alexander Campos spanked a double in the fourth, bringing in T.J. Schofield-Sam. The first baseman notched the other RBI single after a Marcos Brito triple. Stockton starter Mitch Myers took a no-decision after six innings of four-run ball. He whiffed six before giving way to the bullpen. Serafino Brito (0-1) suffered the setback after permitting the go-ahead run. Hunter Breault punched out two in a shutout frame. The clubs conclude the series tomorrow night from Banner Island Ballpark.
Top Performers: Fresno Grizzlies (Colorado Rockies)
• CF Juan Guerrero (2-4, HR, 2 RBI, 2 R)
• 1B Hunter Goodman (2-4, HR, 2 RBI, R, BB, CS)
• Grizzlies bullpen (3.1 IP, 0 H, 0 R, 0 ER, 2 BB, 4 K)
• SS Adael Amador (2-4, 2B, BB)
Top Performers: Stockton Ports (Oakland Athletics)
• 1B T.J. Schofield-Sam (2-4, RBI, R, SB)
• C Cooper Uhl (1-3, 2 RBI, BB)
• DH Marcos Brito (1-4, 3B, R)
• 2B Alexander Campos (1-2, 2B, RBI)
On Deck:
Sunday, July 3 @ Stockton Ports, Fresno LHP Mason Green (5-3, 3.01) vs. Stockton RHP Grant Judkins (1-2, 6.06), 6:05 pm PT
ON THAT FRES-NOTES:
Fresno has mashed 51 homers over their 20 affairs against Stockton this season, with four contests of five taters or more. On the other side of the ball, the Grizzlies' pitching staff has struck out 175 batters over the past 16 contests against the Ports.
Fresno enjoyed a series win, their fourth against Stockton in 2022.