Green, Grizzlies outdueled by Jackson, Nuts 4-3 on Sunday
Green: 7.0 IP, 5 H, 4 R, 2 ER, 1 BB, 7 K; Goodman and Guerrero: RBI doubles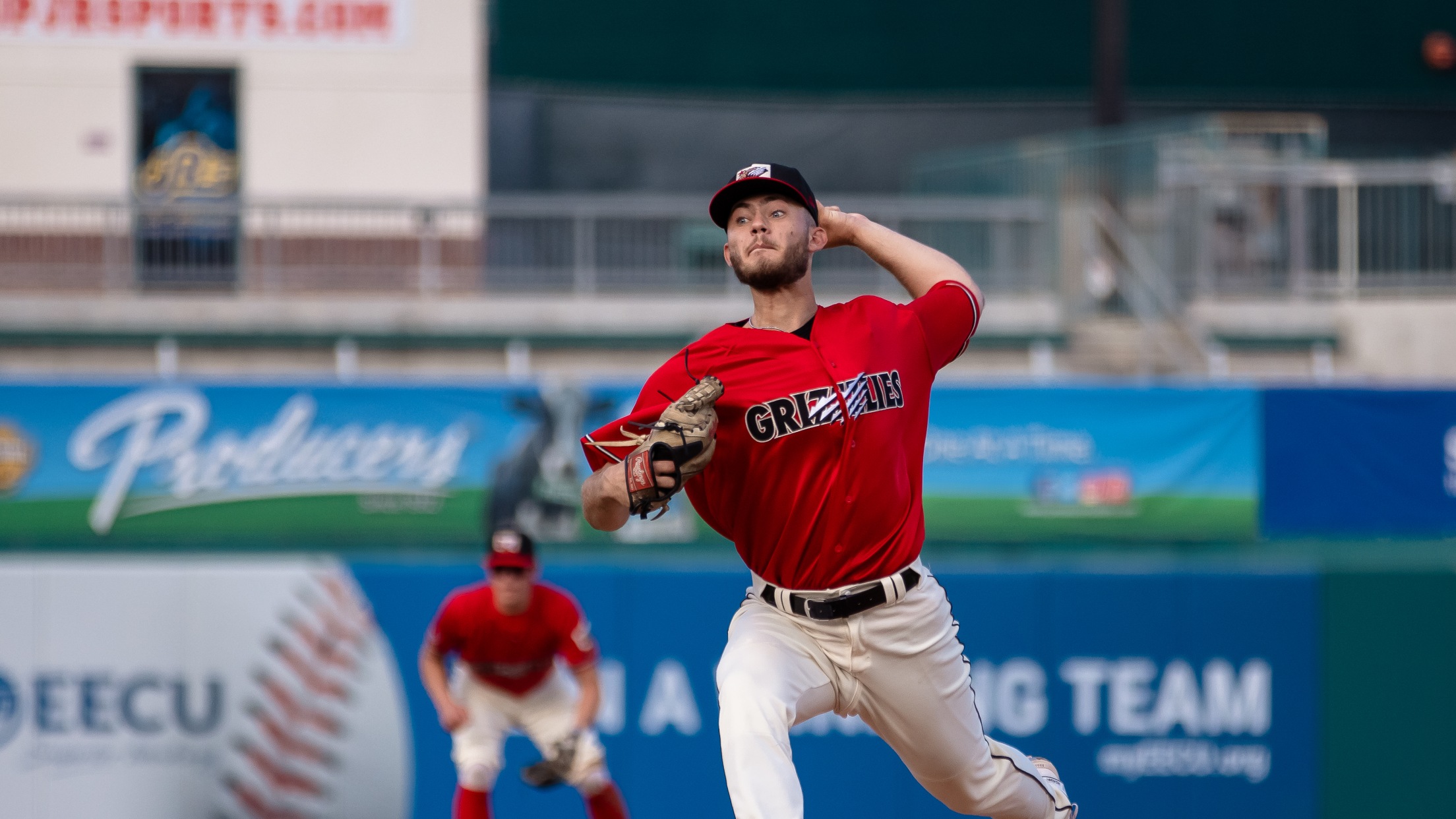 Fresno, CA (Sunday, June 26) – The Fresno Grizzlies (41-28, 0-3) dropped the series finale to the Modesto Nuts (33-36, 3-0) 4-3 Sunday evening from Chukchansi Park. With the loss, Fresno suffered their second straight series setback and only their second series defeat at home in 2022. The Grizzlies fell
Fresno, CA (Sunday, June 26) – The Fresno Grizzlies (41-28, 0-3) dropped the series finale to the Modesto Nuts (33-36, 3-0) 4-3 Sunday evening from Chukchansi Park. With the loss, Fresno suffered their second straight series setback and only their second series defeat at home in 2022. The Grizzlies fell to 11-9 in one-run games (9-4 at home), 9-4 on Sundays (5-3 at home) and 8-3 in the last game of a set (4-2 at home).
Fresno starter Mason Green (5-3) agonized the tough-luck loss after seven sensational innings. Green allowed four runs (two earned) on five hits and one walk while striking out seven. Lefty Ever Moya followed Green with two shutout frames, fanning a trio of batters.
On the other side, Modesto righty Jordan Jackson (4-6) enjoyed the decision after five innings of one-run ball. Jackson permitted five hits and punched out four. Sam Carlson picked up a hold after two and one-third frames of relief. Jorge Benitez secured his ninth save of the season after striking out two over one and two-thirds innings.
The Grizzlies offense collected nine hits with two of them landing for RBI doubles. Hunter Goodman plated Warming Bernabel when he smacked his double to center in the first. Juan Guerrero tallied the other double in the eighth, scoring Goodman. Zach Kokoska and Goodman mustered multi-hit contests while Braxton Fulford grabbed the other RBI.
Modesto's lineup notched six hits with half of them going for extra-bases. Amador Arias launched a solo shot in the third, the first homer allowed by Green this season. Harry Ford and Ben Ramirez each whacked a double with Ford recording one RBI. Robert Perez Jr. provided a sacrifice fly and reached on an error, helping the Nuts lock up a victory.
The clubs will relish an off day on Monday before returning to action on Tuesday. The Grizzlies will travel to Banner Island Ballpark to battle the Ports while the Nuts will play the Giants in San Jose.
Top Performers: Fresno Grizzlies (Colorado Rockies)
• LHP Mason Green (7.0 IP, 5 H, 4 R, 2 ER, 1 BB, 7 K)
• 1B Hunter Goodman (2-3, 2B, RBI, R, BB)
• DH Juan Guerrero (1-4, 2B, RBI)
• LF Zach Kokoska (2-4, R)
Top Performers: Modesto Nuts (Seattle Mariners)
• C Harry Ford (2-4, 2B, RBI, R, CS)
• 2B Amador Arias (1-4, HR, RBI, R)
• LHP Jorge Benitez (1.2 IP, 0 H, 0 R, 0 ER, 0 BB, 2 K)
• RHP Jordan Jackson (5.0 IP, 5 H, 1 R, 1 ER, 0 BB, 4 K)
On Deck:
Tuesday, June 28 @ Stockton Ports, Fresno RHP Jarrod Cande (2-1, 2.73) vs. Stockton LHP James Gonzalez (0-3, 4.32), 7:05 pm PT
ON THAT FRES-NOTES:
Eight of the Grizzlies nine starters reached base at least once with seven of them recording at least one hit.
Nuts manager and hitting coach were ejected in the top of the ninth by home plate umpire Josiah Shepherd.