TinCaps Announce 2023 Promotional Schedule
Single-Game Tickets Go On Sale Friday, Feb. 24 (8 a.m.)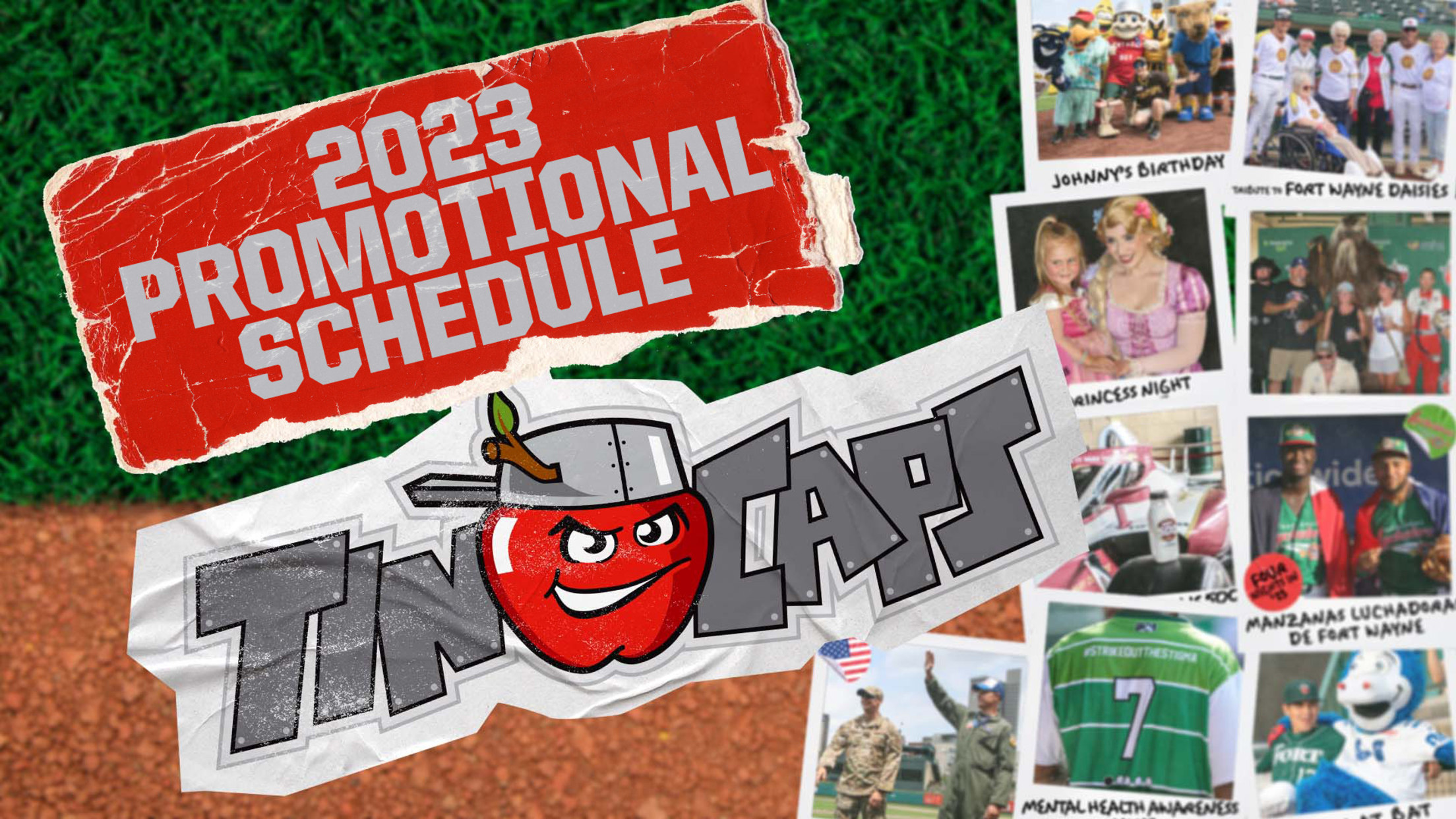 FORT WAYNE, Ind. — The Fort Wayne TinCaps today announced their 2023 promotional schedule, including events every homestand. Single-game tickets for 2023 regular season home games go on sale Friday (February 24) at 8 a.m. here online, by calling 260-482-6400, and at Parkview Field. Fans who purchase tickets at Parkview
FORT WAYNE, Ind. — The Fort Wayne TinCaps today announced their 2023 promotional schedule, including events every homestand. Single-game tickets for 2023 regular season home games go on sale Friday (February 24) at 8 a.m. here online, by calling 260-482-6400, and at Parkview Field.
Fans who purchase tickets at Parkview Field on Friday from 8-10 a.m. will be treated to a free breakfast buffet in the ballpark's Suite Level Lounge.
Season Ticket Packages and Group Outings are already on sale.
Opening Day at Parkview Field is coming up on Tuesday, April 11 (6:35 p.m.) against the Cleveland Guardians-affiliated Lake County Captains. Prior to that, the TinCaps begin their season at West Michigan on April 6.
This year's TinCaps promotional schedule features a fantastic mix of annual favorites, the return of some past promotions, and exciting new additions. On top of the fun, the team is also supporting multiple meaningful causes.
"This is our best promotional lineup ever," said Morgan Olson, TinCaps Assistant Director of Marketing and Promotions. "There's something for everyone of all ages and interests."
After the opening homestand April 11-16 with a 2023 TinCaps Calendar Giveaway presented by Parkview Physicians Group, the promotions rev up on Thursday, April 27 with Tribute to Indy 500 Night in partnership with the Indianapolis Motor Speedway. An Indy 500-branded vehicle and IndyCar show car will be on display, while fans will also receive IMS giveaways.
For a second consecutive year, the TinCaps will work to strike out the stigma on Mental Health Awareness Night on Saturday, May 13. The team will wear special jerseys that'll be auctioned off to benefit the National Alliance on Mental Illness, with t-shirts on sale in The Orchard Team Store to support NAMI as well.
The yearly Indianapolis Colts At Bat Night will take place on Thursday, May 25 with special guests (to be announced), plus an NFL Play 60 youth fitness zone setup.
The hilarious inflatable mascots, the ZOOperstars!, will be in the house on Friday, May 26.
Dino Night on Saturday, May 27 returns bigger and better than before with live appearances by dinosaurs of all sizes.
Johnny TinCap is set to celebrate his Mascot Birthday Bash on the afternoon of Sunday, May 28, joined by his mascot friends from around the area.
May 31 is a Wine Wednesday Tasting. Click here for a special offer that includes dinner and drinks from local wineries.
The TinCaps will again honor the legacy of the Fort Wayne Daisies (All-American Girls Professional Baseball League) and an overall Celebration of Women in Sports on Saturday, June 3. Click here for a premium giveaway package that includes a Daisies bobblehead will be on sale.
The next afternoon, Sunday, June 4, will be Military Appreciation Day presented by OmniSource, Steel Dynamics, and the San Diego Padres. Complimentary tickets will be provided to active and veteran military individuals and their families.
Per tradition, the TinCaps are home on the Fourth of July with a perfect view of the City of Fort Wayne's Fireworks.
The always hilarious TV Sitcom Night, highlighted by an appearance from actress Kate Flannery (who played Meredith Palmer on The Office), is Friday, July 7. Click here for a premium giveaway package that includes a Meredith Palmer bobblehead. There will also be a free meet-and-greet opportunity at that game.
Marvel's Defenders of the Diamond Night is sure to thrill on Tuesday, July 18.
On Friday, July 21, the 'Caps will throw things back for '90s Night and play in Fort Wayne Wizards uniforms. A premium giveaway package that includes a Wayne the Wizard bobblehead is also available by clicking here.
For the first time ever, the TinCaps will host a Nickelodeon PAW Patrol Day on Sunday, July 23. PAW Patrol characters Chase and Marshall will be in attendance.
Parkview Field will be reminiscent of a castle for Princess Night on Tuesday, August 1 with live appearances by popular princesses.
On a date not too far, far away, Star Wars Night will be Friday, August 18, including character appearances by the 501st Legion. While supplies last, fans will also receive themed inflatable cheer stix.
Another first-of-its-kind night at the ballpark this year is Grateful Dead Night on Thursday, August 31. "Grateful Groove," a local cover band, will perform a pregame concert on the center-field concourse. The TinCaps will wear tie-dye jerseys, while fans can jam to Grateful Dead songs all night long.
'Caps Against Cancer will be held on Saturday, September 2. America's ballpark prankster mascot BirdZerk! and his hijinks will entertain during that game, too.
Also back for another year, the TinCaps will take on an alternate identity as the Manzanas Luchadoras de Fort Wayne for a Hispanic Heritage Series. As part of the celebration of Hispanic culture, young fans can receive a luchador mask giveaway while supplies last. These games are scheduled for Thursday, May 11; Friday, June 16; Saturday, July 8; and Sunday, August 20.
As announced last week, the TinCaps will also be celebrating Indiana's unofficial state sandwich by playing as the Hoosier State Tenderloins from Thursday, August 3-Sunday August 6. During these games, Parkview Field will feel like a fairground.
The team's regular season home schedule concludes on Labor Day Eve, Sunday, September 3. The TinCaps wrap up their campaign on the road at Dayton on September 10.
In addition to these unique games, the TinCaps once again have weekly promotions as well. Tuesdays are Family Feast Nights presented by US Foods with select concessions for only $2. Wednesdays are Paws & Claws Nights presented by Law's Country Kennel, when fans can purchase a paw pass for their pet, plus save on White Claw drinks. Thirsty Thursday™ presented by Rudy's Shop returns, too, with $2 domestic draft beers and other drink specials. After a pandemic-pause, Sunday Postgame Autographs presented by Midwest Box Breaks are also back after 1:05 p.m. games.
The TinCaps will host fireworks after 27 games, including every Friday and Saturday starting in May.
Of further note, the 'Caps are home on Mother's Day, Father's Day, Memorial Day Weekend, and Labor Day Weekend.
Girl Scout and Boy Scout overnight campouts are on the calendar for Friday, May 26 and Friday, June 16. Click here for more information.
Three of the team's Tuesday games will be Peanut-Free for those who suffer from severe peanut allergies. Those are June 13, July 18, and August 15.
TinCaps tickets begin at just $7, with Reserved Seats near the dugouts for a mere $12 and All-Star seats behind home plate for only $14.
The TinCaps are the High-A Midwest League affiliate of the Padres. Since the franchise was founded in 1993 (and known as the Wizards through 2008), 208 players and counting have gone on to play at the sport's highest level in Major League Baseball. After opening in '09, Parkview Field in Downtown Fort Wayne has perennially been ranked as the No. 1 ballpark experience in Minor League Baseball. Over the years, the TinCaps have been awarded as Minor League Baseball's Organization of the Year, and also received accolades for community service, hospitality, promotions, and more. In 2022, Team President Mike Nutter won Minor League Baseball's Executive of the Year Award.