TinCaps to Host "Meet The Team Night" & "Open House"
Free Events at Parkview Field Before Opening Day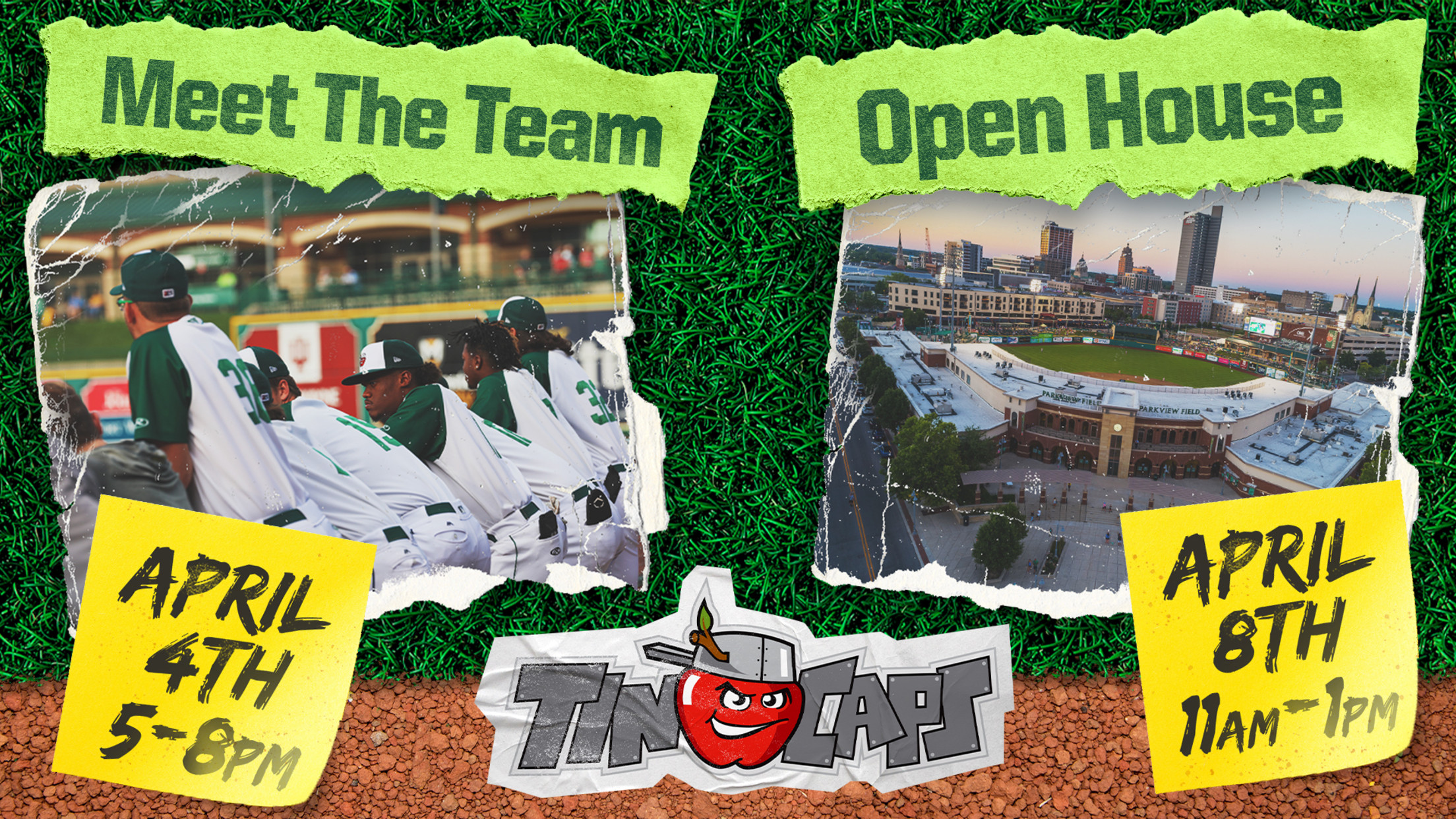 FORT WAYNE, Ind.–As the TinCaps approach the start of their 2023 season, fans are invited to a pair of free events at Parkview Field. The TinCaps' Meet the Team Night returns Tuesday, April 4 from 5-8 p.m., featuring the chance to watch the team practice and get autographs. (In case
FORT WAYNE, Ind.–As the TinCaps approach the start of their 2023 season, fans are invited to a pair of free events at Parkview Field.
The TinCaps' Meet the Team Night returns Tuesday, April 4 from 5-8 p.m., featuring the chance to watch the team practice and get autographs. (In case of inclement weather, autograph-signing will take place indoors.) Fort Wayne's roster is set to include 11 of MLB.com's Top 30 San Diego Padres prospects, including 19-year-old shortstop Jackson Merrill, who's regarded as the best Padres prospect and 19th-best prospect in all of baseball. Click here to check out the complete roster.
Additionally, the TinCaps will host their annual Open House Saturday, April 8 from 11 a.m. until 1 p.m. as fans can take behind-the-scenes tours of the ballpark. This includes access to exclusive areas such as Parkview Field's suite level, The Summit presented by US Foods, The US Foods 400 Club, the team's dugout, and more.
The Orchard Team Store and concession will be open for both events, with half-price concessions during the Open House. The Orchard features brand new gear, including outerwear. In the meantime, fans can shop online at TinCaps.com. Weather permitting, for both events, the Sweetwater Fun Zone also will be open for kids.Furthermore, Parkview Field's Ticket Office will be open throughout each event, too.
Meanwhile, Ft. Wayne's Farmers Market will be taking place simultaneously inside Parkview Field's Lincoln Financial Events Center (right-field area) on April 8 from 9 a.m. until 1 p.m.
Parkview Field's Open House is also an opportunity for team member training. The TinCaps continue to hire new team members for a variety of positions around the ballpark, including the cleaning crew ($14/hour). Applications are available at TinCapsJobs.com.
The TinCaps begin their High-A, Midwest League season on the road, Thursday, April 6, at West Michigan. Opening Day at Parkview Field is set for Tuesday, April 11 (6:35 p.m.) against the Lake County Captains. That's the start of a six-game homestand.
Tickets for the 2023 season are available at TinCaps.com, by calling 260-482-6400, and at the Parkview Field Ticket Office. Click here to see the team's jam-packed promotional highlights, including 27 fireworks nights. Tickets continue to start at just $7. There's also still a limited time to lock in season ticket plans and book group outings.Click here for the team's 2023 Hospitality Guide.
To keep up with the latest TinCaps news and fun, follow @TinCaps on social media and stay tuned here to TinCaps.com.