Daytona Tortugas announce 2023 coaching staff
Former 'Tugas catcher Julio Morillo takes over as manager; Lenny Harris, Dick Schofield return to staff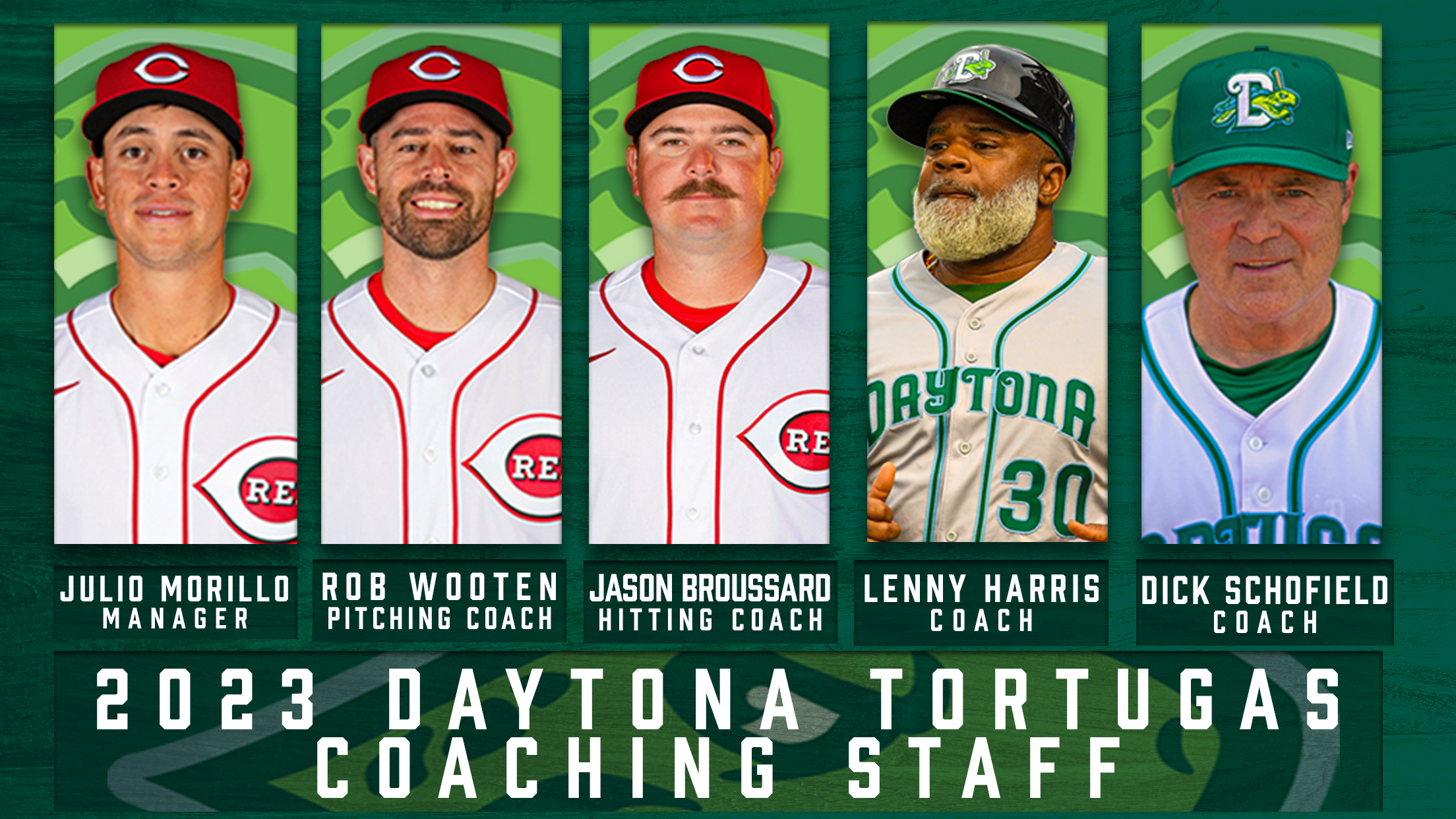 DAYTONA BEACH, Fla. - In conjunction with the Cincinnati Reds, the Daytona Tortugas have announced their minor league coaching staff assignments for the upcoming 2023 Florida State League campaign. Julio Morillo, a catcher on the Tortugas' inaugural squad in 2015, returns to the World's Most Famous Beach as manager. Dick
DAYTONA BEACH, Fla. - In conjunction with the Cincinnati Reds, the Daytona Tortugas have announced their minor league coaching staff assignments for the upcoming 2023 Florida State League campaign. Julio Morillo, a catcher on the Tortugas' inaugural squad in 2015, returns to the World's Most Famous Beach as manager. Dick Schofield, a 14-year Major League veteran, and Lenny Harris, Major League Baseball's all-time leader in pinch hits, also return to the coaching staff. Rob Wooten and Jason Broussard join the Tortugas as pitching coach and hitting coach, respectively. Athletic trainer Lauren Powers, performance coach Conor Cantwell, and video and technology specialist Andres Borges round out the staff.
A native of Barinas, Venezuela, Julio Morillo, 30, is in his fourth season in the Reds' player development department, his first at Single-A Daytona, and in his second consecutive year as a manager. In 2022, he managed the Arizona Complex League Reds following 1 year as that team's development coach. Morillo was expected to serve as bench coach for Rookie Billings in 2020 until the COVID-19 pandemic canceled the minor league season. Instead, he worked as a catching instructor at the Reds' alternate spring training site in Mason, Ohio. Before embarking on his coaching career, he spent 5 years as a baseball operations assistant and Spanish language translator for the Major League team. Julio was signed by the Reds as an undrafted free agent in 2009 after he graduated from Colegio San Juan Bautista de la Salle. After 7 seasons in the organization as a catcher, including playing four games with the Daytona Tortugas in 2015, he joined the front office in 2016 as a member of the Major League team's traveling party in the baseball operations assistant and Spanish language translator role. Morillo resides in Goodyear, Ariz. with his wife Maggie.
Rob Wooten is in his third season as a professional coach, his first at Single-A Daytona following 2 years as the pitching coach at Double-A Chattanooga. A right-handed pitcher from the University of North Carolina, Wooten enjoyed an 11-year playing career, including 3 seasons in the Major Leagues with the Milwaukee Brewers (2013-2015). He spent the last 3 years of his professional career in the Reds' minor league system. Wooten appeared at every level in the minor league system and also pitched in the prestigious Arizona Fall League (2009), Dominican Winter League (2016-17), and Venezuelan Winter League (2012-13). He missed the entire 2010 season after undergoing "Tommy John" surgery on his right elbow. He recovered and made his Major League debut on July 26, 2013, in the Brewers' 8-3 loss to the Rockies at Coors Field. The first big league batter Wooten faced was Todd Helton, who collected an RBI single. Two innings later, he fanned Helton for his first Major League strikeout. Rob, 37, resides in Sanford, N.C. with his wife Katie, and children Markie (9), Winston (7), and Wicker Wrigley (4).
Jason Broussard is in his third season in the organization, his first at Single-A Daytona following 1 year with the rookie Arizona Complex League Reds. In 2021, he oversaw the implementation of the Reds' hitting program in their Dominican Republic Academy, with a special emphasis on developing individualized training plans to encourage efficient, explosive movement patterns and strong offensive fundamentals. Broussard spent the 2019 and 2020 seasons as a coach/scout in the Cardinals' organization following 6 years working as an assistant coach at Eastern Florida State College (2013-2017), where he oversaw hitting, catching, and infield play, and at Southern Illinois (2018), where he worked with hitters and catchers. After growing up in Panama, Jason graduated from the University of Central Florida and earned a master's degree in sports science and sports coaching from the United States Sports Academy.
Lenny Harris, 58, is in his seventh year as a coach in the Reds' minor league system, his third in Daytona. He spent the 2020 COVID-19 season assigned as the bench coach at Double-A Chattanooga and worked for the Lookouts again in 2021 as a development coach. Harris also worked for the AZL Reds in 2017, at Double-A Pensacola in 2018, and at High-A Daytona in 2019, all as the bench coach. Harris played for the Reds from 1988-1989 and again from 1994-1998. He was selected by the Reds in the fifth round of the June 1983 draft. Before joining the Reds' player development staff, Lenny spent the previous 5 seasons in the Miami Marlins organization as third base coach in 2016 and parts of 2015. He also worked as the Marlins' assistant Major League hitting coach and coached on their Gulf Coast League team. Before joining the Marlins, Lenny spent 3 seasons in the Los Angeles Dodgers organization as a hitting coach at the minor league level. He began his Major League coaching career in 2008 as the hitting coach for the Washington Nationals after serving parts of 2 seasons as Washington's minor league field coordinator. Harris played 18 Major League seasons with the Reds, Dodgers, New York Mets, Rockies, Arizona Diamondbacks, Brewers, Chicago Cubs, and Marlins. He ended his career as Major League Baseball's all-time pinch-hits leader with 212.
Dick Schofield, 60, is in his 11th season in the organization and in 2023 will return to the staff at Single-A Daytona following 1 year at Triple-A Louisville. In 2021, he served as a development coach for the Tortugas. Schofield was assigned to manage Daytona in 2020 until the COVID-19 pandemic canceled the minor league season. Schofield spent the 2018, 2019, and 2022 seasons with Louisville. In 2018, he began the season as the Bats' bench coach but took over as Louisville's manager after Pat Kelly was promoted to the Major League staff on April 19. Schofield served as Double-A Pensacola's bench coach in 2017 and hitting coach in 2013. In 2016 for the Single-A Dayton Dragons, Dick served as manager, a position he also held at rookie Billings from 2014-2015. Before joining the Reds, Schofield worked in the Los Angeles Angels minor league system as a hitting coach for their rookie league AZL team (2007-2010) and High-A Inland Empire (2011). He was the Halos' roving infield coordinator in 2012. The former shortstop played 14 Major League seasons with the Angels, Mets, Toronto Blue Jays, and Dodgers and led the American League in fielding percentage 4 times. Schofield played on the Angels' 1986 Western Division championship club, hitting .300 in that year's ALCS against the Boston Red Sox, and was a member of Toronto's 1993 World Series championship team. In Game 3 of that '86 ALCS, he belted a home run off Dennis "Oil Can" Boyd. A native of Springfield, Ill., Schofield was selected by the Angels in the first round (third overall) of the 1981 draft. He resides in Camdenton, Mo., and has 4 children.
Lauren Powers, M.S., LAT, ATC, CSCS is in her fifth season in the organization, her first at Single-A Daytona. In 2022, she worked with the rookie Arizona Complex League Reds following years with the Dominican Summer League affiliate. She previously interned in the Los Angeles Dodgers organization (2017) as well as with the AZL Reds in 2018. She worked with the baseball team at the University of Arizona (2014-2016) and with the football and basketball teams at the University of San Diego (2017-2018). Lauren earned her bachelor's degree in physiology with a minor in nutrition from the University of Arizona and her master's degree in athletic training from Northern Arizona University. She resides in Gilbert, Ariz.
Conor Cantwell, M.S., CSCS, USAW is in his first season in the organization. While completing his undergraduate degree in sport and exercise sciences at the University of Limerick in Ireland, he worked with the professional Munster Rugby club as an underage athletic development coach and senior athletic performance intern. Conor has also served as the head of strength and conditioning for the Division 1 amateur rugby team Garryowen FC, assistant strength and conditioning coach for the National Center of Limerick High Performance Swim Team and as an intern at the East Tennessee State University Olympic Training Site and ETSU baseball. He is a certified strength and conditioning specialist (CSCS) through the National Strength and Conditioning Association and a certified level 1 coach through USA Weightlifting. Conor is currently completing his master's degree in sports physiology and performance coaching at Carroll University.
Morillo will make his debut as the Tortugas' manager on Friday, April 7, 2023, as the Tortugas kick off their season on the road against the St. Lucie Mets, Florida State League affiliate of the New York Mets, at Clover Park. Daytona will return to Jackie Robinson Ballpark on Tuesday, April 11, to open the home schedule with a six-game series against the Palm Beach Cardinals, Florida State League affiliate of St. Louis Cardinals. The first pitch is scheduled for 6:35 p.m. ET. To purchase season tickets, group packages, and more, please contact the Daytona box office at (386) 257-3172 or by visiting www.daytonatortugas.com.
ABOUT THE DAYTONA TORTUGAS
The Daytona Tortugas are the Single-A Affiliate of the Cincinnati Reds and a member of Minor League Baseball's Florida State League. The Tortugas play at Jackie Robinson Ballpark in downtown Daytona Beach, Fla. Jackie Robinson Ballpark also plays host to Bethune-Cookman University, the Jackie Robinson Ballpark Museum, and many community events and initiatives of all sizes throughout the year.