Dayton Flyers to Battle Wright State Raiders at Day Air Ballpark on April 18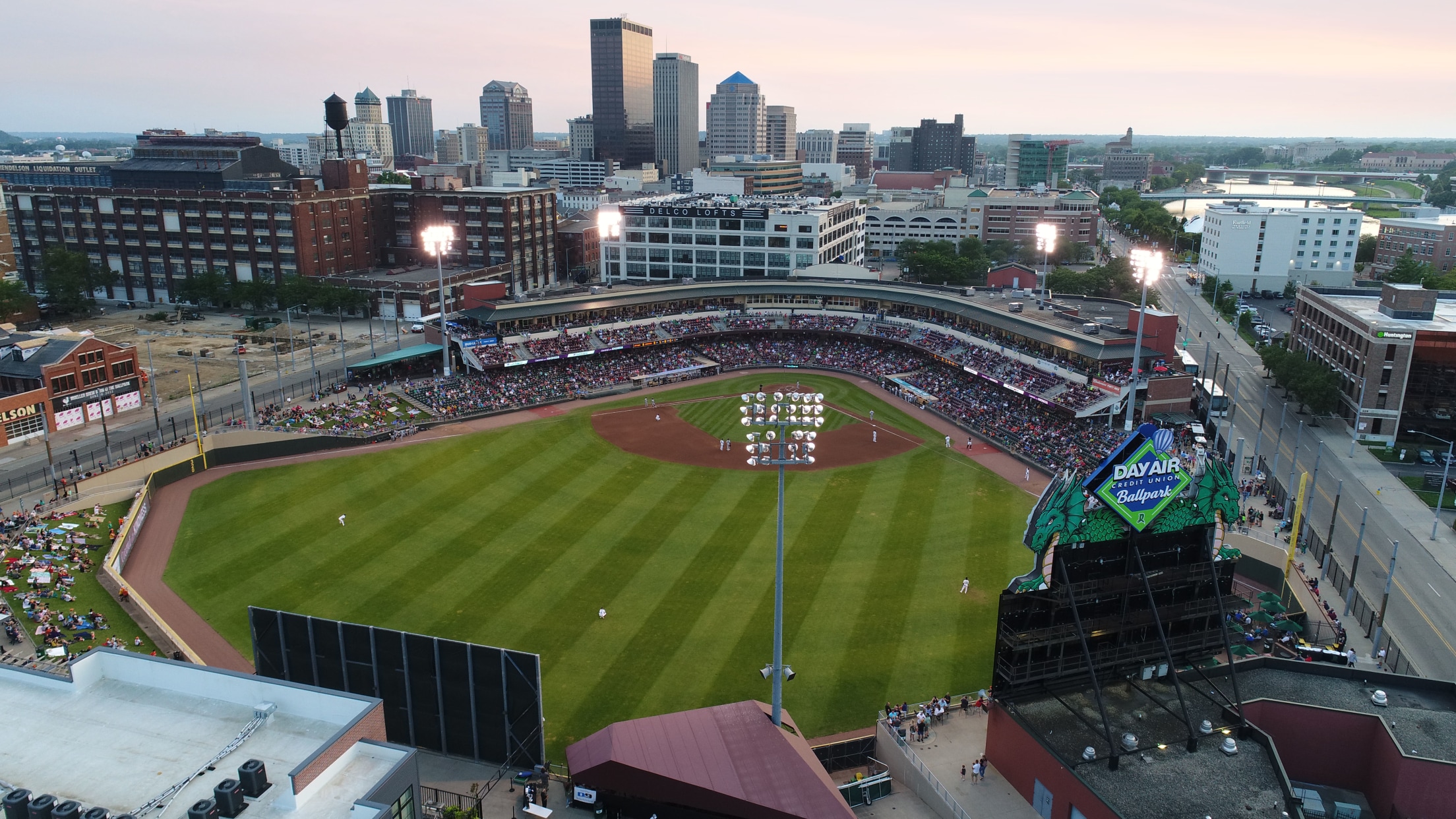 DAYTON, OHIO – In what is fast-becoming a tradition of excitement, the University of Dayton baseball team will play a home game at Day Air Ballpark for the third straight year in 2023. The Flyers will host Wright State University on Tuesday, April 18 at 7:00 p.m. at the home
DAYTON, OHIO – In what is fast-becoming a tradition of excitement, the University of Dayton baseball team will play a home game at Day Air Ballpark for the third straight year in 2023. The Flyers will host Wright State University on Tuesday, April 18 at 7:00 p.m. at the home of the Dayton Dragons. Gates will open at 6:00 p.m.
Tickets are $5.00 for children (14 and under) and $10.00 for adults. Students from both the University of Dayton and Wright State will be admitted free of charge. Luxury suites are available for $300.00 (seating for 20 fans).
For tickets, go to the appropriate link below:
University of Dayton fans: https://am.ticketmaster.com/dragons/quickbuy?e=MjMwNDE4&promoCode=VURGTFlFUlM0MTgyMw==
Wright State University fans: https://am.ticketmaster.com/dragons/ism/MjMwNDE4?promoCode=V1NVVElDS0VUUw==
Tickets can also be purchased by phone at (937) 228-2287.
Robert Murphy, Dragons President & General Manager, says previous UD games at Day Air Ballpark have been a huge success, and he expects this year's game to build on that energy.
"The University of Dayton game against Ohio State at Day Air Ballpark in 2022 set an all-time attendance record for a UD home game, with about 4,000 fans in attendance," says Murphy. "The entire suite level was completely sold out."
"The atmosphere was tremendous with a very energetic crowd," recalls Murphy. "UD fans on one side of the ballpark in red and blue, and Ohio State fans on the other side wearing scarlet and gray. We expect the same kind of enthusiastic atmosphere this year with Wright State fans wearing their green and gold. We will have a UD pep band, UD cheerleaders, and UD athletes from other sports on hand. We will have special honorary first pitches with university representatives performing the National Anthem and God Bless America."
The RTA Flyer will be utilized on the evening of the game to provide free shuttles between campus and Day Air Ballpark.
About the Flyers
Dayton head coach Jayson King enters his sixth season with the Flyers in 2023. The Flyers return their top hitter over the last two seasons in first baseman Marcos Pujols who led the team in home runs (10) and runs batted in (41) in 2022 while batting .302. In 2021, Pujols was First Team Atlantic 10 All-Conference. Infielder Keagan Calero, who hit a home run for UD at Day Air Ballpark against Ohio State in 2022, also returns after batting .287 and leading the team in runs scored last spring. Catcher Jay Curtis, the only Flyer to start all 50 games in 2022, returns as well after batting .275 last season. Former Oakwood High School star Alex Neff also returns after finishing fourth on the Flyers in home runs in 2022 with five.
On the mound, the Flyers return three of their top four starting pitchers, led by the ace of the 2022 staff, left-hander Mark Manfredi. The senior from Highland Heights, Ohio ranked sixth in the conference in earned run average last spring with a mark of 3.66 while leading the team in innings pitched. Ryan Steinhauer, also a left-hander, returns to the Flyers after leading the staff in strikeouts in 2022 and limiting opposing hitters to combined average of .208, second best in the conference. Right-hander Anthony Hattrup also returns after making five starts and 10 relief appearances for UD in 2022, posting an ERA of 4.20. Nick Wissman, a product of Chaminade Julienne Catholic High School in Dayton, also returns after posting a 1.74 ERA in 15 relief appearances in 2022.
About the Raiders:
Wright State will enter the 2023 season coming off back-to-back Horizon League titles under head coach Alex Sogard. The Raiders earned a bid to the Blacksburg Regional in the 2022 NCAA tournament. They return infielder Gehrig Anglin, who led the conference in home runs in 2022 with 16, tying the school record. First baseman Julian Greenwell also returns after batting .314 and finishing first in the conference in triples last season. Both Anglin and Greenwell were selected First Team All-Conference last spring.
Wright State returns three pitchers who were Second Team All-Conference picks in 2022. They include Jay Luikart, the team's starting center fielder and closer, who finished third in the conference in home runs (10) and second in saves (7); Alex Theis, who went 6-1 with a 3.36 ERA; and Jake Shirk, who led the team in starts and innings pitched while tying with Theis for the team lead in wins. The team also returns catcher Sammy Sass, a 2021 East-ABCA/Rawlings' NCAA Division I East All-Region First Team honoree, who batted .281 with nine homers and 52 RBI last spring, along with 2022 Horizon League All-Freshman Team recipients Justin Riemer, Andrew Patrick, and Sebastian Gongora.
From Jayson King, Dayton head coach: "The Flyers and Dayton Dragons have become tremendous partners over the past few years. Last year we broke the attendance record against Ohio State and we plan to do that again in 2023 when we host Wright State. Day Air ballpark is a first-class venue run by a great staff. Our guys love everything about the facility and the atmosphere that we can create there. It's truly special!"
From Alex Sogard, Wright State head coach_: "We look forward to the opportunity of playing at the Dayton Dragons' beautiful stadium (Day Air Ballpark). It's great for college baseball, an excellent experience for our players, and a special event for the greater Dayton area. Dayton is such a great baseball town, so I hope we can pack the stadium to give the players the best experience."_
The Dayton Dragons are the affiliate of the Cincinnati Reds and play 66 home games at beautiful Day Air Ballpark, in the heart of the Water Street District. See these links for more information:
Contact the Dragons by calling at (937) 228-2287, emailing at [email protected], or go to daytondragons.com
###