LaHair Returning as Dragons Manager; Entire Coaching Staff is Announced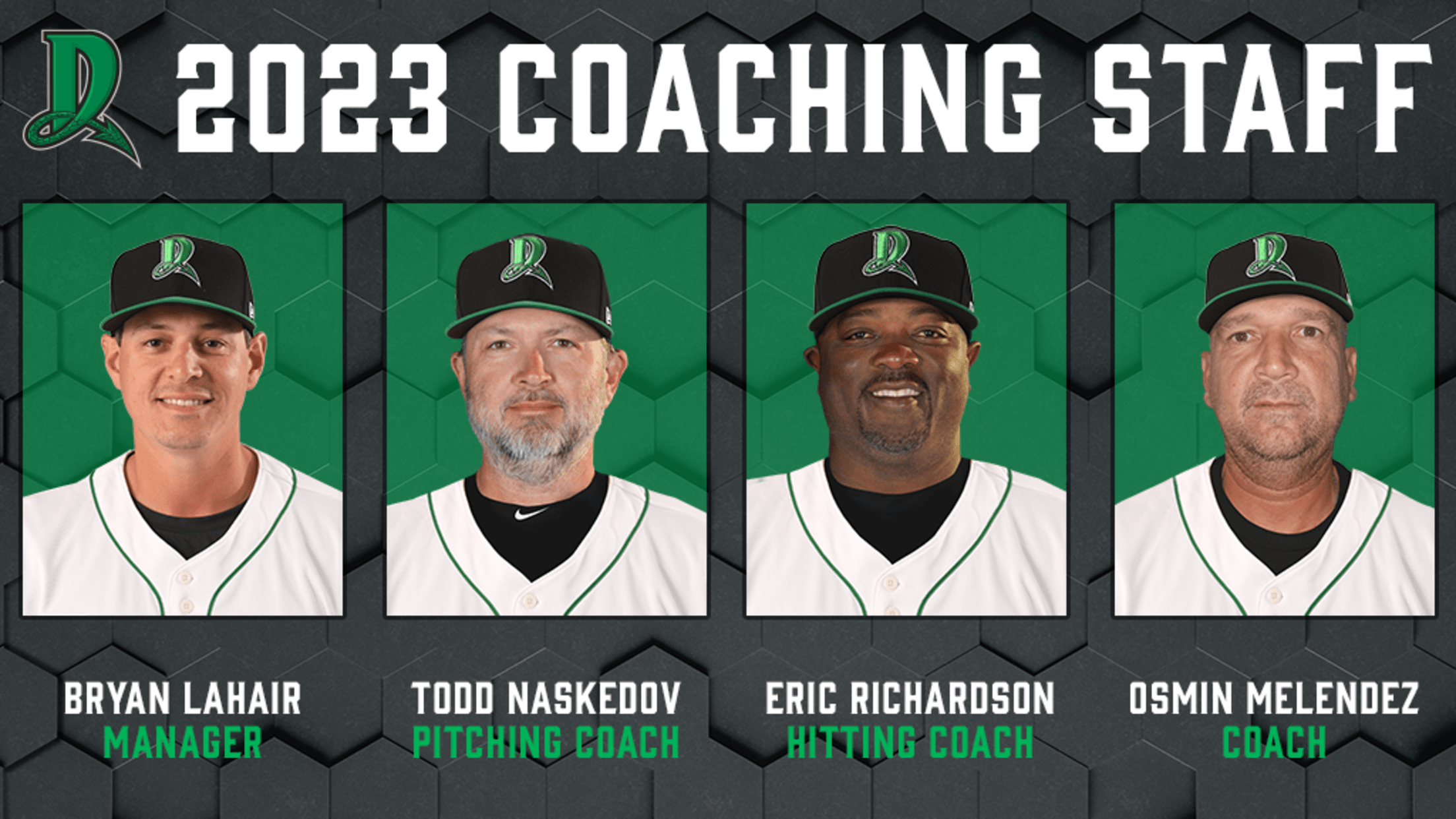 Dayton, Ohio—The Dayton Dragons announced their 2023 coaching staff today, as assigned by the Cincinnati Reds. Bryan LaHair—Manager Todd Naskedov—Pitching Coach Eric Richardson—Hitting Coach Osmin Melendez—Coach Additionally, the Dragons announced that Josh Hobson will serve as the club's athletic trainer in 2023 while Joel Canacoo will be the team's strength
Dayton, Ohio—The Dayton Dragons announced their 2023 coaching staff today, as assigned by the Cincinnati Reds.
Bryan LaHair—Manager
Todd Naskedov—Pitching Coach
Eric Richardson—Hitting Coach
Osmin Melendez—Coach
Additionally, the Dragons announced that Josh Hobson will serve as the club's athletic trainer in 2023 while Joel Canacoo will be the team's strength and conditioning coach. Peterson Plaz will serve as performance coach. David Mandelberg will be the video and technology specialist.
LaHair managed the Dragons to a record of 67-61 in 2022 and will return for his second season in Dayton. The other three coaches will join the Dragons for the first time, though the staff is a veteran group with a combined 39 years of previous coaching experience at the professional level. Biographical information on each coach is listed below.
Bryan LaHair
Former Major League all-star first baseman Bryan LaHair became the 11th manager in Dragons history when he joined the club in 2022. Under LaHair's leadership last season, the Dragons posted a first half record of 39-27 to finish second in the Midwest League's East Division, one game out of first place. The 2022 Dragons broke the club record for home runs in a season, leading the league with 152. The Dragons also narrowly missed leading the league in stolen bases, finishing with five fewer than the league leader despite playing four fewer games. Only one Midwest League team has led the circuit in both home runs and stolen bases since 1988. The 2022 Dragons also broke the franchise record for team fielding percentage and fewest errors in a season. Additionally in 2022, LaHair was instrumental in the development of infielder Elly De La Cruz, Cincinnati Reds Minor League Player of the Year, and one of three finalists for Baseball America's Minor League Player of the Year award.
The 2023 season will be LaHair's sixth year as a coach or manager in the Reds organization. He served as manager with the Reds affiliate in the Arizona Complex League in 2021 and was the manager at Billings in 2019. He had been slated to return to Billings as manager in 2020 before the season was cancelled due to the COVID-19 pandemic. LaHair opened his coaching career as the Billings hitting coach in 2018. In his three seasons as a manager in the Reds system, LaHair has posted a record of 139-124 (.529).
LaHair played professionally for 14 seasons from 2003-14 and 2016-17, appearing in more than 1,000 games. He was primarily a first baseman but also saw considerable time as a corner outfielder. He played in 195 Major League games with the Seattle Mariners and Chicago Cubs. In 2012, he appeared in the MLB All-Star Game as a Cubs representative. LaHair played for TEAM USA'S national team three times (2005 World Cup, 2006 regional Olympic qualifier, 2007 Olympic qualifier). LaHair led all of Minor League Baseball in home runs in 2011 with 38 with the Iowa Cubs and was selected as the Pacific Coast League Most Valuable Player. He played one season in Japan in 2013.
LaHair, 40, is a native of Worcester, Massachusetts and was chosen as the 2000 Massachusetts High School Player of the Year. He was selected by the Mariners in the 39th round of the 2002 draft out of St. Petersburg College in Florida.
Todd Naskedov
Todd Naskedov (NASK-uh-duv) will join the Dragons as pitching coach in 2023, his second season in the Reds organization. The 2023 season will be Naskedov's sixth year in professional baseball after more than 20 years as a coach at the high school or college levels. He was the pitching coach at Single-A Daytona in the Reds organization in 2022.
Naskedov spent four years as a coach in the Houston Astros organization before joining the Reds. He was the pitching coach at Single-A Fayetteville in 2021 after three years as the Astros pitching rehab coordinator at their complex in West Palm Beach, Florida. Naskedov coached college or high school baseball in Arizona, Oregon, Texas, and Washington, has coached with USA Baseball's national team, and has coached abroad in the United Kingdom and the Netherlands as a Major League Baseball international envoy. Naskedov, 46, is originally from Kelso, Washington.
Eric Richardson
Eric Richardson will join the Dragons as hitting coach in 2023, his second season in the Reds organization and 10th year as a professional coach. He was the hitting coach at Double-A Chattanooga in 2022. Richardson began his coaching career in the Phillies organization with stints as hitting coach with Single-A Lakewood in 2004; the GCL Phillies in 2005; and Short-Season Batavia in 2006. He served as the hitting coach in the White Sox organization with Great Falls for three seasons from 2017-2019, where he was part of a Pioneer League championship club in 2018.
Richardson played for seven seasons in the White Sox organization from 1991-97, spending two years in the Midwest League with South Bend. In 1994, Richardson played in the outfield with NBA legend Michael Jordan during spring training in Jordan's lone season as a professional baseball player. Richardson was a base stealing threat, leading the South Atlantic League in stolen bases in 1993. Richardson, 50, was drafted by the White Sox in the fifth round in 1991 out of Brenham High School in Texas.
Osmin Melendez
Osmin Melendez will join the Dragons as a coach in 2023, his first year in the Reds organization and 21st year in coaching in professional baseball. Melendez served as a coach in the Chicago Cubs system for seven seasons from 2013-19 after coaching in the Pirates organization for 13 years. He spent the 2015 season in the Midwest League as the infield coach with South Bend. Melendez began coaching as the coordinator of the Pirates academy in Venezuela from 1999-2011. He was the manager of the Pirates affiliate in the Venezuelan Summer League for six seasons, 2006-2011. His teams posted a record of 272-142 (.657), earning the VSL's best regular season record all six years and winning the league championship in 2008 and 2010. He served as manager of the Cubs affiliate in the Venezuelan Summer League in 2013. He was the hitting coach for the AZL Cubs in 2014 and 2017. After spending the 2015 season with South Bend, he was the hitting/infield coach at Double-A Tennessee in 2016; the hitting coach at Short-Season Eugene in 2018; and the hitting/infield coach with Single-A Myrtle Beach in 2019.
Melendez is a former infielder who played for two seasons with the GCL Orioles in the Baltimore Orioles organization, 1993-94. Melendez, 47, was born in Barquisimeto, Venezuela and currently resides in Orlando, Florida.
The Dragons 2023 Opening Night is set for Tuesday, April 11 against the Great Lakes Loons at 7:05 p.m. Call the Dragons at (937) 228-2287 for information on season tickets, group outings, party decks, or luxury suites. The Dragons officially open their 23rd season in the Midwest League on April 6 at the Lake County Captains.
Notes: Freddie Benavides, the manager of the inaugural Dragons team in 2000, returns to the Reds for his eighth year as a big league coach. He will serve in his fifth year as Reds bench coach in 2023. He previously served as Reds first base coach for three seasons.
Dragons All-Time Coaching Staffs
Year Manager Pitching Coach Batting Coach Coach
2000 Freddie Benavides Don Alexander Brian Conley
2001 Donnie Scott Bill Moloney Brian Conley
2002 Donnie Scott Ted Power Brian Conley
2003 Donnie Scott Jaime Garcia Billy White
2004 Alonzo Powell Larry Pierson Max Venable
2005 Alonzo Powell Larry Pierson Chris Sabo
2006 Billy Gardner, Jr. Larry Pierson* Alonzo Powell
2007 Donnie Scott Doug Bair Darren Bragg
2008 Donnie Scott Doug Bair Darren Bragg
2009 Todd Benzinger Tony Fossas Tony Jaramillo
2010 Todd Benzinger Tony Fossas Ken Griffey Sr.*
2011 Delino DeShields Tony Fossas Alex Pelaez
2012 Delino DeShields Tom Browning Alex Pelaez
2013 Jose Nieves Tony Fossas Alex Pelaez
2014 Jose Nieves Tony Fossas Luis Bolivar
2015 Jose Nieves Tom Browning Luis Bolivar Corky Miller
2016 Dick Schofield Derrin Ebert Luis Bolivar Corky Miller
2017 Luis Bolivar Derrin Ebert Daryle Ward Kevin Mahar
2018 Luis Bolivar Seth Etherton Daryle Ward Kevin Mahar
2019 Luis Bolivar Seth Etherton Mike Devereaux Kevin Mahar
2020 Season Cancelled
2021 Jose Moreno Brian Garman Daryle Ward Darren Bragg
2022 Bryan LaHair Brian Garman Daryle Ward Juan Samuel
2023 Bryan LaHair Todd Naskedov Eric Richardson Osmin Melendez
*Pete Magre served as pitching coach for a portion of the 2006 season. Jason Baker served as Batting Coach for a portion of the 2010 season.
Dayton Dragons 2023 season tickets packages are available now, and all packages include an Elly De La Cruz bobblehead. Package plans are available for full-season (66 games), half-season (33 games), 16 games, or eight games. Dragons 2023 season ticket packages include many new benefits including membership in the Dragons Business Club or Family Club, and gift card. Packages also include a return of benefits enjoyed by 2022 season tickets holders, all with no price increase from last season. For more information, call (937) 228-2287 or go to daytondragons.com/tickets.