Threshers Fall to Tarpons 5-1 In Rain-Shortened Affair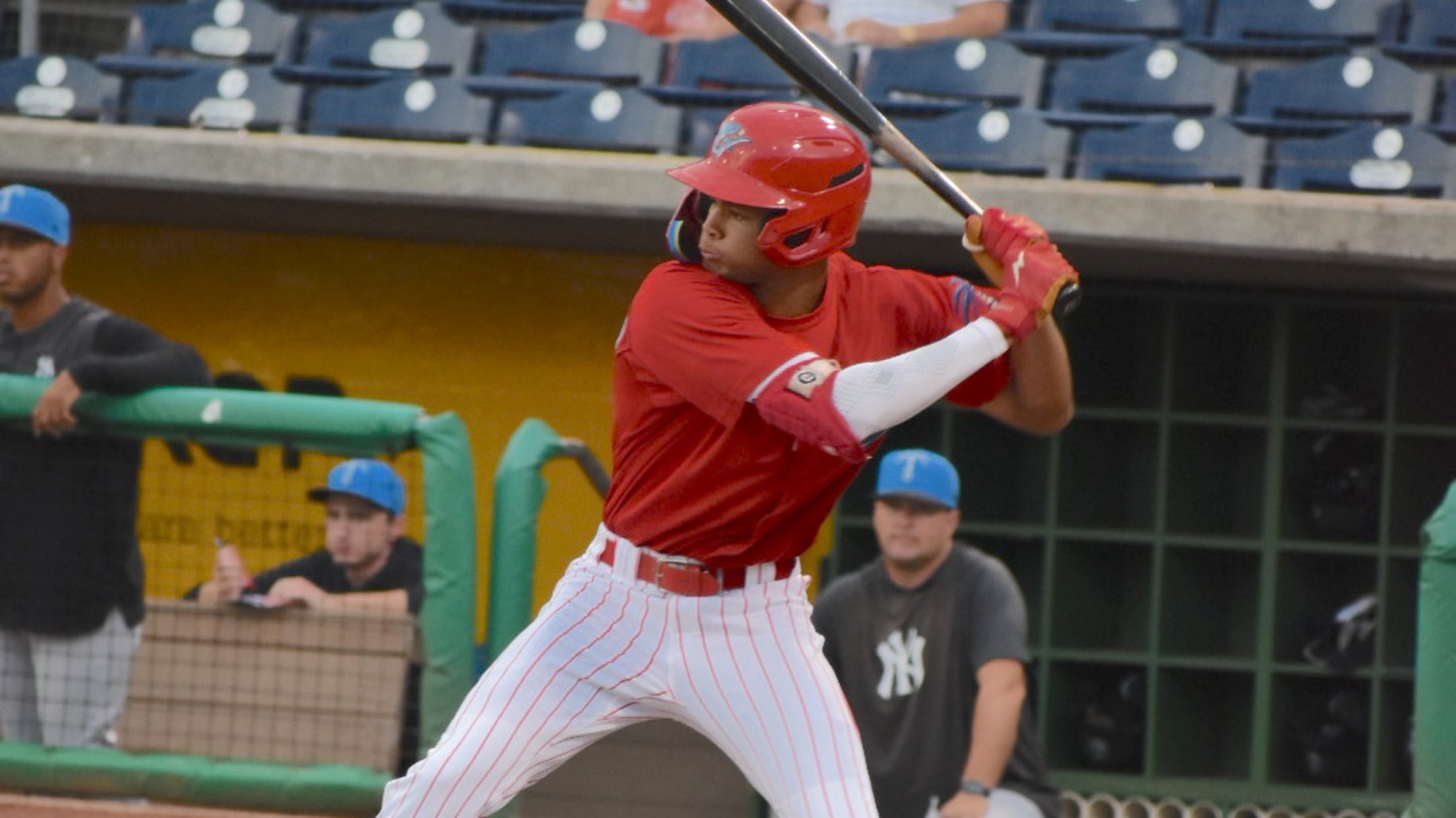 (Justin Crawford - Clearwater Threshers)
BOX SCORE CLEARWATER, FL - The Clearwater Threshers dropped a second straight contest to the Tampa Tarpons 5-1 in a game cut short due to inclement weather on Thursday night at BayCare Ballpark. The game was halted in the middle of the seventh inning and never resumed. Right-hander Starlyn Castillo
CLEARWATER, FL - The Clearwater Threshers dropped a second straight contest to the Tampa Tarpons 5-1 in a game cut short due to inclement weather on Thursday night at BayCare Ballpark. The game was halted in the middle of the seventh inning and never resumed.
Right-hander Starlyn Castillo made his 10th start of the season on the mound for Clearwater and allowed five runs, four earned, on four hits including three home runs with four strikeouts in four innings of work.
The Tarpons (29-20, 56-59) opened the scoring in the first inning on a solo home run out to right field by Spencer Jones to make it 1-0. Tampa would add two more in the second on an error and wild pitch before adding two more on back-to-back solo shots from Tayler Aguilar and Ben Rice in the fourth to build a 5-0 lead.
The Threshers (19-32, 54-62) managed only four hits in the game, but did get a leadoff single by newcomer Justin Crawford in the sixth. Crawford, the 17th overall pick of the Philadelphia Phillies in MLB's 2022 draft, finished 1-for-3 in his single-A debut.
Outfielder Jordan Viars and infielder Otto Kemp also made their Clearwater debuts in the contest as Viars, a third round draft pick of the Phillies in 2019, was responsible for the Threshers' only run with an RBI sac-fly in the sixth while Kemp finished 1-for-3 with one single.
Right-handers Konnor Ash and Jack Dallas combined to work three scoreless innings out of the bullpen for the home team, allowing only one hit and striking out six.
Clearwater and Tampa resume the six-game series on Friday night at 6:30 p.m. Left-hander Jordi Martinez (3-6, 3.95 ERA) is scheduled to start for the Threshers, with coverage on the Threshers Broadcasting Network set to begin at 6:20 p.m.