Minor League Roundup March 17th: Offensive Barrage in Intrasquad Games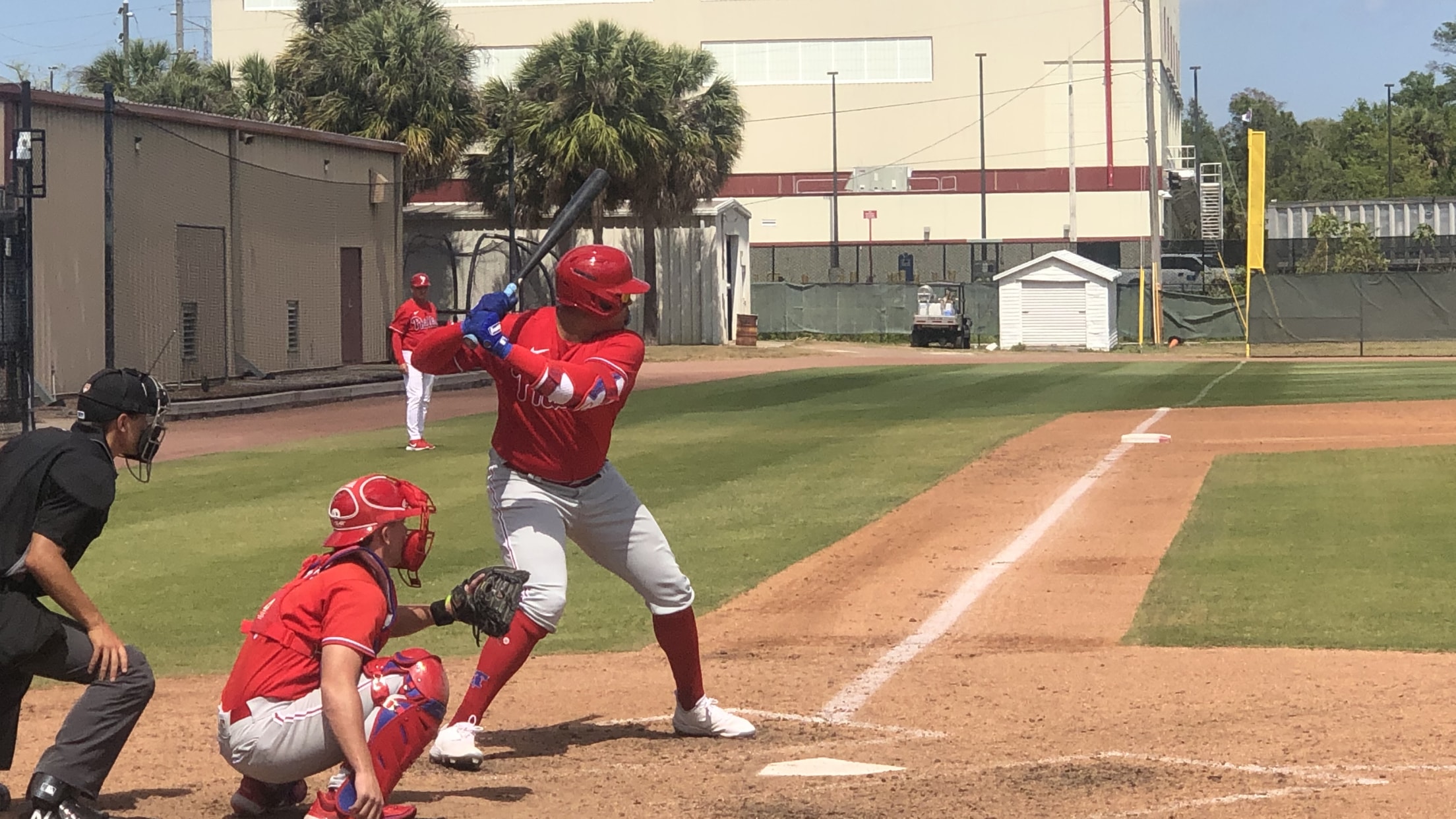 Jhailyn Ortiz at-bat during Phillies Minor League camp on March 17, 2023. (Clearwater Threshers)
CLEARWATER, Fla. – Phillies minor leaguers celebrated Saint Patrick's Day with drills, and a lot of offense in intrasquad competition at the Carpenter Complex. Drills began on the practice fields in the morning before seven-inning intrasquad games started right after lunch. Outfielders started the day hitting the cutoff and making
CLEARWATER, Fla. – Phillies minor leaguers celebrated Saint Patrick's Day with drills, and a lot of offense in intrasquad competition at the Carpenter Complex. Drills began on the practice fields in the morning before seven-inning intrasquad games started right after lunch.
Outfielders started the day hitting the cutoff and making the throw home, with Phillies outfield prospects Gavin Tonkel and Yemal Flores looking impressive in left field. Both left fielders hit the cutoff with ease and routinely sent good throws home on-line and on a bounce.
The infield drills showcased a change from the roster, with Felix Reyes getting the entirety of his reps at third base. He played third base just twice in his minor league career, mainly getting chances at first and the corner outfield spots in his two professional seasons. In camp, he has rarely made a mistake at third, with good reflexes, strong lateral instincts, and an accurate arm.
Batting practice was highlighted by an impressive four swings from Phillies infield prospect Wendell Rijo. In one round of four swings, Rijo hit back-to-back home runs, and roped the next two pitches down the left field line.
Simultaneous intrasquad games finished up the day's camp, and they did not disappoint. Yhoswar Garcia smacked a double in the gap in the second at-bat of the exhibitions, but the starter, Jordan Fowler, stayed composed with traffic on the basepaths, retiring all but one batter with runners on. In his second and final inning, the 24-year-old lefty struck out the last two batters, both swinging at nasty breaking pitches.
On Robin Roberts field, it was an offensive clinic as the two teams combined for three home runs and fifteen total runs scored in the 7.5-inning exhibition. Phillies #18 prospect (MLB.com), Jhailyn Ortiz, hit the first of three home runs in the second inning, and narrowly missed two more in each of his next two at-bats. "I felt really good today" Ortiz said after the game. "I've been working on maintaining a good approach at the plate and I think it's paying off."
Former Threshers Johan Rojas and Micah Yonamine also hit a home run each, with Yonamine adding a two-RBI single and walk for a 2-2, three RBI day.
Keep up to date on more coverage of Phillies minor league camp on ThreshersBaseball.com…You can purchase tickets for the Threshers season, with the Home Opener on Tuesday, April 11th, at ThreshersBaseball.com/tickets or by calling 727-467-4457…The Box Office at BayCare Ballpark is also open daily to purchase Phillies Spring Training and Threshers tickets…The hours are 10 AM-5 PM Monday through Friday and 10 AM-3 PM on Saturdays.