Career Day for Rincones Jr. Lifts Threshers to Victory
Phillies #7 Prospect Scores Winning Run to Break the Tie in the Eighth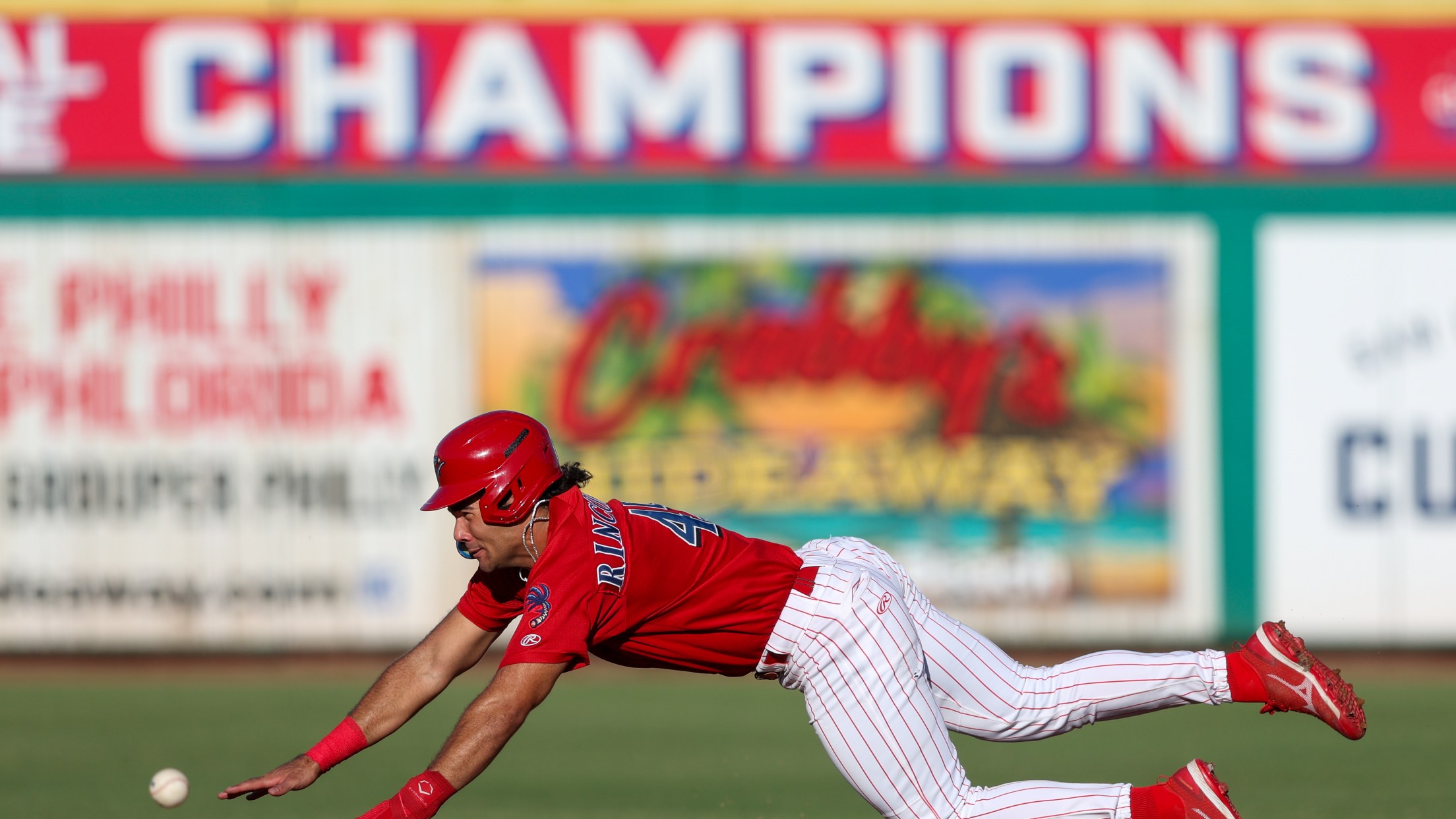 Gabriel RIncones Jr. slides in to second for one of his two stolen bases in a Threshers win over Dunedin (Nathan Ray)
WP: Wesley Moore (4-0, 0.75) LP: Alex Amalfi (1-3, 1.29) BOX SCORE: CLEARWATER, FL – Gabriel Rincones Jr. tied his career high with three hits and two key steals, including one in the eighth that led to the go-ahead run, as the Clearwater Threshers (36-13) took a 4-3 win over
WP: Wesley Moore (4-0, 0.75)
LP: Alex Amalfi (1-3, 1.29)
CLEARWATER, FL – Gabriel Rincones Jr. tied his career high with three hits and two key steals, including one in the eighth that led to the go-ahead run, as the Clearwater Threshers (36-13) took a 4-3 win over the Dunedin Blue Jays (24-26) on Saturday night at BayCare Ballpark. The Threshers go for their third series sweep on Sunday afternoon.
Justin Crawford sent the second pitch of the game off the right-center field wall to lead off with a triple. He scored on a sacrifice fly from Bryan Rincon to give the Threshers a 1-0 lead.
Crawford led off the third inning and again got a base hit on the second pitch of the frame with a single off Blue Jays starter Eliander Alcalde. He stole second and third, scoring on a single to right from Rincones Jr. that doubled the Threshers' lead to 2-0.
Chad Castillo laid a bunt single down the third base line to start off the fourth. Two hit-and-run groundouts moved him to third before a two-out RBI single by Erick Brito drove Castillo home and gave the Threshers a 3-0 advantage.
Dunedin got on the board in the sixth with a two-out RBI single that cut the Threshers' lead to 3-1. They added two runs with two outs in the eighth inning to tie it up at three.
Rincones Jr. began the eighth inning with a single off Blue Jays reliever Alex Amalfi and stole second with Castillo at bat. Blue Jays catcher Nic Deschamps' bounced off the glove of Santiago Espinal and went into right centerfield, advancing Rincones Jr. to third. Castillo plated Rincones Jr. on a sacrifice fly to center, scoring Rincones Jr. and giving the Threshers a 4-3 lead. Wesley Moore struck out the final two batters in a 1-2-3 ninth as the Threshers held on to win 4-3
Alex McFarlane tossed 6.0 innings with one run allowed on five hits, one walk, and six strikeouts in a no-decision. Danny Wilkinson threw one shutout inning with one hit and one walk allowed. Andrew Walling threw 0.2 innings, allowing two runs on one hit with one walk and two strikeouts. Moore (4-0) earned the win despite a blown save in 1.1 innings of working, allowing one hit with two strikeouts.
Rincones Jr. had his third three-hit game of his career... He became the third Thresher with 20 or more stolen bases with two bags stolen...Crawford has three multi-hit games of the four he's played this series... Dissin recorded the eighth multi-hit game of his career... McFarlane went a career-best 6.0 innings... Wilkinson has not allowed a run in his last three outings at home...The Threshers conclude their series against the Dunedin Blue Jays on Sunday, June 4th... First pitch is at 12:00 pm EST... You can purchase tickets for Threshers games at ThreshersBaseball.com/tickets or by calling 727-467-4457.